Easily Start Your Sky Free Trial Without Giving Credit Card Info

Sky TV is a British broadcaster and telecommunications company that provides television and broadband internet services to customers. If you're interested in obtaining a new service with Sky, or you're an existing customer that wants to take advantage of a new product, you may be interested in a .
Free trials are an excellent way to test out a product to see how you like it before paying the full price for it. However, not every company provides a free trial period for their products. Even when companies do offer free trials, they don't always make this information readily available to users.
Read on to learn whether Sky TV offers a free trial and how to easily get a free trial with any company using DoNotPay.
Does Sky Offer a Free Trial?
Sky TV has made a name for itself as being one of the best platforms to stream all of your entertainment needs. Unfortunately, for any of its products at the moment.
If you would like to know more about Sky TV or watch out for potential free trials, check out the following:
Help Guides
Sky TV offers a variety of helpful guides to assist customers with troubleshooting some issues before contacting them directly. The help guides are designed to be a quicker and easier way to get answers to your questions. Here are a few links to help guides provided by Sky TV:
Sky TV Shop
If you're interested in a product and want to talk to a representative, Sky TV states that you can visit their shop and reach out to their customer service about a particular product.
How to Easily Save With Sky TV
Although Sky TV does not provide free trials for customers at this time, there are plenty of ways for customers to save on their products. Here are their subscription plans:
Plan
Subscription Fee
Inclusions
Superfast Broadband
£26/month

350+ channels
Sky Q
Sky TV
Netflix
Superfast broadband

This plan also includes 6 months of free broadband. After the 6 months is over, broadband is £56.50 a month for 12 months.

Ultrafast Broadband
£30 a month

for 18 months

250+ Freeview channels on Sky Q box
Average download speeds of 59Mbps
Ultrafast broadband

This plan includes £25 Fibre broadband and £5 Sky Q

Ultrafast Plus Broadband
£50 a month

for 18 months

350+ channels across Sky TV & Freeview
Netflix
Average download speed of 145Mbps

Gigafast Broadband
£70 a month

for 18 months

350+ channels across Sky TV and Freeview
Netflix
Average download speed of 900Mbps
What Are the Most Popular Alternatives to Sky TV?

If you're looking for an alternative service to Sky TV that offers free trials or different price plans, there are plenty of options to consider. Here are the 5 top alternatives to Sky TV:
Netflix
Amazon Video
Now TV
Acorn TV
Britbox
Additionally, if you are using Sky TV but would like to switch to another provider, DoNotPay can help you cancel your subscription.
How to Avoid Automatic Renewals With DoNotPay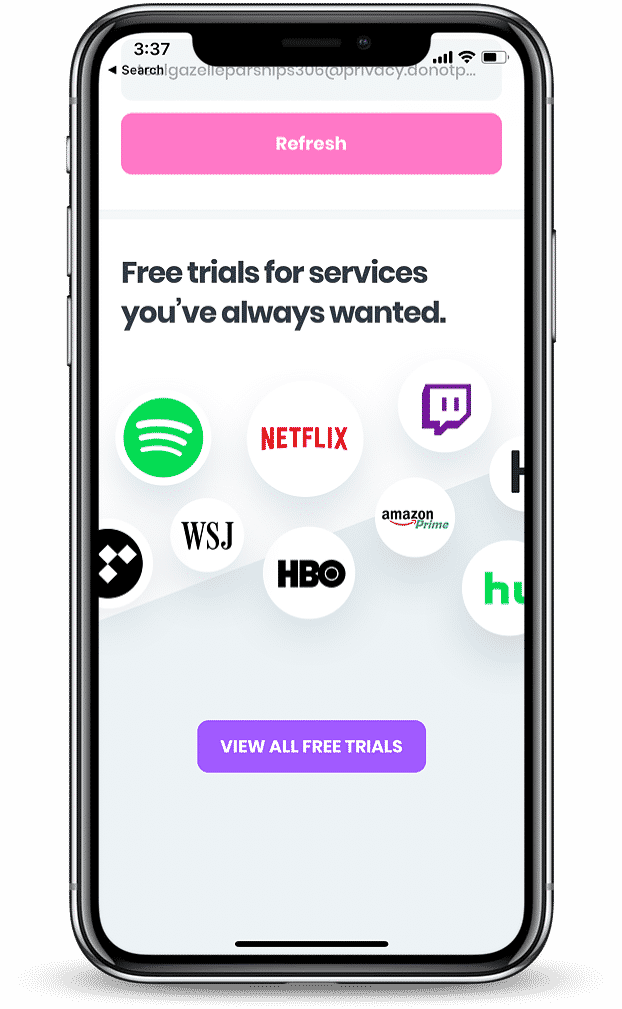 Although Sky TV does not offer free trials for its customers, there are plenty of other platforms that do offer free trials to allow customers to experience their product before making a financial commitment. Unfortunately, many consumers avoid free trials out of fear that their credit card will automatically be charged a fee once the trial period ends.
Luckily, DoNotPay is here to help. Sign up for any free trial that you're interested in using DoNotPay's free trial virtual credit card. Our product enables you to sign up with as many free trials as you would like at no risk to your credit card. Once the trial period is over, your trial will automatically discontinue because there's no actual money loaded on the car.
Here's how it works:
DoNotPay will generate a virtual credit card number and card info.
Sign up for any service that you're interested in.
Once the trial service is over, the company will never be able to charge you and your subscription will cancel since there's no money added.
You can use your virtual credit card with a variety of companies, such as:
What Else Can DoNotPay Do?

DoNotPay doesn't just provide you with a virtual credit card for free trials. We can help you with a variety of other things as well, such as:
Are you ready to get started? Sign up with DoNotPay today.