Sexual Offenders in Tucson Hide in Plain Sight—Our Alerts Can Warn You
Tucson has a rotten history of serial sexual offenders preying on minors to commit violent crimes. Currently, over 1,200 sexual offenders in Tucson are monitored by law enforcement, but many of them manage to engage in repeat acts of sexual violence.
The Arizona Sex Offender Registry stores the records of different types of sexual offenders in Tucson, but checking the ever-expanding database for the sake of vigilance can be tiresome.
DoNotPay's Sex Offender Search tool can run a quick area scan to identify all registered sex offenders near your address. to get tailored alerts that will give you a heads-up on your safety status!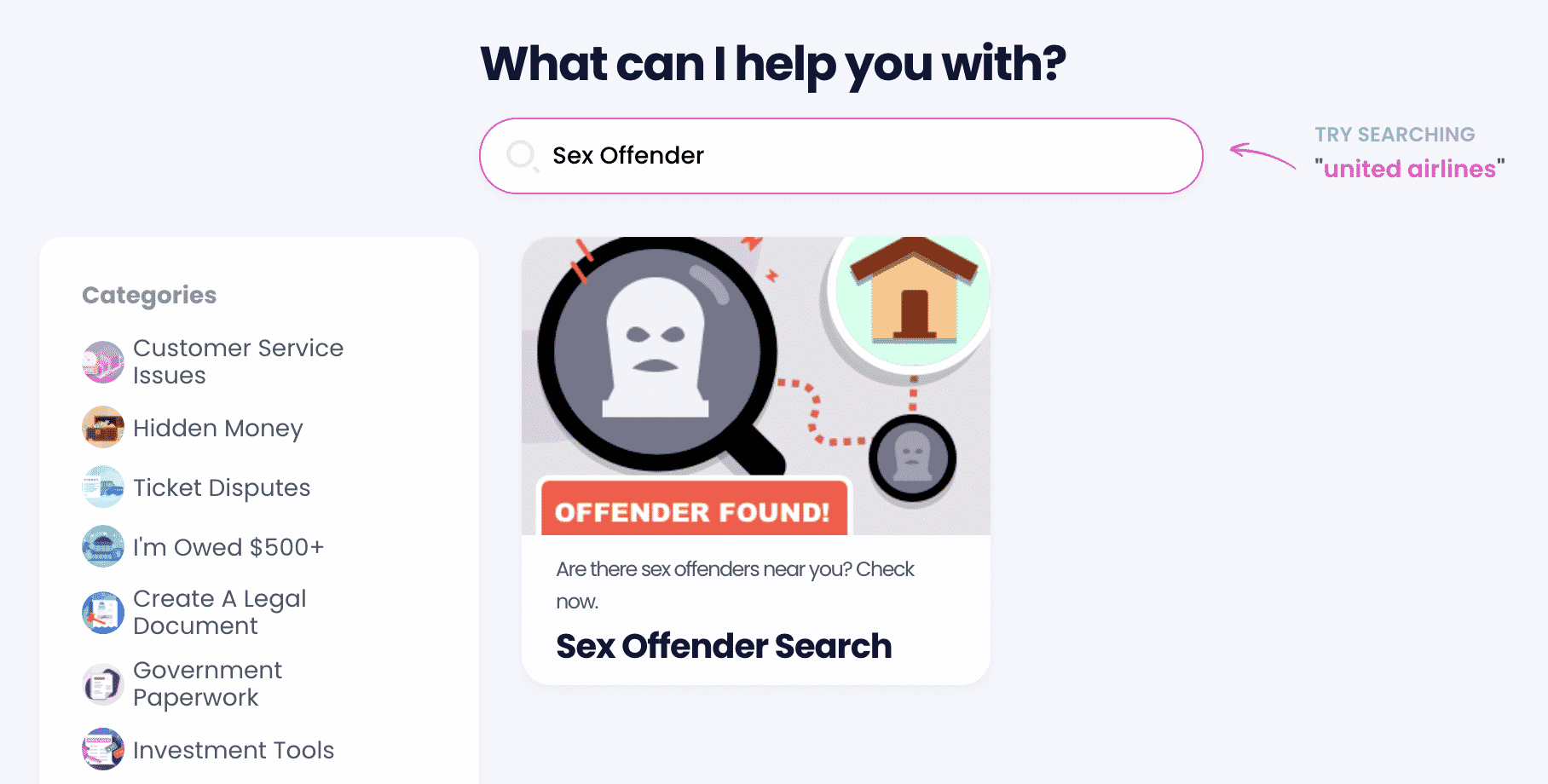 Registered Sex Offenders, Tucson—Sexual Offenses Explained
Six different types of primary sexual offenses can put someone on the Sex Offender Registry in Tucson, and they are:
Public sexual indecency
Indecent exposure
Sexual abuse
Sexual assault
Sexual conduct with a minor
A person who is convicted of or has pleaded guilty to any of the above crimes must register as a sex offender within ten days of conviction or adjudication.
Tucson, Pima County Sex Offenders—Is Everyone a Threat?
Arizona's sex offender laws mandate a risk-based grading system for categorizing the state's sex offenders. Law enforcement determines the risk levels after considering 19 standardized factors that influence the offenders' recidivism rate—which is the likelihood that the offenders will recommit a crime.
Sex offenders in Tucson, Pima County, are classified according to three risk levels. This table summarizes the consequences of this classification:
Type
Recidivism Risk
Implications
Level 1
Low

An offender is to maintain updated information with Tucson's law enforcement
Officers may or may not notify the community of the offender's presence, depending on the nature of the underlying offense

Level 2
Moderate

Level 2 offenders are subject to compulsory community notification
When a Level 2 offender moves into a new neighborhood, the law enforcement must notify the immediate neighbors, school, and community

Level 3
High

Level 3 sex offenders face all the implications of a Level 2 offender
Law enforcement will issue flyers with the offender's face to notify the community
They will also make a mandatory press release through local media to ensure everyone is alerted of a high-risk offender living among them
Tucson or Pima County Sex Offender Search—How Does It Work?
At present, there is no government website dedicated to tracking sex offenders in Tucson or even Pima County. You will need to visit Arizona's Public Registry to get a consolidated database of all the registered offenders in the state, including Tucson.
If you are solely looking for info on sex offenders in Tucson, the process can be a pain in the neck because of drawbacks like:
Having limited search parameters to refine the website search
Filtering out relevant registrants from the bulk data of the entire state manually
Skimming through 1,200+ records even for a city-based search
Failing to get crucial location data on offenders due to an inaccurate or redundant mapping mechanism
Having insufficient input data to carry out a particular search
Being unable to access details of seemingly unregistered sex offenders due to update lags for new registrants
Sex Offenders in Tucson, AZ—Mandatory Community Notifications
Arizona started issuing community notifications about the presence of sex offenders after being inspired by Megan's Law, which made the sex offender registries open to the public.
The Tucson law enforcement uses mail, flyers, or local media to notify families, schools, and social groups of a Level 2 or Level 3 offender in their neighborhood.
The community notifications are highly despised because they:
Tend to exclude alerts on Level 1 offenders
Serve to prevent harassment or vigilantism towards the offenders
May cause hysteria and chaos in the neighborhood
Can alienate the offender and push them into further crimes
Sex Offender Registry Tucson—Rules and Restrictions
Sex offender registration laws in Tucson cite several rules and restrictions for registered sex offenders:
Restriction Type
Rule
Residential restrictions

A Level 3 sex offender cannot live within 1,000 feet of a school or childcare center
A registered sex offender cannot live within 1,000 feet of a former victim

Travel restrictions

Registered sex offenders must get a special type of driver's license if they wish to drive a vehicle after release
Sex offenders traveling to Tucson must register themselves if they plan to stay for more than nine days

Other restrictions
Sex Offenders in Tucson—Choose Stress-Free Safety With DoNotPay
There is hardly any convenient means to look into the list of sex offenders living in Tucson, and this can frustrate you to no end. Do you live in constant fear of your family bumping into sex offenders?
Don't stress as DoNotPay looks out for your safety! We offer you a discreet and effective tool to access the public database of all registered sex offenders in Tucson.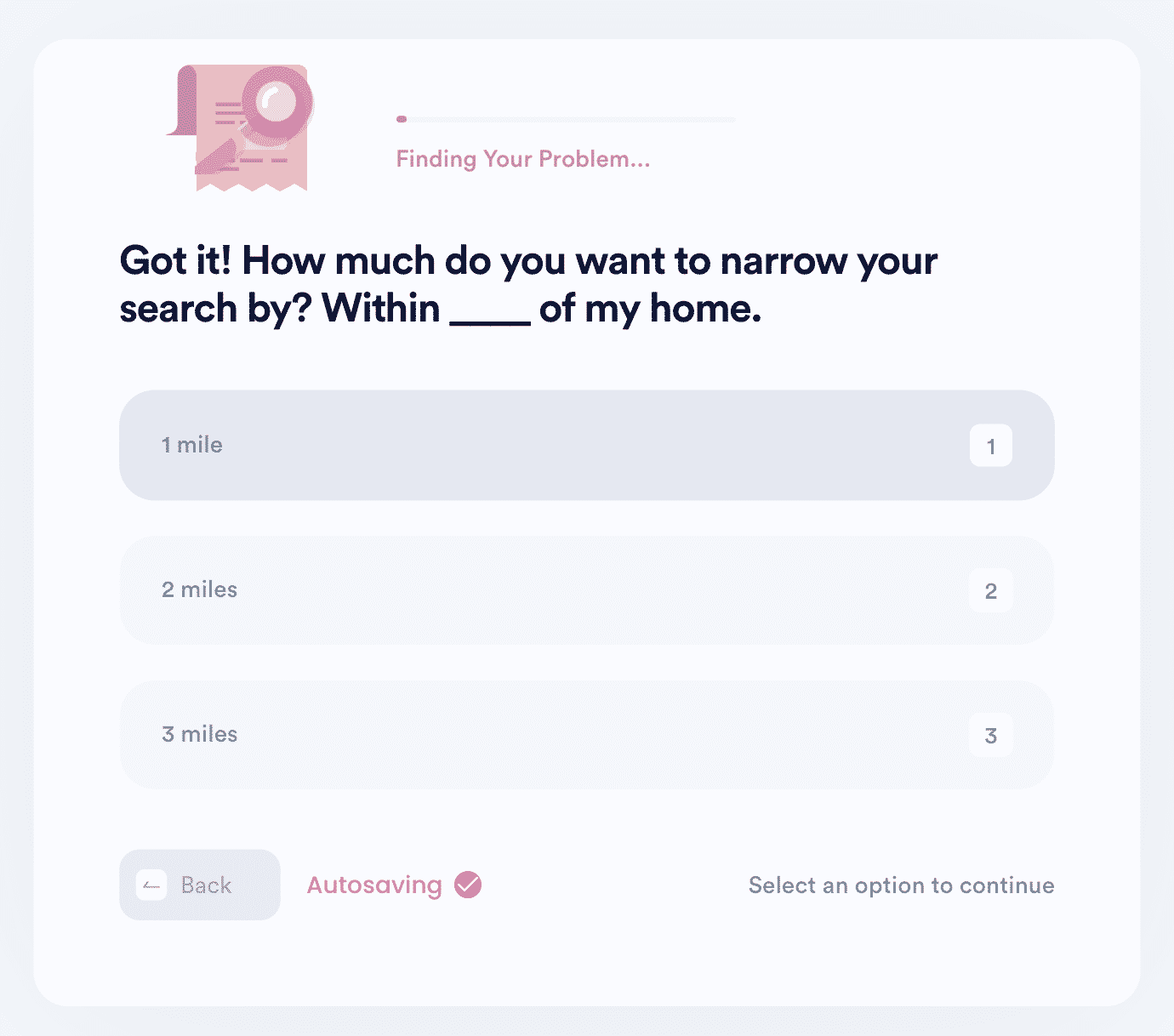 Our no-nonsense AI tool can access any record in a matter of seconds—all you need to do is follow these simple steps:
and locate our Sex Offender Search option
Specify your intent—whether you're looking for a specific offender or you want to see all registered offenders near you
Set a proximity distance for the search
Select our weekly scan feature (optional)
Our app will run a quick search and generate a customized report in under a minute. You will get a comprehensive list of all offenders—including Level 1 registrants—with their latest details and mugshots.
DoNotPay Will Scan Your Area for Sex Offenders Every Week
Our weekly scans happen in the background without disrupting your day-to-day life. You can check out our automated, time-sensitive phone alerts and take all reasonable precautions to keep your loved ones safe!
Use DoNotPay To Resolve Administrative Tasks in Minutes!
Tired of brainstorming the easiest way to deal with administrative issues? We know how you feel, and we're here to take the burden off your back!
Once you subscribe to our app, you'll be able to resolve an abundance of bureaucratic issues with ease.
Taking a valid passport photo, reporting workplace discrimination, reducing property taxes, preparing for a government test, applying for a college fee waiver, and appealing a parking ticket are some of the many tasks we assist you with.
In case you need a quick way to draft a legal document, such as a power of attorney, divorce settlement agreement, or a child travel consent form, DoNotPay will do it for you!
Learn How To File Claims the Easy Way
Are you dissatisfied with a certain company and/or its products? You don't have to stay quiet! Use DoNotPay to file your insurance, warranty, or missing/late parcel claim effortlessly! We'll also show you how to request an item return in a few steps.
If you want to cancel a subscription or request a refund or chargeback, you can do it with our assistance without breaking a sweat. Use one app to deal with countless issues!