Don't Browse Sex Offender Registry Rochester, NY—DoNotPay's Modernized Alert System Keeps You Safe
The Sex Offender Registry Rochester, NY, lists 989 offenders—there is one offender for every 211 other citizens. This puts the City of Rochester among the most dangerous places in Monroe County or even New York State.
The numbers for the County are 667 citizens to one offender, while on the New York State level, the offender density is one per 953 other inhabitants. These numbers are a bit better but still not great.
If Rochester is your place of residence, you should take additional steps to keep your children safe from pedophiles, sexual predators, and other sex offenders.
Browsing through the city's or state's sex offender registries or maps can be tiring and inefficient.
Instead, , and get personalized alerts to your device every week.
The Laws That Apply to Sexual Offenders in Rochester, NY
The State of New York's sex offender registration laws require all sex offenders to register with the authorities, regardless of their level, age, or place of conviction.
This means that even juvenile offenders must report to the local NYS authorities. The same goes for the offenders from outside of New York State who want to move into the state—they'll have ten days to submit their data.
Megan's Law made a significant impact on the accessibility of sex offender data to the general public. Thanks to this law, NYS Sex Offender Registry can display location details about the Level 2 and Level 3 sex offenders. Juvenile and Level 1 offenders' details aren't available via the website, but you can ask for it over the designated phone line at 800-262-3257.
Tier Classification of Sex Offenders In Rochester, NY and the Required Registration Period
Rochester sex offenders are classified depending on their estimated recidivism potential. There are three levels:
Level 1—Low risk for reoffense
Level 2—Moderate risk for reoffense
Level 3—High risk for repeated harm to another person
There is another classification regarding the severity of the crime and the danger an individual presents. These designations are:
Sexual predator—sexually violent offense and a mental abnormality
Sexually violent offender—sexually violent offense when the offender can't plead not guilty by reason of insanity
Predicate sex offender—repeated offender
These two classifications are parameters that decide how long sex offenders have to register on the Rochester sex offender list. Check out the table for more details:
| | |
| --- | --- |
| Type of the Offender | The Length of Registration |
| Level 1 (without designations) | 20 years |
| Level 1 (with designations) | For life |
| Levels 2 and 3 | For life |
The Legal Restrictions for Rochester Sex Offenders
There are several prohibitions that the offenders must keep in mind when choosing their place of residence, a job, or planning a trip. Rochester sex offenders cannot:
Any non-compliant or unregistered sex offender risks being penalized. These actions can get classified as:
Class A misdemeanor if it's the first omission
Class D felonies
They could also get their parole revoked as another form of punishment.
Sex Offender Registry Rochester, NY—Search Methods
Rochester Sex Offender Registry on the RNYD website has an offender map section and the list of the offenders displayed on the map.
The offenders are classified into categories according to their levels. You can scroll to find the name you are interested in.
The two changeable parameters are the address and the radius around it that you want to scan.
There is not an option to set alerts for the desired area.
Make Your Life Easier—Let DoNotPay Automate the Sex Offender Registry Rochester, NY, Search for You
The search options that Rochester Sex Offender Registry offers aren't made for frequent browsing. The additional problem is that you can miss some of the pinned offender locations if they are densely packed.
The fact that all searches need to be done manually is yet another problem. Picking through the map out of idleness and curiosity is one thing. Trying to keep up with the changes in the area for security reasons is something else and requires user-friendly and quick search options.
DoNotPay has created a feature designed to fit your needs. The advantages of our Sex Offender Search tool:
Speed and simplicity
Two search methods—by name and by area
Several search radius options
Weekly personalized sex offender report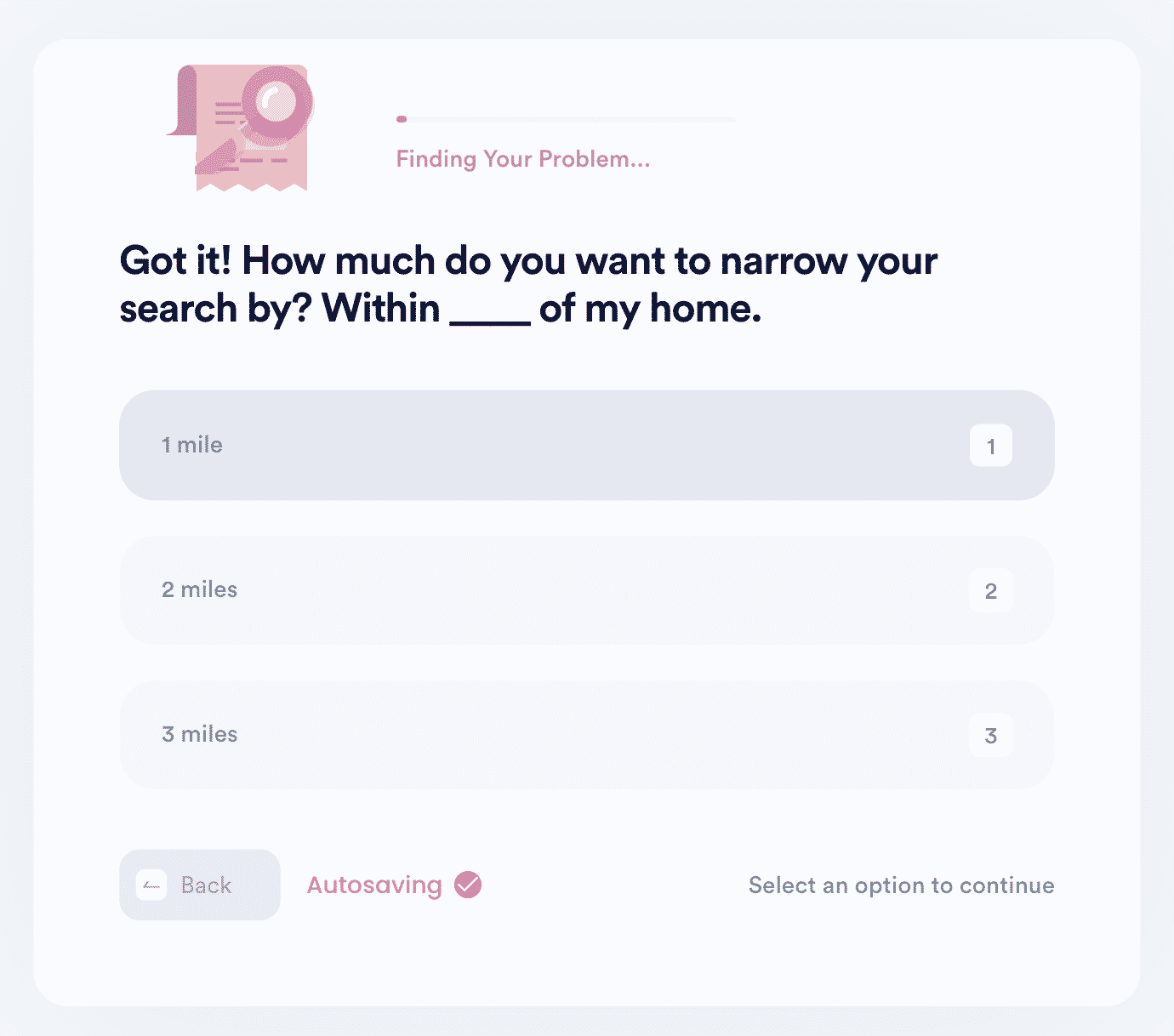 Searching via our app is easy, and here are the steps:
Go to the Sex Offender Search feature on your
Pick either search by name or area scan
Choose the search radius for your query
Set the parameters for your weekly reports
DoNotPay will conduct searches every week and send results directly to you, thus keeping you informed and safe.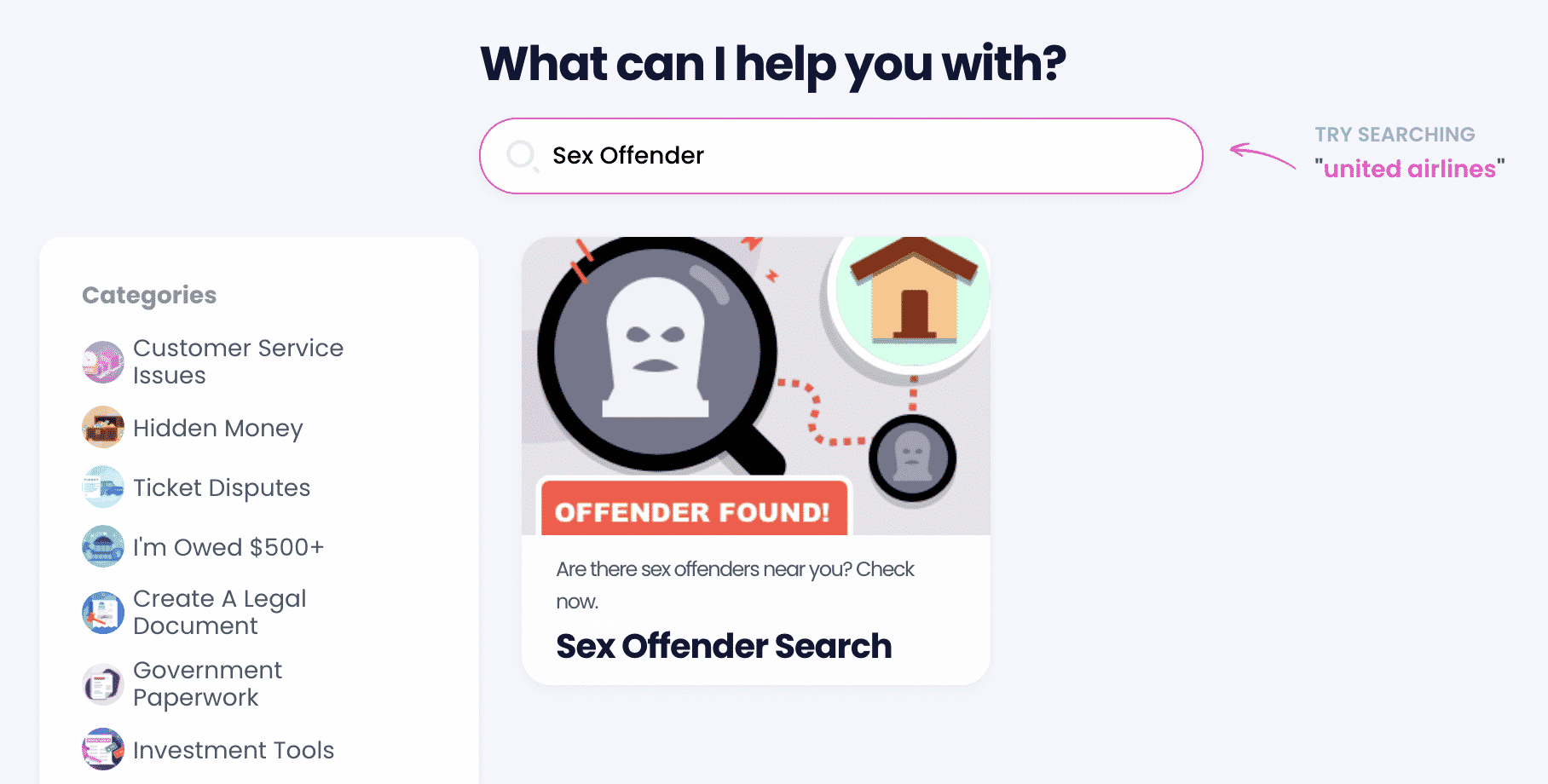 DoNotPay Makes Administrative Hurdles a Piece of Cake
If you ever needed to deal with an administrative task, such as drafting a valid legal document or paying property taxes, you know that it's a struggle. The good news is—it doesn't have to be!
With a bit of assistance, you can draft a POA document and learn how to reduce your property taxes in a jiffy!
DoNotPay will also show you how to tackle any of the following tasks like a pro: