The A–Z of the NYS Sex Offender Registry Level 1
Are you worried about sex offenders near you, or do you know of a sex offender and wondering how dangerous he/she can be? DoNotPay is here to explain the laws on the NYS Sex Offender Registry Level 1 offenders.
We will also show you how to search the New York sex offender registry website. If you're looking for a better and more straightforward solution, you can use DoNotPay to of living close to sex offenders.
Understanding the Sex Offender Levels in NY
According to New York State sex offender laws, the perpetrators are classified into three categories. The category they belong to depends on the risk that the offender will repeat the offense and is determined at the time of their sentence or release from jail or prison.
The Board of Examiners of Sex Offenders evaluates each case and defines the risk level, which is followed by a hearing where the judge assigns the level to the offender.
| Levels | Risk of Repeating a Sex Offense |
| --- | --- |
| Level 1 | Low |
| Level 2 | Medium |
| Level 3 | High |
Assigning appropriate risk levels is unique for each sex offender, and it's possible for those convicted of the same crime to receive different risk levels.
Sex offenders also have the following designations:
Sexual predator
Sexually violent offender
Predicate sex offender
These designations, along with risk levels, determine how long an offender must register for.
NYS Sex Offender Laws on Registration
Sex offenders in New York State need to register with the local authorities soon after they are released into society. NYS sex offender laws regarding registration are strict and are outlined below:
Sex offenders need to register with the Department of Criminal Justice System (DCJS)
When updating the NYS Sex Offender Registry, Level 1 sex offenders with no designation need to register for 20 years. Level 2, Level 3, and Level 1 offenders with designation need to register for life
All sex offenders are required to register every year on the anniversary of the initial registration
When changing addresses, the sex offender needs to notify the DCJS within ten days of moving
Level 1 and 2 offenders need to take a new photograph for the registry every three years. Level 3 offenders need to register a new photograph every year
Sex offenders need to report in writing any higher education institutions they're attending or are employed by and notify DCJS of any changes within ten days
Offenders need to register their internet service providers, screen names, and email accounts
Level 3 offenders and sexual predators need to update their addresses every three months
Sex offenders who do not register will be charged with a felony
Residential and Travel Restrictions
There are multiple restrictions that sex offenders in New York need to abide by, as outlined in the table below:
| Restriction | Description |
| --- | --- |
| Residency | The New York Sex Offender Registration Act does not restrict where a registered sex offender may live depending on their level. NYS sex offender laws state that offenders under parole or supervision may be prohibited from living within 1,000 feet of a school or daycare center |
| Travel | Sex offenders traveling to New York need to register within ten days of arriving in the state if they plan on staying for over 14 days |
NYS Sex Offender Laws on Publicizing Information
Under Megan's Law, information on sex offenders should be made public to prevent further crimes. Depending on the level of the sex offender, the community will be notified when a sex offender moves into the neighborhood.
The table depicts the notification system by levels:
| Level | Who Is Notified? |
| --- | --- |
| Level 1 | The law enforcement agencies |
| Level 2 | Law enforcement agencies and those likely to be attacked |
| Level 3 | Law enforcement agencies, those likely to be attacked, and other persons if required |
How To Search the NYS Sex Offender Registry
You can search for sex offenders in New York and map out those near you.
To get the info on Level 1 offenders in NY, you will need to call 800-262-3257 between 8 a.m. and 4 p.m. Monday through Friday (public holidays excluded). The caller needs to provide the offender's name and one of these four identifiers:
Exact address
Date of birth
Social Security number
Driver's license number
You should know that the DCJS does not list Level 1 offenders on its website.
To search the NYS Sex Offender Registry for Level 2 and 3 offenders:
Open the Department of Criminal Justice Services website
Select Sex Offenders from the menu
Fill out one of the fields:

Last Name
County
Zip Code

Check any of the boxes to exclude one or more categories from the search results:
Incarcerated
ICE Custody
In Custody
Confirm you are not a robot
Hit the Search button
You can sign up to receive alerts via email every time a Level 2 or Level 3 sex offender moves into or from your area of interest.
How To Search for Sex Offenders Using DoNotPay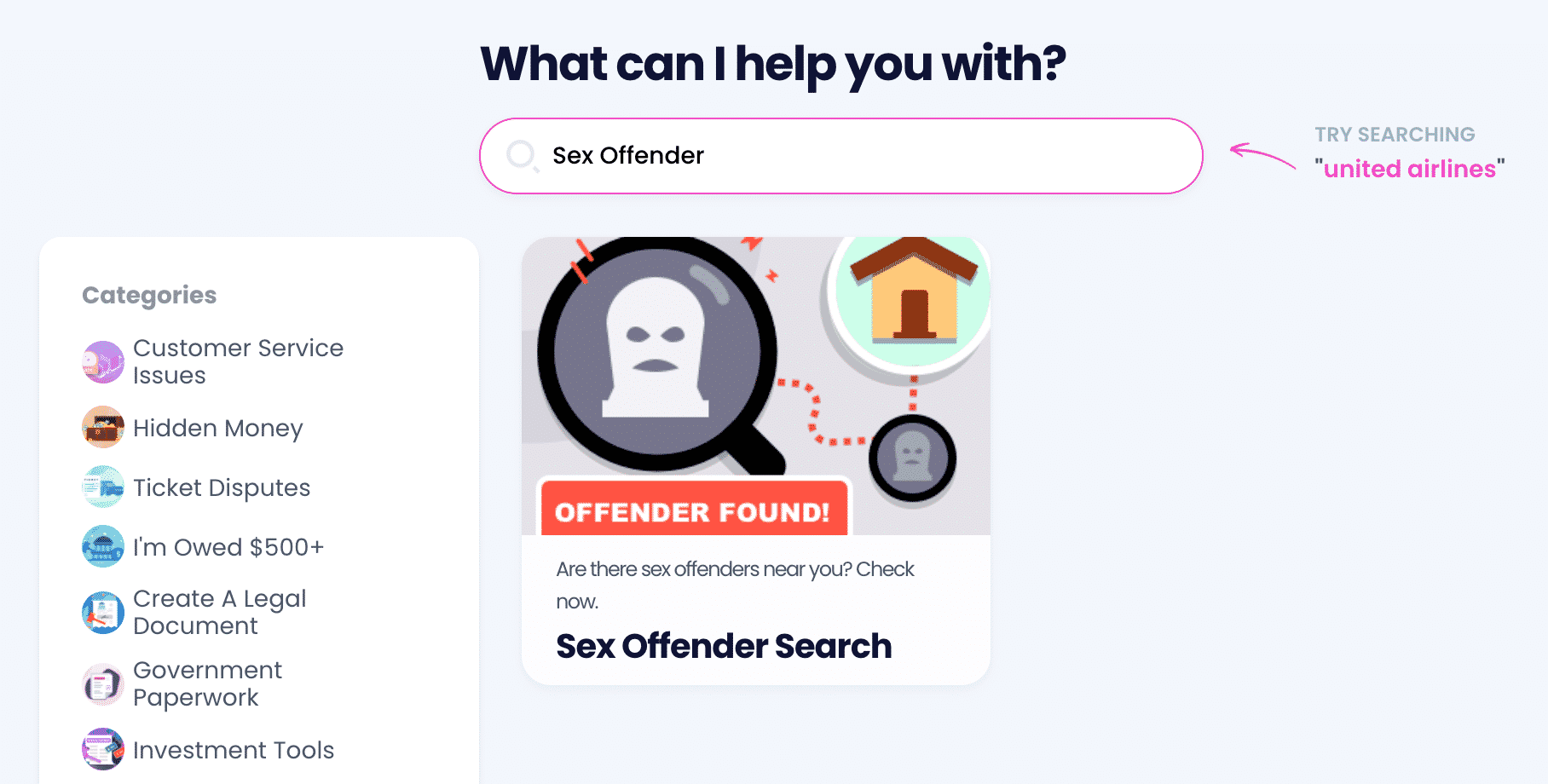 Using the NYS Sex Offender Registry can be confusing. DoNotPay can run searches on sex offenders on your behalf and provide results in seconds. To use DoNotPay to search for sex offenders in New York, here's what you need to do:
Key in Sex Offender Search in the search box
Type in your address and specify the mile range
Select the weekly check option
DoNotPay will automatically search for the sex offenders and generate a full report. You can also choose to receive weekly updates with information on newly registered sex offenders near you.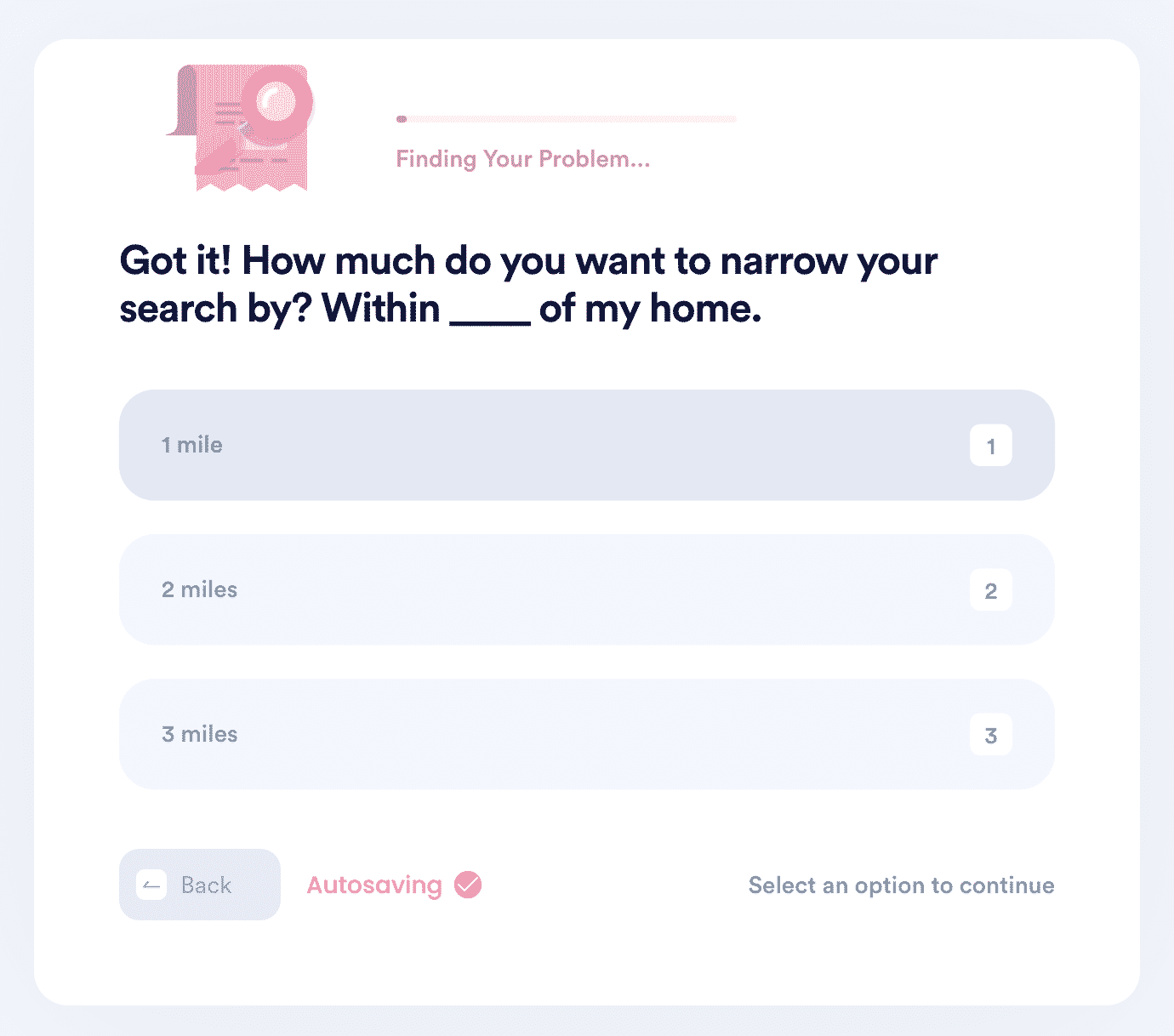 DoNotPay Goes the Extra Mile for You
We are dedicated to providing solutions to difficult and time-consuming tasks you may have on your to-do list. If you are struggling to reduce your monthly bills, contest parking tickets, or set DMV appointments, DoNotPay will help you do it in no time!
We have also created numerous easy-to-use features that can make the following procedures run smoothly:
Get Justice From Companies That Wronged You
Do you feel like you have been played by a company? Instead of wasting your time writing requests, demand a chargeback or refund or claim a warranty via DoNotPay! If the company doesn't seem too cooperative and keeps refusing to return your money, our app can assist you in suing it in small claims court.
To help you save some coins or regain what's yours, DoNotPay will also help you locate unclaimed funds, submit insurance claims, lower your property taxes, and cash out gift cards.