Learn About the Vanderbilt Application Fee Waiver With DoNotPay
Vanderbilt is a prestigious private university in Nashville, Tennessee. While not part of the Ivy League, it's still a world-renowned school and extremely difficult to get into. 
Since it's a private institution, it's expensive to attend, but the school is dedicated to helping students who need financial assistance. DoNotPay can help you get an application fee waiver and enroll in the best schools without worrying about finances.
What Is a College Application Fee Waiver?
Almost every school in the U.S. asks for an application fee, and many candidates apply to several colleges at a time. Applying to more than one school increases the student's chances of getting into at least one.
College application fees can quickly become expensive, and most schools will give a fee waiver to students who need financial assistance. 
Application fee waivers let you avoid the cost of the application to different schools. They help lower the application costs, but they don't cover:
Tuition fees

General living costs

Books and other study materials

Traveling costs to and from the university
You'll have to apply for an application fee waiver for every school that you're interested in. 
Why Do Colleges Charge Application Fees?
The application process incurs various costs, such as keeping the website up to date and general administration costs. There are also the wages of the people who read your essays and evaluate your interviews. 
The application fee helps to cover these costs. It can also serve as a soft barrier to make sure only the students who are serious about attending the school send in applications. 
Certain schools have a window period when you can apply without paying the fee. Other schools don't ask for this fee at all, but that's not the case with Vanderbilt University. 
Costs of Applying and Attending Vanderbilt University
Since it's a private institution, Vanderbilt college fees are expensive. More than 60% of students have received financial aid during their time at this university. 
When you apply to Vanderbilt, you have to pay the $50 application fee. The fee is non-refundable, even if you don't get a place.
With the high costs of applying to and attending any school in the U.S., most universities are committed to helping students reach their potential, regardless of their financial situation. If you can't pay the application fee, you can apply for a fee waiver. 
How Do You Qualify for an Application Fee Waiver?
To be eligible for the Vanderbilt fee waiver, a student has to meet specific criteria:
Applicants are participating in or eligible for a free lunch or reduced-price lunch program

The income of the student's family meets the

eligibility requirements

set out by the

USDA Food and Nutrition Service

The student's family receives government assistance, such as food or housing subsidies

The candidate is a U.S. Military veteran or on active duty
Do You Automatically Get an Application Fee Waiver?
Students who received the SAT or ACT fee waiver are usually eligible for the application fee waiver automatically. You will have to apply for the fee to be waived and send the school supporting information to show why you need financial assistance. Vanderbilt won't give the fee waiver to eligible students if they don't submit an official request.
How Can You Apply for the Vanderbilt Application Fee Waiver on Your Own?
Whichever method you pick, you'll have to submit documentation that proves you can't afford the application fee. The overview of available methods is in the table below:
| | |
| --- | --- |
| Method | Works/Doesn't Work |
| DoNotPay | Yes |
| NACAC | Yes |
| University Website | No |
| Common App | Yes |
| College Board | Yes |
Getting a Fee Waiver with NACAC
You can get an NACAC fee waiver for Vanderbilt by following these steps:
Log on to the NACAC

website

Download the application fee waiver forms in PDF

Fill in the forms, indicating the name of the school you're applying to

Let your counselor, principal, or an official from a community-based organization fill in the Authorized Official section 

Send the form to the Vanderbilt admission office
Getting a Fee Waiver via the Common App
Common App applications have a section where you can request a fee waiver. The procedure involves these steps:
Log in to your

Common App account

Click on the

Common App

tab and then on

Profile

in the menu on the left

Hit the

Common App Fee Waiver

section

Confirm your eligibility when prompted

Check off all the applicable criteria that qualify you for a fee waiver

Provide your electronic signature

Indicate whether you need help from the non-profit organization

Strive for Help
Getting a Fee Waiver With College Board
Get an application fee waiver with College Board by following these steps:
Log on to the College Board

website

Open an account

Follow the prompts

Send the fee waiver application to Vanderbilt
DoNotPay Can Help With Your Application
DoNotPay is the quickest and easiest way to apply for a University of Vanderbilt application fee waiver. You can use our app to apply for application fee waivers for any school if it has a waiver program. To get assistance from DoNotPay, follow these instructions:
Log in to your DoNotPay account in a

web browser

Click on

College Application Fee Waiver

Select which fee waiver you'd like to apply for

Choose Vanderbilt when prompted

Answer a few questions about your financial status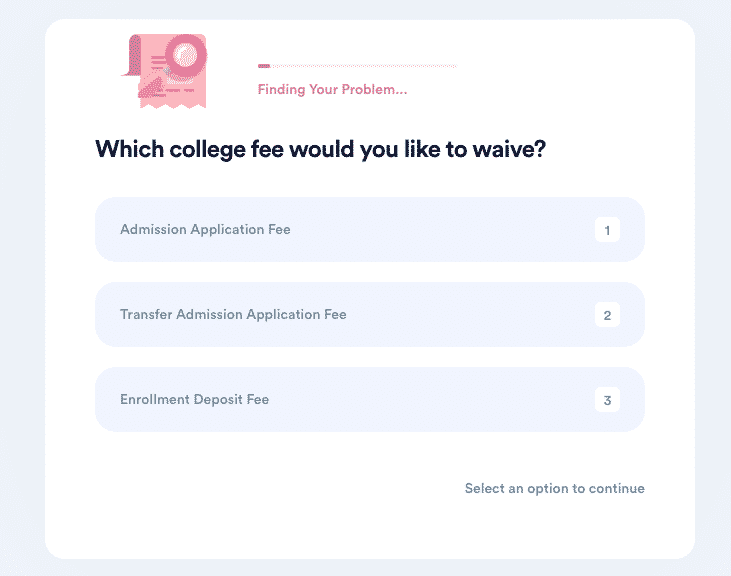 DoNotPay will fill out the application form on your behalf and send it to your guidance counselor for a signature. We will then send the application fee waiver to the Vanderbilt Admissions Office. The school will honor the fee waiver for any student who shows that they need it. 
You can indicate various schools when you fill in the information on our website. DoNotPay can send your request to multiple universities at the same time. 
DoNotPay Can Help You With Much More!
DoNotPay has been designed as an AI-based lawyer, helping you save money and time. As a student, you're probably looking for ways to cut the expenses. DoNotPay can help you cancel subscriptions you'll no longer need when you're leaving for school, such as Mathway. 
Let us help you apply for college application fee waivers with other schools, like New York University or Stanford. The app can also assist with your student loan bills.
To access all of the tips and tricks that DoNotPay can offer you, log in to your account using any web browser and get access to features such as:
Fighting traffic tickets

Contesting speeding tickets