How To Cancel Microsoft With a Few Clicks on Your PC
Microsoft is a technology company that develops and sells computer software and hardware, cloud services, and gaming consoles. Some of their most popular products are Windows 10, Microsoft Word, Office 365, Microsoft Visio, Microsoft Project, and Xbox Live. Microsoft comes at a hefty price, so it's no wonder people want to cancel the subscription. You can cancel your Microsoft subscription with our help.
Cancel Microsoft Subscription
With DoNotPay

DoNotPay is a kind of personal virtual assistant that can cancel your subscriptions for you. With our help, you'll avoid complicated cancellation processes with any company. DoNotPay will cancel any service within 48 hours.
Open our app in any and do the following:
Log in to your Microsoft account

Click on

Find Hidden Money

Type in

Microsoft

as the name of the company you're canceling

Wait for your confirmation email that we'll send once we've canceled
| | |
| --- | --- |
| Can You Cancel With | Yes/No |
| DoNotPay | Yes |
| Website | Yes |
| Email | No |
| Phone | No |
| Letter | No |
How To
Cancel Microsoft Subscription
Manually
You can cancel your Microsoft subscription by yourself, but it's always risky to leave your cancellation in the hands of the company that wants to bill you. Sometimes they'll prolong the process so that they charge your credit card again.
In order to cancel your Microsoft subscription, follow these steps:
Sign in to your Microsoft account

Go to

Services and Subscriptions

Look for your subscription and click on

Manage

Tap on

Cancel

or

Upgrade or Cancel

when the next page opens

Follow the instructions provided
Canceling for business products is a little different especially when you have 25 licenses assigned to users. If this is the case with you, then you have to contact Microsoft directly in one of the two following ways:
Cancel Microsoft
Business
Subscription
Online
You have to be an admin so as to access Microsoft's admin center. In order to cancel online follow these steps:
Open

Admin Center

Click on the

Need Help?

Option

Select the source of your inquiry

Select

Contact Support

if you didn't get what you were looking for

Describe your problem, input your email address and number

Click on

Contact Me
Cancel Microsoft
via Phone
Billing support for admins is available from 9 a.m. to 5 p.m. Monday–Friday, and technical support is open 24/7. You may contact them at 1-800-865-9408.
What Problems Might Arise When Canceling Microsoft?
Microsoft support page states that some slight difficulties might occur when you try to cancel your membership. The possible problems could be:
The

Manage

button doesn't appear

You can't cancel your subscription

You can't turn off recurring billing
Microsoft offers a few solutions:
Check whether you've signed in with the right account

See if the payment method should be changed or updated

Go to

Microsoft Terms of Sale

and go through their cancellation policy

Find out if your subscription needs to be canceled because it might be the kind of subscription that will expire on its own—this is likely the case if instead of

Manage

you find

Turn on Recurring Billing
Does Microsoft Free Trial Automatically Become a Paid Subscription?

Microsoft offers a 30-day free trial for Microsoft 365 Business Standard, Microsoft 365 Business Premium, and Microsoft 365 Apps for business. After the 30 days, your subscription auto-renews into a paid subscription.
Microsoft will require you to input your credit card information. This is where DoNotPay is your solution—with our virtual credit cards you won't have to give your real information at all!
Use DoNotPay's Virtual Credit Card To Stop the Automatic Renewal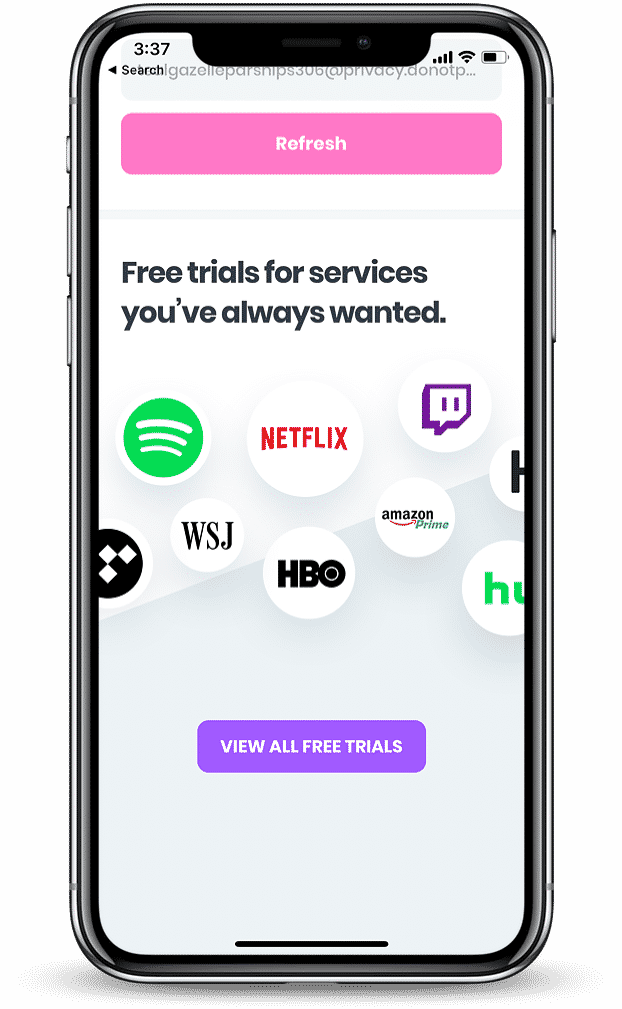 DoNotPay's free virtual credit card is a randomly generated credit card number that you can use to sign up for free trials. The main idea behind this is that DoNotPay's virtual credit card contains no deposit. The company will try to charge you, they'll fail, and then, cancel your subscription by themselves.
The number you get through a virtual credit card generator seems legitimate to the vendor and they can't tell the difference between a real and a fake credit card. You can have as many free trials as you like with DoNotPay's virtual credit card for free.
Will Microsoft Prorate the Cancellation?
Yes, Microsoft will grant you a prorated refund. They will refund you the money within the next billing cycle.
DoNotPay Helps With Numerous Administrative and Legal Issues

DoNotPay is the number one app for the tedious administrative problems you deal with on a daily basis. If you need to report spam mail to Microsoft or block emails on Outlook, we can help. If you're having problems with Microsoft robocalls, DoNotPay will show you how to get sweet revenge on them. We can assist you in canceling Xbox Live and getting an Xbox refund, too.
These issues are the tip of the iceberg of what DoNotPay can do. Open our app in your and see what else we can make happen.
We'll help you with:
Fighting traffic tickets

Appealing speeding citations
How Will Microsoft's Charges Show Up on Your Statement?
Wondering what the charges from Microsoft will look like on your bank statement? See in the table below:
| | | |
| --- | --- | --- |
| MSFT *ONEDRIVE 800MSBILL1 WA | MICROSOFT *OFFICE 3800-642-7676 NV | MICROSOFT*GROOVEMUSIBILL.XBOX.COM WA |
| Recur Debit Card Purchase MICROSOFT OFFICE 36 ...27676 WA | MSFT *ONEDRIVE 000800MSBILL1 WA | MICROSOFT *OFFICE 36800-642-7676 WA |
| MICROSOFT *XBOX 00BILL.XBOX.COM WA | SEASTREAK E COMM 908-2168635 NJ | Recur Debit Card Purchase MICROSOFT *OFFICE 36 800-642-7676 WA |
| MICROSOFT *MSN 000800-386-5550 WA | MICROSOFT * | MICROSOFT *OFFICE 800-642-7676 WA |
| MICROSOFT *OFFICE O365.COM/BILL NV | MSFT *DEVELOPER 00BILL.MS.NET WA | RECURRING CHECK CARD PURCHASE MICROSOFT *OFFICE 36 08006427676 WA |
| MICROSOFT *STORE 0BILL.MS.NET NV | MICROSOFT *XBOX 00BILL.XBOX.COM NV | MSFT *OFFICE 0000 OFFICE.COM WA |
| MICROSOFT *OFFICE O365.COM/BILL WA | MICROSOFT *OFFICE 365 800-642-7676 WA | MICROSOFT *XBOXLIV800-469-9269 WA |
| MICROSOFT *OFFICE 3 800-642-7676 NV | PaymentTo Microsoft Corporation | MICROSOFT * 0000 BILL.MS.NET WA |
| Payment to Microsoft Corporation | MSFT *OFFICE 800-642-7676 NV | DEBIT CARD PURCHASE - MICROSOFT *OFFICE 36 800-642-7676 WA |
| MICROSOFT *OFFICE 3800-642-7676 WA | 800-642-7676 WA | O365.COM/BILL WA |