Your Comcast bill is too high? DoNotPay will help you fix that!
Around 2020, the American cable TV market was in a rapid decline, which reflected on service costs. If you're a Comcast services user, you've probably noticed there's a definite rise in the bill prices. The average Comcast bill will continue to grow due to the higher fees required for programmers. The predictions aren't bright, forecasting about 3,6% of the total increase in prices, which will cost the Comcast customers almost ten dollars per month more.
DoNotPay will help you with your inflated Comcast bills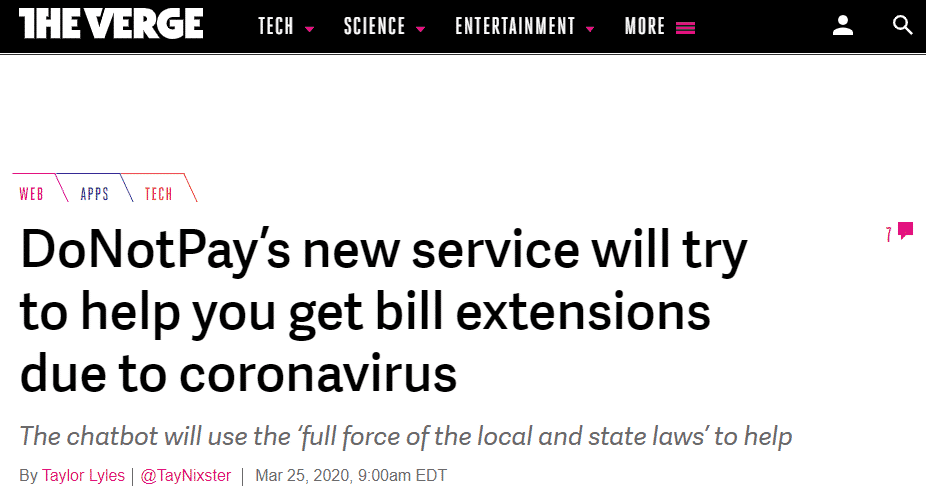 It's not convenient having to pay increased bills every month, especially during the current Coronavirus outbreak. DoNotPay can help you postpone or even waive your late payments. All you have to do is to follow these instructions:
Go to DoNotPay's

web page

Scroll down the main page until you find an option called "Corona Relief"

Click "Other Bills"

Have a short back and forth with our chat bot.
In the following 48 hours, you should get an email with the extension request letter.
Understanding your Comcast bills better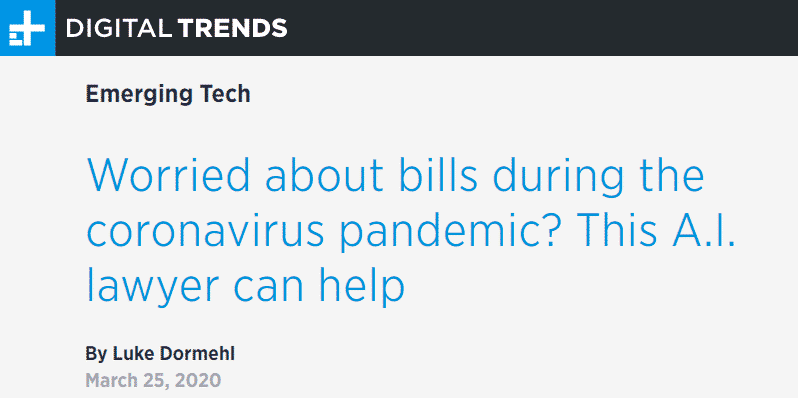 The first look at your Comcast bill will probably leave you confused. All services are bundled together, and there are three additional service charges added, plus taxes and fees. This display makes it impossible to single out the reasons your bills are too high. If you want to discover what exactly you're paying Comcast for, start with the second page of your invoice. There, you will find some additional info about your charges. For example, under "Additional TV Services," there's an "HD technology fee," which will cost you $9,95 monthly. You'll have to pay $10 for "DVR Service", located in "Additional Products, Services, and Equipment".That's a rental fee for the Comcast Xfinity DVR box. For "Broadcast TV Fee" and "Regional Sports Fee" services, you have to dish out just shy of $15 monthly. There's a bill for four different taxes, including "Franchise Fee". All those taxes will add $7,60 to your monthly bill. Now you realize you don't pay for the cost of Internet and cable TV only, but that there are many additional charges included in your monthly bill.
Lowering your Comcast bill 101
If you find your Comcast bills too expensive to handle, there are several methods you can try in order to lower the price. In some cases, the bill will be higher due to a mistake, while in others, you'll need to negotiate the price with a customer service rep. 
Here are some ideas on how to make paying your Comcast bills more bearable:
Negotiate with Comcast for lower bills

Save on equipment rentals

Check for errors
Negotiate with Comcast for lower bills
To negotiate with Comcast directly about better conditions, you need to reach Comcast's retention department. Regular customer service reps won't negotiate with you, as they aren't incentivized to do so. The tricky part here is that there's no phone number for the retention department— the only way to reach them is via customer service.  
Before you make the call, investigate the alternatives and their price ranges and plans, so you can use it as your leverage in negotiating. There are two ways to reach Comcast's retention department:
Call a regular customer service representative

Say that you want to cancel your service

Wait until the rep transfers you to the retention department
Or
Call the Comcast's customer support

Select the "Disconnect Service" option from the automated menu

You will get to the retention department directly
Once you reach the retention department representative, explain to them in a friendly tone that you favor the Comcast service, but it has got too expensive for you, so you're considering turning to some of the competitors. No one wants to lose a customer, so they should start offering you plans. If you didn't slack off while you were investigating, you could pull out a comparison with Comcast's competition and use it to make a better deal with them.
Save on equipment rentals
One of the items on your monthly Comcast bill is rent for using Comcast's cable modem. You can efficiently lower your Comcast monthly bill if you buy your cable modem. Make sure you buy a modem one, suitable for your Internet plan. You can also replace the Xfinity DVR and TV boxes with compatible streaming equipment. The initial investment may be larger than you want it to be, but in the long run, this move will save you a lot of money.
Check for errors
Comcast has already admitted they have charged some of their customers an unintended fee before. If your monthly bill is higher than usual, checking for errors is one of the options to find out why. Here's what you should pay attention to when reviewing your Comcast bill:
Look for duplicate items

Check for services you didn't receive

See if there are services you don't recognize

Call the Comcast's/Xfinity's billing department (1-800-934-6489) to clarify any mistakes
If you're still unsure why your bill is so inflated, you should consult a professional. A skilled bookkeeper could help you since they can identify items on your statement.
Consider Comcast alternatives
Before starting any negotiation with Comcast, it is up to you to look for suitable alternatives for cable TV. The most prominent Comcast competition is Verizon FiOS, but there's also AT&T's DirecTV. Let's see what each one of them bring to the table:
Company

Pricing

Benefits

From $50,00 / month

Fast, symmetrical speed options

Reliable service

No annual contracts

$44,99 / month

Excellent selection of channels

NFL Sunday tickets

Free subscription for premium channels
How to move the due date for your Comcast bill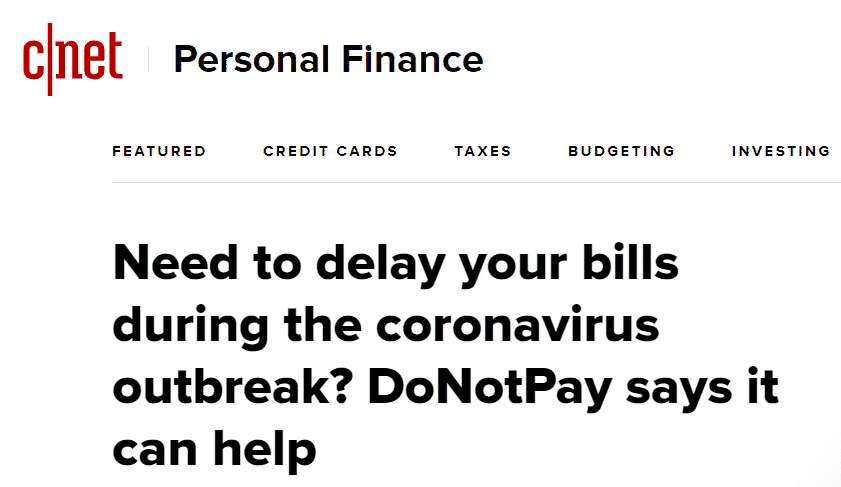 It is possible to extend your payment period for Comcast/Xfinity bills, but to do so you have to fulfill some requirements. First, at least one billing cycle has to be accounted for and paid for. Then, your payment shouldn't be late at the moment of application. If you meet those requirements, there are two platforms that can help you change the due date for your Comcast bill:
Change the date on the webpage
Sign in to

Xfinity's My Account

Click either the "Overview", "Billing", or "Automatic Payment" button

Click "Get Started"

Select the new date by setting in the drop-down menu next to "New Bill Due Date"

Click "Submit" to confirm the change

Click "Thanks, I'm Done" to finish
All users of automatic payments will not be able to select the 29th, 30th, and 31st since some months don't have these dates (looking at you, February).
Change the date in the Xfinity App for mobile
Sign in to the mobile app

Xfinity My Account

.

On the "Overview page", tap the "Settings" icon

Go to "Billing Preferences"

In "Billing Cycle" click on Edit, to select a due date you want

Check and confirm the changes

Click "Submit"
DoNotPay can offer you aid in this matter. Our app is capable of generating extension letters on your behalf. All you have to do is to leave the required data, including your name, address, due date, desired date, and the recipient. Our algorithm will do its magic and, soon after, your letter will be delivered. 
Is it possible to waive your late payments to Comcast?

Yes, it is. Comcast recently published they will extend the data-cap waiver until the end of June. Comcast also promised it wouldn't disconnect any of its services, and that it will waive late fees. The only condition is that customers contact them and let them know they can't pay their bills during the Coronavirus outbreak. There are many ways to contact Comcast/Xfinity, including:
| | |
| --- | --- |
| Can we contact the company with | Yes/No |
| Email | Yes |
| Phone | Yes |
| Letter | No |
| Personally | No |
| DoNotPay | Yes |
| Other online options | Yes |
DoNotPay will act as your solicitor, and it will help you by writing a letter to Comcast in which they ask for a waiver on your late fees.
Consequences of not paying a Comcast bill
So, you skipped on paying Comcast bills for a couple of months. What's the worst thing that can happen? Well, you're in for a ride. Comcast will first try to contact you and remind you to pay the debt. If you ignore them or tell them you're going to pay but fail to do so, they will sell your debt to a collection agency. Now, those people are more aggressive. They will call you daily, overwhelm your inbox with messages, and occasionally threaten legal action. At the final stage, you can be brought to a court of law, and if you don't show up for the hearing, a judgment will be announced in your absence. Your credit record will be devastated, all of your assets will be frozen until you make restitution with the damaged side--- in this case, debt collection agency. That's something you shouldn't let happen. 
What can you do to avoid the worst-case scenario? If you can, try to avoid having to deal with debt collectors. In case that your debt is already in their hands, some rules will help you manage this inconvenient circumstance better:
Don't ignore debt collectors

Know the law

Keep your old debts in check

Keep everything in writing

Don't babble out unnecessary info

Watch for scammers

Try to settle

Find other ways to pay
Never disregard debt collectors
We know it's tough to face your own financial shortcomings, but don't make the situation worse by pretending everything's fine. Ignoring your problems won't make them any less real, especially when these problems involve debt collectors. Those people won't go away if you keep hanging up and not answering their phone calls. If your debt remains unpaid, the debt collectors can process you for the expenses.
Know the law
Comcast has the right to seek late payments from you with the help of debt collectors, but you're still protected by law against abusive, unethical and deceitful actions. Legitimate debt collectors follow those laws, and that's one way to tell them from scammers. For example, debt collectors are prohibited from:
Calling you between 9 PM and 8 AM

Contacting you at work, if you told them your company doesn't allow those calls

Harassing you and your loved ones.

Lying about your debt
You can also ask Comcast to make debt collectors stop contacting you, and they have to comply. However, your financial obligations won't stop just because they don't call you anymore. Debt collectors still can report your debt to credit bureaus or prosecute you. If debt collectors infringe on any of your rights, you can hire a customer protection attorney to file a lawsuit. Another option is to ask a government agency, such as the Consumer Financial Protection Bureau, for help.
Keep the old debts in check
American states have something they call "zombie debt." That's the name for the state of the limitation on certain debts, after which you cannot collect them anymore. Some debt collectors will still try to claim those from you. In that case, don't acknowledge those debts. If you pay them off even partially, you'll become liable for those debts again. So, instead of accepting them, ask for verification of the debt.  
Keep a record of everything
Upon the first contact, the debt collectors have to give you info about the debt. Among that information is the name of the creditor and the sum you owe them. They are also required to tell you that you can argue the debt and request the name and the location of the original lender. If they don't give you that information in the first call, they are legally compelled to send it to you in the written form in the next five days. Even if you get that info upfront, still ask for the written proof. 
If you have any agreement with debt collectors, ask them to put it on paper. You should also put any demands in writing in case you need them later on. Recording phone conversations is also a good precautionary measure.
Don't babble out unnecessary info
Don't give out too much information to your debt collectors. Every piece of information you give them can and will be used to collect your debt more efficiently. Avoid giving any bank account information. Don't even give a bank statement without an account number. It's better to use a third-party payment service or a money order.
Watch for scammers
You can recognize fake debt collectors for their lack of compliance with federal and state laws. Also, authorized debt collectors have a clear and confirmable online presence. Scammers will reluctantly share their contact info with you, which is another way to recognize them. Another red flag is disregarding your rights and asking for bank account and credit card data for direct reimbursement.
Try to settle
Failing to pay your debts will result in a damaged credit score and a lawsuit. This does not mean you have to pay all of your debt at once. You can offer to pay a portion of your debt as a lump sum. Your final settlement will likely be much bigger, so offer a small sum for a start. The amount of compensation depends on many circumstances. Some debts are more serious than others, so the settlement amounts are different too.  Even if you settle the debt, the record of it will remain on your credit report for seven years.
Find other ways to pay
You should deal with your debt as soon as possible, but it's not always easy to do that. Sometimes you cannot afford to settle the score with your creditor. In that case, there are a couple of options: 
A credit counselor can make you a debit plan, allowing you to pay off your debt little by little. If you decide to do this, make sure to work with a non-profit credit counseling agency. 

File for bankruptcy momentarily stops any attempt of debt collection. 

Erase your debt by selling some of your assets and distributing money to your creditors. 

Get on a payment plan with affordable rates and pay off your debt over the next three to five years.     
After you've erased your debt, try not to deal with debt collectors ever again. It is beneficial for both your credit score and good night's sleep.
DoNotPay Protects Your Privacy and Finances
Sharing your credit card details online comes with certain risks, and it's getting more difficult to tell good and bad websites apart. With DoNotPay's virtual credit card generator, you will be able to protect your identity and bank account from cyber scammers.
Whenever you run into a suspicious email or website, generate a virtual credit card and proceed without worries. Our virtual cards also work like a charm if you want to avoid automatic payments after free trials.
What else can you do with DoNotPay?
DoNotPay is a free app, and it's available for web browsers. It contains numerous useful functions, including:
Disputing traffic tickets

Fighting speeding tickets

Assisting with additional bills