Dispute MSU parking tickets in 120 seconds
DoNotPay features an AI-powered chatbot that can now help you appeal and beat parking citations. It was developed by a British teenager, partly in frustration over accumulated parking tickets. Since it was launched in 2014, the app has helped more than 160,000 people dispute their parking tickets and save millions of dollars, as Business Insider has reported.

Now, you no longer need to hire a lawyer to appeal your parking tickets in person at your local parking office. You can do so successfully with DoNotPay. All you have to do is follow these simple steps to enjoy the many benefits the app offers:
Use the DoNotPay website

.

The app will ask a few questions, which may include when you received your ticket, the type of infraction you received, in which city or jurisdiction in which you received it, and the reason behind your appeal.

You will be asked to upload a photo of your parking ticket to the app.

After sending all the necessary information, DoNotPay will give you a script that you can use in your appeal.
Watch how to dispute parking tickets in any city:
I don't have a lot of free time. Is fighting an MSU parking citation worth it?

MSU allows you to appeal your parking tickets within seven days of the date of issuance. According to the Parking Office, appeals may be made in writing, by phone, or online. Phone appeals are handled from 7:30 am to 4 pm, Monday through Friday. Reddit users have mixed opinions on whether it's worth appealing your MSU parking tickets. However, with an app that can help you fight parking tickets in under two minutes, there's no reason for you not to dispute your citations. Access DoNotPay through any web browser.
Contesting a parking ticket is very worthwhile, whether or not you think you have strong evidence or a solid case. Evidence always helps, and possible examples include:
Visible corrections or alterations on your ticket

Incorrect information on the ticket

Critical information not listed on the ticket

Photos showing the area's street signs or the lack thereof

Photo of the area where you were ticketed

Photos of nearby cars that should have received the same ticket

You sold the vehicle before the ticket was issued

The car was not in your possession when you were ticketed
You have an app that can help you reduce your fine or get it dismissed without having to figure everything out for yourself. Access DoNotPay through any web browser.
How much time can I free up by using DoNotPay?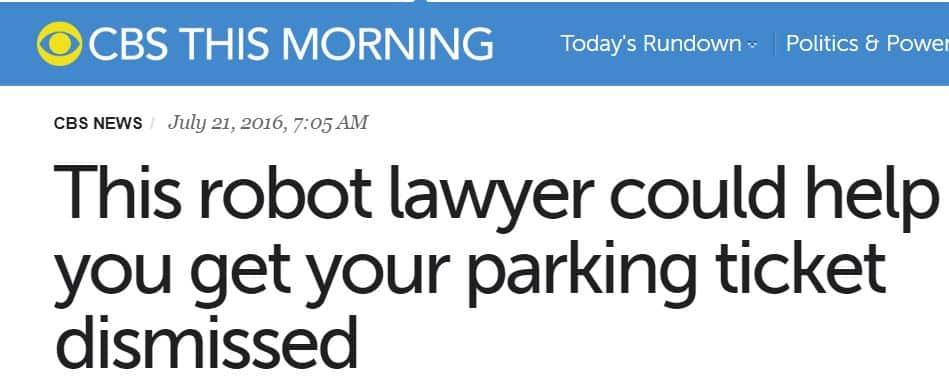 Appealing an MSU parking ticket on your own takes up half a day's work on average. The entire process can include gathering evidence, interviewing witnesses, taking all the documents to the parking regulations office, or writing a formal letter, and mailing it with the documents to authorities. But you don't have to deal with this if you use DoNotPay instead!
The world's first robot lawyer not only saves you from losing your hard-earned money on parking tickets, but it also helps save you precious time! Access DoNotPay through any web browser.
If I get a parking infraction at MSU from a private company, will DoNotPay help me fight it?

DoNotPay can help you challenge parking tickets issued by any private company, including:
Towne Park

Ace Parking

Douglas Parking

ABM Parking Services

SP+, aka Standard Parking

Laz Parking

Imperial Parking, aka Impark

Lanier Parking
Access DoNotPay through any web browser.
Is it necessary to seek legal counsel to fight an MSU parking ticket?

Technically, you don't need to hire a lawyer when appealing parking tickets in MSU. Aside from the fact the getting services can cost a lot, we can all agree that a mere $50 infraction is just not worth all the hassle and expenses that legal council can bring.
However, should the need for a lawyer seem to arise, make sure that you get your money's worth by getting a competent parking ticket lawyer who has these qualities:
Sound credentials

Professional background and a great success rate

Expertise and experience in handling parking ticket cases
Finding a parking ticket lawyer is not any easier than finding a criminal defense lawyer or similar. Follow these simple steps to help you find the right one:
Check your state bar association for the list of practicing lawyers in your area. The association has all the necessary information you need to contact the right lawyers.

Ask for referrals from friends and colleagues.

Create a shortlist of lawyers using the information and professional history that you find online.

Set up a consultation and ask for the fee upfront before signing a deal.
How much will it cost me to retain a lawyer to fight a parking citation at MSU?

In Michigan, lawyer fees range from $100 to $1000, depending on the case. Lower court representation services can cost you somewhere between $100 and $200 per ticket case.
Whenever you receive an infraction, appeal it using your best option: DoNotPay. With DoNotPay, the appeal process is utterly free and usually results in your fine getting revoked. Access DoNotPay through any web browser.
If I end up with no choice but to pay the fine, how can I do that?
In rare cases, your appeal may fail, and you will have to pay the fine.
You are required to pay MSU parking tickets within seven days from the date of issuance, according to the MSU parking office. All late payments or late appeals will incur a $10 or $15 late fee on top of the fine. All violations that remain unpaid after ten days are also subject to a non-waivable administrative processing fee.
You can pay parking fines in person at the Police Department, in the Parking Office, or through the 24-hour drop box located in the lobby of the Police and Public Safety Building. MSU authorities also allow you to pay by mail or online.
Mail payments should be made only as a check or money order and should be made payable to Michigan State University.
Dispute or Pay?
| | | | | |
| --- | --- | --- | --- | --- |
| | Ease | Time it takes | Cost | Benefits |
| Dispute | Disputing with DoNotPay is easy and hassle-free | DoNotPay takes no longer than two minutes | Completely free or reduced fee | Getting parking ticket fines canceled |
| Pay | There are various ways to pay infractions: in person, by mail, drop-box, or online | Can take hours or even days depending on the payment option you choose | Price of the ticket + administrative fees + transportation cost | Necessary if your dispute is not successful |
What are the chances of getting my parking fine reduced?
Appealing your tickets increases your chances of having it reduced. MSU parking police may reduce your fine simply because you dispute your ticket. You can direct your dispute to the City of East Lansing, where it will be handled like any East Lansing parking. Some Reddit users have said they have achieved some success and even got their ticket waived by transferring their disputes to the City of East Lansing.
MSU is notorious for its stringent parking regulations, but you can always challenge parking tickets using DoNotPay! Access DoNotPay through any web browser.
If I don't pay my MSU parking fine, what's the worst that can happen?
Failure to pay your MSU parking tickets could result in some significant consequences, but it won't land you in jail. According to this Reddit thread, unpaid tickets may result in getting your vehicle towed or impounded.
The more severe implication is that unpaid tickets can affect your student record. According to MSU's Parking Office, they have the right to withhold your class registration, among other possible actions. In the Reddit thread above, a user said he accumulated around $1300 in parking tickets while he was attending MSU, and the university did not release his diploma until the total bill was paid off. 
Do MSU police parking infractions show up on my driving record?
Your infractions won't be reflected on your driving record, but can affect your financial history! So, the next time you try to ignore your parking tickets, think again. Unpaid parking tickets go straight to a collection agency, which isn't good news for your future loan applications.
Unpaid tickets can also result in the suspension of your vehicle registration. Dispute your fines with DoNotPay. Access the app through any web browser.
What if I got an East Lansing citation and someone took it off my car? I never saw it.
You may have received an infraction but didn't find a physical parking ticket on your windshield due to extraneous circumstances. Maybe the wind blew it off. Nevertheless, you will be notified via mail of whatever violations for which you have been ticketed.
Should you receive an unexpected letter regarding a parking violation, it is best to call the authorities to verify.
Will an MSU parking infraction make my car insurance rate rise?
Getting a parking ticket won't affect your car insurance. Your insurance company does not have access to your parking violations record. However, you may lose your insurance if your vehicle registration can't be renewed due to unpaid tickets. Insurance companies like American Family will refuse to insure unregistered cars. When you apply for insurance after re-registering your vehicle, you may end up with higher rates. 
Also, if your unpaid tickets have been forwarded to a collection agency, chances are you'd have difficulty renewing your coverage.
I'm not from Michigan. Do I really need to pay off my MSU parking citations?
You have to pay parking tickets that you obtained while you were outside your state of residence. 
You are required to pay your MSU parking violations regardless of whether you are a non-student or a non-resident of East Lansing. Each university, city, and state has its own parking regulations aimed at ensuring the smooth flow of traffic. So, before driving within their premises, make sure that you are familiar with their rules.
Appealing out-of-state parking tickets is best done with DoNotPay. It can help you with the entire process without you having to be physically present. Access DoNotPay through any web browser.
Can I get a parking ticket even if I'm still sitting behind the wheel?
Getting a parking ticket while seated behind the wheel is not uncommon. So, ensure that you are legally parked whenever you're making a quick stop to answer an urgent call or an important message. Some cities are strict, even when briefly stopping, so always pay attention.
If I get parking citations while driving a rental car, do I really have to pay them?
You have to pay for all the parking tickets you obtain while you are renting a car. Car rental agencies such as Budget include this in their policies, so it should be clear that you must pay off all the infractions you get while driving one of their cars.
Car rental companies will automatically charge the card you used to make the booking for the fine plus a substantial administrative fee.
How much income does MSU earn from issuing parking tickets?
MSU Police issued more than 99,400 parking tickets between August 2017 and April 2018, collecting more than $1.7 million in fines, including late fees, according to a report from statenews.com. This is even more than the fines collected by the East Lansing police, which only came to $568,000.
DoNotPay helps users fight and beat tickets in any city
DoNotPay helps users fight parking tickets in every city in the US and UK. Here are a few cities we've helped users dispute the most tickets in:
What else can DoNotPay help me do?
DoNotPay can also help you:
Contest your speeding tickets
Dispute your traffic tickets
Contact customer service on your behalf and connect you after it reaches a real human being
Make a virtual credit card to avoid getting charged at the end of a free trial

Help you get compensation for delayed and canceled flights
Access DoNotPay through any web browser.
Summary of dealing with MSU parking tickets
| | |
| --- | --- |
| Appealing your parking tickets can take no effort with DoNotPay. | DoNotPay has helped more than 160,000 people save millions of dollars by successfully appealing their infractions. |
| You can contest a parking citation in under two minutes. | Download DoNotPay and dispute your parking infractions with a few easy steps. |
| DoNotPay can also help you win parking ticket battles with private parking companies. | You can use DoNotPay's services anywhere in the United States. |
| Ignoring your parking tickets can result in severe consequences. | Fortunately, jail time is not one of them. |
| Disputing a parking infraction is worth the effort. | With DoNotPay to prepare the dispute for you, there's no reason for you not to appeal your parking tickets. |
| You can pay your ticket in person, in drop boxes, by mail, or even online. | However, if your dispute is successful, then you won't have to pay a thing. |
| You can have your parking ticket fee reduced. | In some cities, simply appealing your ticket can save you a part or all of your fine. |
| Your driving record will not show your parking violations. | But your financial history can take a huge blow from unpaid tickets. |
| You have to pay infractions despite not finding a physical ticket tucked in your windshield wipers. | You will get notified of any violations by mail, so you can't use a missing ticket as an excuse not to pay. |
| Your insurance premiums won't go up if you have unpaid parking tickets.  | Unpaid tickets can also result in the refusal to renew your vehicle registration and thereby your ability to get insured. |
| Taking your parking ticket to court on your own is an option. | But before going that far, try DoNotPay, so you won't have to spend anything! |
| You must pay off all the tickets you received during an out-of-state trip. | You must obey all parking laws wherever you are in the US and despite being a non-resident. |
| Avoid parking tickets by being familiar with parking regulations. | Dodge parking fines by appealing them! |
| Getting a parking ticket when you're behind the wheel is common. | You should park legally before stopping to answer an urgent call or an important message. |
| Tickets you receive while renting a car are your responsibility. | Some car rental agencies will automatically charge your credit card for the fine and an additional administrative fee. |
| Cities make hundreds of millions from parking tickets annually. | MSU collected more than $1.7 million in parking fines and late fees between 2017 and 2018. |
| DoNotPay has other services that can assist you. | Services include canceling free trials, seeking compensation for delayed flights, and appealing speeding tickets. |