Decode Michigan Sex Offender Laws for Tier 3—Our Alerts Can Shield You
With almost 44,000 registrants, Michigan ranks 4th on the list of U.S. states with the highest number of registered sex offenders. There can be hundreds of them lurking in your neighborhood, but are all of them worth stressing over?
The State follows a three-tiered system of classifying its sex offenders based on the severity of offenses, with Michigan's sex offender laws for Tier 3 being the harshest.
DoNotPay's Sex Offender Search feature can help you fish out worthwhile details from the massive database of any sex offender registry in a hassle-free and time-efficient manner. to get automated alerts on sex offenders in your vicinity!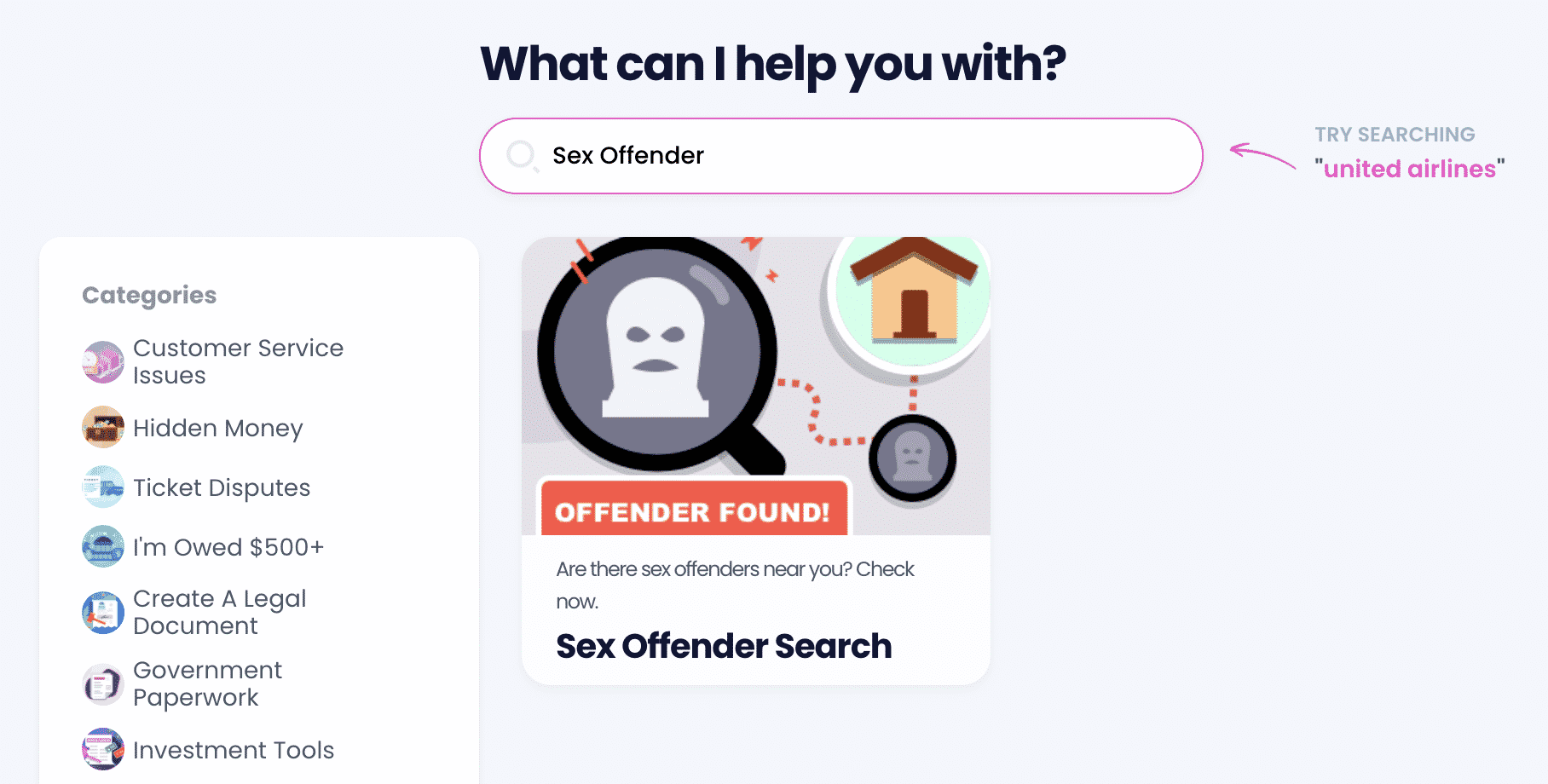 Michigan Sex Offender Tiers Explained
Michigan's Sex Offender Registry classifies different types of sex offenders on the basis of tiers, but this segregation is not always visible to the public.
This table will give you a comparative breakdown of the commonly observed sex offenses under each Tier:
Tier 1
Tier 2
Tier 3

Unlawful restraint of a minor
Possession of child pornography
Indecent exposure
Fourth-degree criminal sexual conduct—when the victim is 18 years or older
Any sex crime committed by a sexually delinquent person

Enticing or soliciting a child for a sexual act
Promoting and distributing child pornography
A sodomy crime where the victim is 13–17 years old
Second-degree criminal sexual conduct—when the victim is 13–17 years old

Gross indecency against a minor below 13 years
Kidnapping of a minor
Rape or any form of forced penetration
Attempt or conspiracy to rape
Second-degree criminal sexual conduct—when the victim is under 13 years old
Any sexual act with a cognitively impaired person
What Is a Tier 3 Sex Offender in Michigan?
Due to raging violations like rape and child molestation, Michigan's Tier 3 crimes are viewed on a more critical level than Tier 1 and Tier 2 offenses.
These offenders have to live with lifetime implications—they:
Are mandated to remain on the Registry for life—juvenile sex offenders' records may be maintained on a private registry
Must verify their database details with the law four times every year—i.e., once every 90 days for the rest of their lives
Must report crucial changes in their registration data within three days of the change
Apart from the strict registration guidelines, Michigan's sex offender registration laws also cite serious rules and restrictions for the State's dangerous Tier 3 sex offenders.
Michigan Sex Offender Tier 3—Restrictions Applicable
We have compiled the various kinds of restrictions imposed on Tier 3 sex offenders. Check them out in the table below:
Restriction Type
Rule
Residential restrictions

Tier 3 sex offenders are prohibited from living within 1,000 feet of schools, daycare centers, and public parks
Some Tier 3 offenders may also be banned from working in areas where they face residency prohibitions

Travel restrictions

Tier 3 sex offenders cannot travel to another state for more than a week
They must notify law enforcement three days before if they do travel
They must notify law enforcement 21 days before if they're going for international travel

Other restrictions
Tier 3 sex offenders may face limiting case-specific parole or probation conditions like:

No contact with children
Electronic device monitoring for continuous mapping
Routine polygraph examinations
Completion of approved sex offender treatment
Michigan Tier 3 Sex Offender—Consequences of Non-Compliance
Unregistered sex offenders can be a menace in Michigan. If a Tier 3 offender willfully fails to comply with the registration requirements, he or she will be flagged as a felony offender facing the following statutory penalties:
First default—Maximum four years in prison and up to $2,000 in fines
Second default—Maximum seven years in prison and up to $5,000 in fines
Third and subsequent defaults—Maximum ten years in prison and up to $10,000 in fines
If the default is not willful, the offender can still face up to two years in prison and get a fine of a maximum of $2,000.
Can a Tier 3 Sex Offender in MI Be Removed From the Registry?
Sex offenders are unwelcome wherever they go. With sex offender registries being public thanks to Megan's Law, many look for ways to get off them.
Tier 3 offenders in Michigan can petition to be removed from the Registry only if:
25 years have passed since the offender's original date of conviction
The offender has not committed any felony or sex crime after being released
The offender has never violated the terms of probation, parole, or supervised release
The court may allow the removal on a case-to-case basis after evaluating whether the Tier 3 offender is a public threat or not.
DoNotPay Warns You if a Tier 3 Sex Offender Loiters Near Your Home
There's a good reason behind the enormous restrictions that bind Tier 3 sex offenders in Michigan—they may reoffend. If you want to keep tabs on the predators around you, public registries can be unreliable. Michigan's Sex Offender Registry can be out of date for months at a time, making it difficult for you to stay informed and vigilant.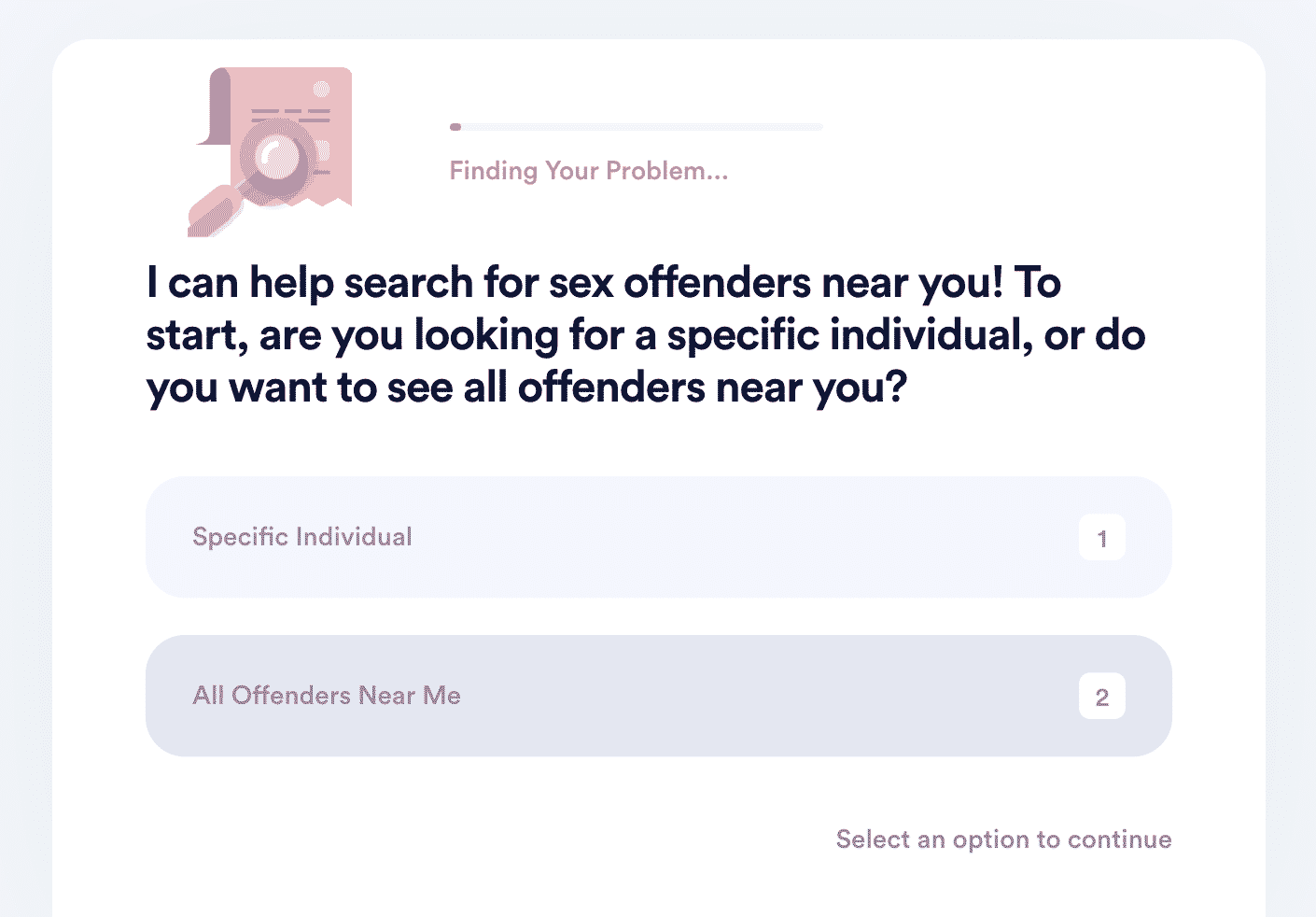 If you are tired of spending hours on slow and incompetent government sex offender registries, turn to DoNotPay for an easier alternative. Our AI-enabled Sex Offender Search can scan your neighborhood for registered sex offenders within a couple of seconds. All you have to do is this:
and find our Sex Offender Search tool
Tell us about the report you want—on a specific individual or on all offenders near you
Enter the proximity you want to check—within one, two, or three miles of your address
Choose if you want an optional weekly scan
DoNotPay generates your customized report that contains the latest mugshots and details of the offenders as per the Registry database. Our weekly scan feature keeps you updated with timely alerts, and you don't have to lift a finger!
Need Legal Assistance? DoNotPay Got You Covered!
Forget about getting a migraine every time there is an administrative task to handle. DoNotPay makes it easy and stress-free to deal with any bureaucratic issue that comes your way.
Not only can we assist you in drafting a legal document and getting it notarized, but we also help you:
Reduce your property taxes
Finishing Your Daily Errands Has Never Been Easier!
Looking for help with running errands? You don't have to spend hours trying to make a DMV appointment or contacting a customer service rep! Completing your day-to-day tasks stops being a burden once DoNotPay gets involved.
There is no shortage of errands we'll help you run for a small subscription fee, including:
Sign up for DoNotPay and avoid spending hours on simple daily tasks that can be done in a jiffy!