Use DoNotPay To Keep Lucas County Sexual Offenders at Arm's Length
It seemed like a triumph when Megan's Law made it mandatory for states to open their sex offender registries to the public, but that hardly ever put a stop to vile sexual crimes. To make matters worse, many compulsive offenders find sneaky ways to flout the registry laws on repeat.
Did you know that several Lucas County sexual offenders were found non-compliant during recent surprise checks, with many of them being child molesters?
If you're anxious about the safety of your loved ones, let DoNotPay take over. We have designed a unique Sex Offender Search feature that lets you scan any address for registered sex offenders in your vicinity. to get our automated alerts!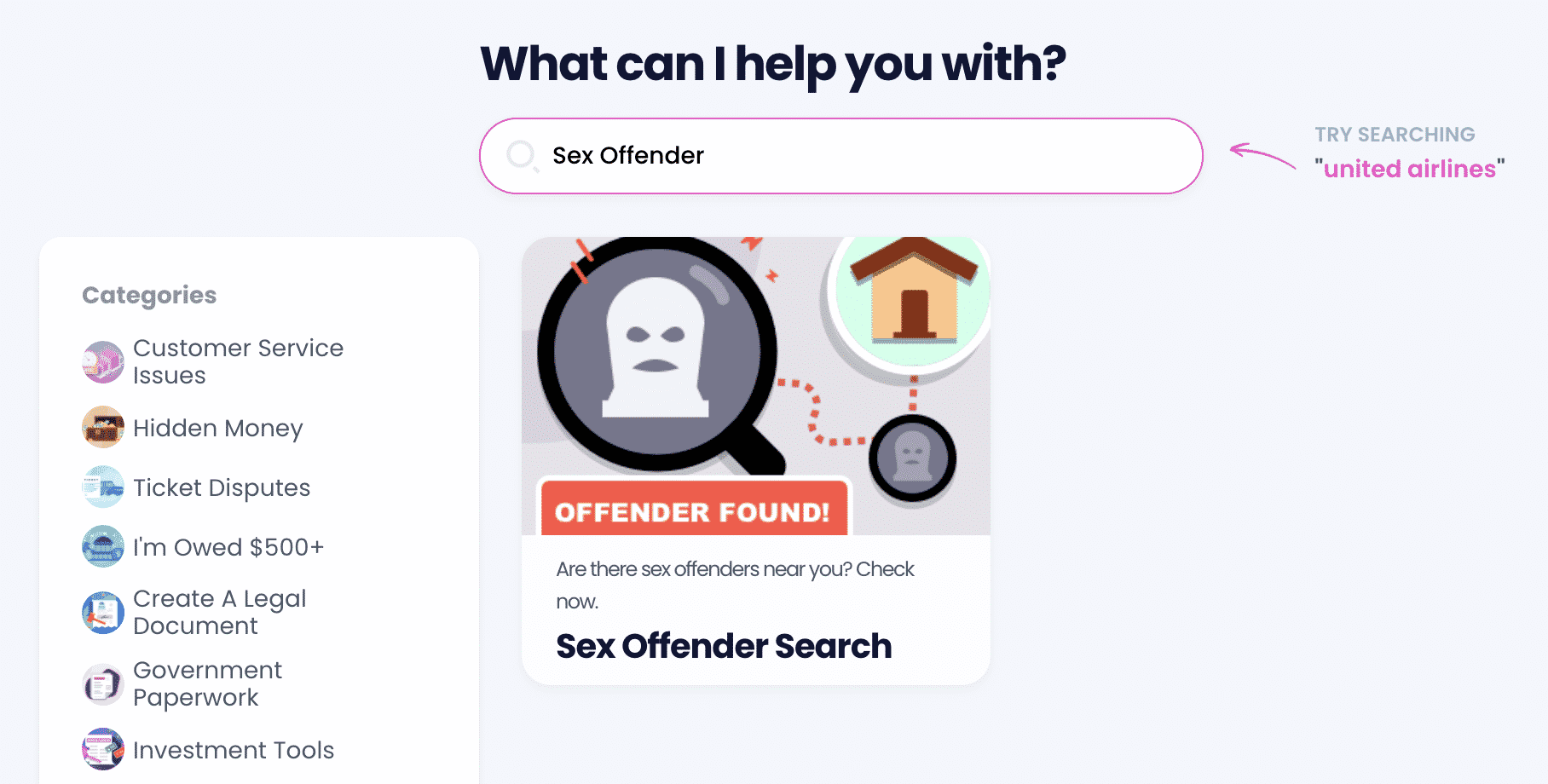 Understand Who a Toledo or Lucas County Sex Offender Is
As per Ohio Sex Offender Registry laws, all Toledo or Lucas County sex offenders need to register with the local Sheriff's Office after being released from jail or prison. Ohio classifies its sex offenders into three tiers based on the severity of their sexual offenses.
This table will give you a brief overview of the types of sex offenders under each tier:
Classification
Applicability
Tier I—low-risk offender

The offender committed a misdemeanor sex crime
The crime did not involve a minor
No violence was used

Tier II—moderate-risk offender

The offender committed a crime that is penalized with imprisonment of more than one year
The crime may or may not have involved a minor

Tier III—high-risk offender

The offender committed a felony sex crime like rape, sexual battery, child abduction or molestation, or any sexual offense where violence was dominant
Repeat Tier II offenders can also be assigned to Tier III
In addition to the above tier classification, Lucas County also categorizes its registered offenders by the following parameters:
Sexual predator
Habitual sex offender who accounts for community notifications
Habitual sex offender who does not account for community notifications
Sexually oriented offender
This segregation depends on the nature or recurring status of the underlying offense and is usually imposed by the judge during hearing or sentencing on a case-to-case basis.
How To Access the Lucas County Sex Offender List
You can access the Lucas County sex offender list by visiting the local Public Registry website. The Lucas County Sheriff makes two important disclaimers in the Registry's user agreement:
There is no guarantee that the database is truthful or accurate at all times due to challenges in monitoring and updates
The Sheriff's Office will not be responsible if you commit a criminal act—like stalking or harassing an offender—by misusing the data from the Registry
The website lets you browse through the database using six different search criteria:
Address
Name
City
Compliance status
Phone number
Email address and internet alias
Is Lucas County's Sex Offenders List Easy To Process?
You may face several troubles while processing the search results:
The generated list can be overloaded with irrelevant details or entries—you may have to browse past a myriad of records to find what you're looking for
The search process may be slow and glitchy
You may not have the desired search input for the data you want
The painful update lags can leave out important info about certain non-compliant or unregistered sex offenders
You may not get the updated location data for the mappable sex offenders
Lucas County's Community Notifications on Sex Offenders
If a regular Registry search is not your cup of tea, you can reach out to the Lucas County Sheriff's Office to subscribe for community notifications. You will get an email alert every time an offender moves within one mile of your specified address.
This feature is not a reliable solution in terms of safety because:
Lucas County will only notify you of a handful of high-risk category offenders
You may not be alerted on time
The email alerts often get lost in your spam folder
Lucas County Sex Offender Registry Laws
It's crucial to stay informed on the sexual offender registration laws that govern the offenders in Lucas County. We have compiled some common questions about registration rules in this table:
Issue
Registry Rule
What is the duration of registration?
This depends on an offender's tier assignment:

Tier I—15 years with yearly checks-ins
Tier II—25 years with half-yearly checks-ins
Tier III—Lifetime with quarterly check-ins

Are there any residential restrictions?
Certain offenders may be prohibited from residing within 1,000 feet of a school or daycare facility
Do Lucas County offenders face travel restrictions?

Offenders may need a written travel permit to travel within or outside Lucas County
Travel outside the U.S. may be subject to court approval

Can a registered sex offender use social media?
Yes, but they may not be allowed full access to certain websites, like Facebook, Twitter, or Instagram
DoNotPay Stands Between You and Lucas County Sex Offenders
It's distressing to hear about on-parole child abusers preying on kids in Lucas County. Keeping tabs on sex offenders is a top-priority safety exercise, but both the Registry search and community notifications fail to meet expectations.
DoNotPay offers a wholesome remedy to this problem in the form of our Sex Offender Search tool.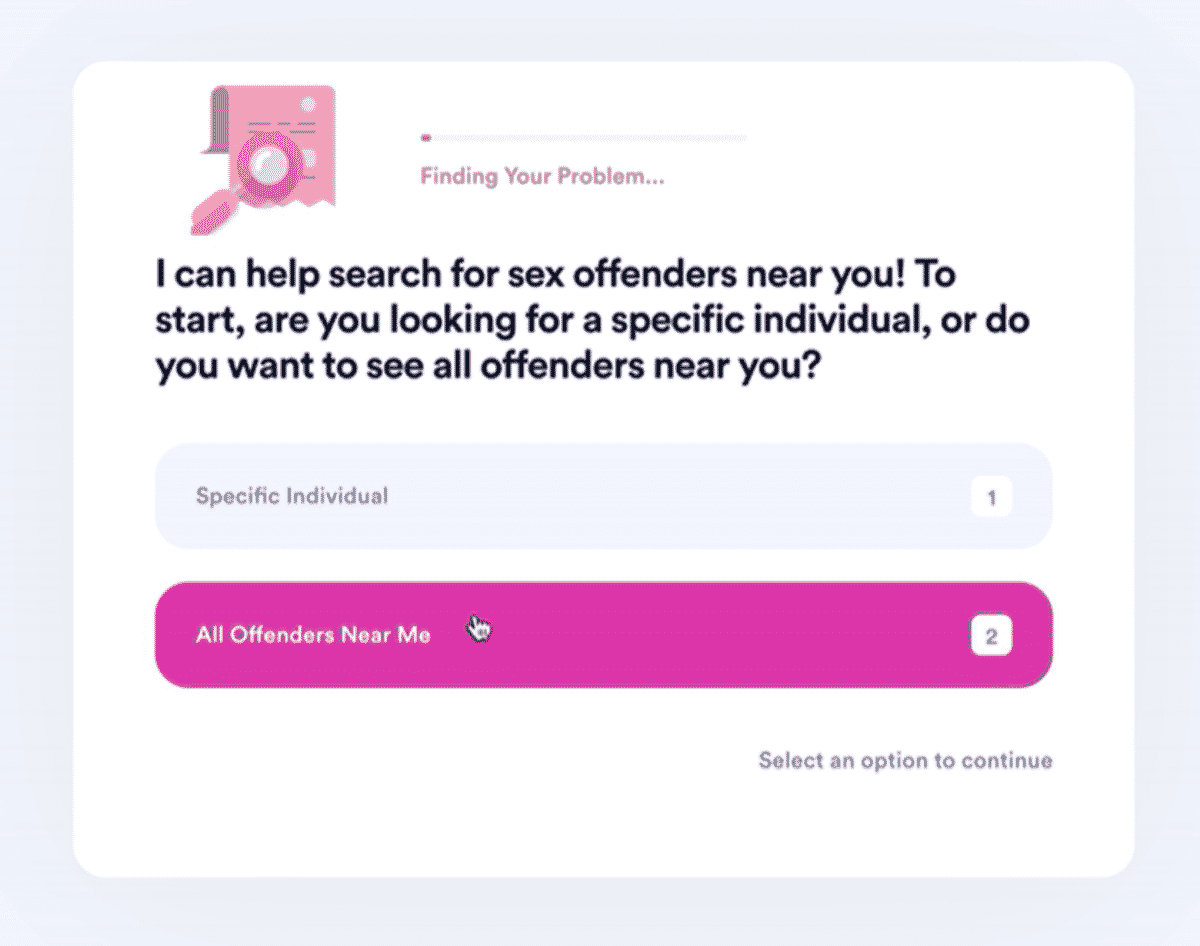 Our AI-powered search won't ask you for elaborate inputs because we know what you need. Use DoNotPay to secure your neighborhood in four easy steps:
and click on Sex Offender Search
Let us know if you're looking for a specific offender or you want to see all of the registered offenders near you
Set a proximity search radius between one and three miles
Tell us if you want to opt for an automated weekly scan
DoNotPay will assemble your search parameters and generate your report within seconds. You will get a comprehensive list of the updated database details and mugshots for each registered offender in your vicinity.
DoNotPay Runs Weekly Scans That Keep You Safe
DoNotPay helps you keep your loved ones safe without spending hours every week on annoying registry websites. Our background weekly scan feature inspects your address every week. You will get an instant report after each search that will guide you to making informed safety choices for you and your family!
To Sue or Not To Sue?
Hiring a lawyer to help you sue a company can be helpful, but it can also cost you an arm and a leg. Luckily, you can avoid wasting hundreds of dollars and use our robot lawyer to sue any company in small claims court instead!
DoNotPay offers you a variety of other features you will find quite useful when dealing with bureaucratic issues. Check out the list below to see what else our app can help you with:
Shopping Without Dropping
Whoever said you should shop until you drop didn't have access to DoNotPay's various features. With our app, you can make your shopping experience smooth sailing and stress-free!
Here's a fragment of what you can accomplish by using our neat features: