What Are the Best Alternatives to a Klarna Virtual Card?

Klarna is a Swedish company that provides online financial services. One of the services you can get from them is a one-time virtual card. You can get multiple virtual cards from them, but they are all temporary. If you are interested in a , this guide will tell you everything you need to know.
Virtual cards can be helpful because they can often help you get past putting your personal credit card information in at a bunch of different places. The Klarna card is set with a specific amount of money, so you can't spend more than that unless you authorize it.
If you're interested in getting a virtual credit card, DoNotPay has the info you need. We can easily generate a virtual credit card with no deposit and an instant approval process.
What Is a Klarna Virtual Card?
A Klarna virtual card is a one-time, virtual, single-use card. You can use it to shop at any prepaid card-accepting online store in the United States. You can create many Klarna One-time cards over time, and each time you will get a unique card number to use at checkout, just like normal credit cards.
When you set up your virtual card, you will create a payment plan that can be managed and paid for in My Klarna. It is possible that an authorization hold could be placed on the card you set up to fund your Klarna card, depending on what options you chose when you created your card. This is done to make sure enough funds are available on the credit or debit card you are using.
Is it Free to Get a Klarna Virtual Card?
You can create a free on the My Klarna website. However, be aware that you have to have funds to put on the card.
How Does the Klarna Virtual Card Work?
You connect a credit or debit card to your Klarna account and add money to your One-time Klarna card through it. You can then use the Klarna card just like you would any traditional credit or debit card. However, you can only use it at places that allow for pre-paid cards.
How You Can Get the Klarna Virtual Card
Follow these steps to create a One-time Klarna card.
Go to My Klarna and sign in to your account.
Set the amount, including shipping, that you plan to spend. Once you have entered your information, you will see an overview to confirm.
Go to the checkout at whatever store you are shopping at and fill in your address details.
Then, select the credit card option for paying and enter your Klarna One-time card information. There should be a card number, expiration date, and CVV code.
If you spend less than you thought you would, you can return to Klarna and click on refund unused amount. Or, you can wait, and the amount will be adjusted automatically after two weeks.
If you create a card and don't use it within twenty-four hours, it will automatically expire. However, you can create a new card if you still need one.
Is the Klarna Virtual Card Safe?
Using a virtual card is usually safer than using a traditional credit or debit card because you aren't entering your credit card information in a bunch of different places. However, there are certain disadvantages of virtual cards.
When making a return to a business, the refund might have to be placed on the card used to make the order, which you will no longer have.
You still run the risk of losing the money you put on your Klarna card if you enter it somewhere unsafe.
What Does the DoNotPay Free Trial Card Do?

If you've ever been annoyed that you have to put in your credit card information just to access a free trial, the DoNotpay Free Trial Card is for you. You can from DoNotPay and use the information that is generated for the card to access the free trial.
Here are some benefits of using the DoNotPay Free Trial Card.
You can trust that all billing pages will accept it.
It is easy for you to use.
You don't have to worry about merchants charging anything to your card.
When the merchant tries to charge you, you will automatically be unsubscribed from the service.
Where Can I Use DoNotPay's Free Trial Card?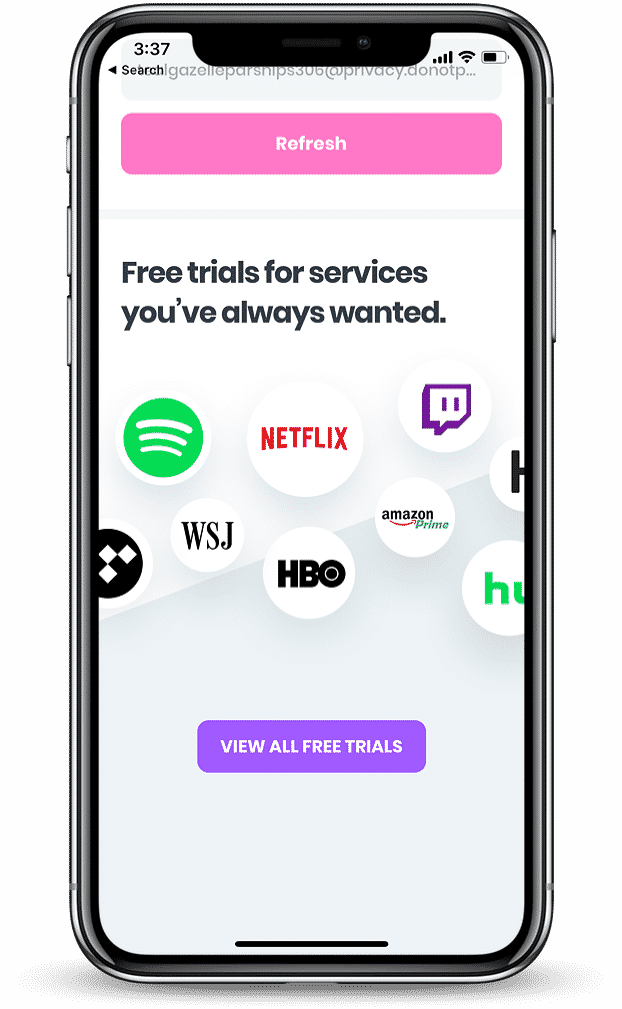 You can use DoNotPay's Free Trial Card in a lot of different places.
How Else Can DoNotPay Help?
DoNotPay works with a lot of companies/entities. This means we can help assist you with a wide variety of tasks. Here are a few ways we can help you.
Sue someone in small claims court
Learn how to jump phone queues
Appeal a parking ticket
Conclusion
It's natural not to want to put your credit card information in a bunch of different places. The more places it is, the more likely you will have your information stolen. You can avoid this by using virtual cards like the ones that Klarna and DoNotPay offer.
DoNotPay can easily generate a free trial card for you to help you get access to pretty much any free trial you want. Contact us today for more information.