Let DoNotPay help you lower your DirecTV bill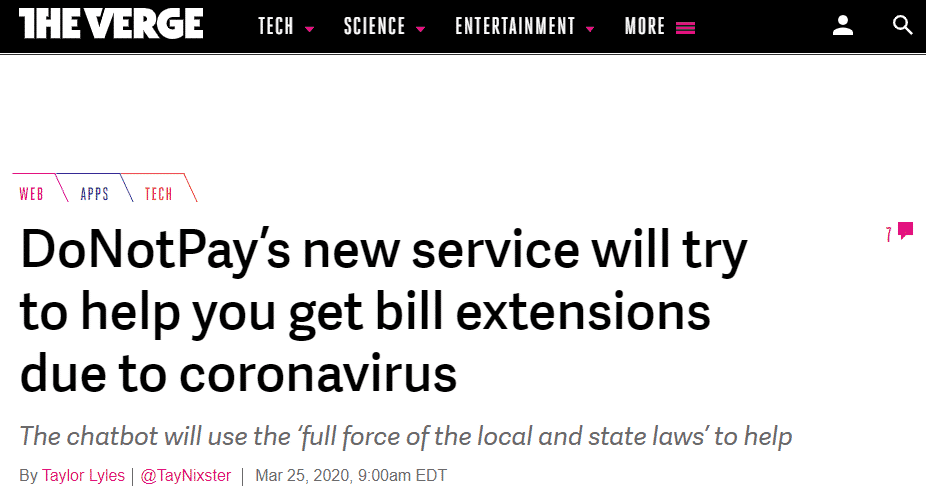 DirecTV is a cable TV provider owned by AT&T Company, which has a reputation for great content for a relatively affordable monthly fee. At least on the paper. In reality, due to the increased programmers' expenses, you have to pay more than 40% on top of the offer you signed for. That means an average monthly bill for DirecTV sometimes exceeds $200, which is often more than expected. The good thing about the whole situation is that DirecTV isn't the only cable TV provider, so you can consider switching to one of the competitors or make a deal with DirecTV to reduce your monthly bills.
Understand your monthly DirecTV bill
To lower your DirecTV bill efficiently, you have to understand what exactly you're paying for. DirecTV bills are stacked with the various unrecognizable items. The price that DirecTV offers in advertising is just a basic price, without expenses for additional content, premium program packages, equipment services, and taxes. With all those additional expenses included, the amount on your bill might be twice as high as the one you've seen in the advertisement. Now, let's see what an average DirecTV bill contains.
| | |
| --- | --- |
| Name of the service | Price (in $) |
| DIRECTV Channels | |
| Premier | 136,99 |
| DirectTV HD EXTRA PACK | 4,99 |
| NFL Sunday Ticket MAX | 58,99 |
| SUBTOTAL | 200,97 |
| DIRECTV Equipment Services | |
| Watch DirecTV on multi TVs | 21,00 |
| Advanced Receiver Service | 15,00 |
| DirecTV Protection Plan | 7,99 |
| SUBTOTAL | 44,99 |
| Other Charges, Adjustments, and Taxes | |
| Regional Sports Fee | 3,63 |
| Taxes | |
| Sales Tax | 2,08 |
| SUBTOTAL | 5,71 |
| TOTAL AMOUNT DUE | 251,67 |
Now, let's break down each of these services.
Premier
This is the price you see in the advertisements. It's also the price you expect to pay at the end of the month because that's the one you signed up for. "Premier" service level includes nearly all English language TV channels in existence, plus all of the premium channels that usually demand additional payment.
DirectTV HD EXTRA PACK
This package contains all English language channels that aren't included in the Premier pack. There are nine HD networks inside this package, and those are: 
Hallmark Movies & Mysteries

MGM

Universal

Sony Movie Channel

Smithsonian

Shorts

Crime & Investigation

MTV Live

HDNet Movies
NFL Sunday Ticket MAX
This hefty package is DirecTV exclusive, and it allows access to all NFL games you can usually watch on Fox or CBS on Sundays. Among various features, this package provides live-streaming to almost every device there is.
Watch DIRECTV on Multiple TVs
For each TV in your house that is connected to DirecTV, you need a separate receiver. Each receiver, including the first one, will cost you $7.
Advanced Receiver Service
This service is a bundled rental fee for using DirecTV additional accessories. Depending on which services you've chosen in your package, you might be charged for using HD and DVR service.
DirecTV Protection Plan
This is an insurance plan for your equipment, similar to those that mobile phone companies offer. There are three tiers of the protection plan. The lowest one covers every piece of DirecTV equipment at home. The higher versions include your own devices that you use to access DirecTV. Insurance also covers the reparation cost.
Regional Sports Fee
There is a separate fee that DirecTV charges to compensate for the cost of carrying regional Sports networks in other areas. This charge differs by county, and it's determined by your ZIP code.
Sales Tax
Only death and taxes are certain in life, with the difference that you might be able to avoid death. The majority of authorities in the States impose some kind of communication sales tax on pay-TV services. The fastest way to find communication tax rates in your state is to Google it. Prices also vary between provinces or districts.
"The bill can't be that high. There must be some kind of mistake!"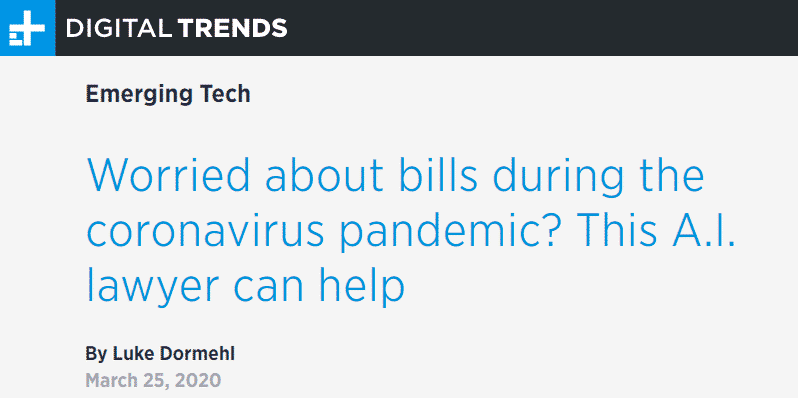 And you might be right about it. If your monthly DirecTV bill is significantly bigger than usual, it's possible there has been some kind of error. Examine your bill carefully and look for any unusual items on it. You might have some of the items duplicated, or your bill might contain charges for the services you didn't receive. There might be some services you don't recognize. If you find anything irregular, contact the DirecTV billing department so that they can explain any suspicious charges on your bill. If that doesn't work, look for help from professionals. A good bookkeeper knows how bills are itemized. 
Apply for better payment conditions with the help of DoNotPay
Thanks to the Coronavirus outbreak, a lot of people were left without regular salaries. That makes paying the bills a much bigger challenge. DoNotPay can help you ask for the relief from your regular bill commitments. Just follow the instructions below:
Open DoNotPay's

web app

Scroll down the main page and click on the "Corona Relief" field

Select "Other Bills"

Provide our chatbot with the required info
You should get a letter the DoNotPay app has sent to DirecTV in the following 48 hours.
How could you arrange to pay your DirecTV bills later?

If you need an extension of your payment date, you can apply for it to DirecTV Customer Service. There are a couple of options available to reach DirecTV directly.
Phone call
Dial 1-800-531-5000

When you get to the main menu, ask for the payment extension

DirecTV rep will ask you if you want to extend your service interruption date

Confirm
Online
Log in to your directv.com account

Find the "My Account" page

Select "Paying Late?"

Follow the instructions

When asked, choose the new date of payment
This way, you can extend your payment for up to five days. The extension period lasts until 11:59 PM of the day you put as your new deadline. 
Both of these methods take up significantly more time than DoNotPay, which makes them less convenient processes. We will write an extension request for you and make the whole process quicker and more efficient. 
Asking DirecTV for a waive
Failing to pay your bills on time will result in suspending your service and charging for a late fee. This fee is visible in the "Account Charges" section of your bill. If you can't pay your bills because of economic hardships caused by COVID-19, you can ask for a waiver of your late fee charges or data overage.
Go to

AT&T waiver page

to submit a waiver request

Enter your user name and password

Apply for a waiver
The waiver applies for all the fees and charges incurred between March 13 this year to June 30, 2020. Those fees and charges will be visible on the bills, but AT&T will give the applicants credit to cover them.
| | | |
| --- | --- | --- |
| DirecTV | Extension | Waiver |
| DoNotPay | Yes | Yes |
| Phone Call | Yes | No |
| Email | No | No |
| Letter | No | No |
| In-person | No | No |
| Company Site | Yes | Yes |
An even easier way of getting a waiver is by using the DoNotPay app. All you need to do is explain your situation to our robot lawyer, and we will take it from there. 
What are some other choices for cable TV?
If you're determined to cut your ties with DirecTV, you should ask yourself which service would easily replace them as your cable TV provider. Knowing your options will also give you better leverage in eventual negotiations with DirecTV about more favorable conditions.
Company

Pricing

Benefits

From $30/ month

Affordable

Customizable plans

No-contract service

From $50,00/ month

Fast, symmetrical speed options

Reliable service

No annual contracts
DirecTV, I've come to bargain!
Channeling the Merchant of Venice sometimes can help you reap significant benefits. In late 2019 and early 2020, AT&T was faced with a sharp decline in the number of users, so they try to keep every customer they can. You can strike some sweet deals with them if you play your cards right. Since there's no direct number for the retention service, the only way to reach them is through regular customer service.
Call DirecTV customer service at 1-800-531-5000

At menu options, state you would like to cancel service

When the rep asks if are you moving, say you aren't (unless you are)

You will be routed to the Retention/Loyalty department

Tell the representative that you want to cancel the service because it's too expensive compared to their competition

They will ask you to reconsider and mention special offers that might be available for your account

Let the retention representative check if your account meets the requirements for these offers

If it does, negotiate with the retention agent until you agree on the optimal plan for you
What's the worst thing that could happen if you don't pay your bills on time?

Although DirecTV bills aren't the most important ones, it's still not a good idea to neglect them. After a couple of months of skipping on paying, you might face serious consequences. At first, DirecTV will try to reach you and suggest you pay what you owe to them. 
Ignoring them or falsely promising you'll pay will trigger the next step. DirecTV will offer your debt for sale, and it will end up in the hands of a debt collection agency. Those people are much more persistent in asking for money. Expect everyday calls, inbox filled with their messages, and occasional threats of legal action. Those aren't empty threats, as you will be brought to a court if you insist on not paying. 
Even if you fail to appear on the court, the court will still prosecute you in your absence. The court judgment would destroy your credit score, and all your assets would be frozen until you reimburse the applicant--- in this case, the debt collection agency. That answers the titular question.
What can we do to avoid this? First, don't allow your debt to be sold to an agency. If they already got your debt, you should follow the guidelines, so you don't make your situation even worse.
Don't neglect debt agents

Understand the law

Maintain your old debts in check

Keep everything documented

Mind what you say

Watch for fraudsters

Settle for a compensation

Consider other paying methods
Don't neglect debt agents
Treating your problem like it doesn't exist never solved anything. It's hard to face the fact you're not so good at fulfilling your financial obligations, but turning a blind eye to the problem will just make everything more serious. Debt collectors won't leave you alone if you don't answer their phone calls and emails. On the contrary, your debt will make them bring you to justice, which will affect your financial balance considerably.
Understand the law
Debt collectors aren't allowed to use any method to make you pay your debt. The law still protects you from the actions that are offensive, dishonest, and unethical. You can recognize the real debt collectors because they respect those law-imposed limitations. If they don't, they're probably frauds. The list of prohibited debt collectors' activities includes:
Calling the debtors anywhere between 9 PM and 8 AM

Contacting debtors at work, if their company doesn't allow for it

Harassing debtors and their friends and family

Lying about the exact amount of the debt
You can make a request to DebiTV to make debt collectors stop contacting you. But that doesn't mean their hands are tied completely. Your debt can yet be reported to credit bureaus. You can also be taken to court and prosecuted. When you notice the debt collectors violate your rights, you can appeal to a government agency for guidance. You can also hire a customer protection attorney to file a lawsuit against the debt collectors.
Maintain your old debts in check
There's an interesting debt-wise phenomenon in American states called "zombie debt." This name refers to a period of limitation for certain debts, after which they can't be collected anymore. If a debtor acknowledges those debts during that period, they will become liable for those debts again. The same will happen if they pay them off partially. Some debt collectors will still try to collect those "zombie debts", so check if your old debts fall into the "zombie" category. If they do, don't acknowledge them, but ask for the verification instead.
Keep everything documented
When the debt collectors contact you for the first time, they're obligated to inform you about your debt. The info usually includes the name of the creditor and how much you owe them. They also should tell you that you can dispute the debt and whether you can request the name and the address of your creditor. Always ask for a written version of that info, as they have to send it to you within the first five days. You should keep everything in the paper to avoid manipulation with the info. If you manage to agree with debt collectors, ask them to document the agreement. Any demands should also be in the written form. Just in case, record all your phone conversations with debt collectors too.
Mind what you say
Try not to give unnecessary information to the debt collectors. You'll just give them more access to your assets, which they can use to collect your debt more easily. Don't give any bank account info, not even a bank report without your account number. Use a third-party payment service or money order to pay off the dues.
Beware of the frauds
If debt collectors don't act in accordance with the federal and state law, that's the clear indicator something's not right. Also, if debt collectors don't want to share their contact info, they're probably scammers. Authorized debt collectors will give you contact info, and they are openly present online. If the debt collectors disregard your rights and demand your bank account info, that's a definite proof you're dealing with deceivers.
Settle for compensation
No one wants a damaged credit score after a lawsuit because of their lackluster attitude toward their debt. There are ways you can deal with your creditors so that you can pay the portion of your debt as a lump sum. In the beginning, go with a smaller amount, because your final settlement will be much higher. The amount of your compensation also depends on the seriousness of your debt. A medicine bill debt you've made recently is much more severe than a cable TV debt sold on discount to a debt collecting agency. Also, after you resolve the debt, the record will stay on your credit summary for the next seven years.
Consider other paying methods
It's not always possible to deal with your debt quickly and easily. If you're unable to compensate your creditor, you should think about alternative ways to pay. You can choose one of the following options:
Hire a credit counselor. They can make you a debit plan, which will let you pay your debt off a rate at a time. Mind hiring a non-profit credit counseling office.

If you file for bankruptcy, all attempts of debt collection will stop.

You can resolve bankruptcy by liquidating some of your properties, then forwarding the money to the people you owe.

Another way to resolve bankruptcy is by getting on a payment plan. That will allow you to repay your debt in the following three to five years.
When you deal with your debt, try not to get involved with debt collectors ever again. Your credit score and your nerves will be grateful.
Additional uses of the DoNotPay app
You'd be glad to know our app is entirely free to use. You can use the web browser app. Our app is stacked with various useful functions that can help you with:
Contesting speeding tickets

Disputing traffic tickets

Lowering other bills