Georgia Sex Offender Law—Stay Ahead of Predators With Our Handy Alerts
The welfare of a society depends on the quality of its laws. The Georgia sex offender law intends to be strict but also leaves an opening to make lives easier for a handful of sex offenders.
The State's sex offender laws have been modified multiple times in the past two decades. This has expanded Georgia's Sex Offender Registry to over 23,000 entries but also allowed many convicted offenders to be removed from it.
As per crime statistics released by the Georgia Bureau of Investigation (GBI), a total of 2,938 rapes were reported in the State in 2018. With DoNotPay's reliable Sex Offender Search feature, you don't have to take chances with your safety. to get notified of the registered sex offenders in your area in a matter of seconds!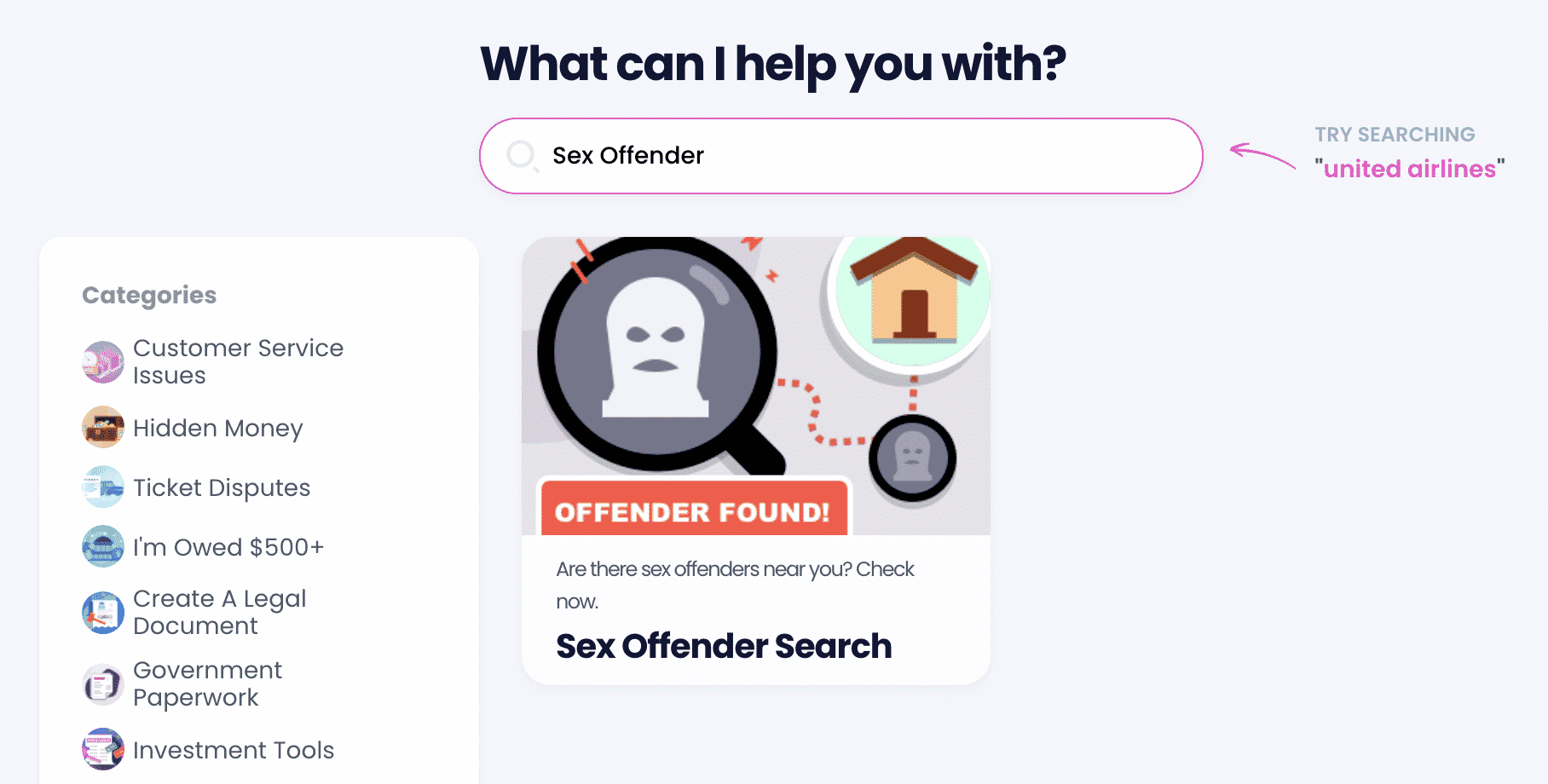 Georgia Sex Offender Laws Simplified
Georgia laws prioritize recognizing sexual offenders guilty of dangerous sex crimes or crimes against minors. A person will be required to register in the State's Sex Offender Registry if they are convicted of such crimes.
This table summarizes the common sexual offenses that require registration in Georgia:
Offenses Against Minors
Dangerous Sex Crimes

Kidnapping or false imprisonment
Sexual exploitation in any form
Solicitation of a minor into prostitution
Possessing or facilitating child pornography
Trafficking minors for sexual purposes

Statutory rape or aggravated assault with intent to rape
Aggravated sexual battery
A second conviction for sexual battery
Incest
Sexual assault of someone in custody
Sodomy
GA Sex Offender Laws—Punishments Explained
Punishments for sexual offenses depend on the severity of the crime. For example, a misdemeanor sex offender can get off the hook by paying a hefty fine, but a felony offender faces a long prison sentence and a lifetime registration on the Georgia Sex Offender Registry.
You can browse through this table to understand the legal consequences of major sex offenses in Georgia:
Sex Offense
Punishment
Child molestation

5–20 years in prison for the first offense
10–30 years for a second offense

Sexual battery

Up to five years in jail for sexual battery
25 years to life in prison or a reduced sentence with probation for life for aggravated sexual battery

Sodomy

1–20 years in prison
Life sentence for an aggravated offense

Rape

Life sentence without parole
A split sentence with probation
Death penalty in rare cases

Incest

10–30 years in prison
A sentence of 25–50 years if the victim is under 14 years
Georgia Sex Offender Registry Laws
Megan's Law makes it essential for all states—including Georgia—to open their sex offender registries to the public.
Georgia's sex offender registration laws aim to regulate and monitor the convicted sex offenders beyond prison time. An offender must get themselves registered within 72 hours of parole placement, probation, or release from prison. The Registry data will include the offender's:
Name and alias
Address
Gender
Race
Birth details
Physical details like height, weight, and eye color
Fingerprints
Photograph
Employment details
Is the Registry List Absolute?
No, it does not include the details of all sex offenders in Georgia. If you cannot find a particular record on the Registry, it's possible that:
The offender is an unregistered sex offender
Law enforcement cannot map the offender
The offender is convicted of a misdemeanor sex offense or has been tried in Georgia's juvenile court
The court has pardoned the offender's compulsory registration
The Registry website is yet to update the offender's record
Sex Offender Laws in Georgia—Does the Registry Keep Offenders in Check?
The registry laws place employment and residential restrictions on the registered sex offenders to prevent them from recommitting similar crimes.
Depending on individual parole or probation terms, the offenders may have to face other restrictions like:
Monitored internet usage
Condition to wear an electronic monitoring device for life
Georgia Sex Offender Registry Removal Process
Georgia sex offenders are required to follow registry laws for life, but they can petition the court for removal from the Registry.
Registrants can do that if they meet the criteria below:
They have completed their prison, parole, and probation time
Their victim did not sustain serious bodily harm during the offense
They are not classified as high-risk offenders by the review board
They do not have any prior convictions
Sex Offenders Laws in GA Change, but DoNotPay Always Looks Out for You
The laws may give deserving sex offenders a second chance at a restriction-free life, but that hardly puts you at ease.
When you try accessing the database of the State's Sex Offender Registry, you have to pass through annoying user agreements and CAPTCHA codes every few seconds.
If you are anxious about pesky sex offenders hiding in your neighborhood, DoNotPay has the perfect solution for you. Our Sex Offender Search and alert AI tool can access any state's registry and let you view your desired result in under a minute!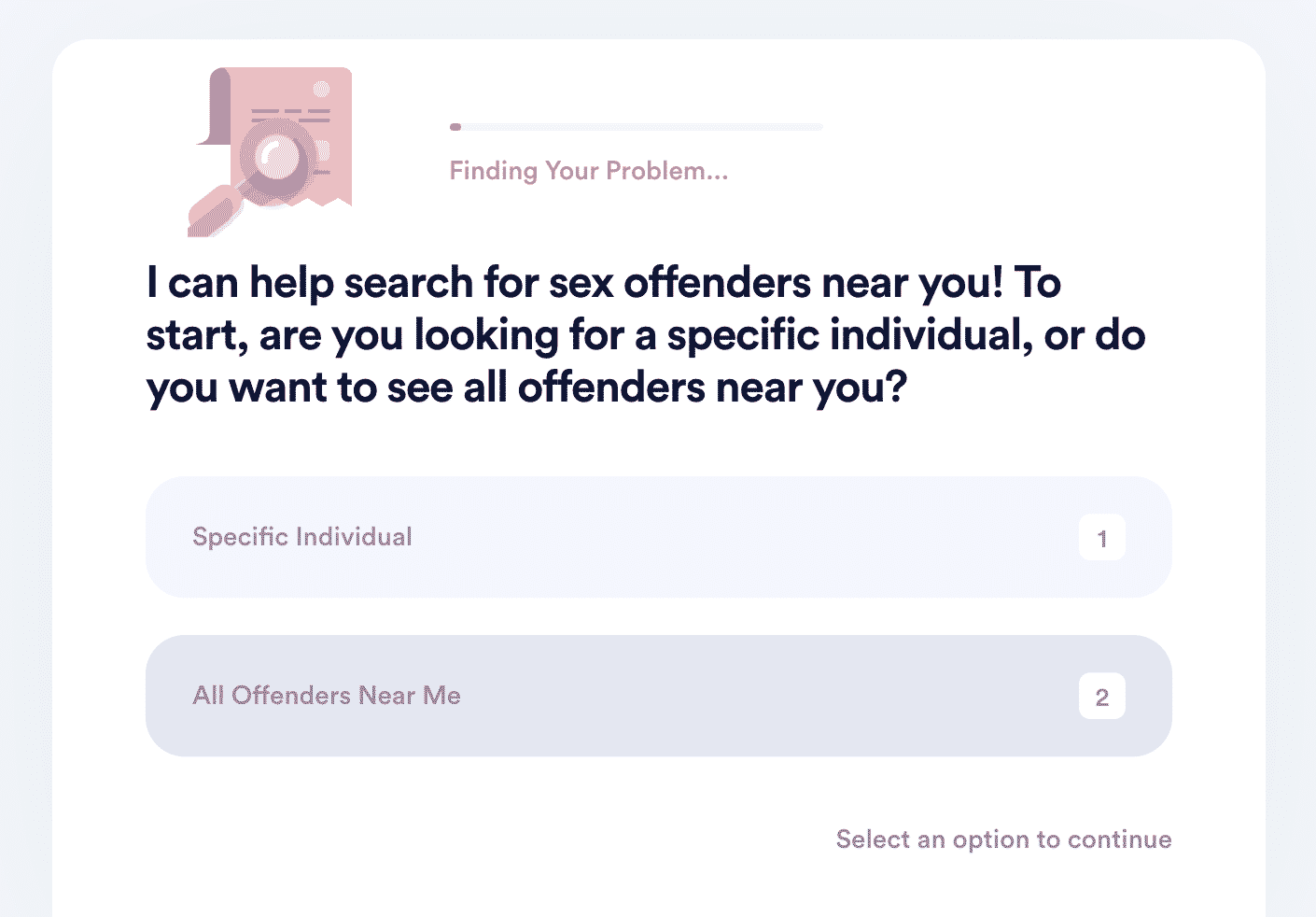 Here's what you need to do:
and click on the app's Sex Offender Search option
Specify your intent—whether you want a report on a specific individual or a complete list of all the registered offenders in your area
Select a search radius of one, two, or three miles from your address
Tell us if you want to use our weekly scan feature before viewing the final report
The report will contain mugshots and recorded details of every registered sex offender in your search query. If you activate the weekly scan feature, we will run routine area scans in the background and report you in a time-sensitive manner.
With DoNotPay by your side, you never have to worry about sexual predators preying on you or your family!
Use DoNotPay To Resolve Administrative Tasks in Minutes!
Tired of brainstorming the easiest way to deal with administrative issues? We know how you feel, and we're here to take the burden off your back!
Once you subscribe to our app, you'll be able to resolve an abundance of bureaucratic issues with ease.
Taking a valid passport photo, reporting workplace discrimination, reducing property taxes, preparing for a government test, applying for a college fee waiver, and appealing a parking ticket are some of the many tasks we assist you with.
In case you need a quick way to draft a legal document, such as a power of attorney, divorce settlement agreement, or a child travel consent form, DoNotPay will do it for you!
Learn How To File Claims the Easy Way
Are you dissatisfied with a certain company and/or its products? You don't have to stay quiet! Use DoNotPay to file your insurance, warranty, or missing/late parcel claim effortlessly! We'll also show you how to request an item return in a few steps.
If you want to cancel a subscription or request a refund or chargeback, you can do it with our assistance without breaking a sweat. Use one app to deal with countless issues!