How to Get a Free Web Hosting Free Trial With a Virtual Credit Card
You have put a lot of effort into building a website, blog, or online shop, and now it's time to show the world what you have. Well, you have to deploy your site to the internet, so it's up there for everyone who visits your domain to see it. But you need a  as well as a domain name to host a website. After you have these two, you can upload your website or create one using the website builder tools that some vendors offer. And your site is now online. Simple. Right? It's not that simple, especially the part of choosing who should host your website.
With hundreds of web hosting companies, each promising top-quality services, narrowing down to a single vendor can be quite overwhelming. But you don't have to gamble with your money by rushing to buy a hosting plan. We recommend you first sieve these companies (depending on your needs) to remain with just a few. Then choose one that fits you the most. Instead of subscribing to a paid plan, check whether they offer free trials.
If you can get a free trial:
You can try something without risk
You can enjoy some of its features and see what will work for you
Do Web Hosting Companies Offer Free Trials?

Yes. Most companies that offer web hosting, including shared hosting, cloud hosting, and domains, give new users a free trial period when they can test the services the company provides. Some providers might require you to provide a credit card before starting a free trial. Others might also offer free trials by making you pay first for a particular plan, but allow you to claim a full refund if you cancel before the free trial expires. However, several others can let you try the service for free without credit card obligations.
Another thing to note is that free trials are not the same as free web hosting. Some website hosting vendors can offer limited-feature free web hosting for as long as you want, with the common characteristic being that you'll use a subdomain that they provide. Often, free trials have an expiry date and offer almost the same functionalities as paid plans.
Why Should You Use a Free Trial Web Hosting?
We all agree that it's not pretty easy to take a web hosting provider at their word. The only sure way to know whether what they claim equates to what they offer is to try the service first. Therefore,  help you get the value for your money after you decide to transition to a paid subscription.
Top 7 Web Hosting Free Trials: No Credit Card
Scanning the web for web hosting companies offering free trials gives you 10s of them. We tried to narrow that list for you to help you get your website up and running as soon.
Namecheap Free Trial
While you can subscribe to a basic web hosting plan for as low as $4.88, Namecheap offers a full month free trial for each of their subscription plan. And you don't need a credit card.
CloudWays
The company offers a managed hosting service for its customers. You can try their rich features by signing up for a 3-day free trial.
Nestify
If you're looking for fully managed WordPress or WooCommerce web hosting, Nestify can be the right service for you. The best part is that you can migrate your site from your current provider to Nestify without losing anything. Claim a no-credit card 7-day Nestify free trial to start.
Lithium
With over 15 years of experience, Lithium is a full-fledged company offering cloud hosting services that freelancers and businesses across the world love. You can be sure they mean well, as they provide 30 days of free trial and a 90-day money-back guarantee.
InterServer Free Trial
Their two decades in the web hosting market is enough reason to include this service in our list. They offer unlimited disk space, free SSL certificates, free website migration, among other highly sort hosting services, and you can try all these free for 30 days.
LiquidWeb
Offering cloud hosting, virtual private server (VPS), WordPress hosting, managed WooCommerce, LiquidWeb is a popular web hosting service that you can try free by starting a 14-day trial.
AccuWeb Free Trial
Currently, the vendor serves over 50k customers. Coupled with over a decade of experience, AccuWeb provides cutting-edge hosting services, including cloud hosting, VPS, WordPress, shared hosting, etc. You can start your 1-month free trial before committing.
Not Happy With Your Current Hosting? We Can Help You Cancel and Get a Refund
Canceling a subscription from web hosting companies is no walk in the park. However, you can rest assured that DoNotPay can help you cancel any subscription or membership of any service/company at any time hustle-free. Some of the web hosting we can help you to cancel include:
If you're unimpressed by a service after paying, DoNotPay can also help you claim a refund after you opt-out. Use our Chargebacks and Refunds product to get your money back from any company, including
Why Use Virtual Credit Card for Web Hosting Free Trials?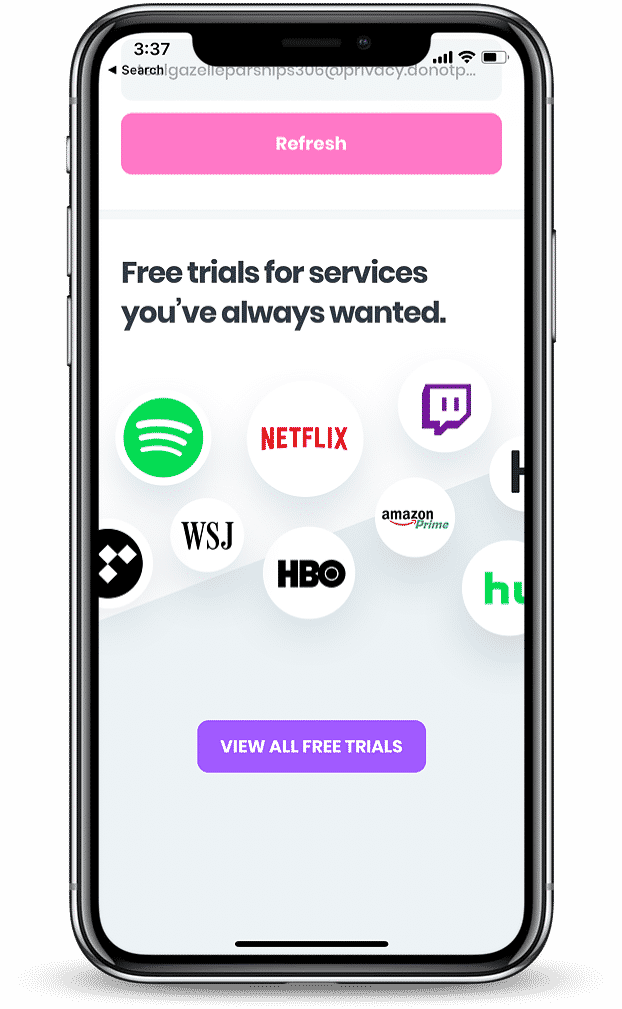 If any free trials require you to provide a credit card for whatever reason, it may not be free. You might get charged if the plan automatically renews into a paid one. But there is a way around it. You can cheat the system and avoid the risks you get yourself into by providing your credit card.
DoNotPay's free virtual credit card can help. Instead of using your real credit card, we'll generate a risk-free virtual credit card for you that the service providers will accept but cannot charge your card even if you forget to cancel the free trial on time.
Why Use DoNotPay to Get Free Trials and Don't Get Charged 
DoNotPay is fast. Applying for free trials independently is time-consuming. Therefore, enjoy your SPSS experience with DoNotPay.
DoNotPay is easy. It helps you avoid filling out many long forms. Wait for the feedback as DoNotPay ensures that your interests are well taken care of.
DoNotPay is successful. We have been tried, tested, and verified.
What Else Can DoNotPay Do?
Our mission is to make life enjoyable by providing easy ways to solve everyday problems hustle-free. Get anything done from the comfort of your home!
And much more!  to start enjoying the services.