Are There Free Inmate Calls?
Finding out that someone you love ended up behind bars might be devastating, but a lack of communication with them causes even more anxiety. That's why inmate calling services are a perfect chance to hear their voice and find out more about their state of mind.
Every correctional institution collaborates with specific service providers that enable prisoners to keep in touch with their friends and family, but, in most cases, non-incarcerated persons are the ones who pay for calls.
Since it's always wise to look for more favorable solutions, you might wonder if there's any way to cut this expense and speak with your loved one free of charge. This article gives you a detailed response to this dilemma.
What Should You Know About Inmate Calls?
No friends, pen-pals, or family members can call prisoners—that's a part of every correctional institution's rule book. The inmate needs to include you in their approved contact list, which will enable them to contact you via phone, but you can't call the facility and request to speak with them.
Prisons usually offer two types of phone services:
Collect calls

—the inmate calls at your expense

Third-party provider offers

—the inmate gets their prepaid account, and you deposit money on it, so they can call you
Note that every phone conversation is subject to recording. This means that you should avoid speaking about illegal issues, escape plans, or discuss any other topic that violates the rules.
The call costs may vary depending on the correctional institution or the third-party vendor that covers the facility. You should always check the prices, as well as specific hours during which the inmates are allowed to make calls.
Is There Any Way To Make Free Inmate Phone Calls?
An unfavorable financial situation affects the frequency of inmate calls, and you may not always be able to pay the required amount due to other expenses. The same happens if you want to get in touch with an inmate in another country. The rates depend on the place you are calling from.
That's why costless solutions sound even more alluring. Sadly, like all regular communication services, inmate calls have their price. All verified providers set their prices per minute or 15-minute conversation and propose various benefits, but they never offer free calls from inmates.
The only way you can make this type of service more affordable is to search for inexpensive solutions from third-party vendors or consider less costly ways of communication, such as writing to a prisoner.
Locate the Prisoner With DoNotPay

Before you call your incarcerated family member or friend, you need to know their exact location. Without this information, you won't be able to write them a letter, address it correctly, or take advantage of the visitation options, which further reduces the chances of any decent contact.
Searching through all accessible inmate databases on the internet is a difficult and time-consuming task. That's why DoNotPay made this process simpler and more efficient. If you know the full name of the prisoner and the state in which they are serving their sentence, our app can help you find them fast.
Here are the steps you need to follow:
Open DoNotPay in your

and log in to your account

Go to

Connect With an Inmate

Choose the

Locate Someone

option

Enter the name of the inmate and the state where they are
Once our app tracks the inmate down, all you need to do is decide how you want to get in touch with them.
What Are the Popular Inmate Phone Call Providers and What Are Their Prices?
The following companies cover most U.S. prisons:
What makes these companies appealing, aside from their verified status, are numerous offers that can reduce the call costs significantly. The following table shows a brief overview of the essential features of these third-party providers:
Company
Features

Three available product plans

Affordable video visitation options

More than a million satisfied users

Collect calls enabled

Voicemail messaging feature

Video visitation option available

Automated phone payments

Cost-reducing deposit system

Wireless handheld devices for inmates
How To Send a Letter to an Inmate With DoNotPay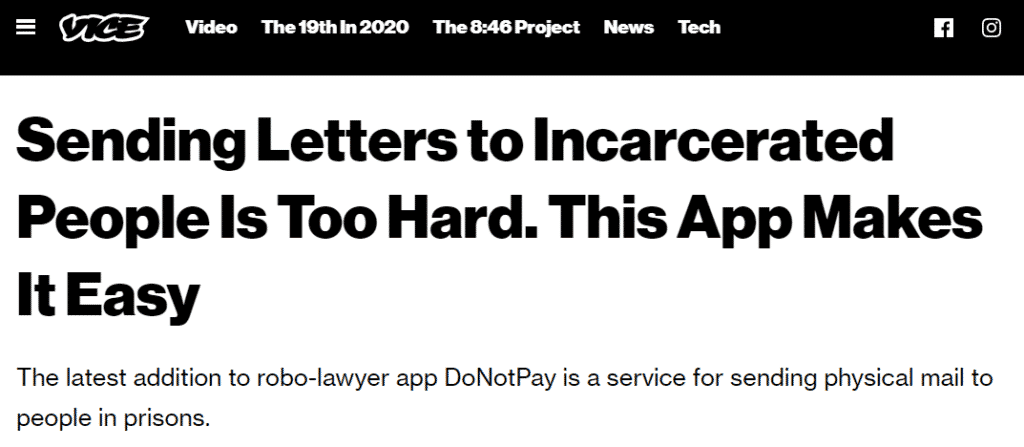 It's always pleasant to hear the voice of your imprisoned loved one, but this pleasure is limited. A few minutes aren't enough for you to say everything you want to each other, or you might be embarrassed to open your heart while being listened to.
DoNotPay lets you write a letter to an inmate without pens, papers, or costly inmate email services. All you need to do is open DoNotPay in your .
To contact the inmate via our app, follow these steps:
Log in to your DoNotPay account

Search for the

Connect With an Inmate

feature

Pick

Send a Personalized Letter

Provide the chatbot with the inmate's ID number, the name of the facility, and the specific unit where the person is being held

Write your message and attach the photos if you want

Submit your message
Once you upload your message, we print it and forward it to the prisoner. You can also use one of our customized templates to style the letter and make it sweeter.
Can I Receive Responses From an Inmate With DoNotPay?
Our app has also designed a feature that ensures the inmate's response reaches you. Prisoners don't use email, which is why they have to send their replies in the written form. This is what happens if you opt for DoNotPay:
The prisoner sends their letter to DoNotPay's physical address

We turn their physical letter into a digital one

You receive the e-version of the message via your

Virtual Mailbox
You can check your mailbox on DoNotPay anytime and keep responding to the messages you get. To take advantage of this perk, pick the option Allow Replies while composing your first letter to the inmate.
Discover More Helpful Tricks With DoNotPay

Finding and contacting an inmate is pretty handy, which is why we do our best to provide you with the best advice you will ever get on these topics. Our app's learning center offers tips for preparing inmate packages regardless of whether a prisoner is located in Texas, Alabama, Arizona, Florida, New York, or any other U.S. state.
DoNotPay is accessible from any and at your disposal always. Make sure you explore all our tricks and advice regarding:
Disputing traffic tickets

Fighting speeding tickets