Inmate Contact—How To Initiate and Maintain It
Contacting incarcerated persons is a complex procedure full of obstacles and predetermined protocols. You can't call, text, visit, or write to prisoners whenever you want. This shouldn't stop you from trying to keep in touch with your imprisoned loved ones. Receiving comforting words from friends and family makes their mundane life more bearable.
Despite the aggravating circumstances that come with contacting prisoners, you still have a few options for maintaining contact. Numerous benefits come from steady correspondence, such as boosting their morale and lowering the chance of going back to their old ways once they get out.
DoNotPay Can Help You Find Your Incarcerated Loved Ones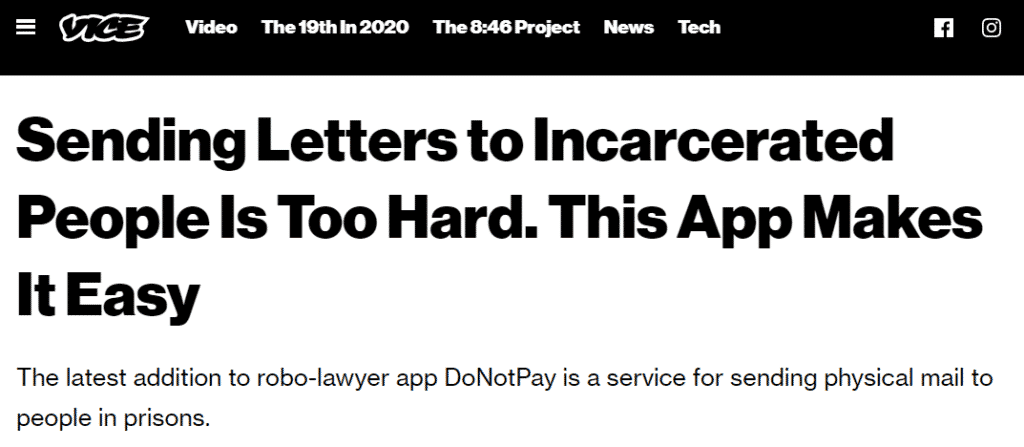 The prerequisite of contacting an inmate is to know their contact information, i.e. their exact location. Whatever the way you choose to connect with them, you will need to locate them first, and DoNotPay will gladly act as your sidekick in this process.
Use our search engine and extensive database to find a prisoner in a matter of minutes:
Open DoNotPay in your

web browser

Find the

Connect With an Inmate

feature

Choose the

Locate Someone

option

Provide us with any personal info you have about the inmate
We will find the exact facility and unit they are held in. Once you have this key info, you may contact an inmate in several ways.
How To Contact Inmates in Prison
If your loved one recently got incarcerated and you wish to let them know you think and care about them, you have a few options at your disposal. Each correctional facility has its own rules and regulations regarding communication with inmates, so always check with the staff what is and isn't allowed.
The table below contains the most popular and efficient ways of getting in touch with inmates:
| | |
| --- | --- |
| Can You Contact an Inmate via | Yes/No |
| Phone | Yes  |
| Email | Yes (restrictions apply) |
| Text Messages | Yes (restrictions apply) |
| In Person | Yes |
| Letters | Yes |
How To Contact an Inmate Over the Phone
If you plan on calling an inmate, you should know that the prisoner is the one who can dial your number and only under certain circumstances. They can't call someone from the outside world whenever they wish since they don't actually possess phones for obvious safety reasons.
When the jail staff allows it, during a particular part of the day, week, or month they can call their friends and family. If you want a prisoner to call you, you will have to provide them with your phone number and be on their approved numbers list.
You should also know that all conversations with inmates are recorded, so be wary of what you say.
The most common ways inmates call someone outside the prison are collect calls. Telecommunication providers like Securus, Global Tel Link, and Inmate Calling Solutions offer services that can lower the costs of inmate calls. You need to check with the prison if they allow any of the abovementioned providers.
How To Get in Touch With Inmates via Email
This option of contacting inmates is particularly tricky. Inmates don't have internet access since they are held in a correctional facility and not a hotel. So how is sending them an email even possible?
Some facilities have an agreement with communications providers, such as JPay, that allow inmates to receive emails. You can purchase one stamp for $0.39, which equals one email.
The mailroom staff will print out the email and deliver it to the prisoner. The same rules regarding appropriate topics apply —avoid adding anything sensitive since everything you write will be read and examined. Breaking rules can hurt both you and the convict you care about.
How To Keep in Touch With Prisoners via Text Messages
Prisoners are not allowed to own phones, but there are ways for them to receive text messages. In certain correctional facilities, it is allowed to use Chirping devices. Inmates may rent them for around $4 per month and receive messages from their loved ones.
The jail staff has the right to check the messages the inmate receives for any sign of inappropriate communication. If you want to contact a convict this way, you should be careful what you write in your message. Anything that poses a safety threat can only make things worse for the inmate and lead to losing their contact privileges.
It is also important to state that prisoners can't use these devices to text each other.
How To Connect With Inmates in Person
Most correctional facilities allow inmate visitation, but you will need to find out whether the prisoner is eligible for such contact. This usually depends on their behavior as well as the security level of the unit they are held in.
There are three types of inmate visits:
Closed (Non-Contact) Visit

—You are separated from an inmate with a physical barrier

Open (Contact) Visit

—There is no physical barrier between you and the inmate

Video Visitation

—This is a video call like any other, available only under certain circumstances and in particular prisons
You need to be on the inmate's approved visiting list to see them in person.
How To Send Letters to Inmates? Use DoNotPay!

If you want to send something an inmate can keep and go back to whenever they feel down—write them letters. It sounds like a dated activity, but DoNotPay has made sure you don't have to use pen and paper or even worry about addressing the letter properly.
Follow our guide to send a perfect message to your prison pen pal without trouble:
Scroll to the

Connect With an Inmate

section on our website

Pick the

Send a Personalized Letter

option

Insert the name and ID number of the inmate

Write your message in the provided field or upload an already prepared draft from your device

Attach photos if you wish

Submit
We'll make a hard copy of the letter and send it to the prisoner immediately.
Use DoNotPay's Virtual Mailbox to Receive Letters From Inmates
DonotPay's Virtual Mailbox is another neat feature you can use to keep in touch with an inmate. If you wish to receive replies from your incarcerated pen pal, you need to allow responses by clicking on the Create a Virtual Mailbox button.
The letters inmates send to you will go through digitization, and you will be able to see them in your Virtual Mailbox anytime you wish.
Check Out Other Ways DoNotPay Can Make Your Life Easier

DoNotPay can also help you meet an inmate and learn more about prison marriage requirements.
The world's first robot lawyer's capabilities reach far beyond communication with prisoners. When you open our app in your web browser, you'll be able to choose any of DoNotPay's features. Let us simplify the following tasks:
Fighting speeding tickets

Disputing traffic tickets