Alabama Inmate Packages Rules Explained
Besides visiting and writing letters to inmates, sending packages to our incarcerated friends and family members is one of the best ways of showing we care. 
You'll provide prisoners with the items they need for everyday life while letting them know you support them. 
It's crucial to be aware of the rules and regulations of each facility to know how to send a care package correctly. Prison rules are strict, and if you don't follow all of them, your package will be rejected and returned.
Who Can Send Packages to Prisoners in Alabama?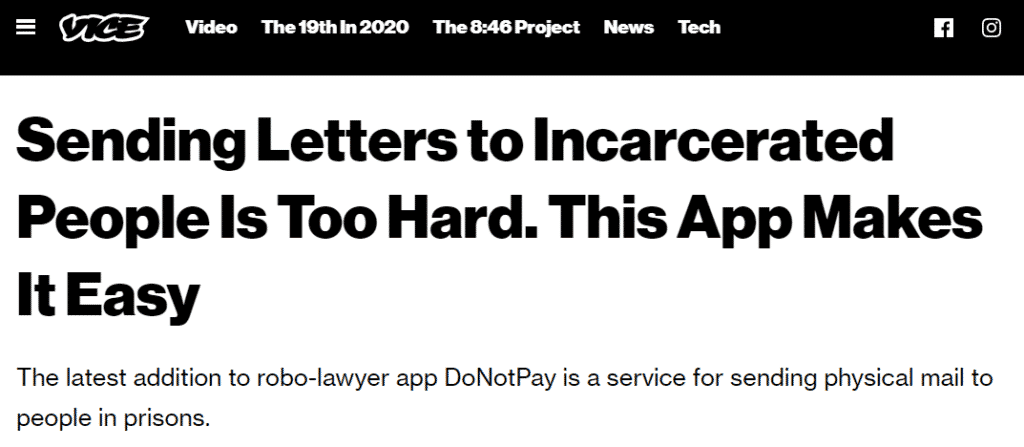 You don't have to be related to an inmate to be allowed to send packages or other mail—anyone can do it. As long as you have the address of the facility and the inmate's name and ID, you can send mail to any prisoner.
While you can send a package to your prison pen pals even if you don't personally know them, prisoners have the right to open the package in front of the guards and refuse to receive it, in which case the package will be sent back.
How To Send AL Inmate Packages
Most correctional facilities in Alabama allow friends, family members, and pen pals to send care packages to inmates through two distributors pre-approved by the Alabama Department of Corrections:
Make sure to visit the website of the facility in question because not all of them accept packages sent through these two distributors. For example, Calhoun County Jail accepts packages sent only through JailATM. 
Send Care Packages to Inmates Through Access SecurePak 
The easiest way to order and send a care package to an inmate from Access SecurePak is online, and this is how to do it:
Visit the website

Click on the

Click here to select a program below for ordering

field

Choose one of the programs

Create an account or log in to the existing one 

Enter the inmate's full name or ID

Follow the rest of the instructions
Besides ordering online, you have three more methods for ordering to choose from:
Order an Access SecurePak Care Package by

How To Order

Mail

Send your order to the following address:

Access Securepak (AL)

10880 Lin Page Place

St Louis, MO 63132

Phone

Dial 1-800-546-6283

Fax

Send your order to 1-866-754-2813
Union Supply Direct Inmate Packages Alabama
If you'd like to send footwear to inmates in most Alabama prisons, you can do it on the Union Supply Direct website by following these steps:
Visit the website

Type in the inmate's ID

Click on

Shop for Shoe Package

Follow the rest of the instruction
If you're not tech-savvy and prefer a different method of ordering, you have three other options to do so:
Order a Union Supply Direct Footwear Items by
How To Order

Mail

Send your order to the following address:

UNION SUPPLY DIRECT 

Dept. #651

P.O. Box 9018

Rancho Dominguez, CA 90224-9018

Phone

Dial 1-877-765-7013

Fax

Send your order to 1-877-765-7014
Who's Eligible To Receive Alabama Inmate Care Packages?
Inmates who have at least six months of good behavior on the record are eligible to receive packages from friends and family members. 
Inmates in solitary can't receive any mail.
When Will My Package Be Delivered?
All letters and packages need to be inspected and approved by the facility before being handed over to the prisoner. Inmates receive mail only if it's sent according to the rules of the correctional facility in question.
This process usually takes a few weeks, so be patient when waiting for a response.
First Things First: Locate Your Incarcerated Loved One With DoNotPay

There's no point in sending a package if you're unsure what the correct address of the facility your incarcerated loved one is held in is. If you address the package wrong, it won't be accepted.
DoNotPay can help you locate an inmate and find out their address with our convenient tool, and here's how:
Log in to your DoNotPay account from a

web browser

 

Click on the

Connect With an Inmate Tool

Select our

Locate Someone

feature

Type in the inmate's name and last known state
Once you submit your request, we will locate the inmate in question as quickly as possible and provide you with the latest address.
We can help you locate prisoners all over the U.S. so that you can send inmate packages to Alabama, Ohio, Texas, California, etc.
Alabama Inmate Mail Rules and Regulations—How To Send Books, Letters, and Magazines
A care package isn't the only type of mail you can send. You can also send letters to get in touch with your prison pen pals or incarcerated friends and family members. 
You can even send books, magazines, newspapers, and holiday cards to prisons in Alabama and other states in the U.S., but you need to make sure you follow all the mail rules and regulations that the facility in question imposes.
These are the rules you should follow if you want to avoid having your letter or package rejected:
Books need to be new and softcover—hardcover and spiral-bound books are forbidden as they are sharp and can be used for making weapons

You can send up to three books at once

You need to send books through Amazon

Adult magazines and other explicit content is forbidden

Gang-related items and symbols are forbidden

Any content that promotes violence will be rejected

The envelope of the letter needs to be free of stickers, glitter, confetti, and other embellishments

Don't use markers, crayons, or glitter pens for writing

Sending money inside letters is forbidden

Contraband items are forbidden

Don't spray your perfume on the envelope
Not Sure How To Address a Letter to an Inmate? DoNotPay Is Here To Help

If you want to write a prisoner but you're not sure how to address your letter, or if you want to avoid making a mistake that could cause your letter to be rejected by the prison staff, DoNotPay has a solution for you. 
Our Connect With an Inmate tool can help you send as many letters as you want to inmates all across the country from the comfort of your home:
Log in to your account from a

web browser

Choose our

Connect With an Inmate

tool

Click on

Send a Personalized Letter

Compose your letter

Upload a few photos 

Select one of the templates 
Receive Letters in Digital Form Thanks to DoNotPay

DoNotPay offers one more convenient feature that will make your correspondence with inmates even easier. Why not receive all your letters from prison through our app and read them wherever and whenever you want?
DoNotPay will receive and scan letters you get from prisoners and send them to your virtual mailbox.
To take advantage of this feature, click on the Create My Mailbox in the Virtual Mailbox option of the tool. You'll be able to check your mail as frequently as you want. 
We Have More Tricks Up Our Sleeve! 

You'll appreciate the convenience of sending letters to inmates in a few clicks and having everything neatly organized on your PC. DoNotPay can do much more for you and make every other issue equally easy to take care of.
Open your account in a web browser, and we will help you:
Dispute speeding tickets

Contest traffic tickets