The Ins and Outs of Inmate Calling
When a loved one gets incarcerated, one of the most important things to do is keep in touch. A study researching this found that prisoners who maintained close contact with supportive family and friends were less likely to re-offend and were more successful when released. Close contact also makes the time spent in prison go by faster.
There are several ways inmates can be in contact with people outside, for example, by:
If you have questions and concerns about getting in touch with someone in prison over the phone, DoNotPay will answer them. We'll also offer other solutions you may find useful.
What You Need To Know About Inmate Phone Calls
The first thing you should know is that you cannot call someone in jail unless it's an emergency—they need to call you. Prisoners should comprise a list of people—typically up to ten—they would like to call, along with their contact information.
There are also certain rules and restrictions when it comes to inmate calls. How often prisoners are allowed to call their loved ones and how long they can talk varies depending on the prison. One detail that is common for every facility is that the calls can be recorded and monitored, except when it comes to calls with lawyers. Some prisons even use voice authentication technology to identify callers in case there is some illegal activity involved.
Pay attention to phone call hours as well. You should check with the prison your loved one is in, but prisoners are usually allowed to use the phone service between 8 a.m. and 11 p.m.
How Much Are Inmate Phone Calls?
The prices of inmate phone calls vary in different prisons and states, but one thing is almost certain—they are high. A couple of minutes a few days a week can set you back around 240 dollars a month, as one woman reported.
Calls from jails are already costly. Another reason behind the sky-high price could be the location. If a prisoner is making a long-distance call, this costs extra. If a local telephone is not an option, there is a way you could work around this issue without actually moving to a different location just to receive a phone call. You can create a Google account and choose a number in the same area where the inmate is located. Then, the incoming call from jail can be forwarded to your real number, and you will no longer have to pay the long-distance price.
Learn more about the inmate calling prices and solutions to reduce the cost by reading our article about free local numbers for inmate calls.
How Can a Prisoner Get in Touch With Someone via Phone?
Inmates are allowed to make collect calls. This means that the person on the receiving end of the call will incur the cost. Depending on where you are and where your loved one is imprisoned, the cost of the call will vary.
Aside from collect calls, there are telephone services that you can use to receive calls from prisoners.
Check out the three most famous inmate telephone providers. Compare their features, and see which one is the best solution for you.
Inmate Telephone Provider
Services They Offer

Direct bill

Inmate debit

Advance connect

Collect calling

Video visitations

Secure deposits

Prepaid account

Voicemail messaging

Debit telephone account

Inmate messaging

Handheld devices

Visitation management

Inmate telephone systems
If you'd like an in-depth analysis, read our articles on Securus, IC Solutions, and Global Tel Link.
How to Contact Loved Ones in Jail the Easy Way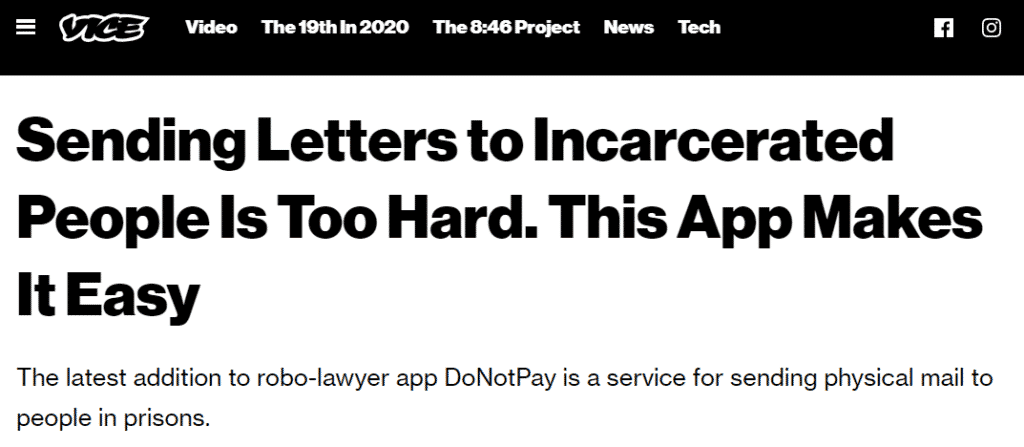 On occasion, prisoners may not be able to call their family and friends for various reasons. Some of them could be:
Power outage in the facility

Punishment for bad behavior

Not enough funds in their telephone account

The person they want to call is not on the approved visitation list
When someone in jail can't reach you over the phone, it may be frustrating, to say the least. DoNotPay can be of assistance here! You can have access to three features on our website that will help you stay in touch with your loved one in prison:
Virtual Mailbox

Locate Someone

Send a Personalized Letter
How To Locate an Inmate Through DoNotPay
You may not be sure about the exact location of an inmate you're trying to reach. DoNotPay can help you find them with ease. Here's how it works:
Open DoNotPay in any

Choose the

Connect With an Inmate

feature

Click on

Locate Someone

Fill in the prisoner's full name

Enter the state they are located in

Answer a few more questions

Tap on

Submit
DoNotPay will find them and provide you with their current location.
Send a Personalized Letter to a Prisoner via DoNotPay

Writing a letter to an inmate is no easy feat. There are myriads of details that you should know and include in your letter. There are rules to follow, such as addressing the letter properly, so that your letter is approved and received. You can skip this hassle! Write a letter and send it through DoNotPay—we'll worry about the rest.
Once you select the Connect With an Inmate feature, this is what you should do next:
Tap on

Send a Personalized Letter

Type in the name of the person you're writing to

Enter their Inmate ID or Booking Number

Answer questions about the prison and unit they are located in

Draft your letter

Add a photo if you want
As soon as you click that Submit button, we'll print out your letter and make sure it's sent and received as soon as possible. We also go the extra mile to make this letter as personalized as possible by generating different templates to choose from, as well as special holiday editions.
Can I Receive a Letter From an Inmate Through DoNotPay?
Yes, you can! This is what our Virtual Mailbox is for. It gives you the option to receive letters from your loved one in jail and keep the conversation going. The Virtual Mailbox operates in the following way:
The incarcerated person will write a letter and send it to a specific address

The letter will then be digitized

You receive the digitized version of the letter in your virtual mailbox
What Else Can We Help You With?

If you didn't get all the answers in this article, you may find them in a different one—perhaps our article about prison marriage, inmate love letters, inmate text messages, federal inmate phone calls, or iCare packages for inmates.
DoNotPay's mission is not only to connect you with your loved one in jail but also to help you in various aspects of your daily life. Visit DoNotPay in a and see how much we have to offer. DoNotPay is the best virtual assistant when you: