Thinking of Sending FL Inmate Packages? Here's a Straightforward Guide
To send mail to someone, you need to know their exact address. This can be an issue when trying to write an inmate or send them a package. If you don't know which correctional facility holds your incarcerated friend or family member, there's not much you can do.
Finding the inmate's location can be challenging, as there are scarce public resources that make the process easier.
DoNotPay has a solution to this common problem. We have an extensive database of inmates that you can use to search for your loved one. If you want to send packages, or become prison pen pals with an inmate in Florida, consider using our Connect With an Inmate feature. We've helped thousands find their incarcerated friends and family members—and we can help you too!
What Am I Allowed To Send to Inmates in Florida?
There are many restrictions on the type of mail you can send to inmates. Incoming letters and packages are inspected thoroughly by the prison staff for any contraband or forbidden content.
Here's an overview of Florida prisons' common policies regarding incoming letters and packages:
Letters
Packages

Allowed

Up to 15 pages of written material

Blank greeting cards

U.S. postage stamps

Personalized letters

Pre-approved inmate packages

Money

Reading materials

Forbidden

Polaroid photographs

Photographs that include nudity

Lottery tickets

Non-paper materials

Stickers

Laminated objects

Sharp objects

Glass

Drugs and drug paraphernalia

Food

Objects that could promote sexual deviancy
Keep in mind—policy varies from facility to facility. To find out what you can send to your incarcerated loved one, consult the prison administration.
Find an Inmate Using DoNotPay's Database

DoNotPay provides you with the easiest and most straightforward way to find an inmate. If you don't know where they're being held, you can use our inmate database to search through all the prisons in Florida. You don't need to provide a lot of info, either. Here's how it works:
Access DoNotPay from your

Go to the

Connect With an Inmate

tab

Press

Locate Someone

Input their name, date of birth, and any other useful information we could use to find them

Sort through the closest matches and find the inmate's exact address
Once we've helped you find your loved one, you can start writing, sending packages, and even arranging inmate visitation. If you're worried about breaking some rules while writing a letter to an inmate, we can help you draft it.
Use DoNotPay To Send a Perfect Letter to Your Incarcerated Loved One

What better to go with a package than a personalized letter? Sending a card alongside your package could brighten their day even more. If you're not sure how to address a letter to an inmate or how to style it, we'll show you. Here's how you can send the perfect letter to your loved one:
Sign in to DoNotPay

Press the

Send a Personalized Letter

option in the

Connect With an Inmate

tab

Draft your letter or upload the one you have prepared

Choose a letter template to give it some flair

Add a photograph if you wish and submit the letter
DoNotPay will print it and make sure it arrives at the right correctional facility. We'll also take care of keeping the letter's format and size right so that the prison staff doesn't discard it during screening.
Receive Inmate Replies Using DoNotPay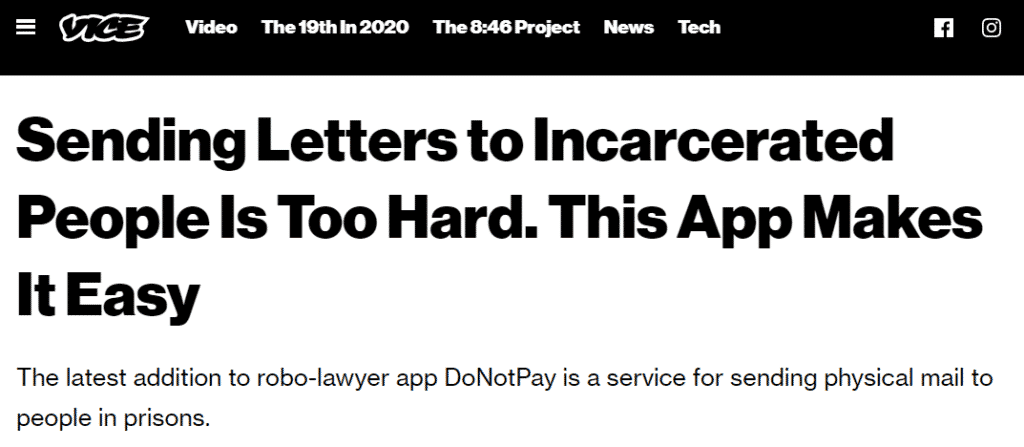 Wondering what your loved one or prison pen pal thinks of the package you sent? Since few prisons allow inmates to text or send emails, traditional mail seems to be the only option.
DoNotPay offers a convenient alternative—receiving the inmate's replies in our app. You can read their letters anywhere and at any time. Here's how you sign up for this feature:
Access DoNotPay

Open the

Connect With an Inmate

tab

Choose

Virtual Mailbox

Provide the name of the inmate you want to receive letters from
The inmate will be able to send their letters, which we will then digitize and send to you directly. The process won't be instantaneous, but it's the quickest way to receive a message from a prisoner.
Can I Send Packages to Inmates in Florida?
Some facilities place restrictions on who can send mail to an inmate. If you aren't a family member or spouse—you might be out of luck. In most Florida correctional facilities, individuals not related to the inmate may send mail, as long as it complies with the law and rules set by the facility. Once you've located your loved one, make sure to consult the prison administration to see if you're allowed to send specific kinds of packages.
What Inmate Packages Are Available in Florida?
If you want to send some basic commodities to an inmate, pre-approved packages would be the best choice. Necessities such as food and hygiene essentials aren't something you can send to the inmate directly.
Care packages are treated differently, as the correctional facility trusts that the contents of the package will be safe and in accordance with state law. You can choose from available Florida inmate package suppliers to purchase necessities for the inmate.
With this in mind, even care packages have certain limitations, which depend on state law and the correctional facility's policy. Here are some things to consider when creating a care package:
There might be a minimum and maximum cost

Specific restrictions apply to the number of packages you can send per month or quarter

Certain items may be limited by quantity

The inmate must be eligible to receive packages

Packages from others will count towards the monthly or quarterly limit
DoNotPay Will Be Your Pocket-Sized Robot Assistant

If you need assistance with sending inmate packages in Georgia, Texas, or any other state—DoNotPay has your back. Helping you stay in contact with inmates is our specialty. Whether you want to send pictures or iCare packages to inmates, we can help you complete the task with minimal delay.
Connecting you with inmates is just one of the many features offered by DoNotPay. Want to lower your bills or get loans to pay them off? We'll show you how. If you find it difficult to cancel a service like Canva or Chaturbill, our app can help you unsubscribe and avoid the next bill.
Access DoNotPay from your , and you can start using all of these features immediately. If you're wondering what else we can do, here's a list of tasks we'll simplify:
Disputing traffic tickets

Fighting speeding tickets