Learn All About GTL Inmate Phone Services
Global Tel Link (GTL) is a company that provides communication services to inmates in prisons and other correctional facilities. Thanks to the company's constant progress, its activities have expanded to Colombia and Puerto Rico, covering more than 2,000 institutions and almost two million prisoners.
GTL has developed a special service named ConnectNetwork, which offers various inmate communication benefits such as phone calls, messaging, and easy inmate visitation scheduling. If you want to speak to your prison pen pal instead of writing a letter to them or texting them, you should explore all the perks this provider offers.
What Phone Services for Inmates Does GTL Offer?
ConnectNetwork currently offers three ways to communicate with inmates by phone. These are:
AdvancePay phone calls

PIN debit phone calls

Leaving a voicemail to an inmate
To be able to use any of these features, you need to set up a ConnectNetwork account. Once you do it, you will be able to transfer money to it, so the inmate can call you using those funds.
What's AdvancePay and How To Use It?
AdvancePay is a prepaid service that enables a prisoner to make collect calls and reach their friends and family members who have calling accounts on ConnectNetwork. Prison calls to cell phone users are usually impossible, but this option makes them practicable. The service also notifies you about your cash limits and keeps you in charge of expense control.
Here are the steps to activate AdvancePay and receive phone calls this way:
Create an AdvancePay account on the official ConnectNetwork website

Add funds to your account—it becomes active as soon as the money is transferred

Let the inmate know you have set up everything, so they can call you
The amount spent per call gets deducted from your account as soon as the phone conversation is over. Note that if you don't use your account for more than six months, the company will close it automatically, and you won't be able to use it anymore.
What Are PIN Debit Phone Calls and How To Use Them?
The inmates are the ones who need to have active PIN Debit accounts to call their loved ones. They have an option to pay for their calls.
Here's how to activate this service:
Create an account on ConnectNetwork for the inmate you want to speak to

Add the name of the inmate and the facility where they are serving their sentence

Transfer money to the account
Once you add the money to the inmate's PIN debit account, it becomes their property, but they will be able to use it only for phone calls.
How To Leave a Voicemail Using GTL Inmate Phone Services
This might not be a typical call, but it comes in handy if you want your incarcerated loved one to know that you are thinking about them. The voicemail service is currently available in eight correctional facilities, and it's always subject to recording. You can leave the message whenever you want, without previous arrangements.
To leave a voicemail to your loved one using GTL, proceed as follows:
Dial the number of the facility where the inmate is being held

Select the inmate's ID number

Record your message
The machine will let you know how much a message costs before you record it. That amount will be deducted from your ConnectNetwork account after you hang up.
How Can You Check if GTL Covers the Facility Where the Inmate Is?
If you aren't sure whether the prison allows GTL phone services, you can check it on the official ConnectNetwork website. To do this, follow these instructions:
Choose the

Facilities

tab

Select a state where the facility in question is located

Hit

Search
You should get a full list of prisons and other correctional institutions in the chosen state, along with available GTL options. If you can't find the facility on the list, it's not covered by GTL.
Not a Good Time to Call? Use DoNotPay To Send a Letter to an Inmate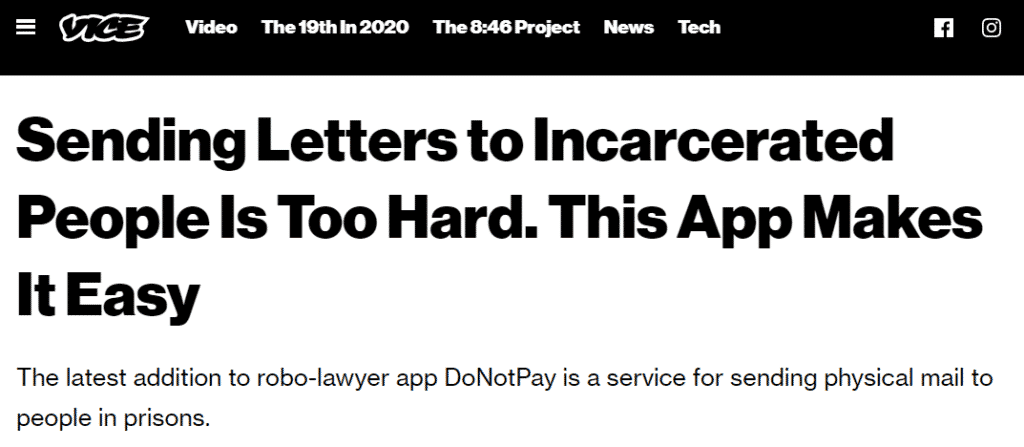 If you are unable to speak to an inmate over the phone, you can use DoNotPay's special feature that lets you write and address a letter to them at any time and tell all the news. This is a great option if you want to share something with them before the visitation time or your next call, as we make sure to forward your message as soon as you submit it.
To use this feature, follow these steps:
Open DoNotPay

Pick

Connect With an Inmate

and choose

Send a Personalized Letter

Enter the required details

Compose a letter
You can attach photos to your message. Our templates can also help you freshen up your letter and make it more vivid.
Selecting an option Allow Replies activates your Virtual Mailbox, where all replies will go. Here's how the inmates can respond to your message:
They write it as a physical letter

They send it to DoNotPay

We turn it into a digital copy and send it to you
Don't Know Where Your Incarcerated Loved One Is? Find Them With DoNotPay

Opting for GTL inmate calls or any other phone service is possible only if you know the prisoner's exact location. People often have no idea where their imprisoned friend or family member is because of the number of facilities and inmates.
This is where DoNotPay can help. Our search system can provide you with the most accurate results with only two necessary details—the name of the prisoner and the state where they are serving their sentence.
Here's the procedure you need to follow:
Access your DoNotPay account from your

Go to

Connect With an Inmate

Choose

Locate Someone

Enter the necessary details
Once our app locates your loved one, you will be able to get in touch with them and establish communication.
What Are the Rates for GTL Inmate Phone Calls?
The rates that GTL offers usually depend on the particular facility that uses its services, but there's still an official rate program applicable in most cases. You can see it in the table below:
| | |
| --- | --- |
| Call Type | Rate per Minute |
| Local and Intralata Collect | $0.076 |
| Local and Intralata AdvancePay | $0.076 |
| Interlata Collect | $0.076 |
| Interlata AdvancePay | $0.076 |
| Interstate Collect | $0.210 |
| Interstate AdvancePay | $0.210 |
What Are the Payment Methods for GTL Calls?
ConnectNetwork has enabled five payment methods inmates' friends and family can use. These are:
Visitation area kiosk payment

Phone payment by dialing the GTL inmate phone customer service number—

(877) 650-4249

Mail payment by sending a check via USPS

Paying in cash in some of the approved retail stores

Online payment with credit cards via your ConnectNetwork account
Whichever method you prefer, make sure you always know the facility ID and the inmate's ID number to be on the safe side.
What Else Can DoNotPay Do?

Finding the right method to communicate with your imprisoned loved ones might be difficult. That's why DoNotPay offers plenty of solutions in our abundant learning center accessible from any .
We can provide you with more information on other popular inmate calling services such as Securus or ICSolution, inmate texting platforms, and inmate packages. Don't forget to check out prison mail rules and regulations, which will help you know what kind of gifts, books, or magazines you can send to prisoners.
Aside from supporting you in delicate situations like these, our app also acts as a virtual assistant that will resolve time-consuming issues by helping you:
Dispute traffic tickets

Fight speeding tickets