Florida Sex Offender Laws Decoded—Enhance Your Safety With DoNotPay
Florida has seen an exponential rise in its number of sex offenders in the past decade, with authorities reporting an upsurge of 53% since 2005. While Florida sex offender laws serve as a strong framework to keep offenders in check, hundreds of absconders still manage to give law enforcement the slip.
Fugitive sex offenders could be hiding in plain sight in your Florida neighborhood, ready to hunt their next victim.
DoNotPay's Sex Offender Search tool is crafted to be your ultimate safety net against preying offenders. to browse through the list of registered sex offenders near you—our automated alerts can save the day!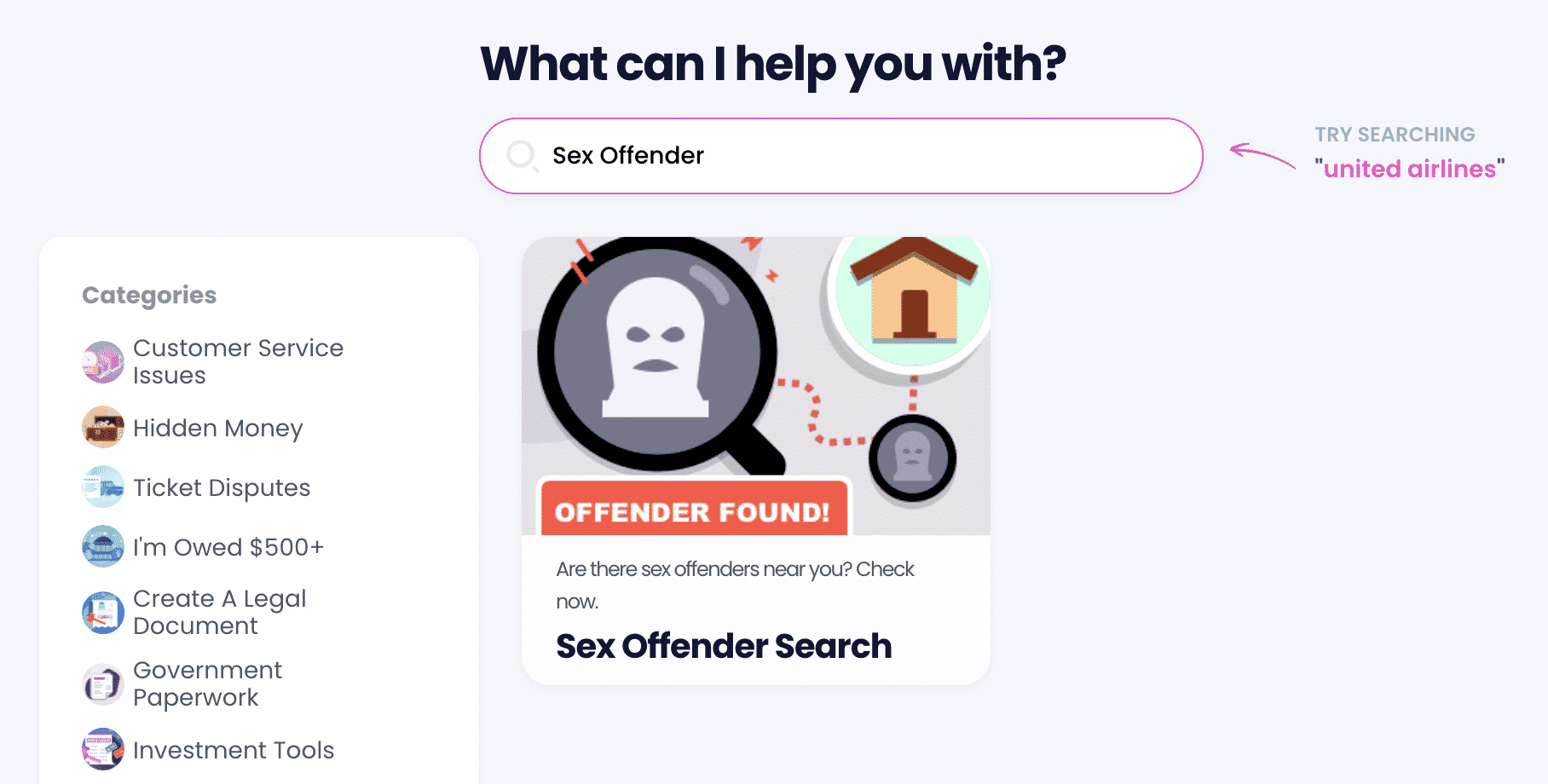 How Do the Sex Offender Laws in Florida Work?
The Florida Sex Offender Registry is the backbone of the local sex offender laws. Any person with a qualifying sexual offense has to be listed on the Registry for life. Here are some examples of the qualifying sexual offenses under Florida law:
Sexual misconduct on the elderly or the disabled
Sexual misconduct involving children under the age of 12
Kidnapping or restraining a minor
Sexually motivated human trafficking
Video voyeurism involving a minor—includes sexting
Lewd acts, like public exposure and nudity
Sexual battery—includes all kinds of rape
Facilitating child pornography in any form
The Florida Sexual Offenders and Predators Registry is maintained by the Florida Department of Law Enforcement. They map the offenders periodically and usually update their details on the website on a real-time basis.
Florida Sex Offender Tier System Explained
Florida has over 31,000 sex offenders, but not everyone is considered a public safety hazard.
The state assigns a risk of reoffending tier or level to different types of sex offenders subject to the severity of their crime. You can learn more about Florida's tier structure from this table:
Tier Type
Risk
Compliance
Level 1
Unlikely to reoffend

They must verify their details with law enforcement once every 180 days
They can apply for removal from the registry after 25 years

Level 2
Moderately likely to reoffend

A Level 2 offender must verify their details with the law enforcement once every 90 days
They may face more restrictions than a Level 1 offender
Only a few Level 2 offenders will be allowed to seek removal from the Registry

Level 3
Highly likely to reoffend

They are also called sexual predators, and they must verify their details with law enforcement four times a year
They cannot apply for removal from the Registry unless a court pardons their offense
Rules and Restrictions for Sex Offenders in Florida
Florida sex offender registration laws cite strict rules regarding what a registrant is or isn't allowed to do. We will help you crack the standard guidelines imposed on the state's registered offenders.
Residential Limits—Where Can Sex Offenders Live in Florida?
A sex offender can live anywhere in the state as long as they follow some residential restrictions:
A sex offender cannot live within 1,000 feet of a school, daycare facility, playground, park, or any such place where minors gather
A juvenile or unregistered sex offender who is under supervision may be prohibited from living in or entering certain child safety zones
Florida Sex Offenders—Travel Restrictions
Florida bans its sex offenders from visiting amusement or theme parks. An offender's probation officer may also levy other movement restrictions depending on the individual nature of the case.
Florida sex offenders traveling to another state must notify their supervising authority of their travel plans.
Rules for a Sex Offender Visiting Florida
Sex offenders visiting Florida must register themselves in the state if they plan to stay for more than three calendar days during the year. They must do so within 48 hours of arriving.
Out-of-state offenders can obtain a valid Florida ID or driver's license only after they comply with the registration requirement.
Other Restrictions May Vary From County to County
Counties across Florida may add other restrictions to the parole or probation terms of an offender, like:
Internet usage and social media monitoring
Loitering limitations within the specified perimeter of a school, daycare facility, park, or playground
Ban from working in places frequented by minors
Sex Offenders Laws in Florida—Consequences of Non-Compliance
Breaching the sex offender laws is treated as a felony offense in Florida, and that can lead to fines, parole, probation, and imprisonment. The terms of imprisonment are summarized in this table:
| | |
| --- | --- |
| Default Sequence | Minimum Imprisonment Period |
| First default | Six months |
| Second default | One year |
| Third and subsequent defaults | Two years |
Use DoNotPay's Vigilance To Steer Clear of Florida Sex Offenders
While sex offender registries were opened to the public under Megan's Law, they never lived up to people's expectations. The bitter truth about sex offender laws is that many dangerous predators slip through the cracks in the system and roam freely.
If you spend hours every week trying to keep track of sex offenders through public registries, you're doing it wrong. DoNotPay's Sex Offender Search is a far superior alternative that will ensure your family's safety without giving you a hard time!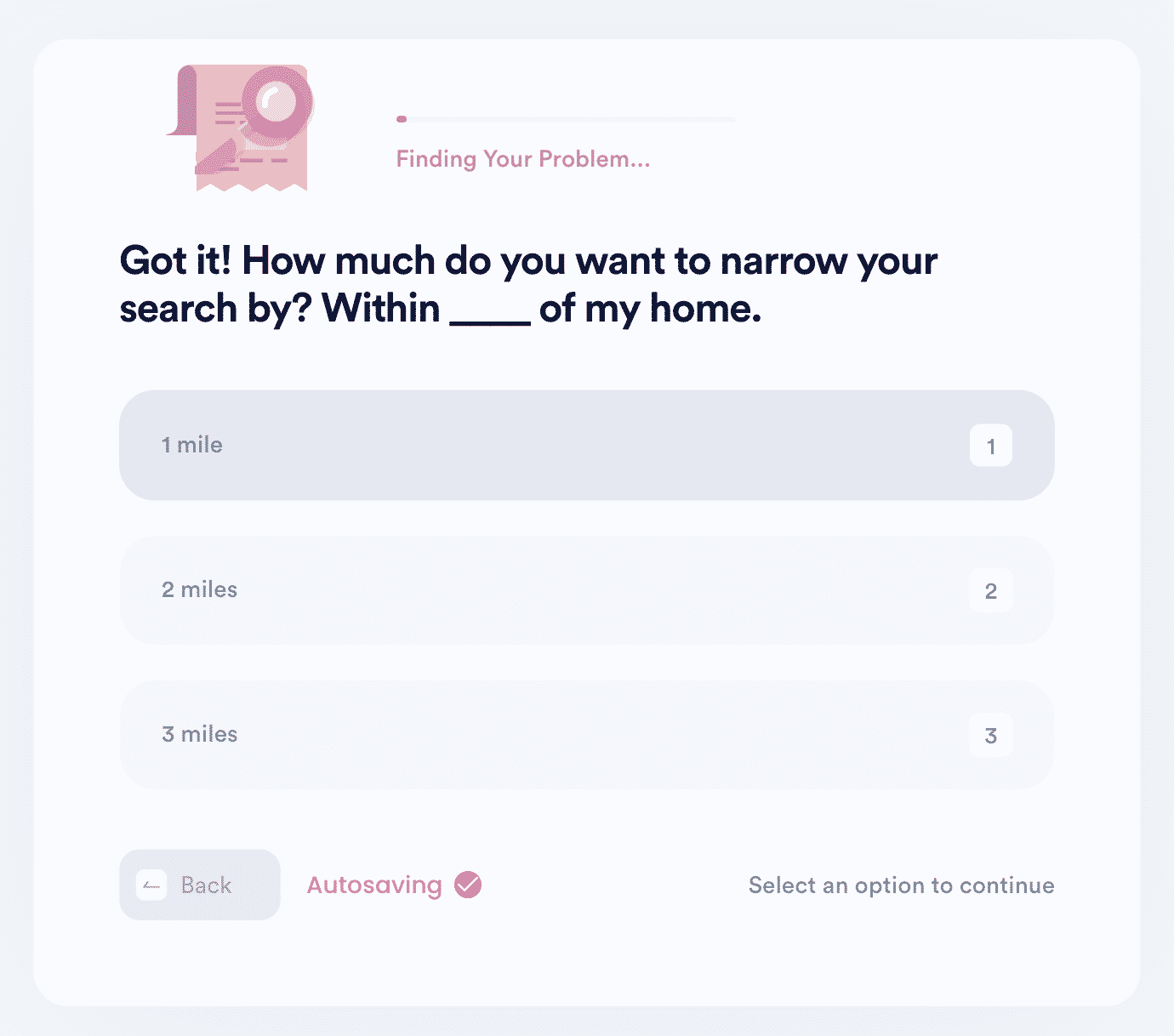 Our app uses AI to access the database of any state registry. Follow these easy-peasy steps to get your customized search report in the blink of an eye:
and choose the Sex Offender Search feature
Choose between an individual sex offender report and a report of all offenders near you
Specify a scan radius to refine the search
Tell us if you want to opt for our weekly automated scans
Our report will include offenders' mugshots and details from the latest registry database, and that will help you keep an eye out for them.
If you go for DoNotPay's routine scan feature, the app will run a weekly search in the background to make sure you get a fresh list of all the registered sex offenders in your vicinity.
If You Spot a Sex Offender, Don't Panic!
DoNotPay's report may show a sex offender living near you, but freaking out is no solution!
Any form of intimidating, stalking, or harassing of a sex offender is unlawful. Instead, consider these reasonable steps to reclaim your sense of security:
Educate at-risk kids and teach them basic vigilance
Talk to your community for support
Reach out to the offender's supervising officer to address any safety concern
To Sue or Not To Sue?
Hiring a lawyer to help you sue a company can be helpful, but it can also cost you an arm and a leg. Luckily, you can avoid wasting hundreds of dollars and use our robot lawyer to sue any company in small claims court instead!
DoNotPay offers you a variety of other features you will find quite useful when dealing with bureaucratic issues. Check out the list below to see what else our app can help you with:
Shopping Without Dropping
Whoever said you should shop until you drop didn't have access to DoNotPay's various features. With our app, you can make your shopping experience smooth sailing and stress-free!
Here's a fragment of what you can accomplish by using our neat features: