Searching the Florida Sex Offender Listing Doesn't Have To Take Forever!
If you're looking for useful info about sex offenders in Florida and a way to locate them with ease, you're in the right place. Protecting your family will be easier once you learn how to search the Florida sex offender listing like a pro!
for the easiest way to search the FL sex offender registry!
What Is the Florida Sex Offender Listing?
Everyone who commits a sex offense in Florida has to register with local authorities within 48 hours of being released from prison. Based on the risk the offenders pose, they are categorized into three levels:
Level 1 (low risk)—unlikely to reoffend
Level 2 (moderate risk)—more likely to reoffend
Level 3 (high risk)—most likely to reoffend
Check out the table below to see the common crimes each type of sex offender commits:
Levels
Crimes
Level 1

Consensual prostitution acts
Indecent exposure

Level 2

Sexual acts involving minors
Sexual assault

Level 3

Kidnapping
Repeated violent sex acts
How To Perform a Florida Sex Offender Search
With around 31,831 registered sex offenders in Florida, finding out what they look like and where they reside is the best way to keep yourself and your loved ones safe. Thankfully, ever since the passing of Megan's Law in 1996, all the info about registered sex offenders has been public.
Searching the Florida sex offender listing is the best way to map the whereabouts of registered sex offenders in your proximity. You can search for sex offenders in Florida by following these steps:
Enter the required information
Select Search
After you do the search, you will be presented with info about the registered offenders near you, including:
Names
Aliases
Birthdates
Addresses
Photos
States
Cities
Counties
You should be aware that most online registries aren't updated regularly, so if you're looking to stay informed about newly registered sex offenders weekly, DoNotPay is a perfect choice.
DoNotPay Helps You Perform the Florida Sex Offender Search and Keeps You in the Loop!
Not only can DoNotPay help you search the Florida sex offender registry with ease, but we also offer to keep you updated about sex offenders moving to your area! You don't have to worry about an offender lurking around without you knowing—gather all the information and have peace of mind at all times!
All you need to do to initiate the search process is follow these instructions:
and pick the Sex Offender Search tool
Indicate whether you want to find a specific offender or look for all registered ones near you
Decide if you would like to get weekly reports about sex offenders from our app
After you complete the above-listed instructions, DoNotPay will provide you with a full sex offender report right away!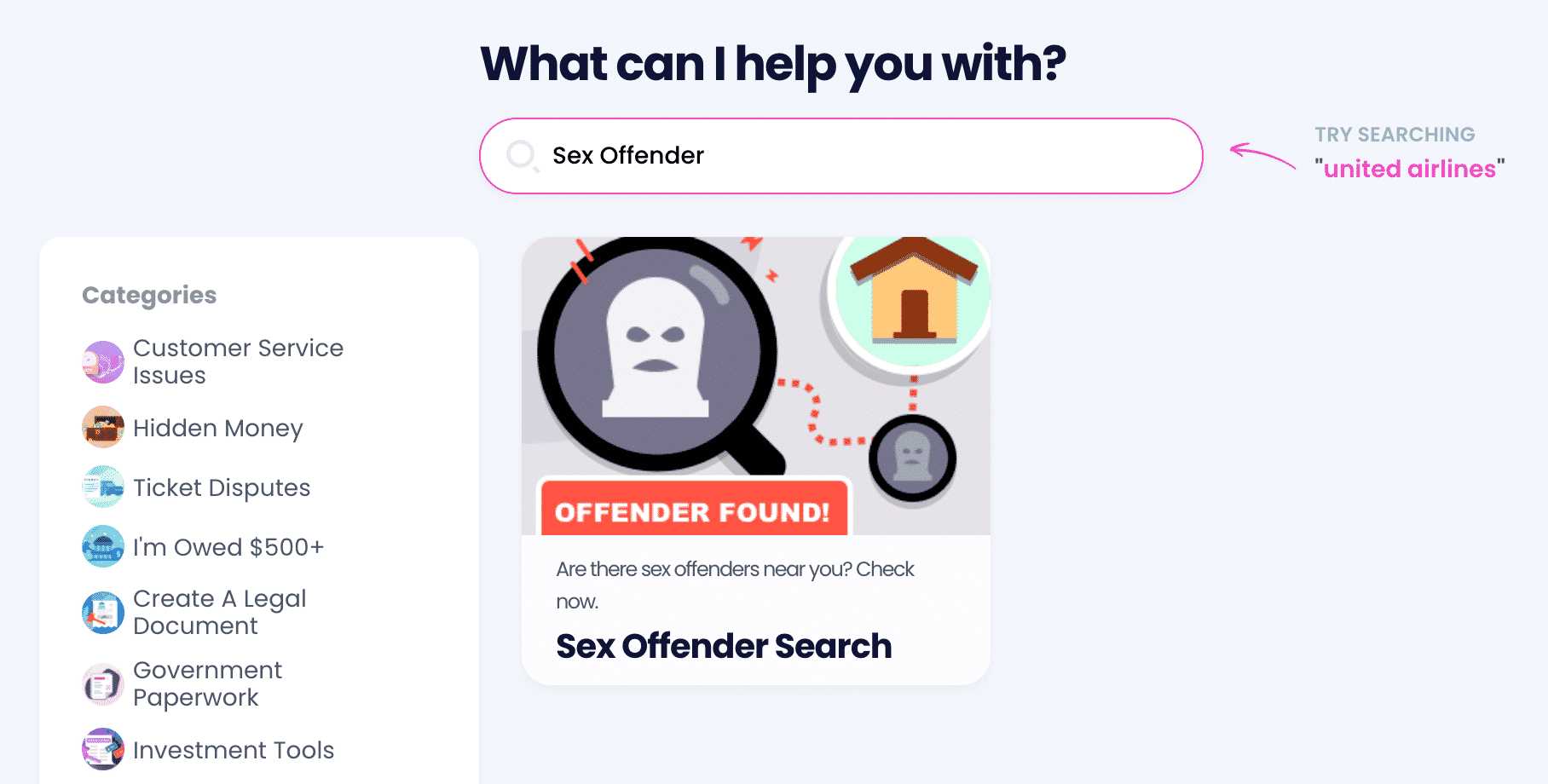 How Long Do Florida Sex Offenders Have To Stay Registered?
Florida sex offender registry laws are more severe than in other states. In most states, less dangerous offenders stay registered for 15 to 20 years and the more dangerous ones for life. In Florida, all sex offenders have to stay registered for life.
Additionally, all sex offenders have to keep registering regularly, as follows:
Twice a year (for level 1 offenders)
Four times a year (for level 2 and 3 offenders)
Florida Sex Offender Restrictions
Registered sex offenders in Florida are generally restricted from being around children, especially if their victim was a minor. Some other restrictions they face are:
Residential—Offenders have to reside at least 1,000 feet away from schools, playgrounds, and other places where children usually congregate
Travel—Offenders are allowed to travel to different states, but they have to register with local authorities of their destination state upon arrival
Employment—Registered offenders in Florida can have a difficult—if not impossible—time getting a job where they would get into contact with children
Many offenders try to avoid these restrictions by not registering, which is considered a third-degree felony. An unregistered offender can be sentenced to additional jail time and face other penalties.
Should I Share the Info About Registered Sex Offenders in Florida?
Sharing the info you find about registered sex offenders isn't forbidden, but you have to be careful with how you share it.
Using the info you found to harass, bully, or discriminate against offenders is forbidden and can lead to legal consequences. What you can do is share the details with your loved ones in an attempt to keep them safe. Give your friends and family the offender's name, address, and photo to keep them informed about the potential danger they might face. You should also warn them not to harass or discriminate against the offenders, or they may face legal consequences as well.
DoNotPay Helps You Deal With Any Administrative Issues Effortlessly
Tedious administrative tasks are always headache-inducing, but they don't have to be if you use DoNotPay. With our AI-powered app, you will be able to:
Solve Any Issues Like a Pro With DoNotPay
DoNotPay is an AI assistant that is able to solve almost all issues you're facing. Whether that be your noisy neighbors, the annoying text and email spam you're receiving, or the frustrating robocalls that won't leave you alone. We'll even cancel your unneeded subscriptions and get you a few extra bucks you've been cheated out of.
The world's first robot lawyer app can help you get: