Getting a Florida Bright Futures Scholarship—All You Should Know
The Florida Bright Futures Scholarship program is one of the most popular financial aid types in the Sunshine State. It was created for high school graduates with extraordinary achievements who need extra funds for their postsecondary education expenses. To this day, the program has provided financial support to more than 725,000 students in Florida.
If you want to make one of these Florida scholarships yours, you are in the right place! To help you avoid endless search, we created a special guide that can teach you all about:
Basic criteria you must meet to be considered for these scholarships
Active Florida Bright Futures awards you can apply for
Application procedures for the desired scholarship type
DoNotPay's amazing tool that finds appropriate scholarships on your behalf and saves you time and nerves
What Types of Florida Bright Futures Scholarships Are There?
The Bright Futures program includes four scholarships:
Florida Academic Scholars Award (FAS)—It's a program dedicated to the most successful high school graduates with a cumulative GPA of 3.5 and higher. If you apply for this scholarship, you get 100% coverage of your tuition costs and other related expenses
Florida Medallion Scholars Award (FMS)—This scholarship requires candidates to have high minimum test scores and a cumulative GPA of 3.0 and higher. The funds you get from this program can cover 75% of your educational costs and other applicable fees
Florida Gold Seal Vocational Scholars Award (GSV)—The award is for high school graduates pursuing a technical degree or certificate program within their postsecondary studies. It can cover up to 72 credit hours for several specified degree programs
Florida Gold Seal CAPE Scholars Award (GSC)—It's a perfect option for students who want to start a Bachelor of Science/Applied Science degree program and covers up to 72 credit hours for the chosen degree programs
General Florida Bright Futures Scholarship Requirements
Even though each scholarship type is unique and has specific eligibility criteria, there are still some basic requirements you must meet, such as:
Being a Florida resident and:

U.S. citizen
Eligible noncitizen—categories depend on your college's propositions

Having a Florida public or private high school diploma or an acceptable equivalent
Enrolling in a degree program within an accepted postsecondary institution in Florida for a minimum of six credit hours per term
Not being convicted of felony charges
Submitting a Florida Financial Aid Application (FFAA) after your high school graduation, or more precisely, before the last day of August of the current year
Eligibility Criteria for Each Separate Bright Futures Scholarship Type
The following table presents the eligibility requirements for all four categories of Florida Bright Futures scholarships:
Scholarship Type
You Must
Florida Academic Scholars Award

Meet all general requirements
Have:

Completed high school coursework
Minimum proposed ACT or SAT exam score

Complete the proposed minimum number of service work hours
Achieve one of the following academic recognitions:

IB Diploma
IB Curriculum
AICE Diploma
AICE Curriculum
National Hispanic Scholars
National Merit/National Achievement Finalists and Scholars

Florida Medallion Scholars Award
Florida Gold Seal Vocational Scholars Award

Meet all general requirements
Have:

At least 30 completed service work hours by your high school graduation
Cumulative GPA of at least 3.0 in non-elective courses during your high-school education
Cumulative GPA of at least 3.5 in career education courses
Required minimum ACT or SAT score

Get three full credits in one Career and Technical Education program

Florida Gold Seal CAPE Scholars Award

Meet all general requirements
Complete 30 service hours
Have five postsecondary credit hours earned through the chosen CAPE industry certification courses
How To Apply for the Desired Florida Bright Futures Scholarship Program
Regardless of the award you are looking forward to, you must go through a general application process. The list below contains all the steps you should take to file a successful Florida Bright Futures scholarship request:
Fill out all the required fields in your Florida Financial Aid Application
Prepare your:

High school transcripts
Standardized test scores
Any other required supporting documents for your student group

Provide proof of completed service hours
Submit your application and the required paperwork within the prescribed deadlines—usually from October 1 of the current year to:

January 31 of the next year for early evaluation
August 31 of the next year for the last evaluation round
Writing a scholarship essay or getting a letter of recommendation isn't necessary in this case. To simplify the application process for the scholarships that don't require essays, you should sign up for DoNotPay and solve the matter in record time.
DoNotPay Helps You Pinpoint Suitable Scholarships and Apply for Them
When searching for college, grad school, or high school scholarships, you can find hundreds or even thousands of results online. The problem is that not all of them align with your special qualifications or match your needs. To avoid getting lost in the sea of information, turn to DoNotPay and let our app do the search on your behalf in a heartbeat!
We can:
This way, you can look for any financial aid types you are interested in, such as scholarships for women, teachers, veterans, disabled candidates, or international students!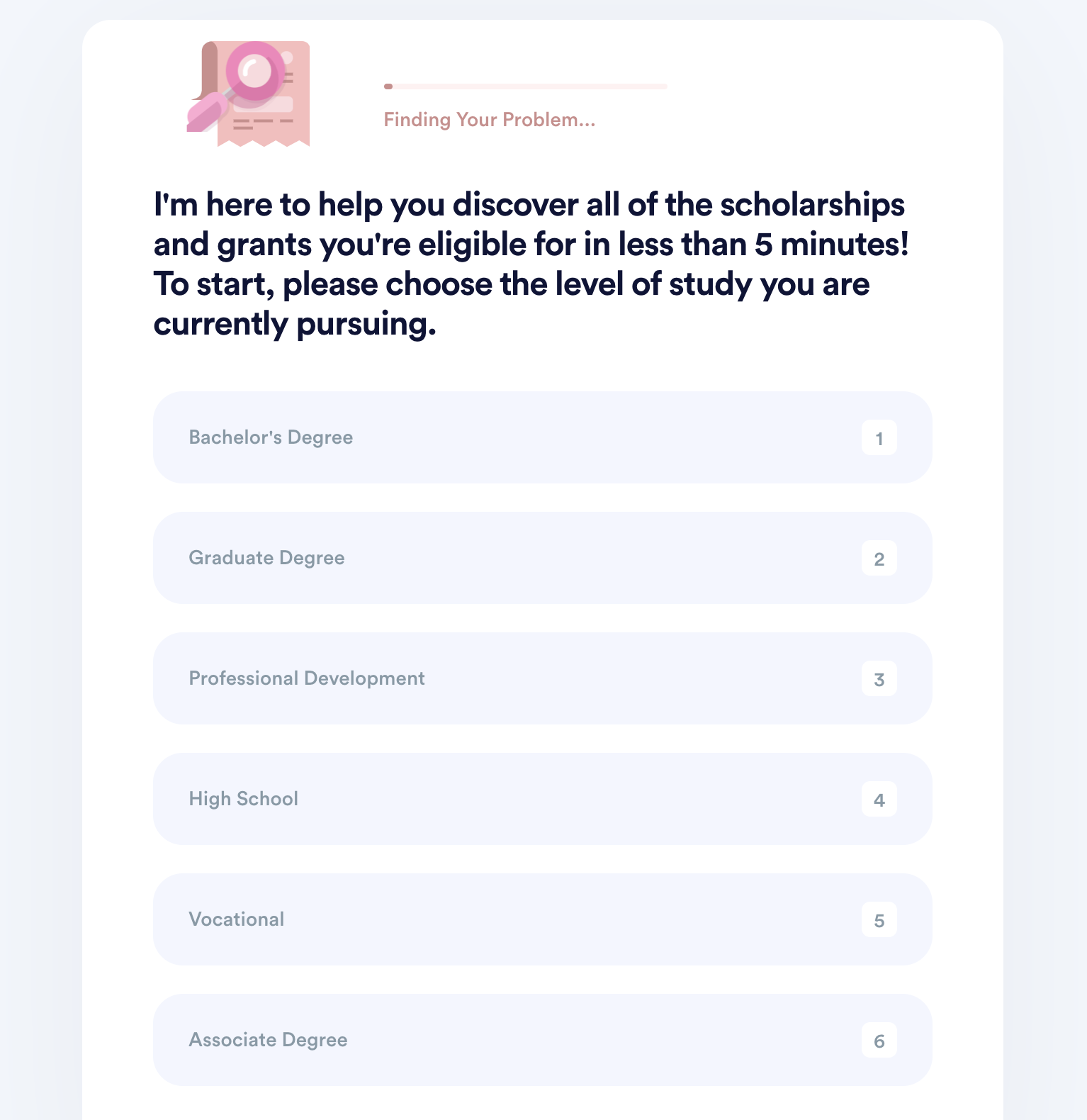 To simplify your search with DoNotPay, proceed as follows:
Access DoNotPay from any web browser
Choose Apply for Scholarships
Tell us more about:

Your current level of study and grades
Qualifications you possess
Expertise fields you are interested in
Stuck in a Bureaucratic Mess? DoNotPay Is Here To Help!
Since handling dull administrative tasks is a burden and no one likes doing them, DoNotPay developed a variety of neat features to ease many processes! With our nifty app, you can:
Deal With Companies Like a Pro
We all love shopping, but it's no secret that companies sometimes turn a fun experience into a nightmare, especially when they refuse to cooperate. DoNotPay is here to help you reach customer support without the hour-long wait and sue an uncooperative merchant in small claims court if necessary!
Need a refund? We can show you how to get your money back from any company in a snap!
Should you need to file an insurance or warranty claim and request gift card cash back or an item return, you can count on our app to assist you! DoNotPay can also show you how to discover any unclaimed funds under your name so that you can continue shopping like a pro.