Get a DoorDash Refund in a Flash
DoorDash is a U.S. on-demand food delivery service founded in 2013 and headquartered in San Francisco, California.
It is the largest American food-delivery company, currently operating in over 4,000 cities in the U.S., Australia, and Canada.
How to Request a Refund From DoorDash
on Your Own
If you would like to get your money back from DoorDash, and it relates to a missing food order or the DashPass subscription service, you can do so through DoNotPay or by contacting DoorDash's customer service team.
| | |
| --- | --- |
| Can you request a refund via | Yes / No |
| DoNotPay | Yes |
| Email | No |
| Phone | Yes |
| Letter | No |
| Website | No |
| In-person | No |
| Live Chat | Yes |
Call DoorDash - Request a Refund Over the Phone
You should call DoorDash customer service on 855-973-1040 and explain why you would like a refund. Please note that DoorDash can temporarily suspend their phone customer service if they're experiencing a heightened volume of customer requests. In this instance, you should use the live chat option instead.
Request a Refund Over Live Chat
If you prefer live chat vs. a phone call, go to DoorDash's Contact Us Customer Support page and click on the Chat icon. Inform the customer service representative about your issue and why you would like your money back.
DoNotPay Can Request Your
DoorDash Refund
for You

You would like to get your money back from DoorDash, but need a hand with the whole process? DoNotPay can help you achieve your refund quickly and effortlessly.
Follow these instructions:
Open the DoNotPay app in your

Click on

Get Protected

under the

File a Chargeback

button

Answer the questions our chatbot will ask you

Verify your signature

Submit the request
To begin the process of securing your money back, DoNotPay will fax the refund request to your bank as soon as possible. Our app also attaches all applicable VISA and Mastercard codes and regulations to your request.
Should you want to demand a refund from the merchant directly (in this case, DoorDash), DoNotPay can do that for you, too. Simply let our chatbot know your preference!
How to Report DoorDash Missing Items?
If you didn't receive one or more items from your delivered DoorDash order, you should report this in the app. Do the following:
Open the DoorDash app

Go to

Orders

Select the order in question

Tap

Help

in the top corner of the order page

Under

Order Issues

, go to

Missing Items

and select the items that were missing

Include any additional information in the

Details

section

Hit

Submit
A DoorDash customer service rep should get back to you within a few hours and offer a partial refund for the missing item. Unless there were other significant issues with the order, you will probably not receive a full refund.
What Is the
DoorDash Refund Policy
?
DoorDash's Terms of Service gives a detailed overview of the company's refund policy.
DoorDash Food Deliveries Refund Policy
You can only cancel your order on DoorDash before the restaurant starts preparing your food. To do this, you should log on to the order status page. If you are not too late, the order can be canceled, and your money will be refunded.
In theory, charges paid by you for completed and delivered orders are final and non-refundable. Even though DoorDash has no obligation to provide refunds or credits for completed and delivered orders, they may grant them in exceptional circumstances and at their sole discretion.
DoorDash Subscription Refunds
If you purchase DashPass, DoorDash's subscription service for $9.99 per month, you will get free delivery on all orders of $15 or more. But what if you decide that this subscription is not for you after all, and would like your money back?
DoorDash's Terms of Service state that:
If you took part in a free trial or a promo subscription period for DashPass, you can cancel the service within the first 48 hours and obtain a full refund of your subscription fee

If you decide to cancel your DashPass monthly subscription within the first 48 hours and haven't submitted a DashPass-eligible order during that time, DoorDash may give you your money back

If you decide to terminate your DashPass annual subscription within thirty days of placing your first DashPass-eligible order, DoorDash might refund your annual subscription charge

If you don't agree with the modifications made to your current DashPass subscription terms and conditions, you can cancel your subscription and be eligible for a refund of your subscription fee. This will be calculated on a pro-rata basis, counting from the end of the month in which you cancel the subscription
How Long Does DoorDash Take to Refund?
It shouldn't take too long to receive your money back. A Reddit user who also works for DoorDash customer service explained that the refund is processed immediately, but the bank takes around five to seven business days to handle the request.
Things to Know About
DoorDash Refund Exploit
Reddit users have reported that every once in a while, they will be unsatisfied with their DoorDash food delivery. When they let the app know about that, they are usually able to get a quick refund, no questions asked. But what happens if a customer starts exploiting DoorDash's goodwill in order to keep receiving free meals?
There is no such thing as a free lunch, quite literally, at least not indefinitely. DoorDash will deactivate the accounts of customers who they suspect are exploiting their refund policy.
Try Out Free Online Trials With DoNotPay's Virtual Credit Card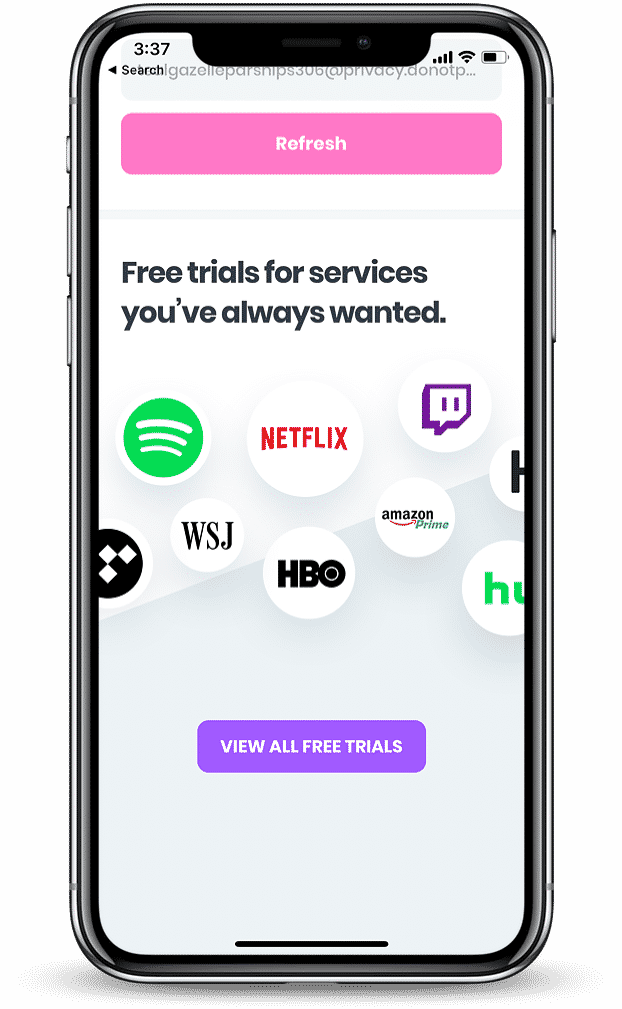 Were you aware that, according to a study by West Monroe Partners, the average user shells out $237.33 a month on assorted subscription charges (which is also 197% higher than what they expected)? You may have been lucky with DoorDash and received your unwanted subscription fee back, but many other companies operate under a more lenient ethical code.
If you're tired of getting charged unwanted, auto-renewed subscription fees, especially after your free trial ran out and you forgot to cancel your subscription, check out DoNotPay's Free Trial Card.
Our virtual credit card creates a temporary and unique credit card number that's not linked to any bank account, but that looks like a legitimate card to the vendor. Use it to sign up for any free trial you want, and you will not have to fear those unwanted subscription charges appearing in your bank account if you forgot to cancel the service on time. You can use DoNotPay's virtual credit card generator to quickly create a new credit card you can use once and forget about those pesky unwanted charges.
DoNotPay Can Help you Get a Refund for Various Services
Don't you just hate it when you buy a product or service and realize it's not to your liking? Your money doesn't need to be wasted like that. With the help of DoNotPay, you can request a refund from any company, even the ones that officially offer no refunds, in just a couple of minutes. All you need to do is provide our chatbot with the necessary information, and we will fax a refund request to your bank. We can also contact the service provider for you and ask them to refund your payment. We can help you request a refund from:
The World's First "Robot Lawyer" Is at Your Service

Also known as the world's first "robot lawyer," DoNotPay is a groundbreaking app aimed to make services more accessible to everyone. The American Bar Association has even recognized it with the 2020 Louis M. Brown Award for Legal Access.
Access our app from your . You can explore a wide array of tools designed to make your everyday life easier—and save you some money and time, too!
DoNotPay helps you with:
Fighting traffic tickets

Disputing speeding tickets
Frequently Asked Questions
What Should You Do If DoorDash Drivers Stole Your Food?
You should contact DoorDash's support team immediately by calling +1-855-431-0459. The company will typically issue a refund.
Can You Cancel a DoorDash Order Before It Gets Delivered?
Yes — the sooner you cancel an order, the better the chances for you to get a full refund from DoorDash.