Get an ASU Application Fee Waiver Easy as ABC!
Arizona State University (ASU) is one of the biggest public universities by enrollment in America, and it's hosting students from more than a hundred countries worldwide. This public research university is based in Arizona, including five campuses in the Phoenix metropolitan area and four regional learning centers.
Applying to universities and colleges can be quite expensive, so if you are thinking about applying to Arizona State University, you should also consider asking for an application fee waiver.
What Are College Application Fee Waivers?
When researching and applying to colleges, you will discover that most colleges and universities have application fees. The specific amount of the fee depends on the school, and it's different for each university, though the application fees are commonly around $60. The most expensive schools, like Stanford University and Duke University, have fees around $80 to $90.
Keeping in mind that students often apply to multiple colleges, the costs of application fees alone can pile up to hundreds of dollars. Not to mention other expenses students encounter when applying and visiting schools, such as tuition, transportation, school supplies, and hotel rooms for on-campus visits.
Fee waivers are typically given to students who demonstrate financial need. Certain schools will allow any student to avoid paying the application fee, but only if they meet certain criteria, such as making an official on-campus visit.
Who Qualifies for an Automatic College Application Fee Waiver?
There are, in general, certain criteria that you have to meet to qualify for a fee waiver. See the list below for the usual qualification guidelines.
You can get an application fee waiver if you are:
Eligible for the

Federal Free or Reduced Price Lunch program

Meeting the

Income Eligibility Guidelines

set by the USDA Food and Nutrition Service

Enrolled in a program helping students from low-income families

Receiving

public assistance

Residing in

federal public housing

or a foster home

Homeless or a ward of the state

An orphan
Here is a detailed table on Income Eligibility Guidelines:
| | |
| --- | --- |
| Household Members | Total Annual Income |
| One | $23,606 |
| Two | $31,894 |
| Three | $40,182 |
| Four | $48,470 |
| Five | $56,758 |
| Six | $65,046 |
How Much Money Would You Need for the Arizona State University Application Fee?
The ASU application fee amounts to $85. If you haven't submitted your application fee with your admission application, you can submit your payment in the form of a check or money order drawn on a U.S. banking associate and made payable to Arizona State University.
Wondering if You Are Eligible for an Automatic College Fee Waiver?
If you are a student who already got an ACT or SAT fee waiver, you should be qualified for college application fee waivers automatically. In case you are using Common App or Coalition App, or your admission test of choice was the SAT, the procedure should be even easier. Both Coalition and Common App simplified the process of getting fee waivers to a great extent so that it would be easy for you to get one when you apply to a school.
How Can I Get an Arizona State Application Fee Waiver by Myself?
ASU doesn't have an application fee waiver form that you need to fill out to apply for a waiver. The way you request your application fee waiver is by answering a few questions about your financial circumstances in your admission application for ASU. Answering these questions will automatically make you eligible for an ASU application fee waiver, and the only other way to apply for it is with DoNotPay. We can jump in to help you get your ASU application fee waiver by offering you an alternative, easier option to getting any college fee waived!
Use DoNotPay To Get an ASU Application Fee Waiver Hassle-Free
The easiest and safest way to ask for a fee waiver is by using DoNotPay. The best part is that you can do it from the comfort of your own home, and it will take minimal effort on your part! The steps to applying for a fee waiver are also super easy to follow!
Check out the list below to see how it works:
Open the DoNotPay in your

Click on

College Application Fee Waiver

Select which fee you would like to avoid

Pick the college that you are applying to and answer a few short questions about your financial situation

State if you would like to obtain a counselor's signature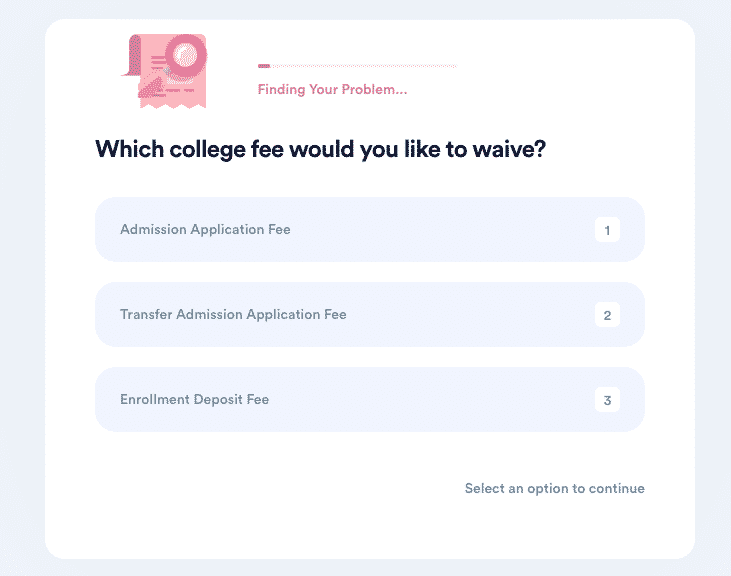 This feature comes in especially handy today, when getting a signature from a school counselor may not be possible due to the COVID-19 situation.
What our app can do for you is:
Automatically fill out the form on your behalf

Send the form directly to the university's financial aid office

Help apply for college application fee waivers (both for undergrad and grad studies)

Assist in requesting test fee waivers (except for the SAT and the ACT)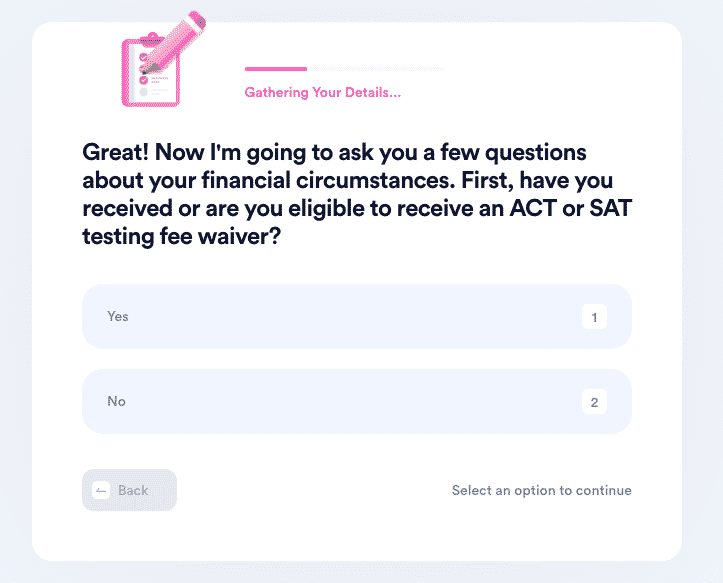 Our product works with any college in America due to our comprehensive database of universities in the U.S. We can provide you with three types of fee waivers:
New Student Application Fee Waiver

Transfer Student Fee Waiver

Enrollment Deposit Fee Waiver
We can also assist you in strengthening your application by acquiring a school counselor's signature. We will fill out the form and either send it to your counselor for a signature or mail it directly to the university's financial aid office! You can relax and allow us to do all the work for you!
DoNotPay Also Helps You With Other Administrative Tasks!
If you are looking for an easy and convenient way to deal with bureaucratic tasks and issues, look no further! DoNotPay can help you solve them in a few clicks and provide you with an abundance of terrific features you will find useful in your day-to-day life!
We can assist you in applying for fee waivers for many universities and colleges besides ASU, like Georgetown, University of Oregon, NC State, Harvard, and many more. We can also show you how to schedule an Arizona DMV appointment fast, help you renew your driver's license in this state, or pass your Arizona permit practice test like a pro. DoNotPay can also find the best Arizona clinical trials and stop the persistent car warranty robocalls!
There's no shortage of what you can do with our app, so open DoNotPay in your and shuffle through our features to see how we can help you with:
Disputing traffic tickets

Fighting speeding tickets