Do You Want To Save on Your College Fees? Learn About the ACT College Application Fee Waiver
ACT is a standardized test needed for enrolling in U.S. colleges. The test includes English, mathematics, reading, and science sections. Some students also choose to do the writing part.
ACTs involve a fee, which can become a huge burden on students. If you want to save your money, learn more about ACT fee waivers and how they can help you with college application fees.
How Can You Earn the ACT Fee Waiver?
If you opt for the ACT, you will need to pay $55 for the test without the writing part or $70 for the test with the writing section. Since not everybody is able to pay for the test, the ACT offers waivers to those students who are struggling financially. You can get the ACT waiver if you:
Are a student of 11th or 12th grade in high school

Do the test in the USA, US territories, or Puerto Rico

Have financial issues
You should meet all of these criteria to get the ACT fee waiver.
What Financial Criteria Do You Need To Fulfill to Get the ACT Fee Waiver?
You might be eligible for the ACT waiver if you:
Live in a foster home

Are a ward of the state or homeless

Belong to a family that resides in federally subsidized public housing

Are a part of a family that gets public assistance because of low income

Are registered for a federal free or reduced-price lunch program

Are a part of a program that helps economically struggling families—the programs include GEAR UP and Upward Bound

Come from a family whose income is lower than the levels for the free and reduced-price lunch program, based on the

USDA Food and Nutrition Service

guidelines
You have to meet one or more of these criteria to get the test fee waiver.
What if You Need To Reschedule the Test Date?
In case you can't show up for the ACT on the date you've got a fee waiver for, you can reschedule it. You can keep the test fee waiver, but you will need to pay a fee for changing the date.
What Do You Get With the ACT Fee Waiver?
The ACT fee waiver does not only refer to the fee you pay for taking the exam. If you get the ACT fee waiver, it will cover the following:
Registration and late fees for the ACT, both with and without writing part, as well as the registration for up to three subjects

One report for your high school

Up to six reports for colleges you choose

Unlimited number of score reports after registration

Access to the

Official ACT® Self-Paced Course, Powered by Kaplan®
You can use up to four separate ACT fee waivers. Waivers don't include additional fees, products, or services. You should pay any additional fees with a credit card.
The ACT Waiver and College Application Fees
Students usually apply for several colleges, making their fees pile up. You could end up paying hundreds of dollars for registration.
The good news is that you won't need to pay any college application fees if you got the ACT waiver. You will have to fill out the Request for Waiver or Deferral of College Admission Application Fee form to register for a college application fee waiver. Don't forget to sign the form, and find your school counselor to sign it as well.
Can You Get a College Application Fee Waiver Without the ACT Waiver?
Yes, you can. If you are not qualified for the ACT fee waiver, you can still request a college application fee waiver through other means, such as:
Students use the Common App to apply to colleges, waive application fees, and research scholarships. It has a database of hundreds of universities, but you should check whether the school you want to enroll in accepts the Common App applications

National Association for College Admission Counseling (NACAC)

NACAC allows students to request college application fee waivers. You need to fill out their

request form

and send it to the admission office of the schools you choose

Your High-School Counselor

High-school counselors can help you with the necessary waiver application forms. They usually need to fill out parts of the forms and sign it
Applying for a fee waiver using these methods involves a lot of administrative tasks for students who are already under a lot of pressure. Another disadvantage is that you can usually apply to only certain colleges. You might also waste a lot of time waiting for the counselor to deal with the documentation.
If you want to save your time and get a college application fee waiver as fast as possible, use DoNotPay!
Get Your College Application Fee Waiver Quickly With DoNotPay
DoNotPay is the most efficient way of getting a college application fee waiver! Since we have a database of all U.S. colleges, it will be easy for you to request an application fee waiver for the schools you want to enroll in.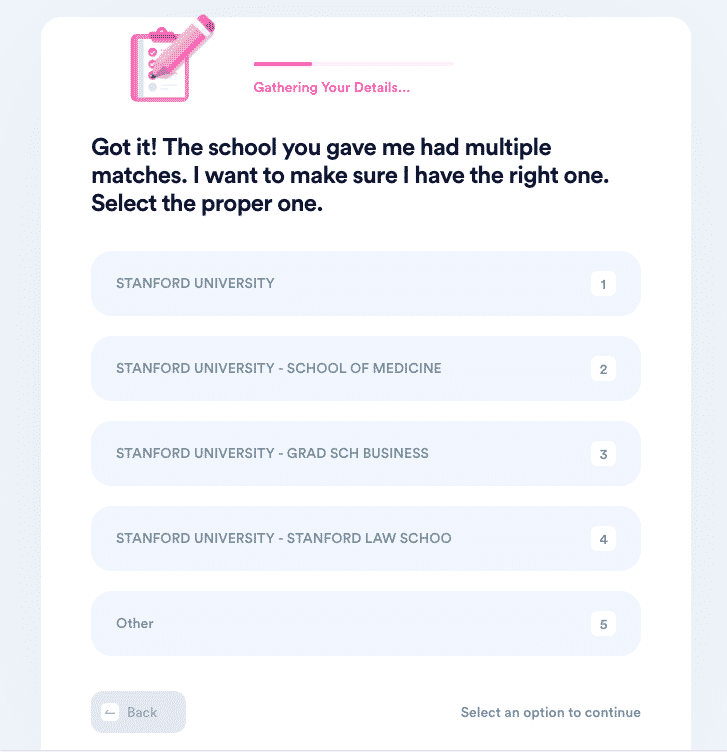 With our app, you can waive fees for:
New student applications

Enrollment deposits

Transfer students
If you don't want to spend hundreds of dollars on college fees, get a fee waiver with DoNotPay's help! Here is how to do it:
Log in to DoNotPay in any

Select

College Application Fee Waiver

Choose the fee you want to waive

Pick the college you want to apply to and answer a few questions regarding your financial situation

State whether you would like to have a counselor signature
You won't need to waste time dealing with the paperwork! We will fill out the necessary forms on your behalf and send them to the university's financial aid office. We can also send your request to a high-school counselor to sign.
Bear in mind that colleges may have changed their policy on counselor signatures for fee waivers due to COVID-19. Check whether you have to obtain a counselor's signature for the college you are applying to.
DoNotPay—Your Way Out of Bureaucracy Issues
In case you decide to do the SAT, use DoNotPay to find out more about getting an SAT fee waiver and saving money on college applications.
With our app, you can get help with many other issues! If you want to get rid of your Bartleby or Study Edge subscriptions, DoNotPay is here to stop them from eating your money.
Another great option is our virtual credit card for free trials. You can use the card to sign up for Adobe, Grammarly, Cengage, and many other free trials without the risk of being charged when they expire.
DoNotPay offers much more! Use any to access DoNotPay, and let us tackle other tasks and issues, such as:
Disputing traffic tickets

Dealing with speeding tickets