Woman Inmate Search—Learn How To Locate Female Inmates Without Trouble
Keeping in touch with inmates by writing to them or calling them is of paramount importance for their well-being. Receiving words of comfort from the outside world ensures they do their time with more ease, but it also motivates them to lead a better life once they get out.
Female prisoners might even be the ones who struggle more with life in prison, especially if they left children behind. If you can locate an inmate, sending her photos or drawings from her kids will boost her morale.
Even if you are looking for prison pen pals, finding inmates is fairly easy nowadays, no matter their gender, so making a female prison pen pal and writing a female prisoner shouldn't be a problem.
What's a Reliable Female Inmate Locator?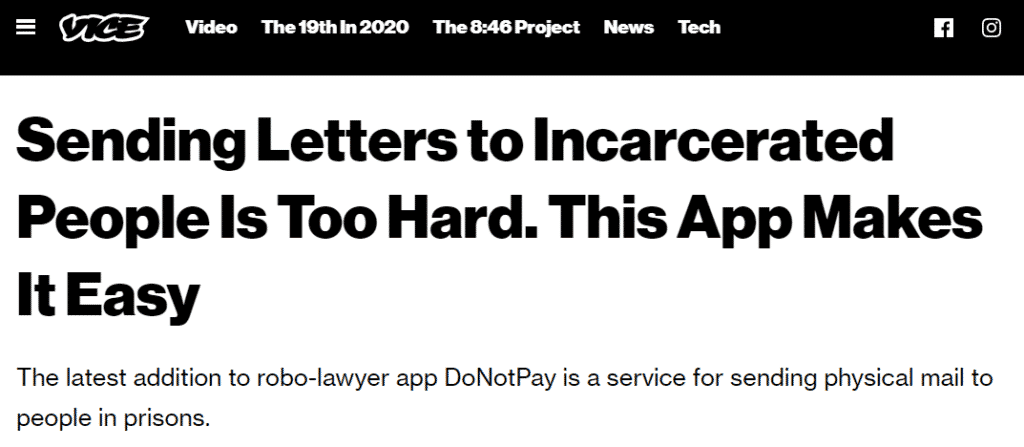 Your best option for performing the female prisoner search is the Bureau of Prisons (BOP). They have an extensive database of prisoners held in federal facilities across the States.
Only 7% of federal inmates are women, which should make the process easier. With the BOP, you can find female prisoners in 29 federal facilities across the country:
City
Type of Facility

Federal Prison Camp (FPC)

Sumterville, FL

Aliceville, AL

Danbury, CT

Dublin, CA

Greenville, IL

Bruceton Mills, WV

Marianna, FL

Pekin, IL

Phoenix, AZ

Tallahassee, FL

Tucson, AZ

Victorville, CA

Waseca, MN

Federal Correctional Institution (FCI)

Fort Worth, TX

Lexington, KY

Federal Medical Center (FMC)

Honolulu, HI

Houston, TX

Philadelphia, PA

Miami, FL

Seattle, Wa

Federal Detention Center (FDC)

Federal Transfer Center (FTC)

Brooklyn, NY

Guaynabo, PR

Los Angeles, CA

Metropolitan Detention Center (MDC)

Chicago, IL

New York, NY

San Diego, CA

Metropolitan Correctional Center (MCC)
How To Locate a Female Prisoner via the Bureau of Prisons
BOP has information about federal inmates imprisoned from 1982. You can search their website in two ways:
If you opt to search by number, you should pick one of the following numbers:
The Inmate's BOP register number

Their DCDC number

The prisoner's FBI number

The inmate's INS number
After choosing one of the options, you should write the number in the next text box and click on the Search button.
In case you choose the latter option and look for the female inmate by name, you will have to enter at least some of the following data:
First name

Middle name

Last name

Race

Gender

Age
Once you fill out the form, hit the Search button.
How To Find a Female Inmate in Other Correctional Institutions
If the female inmate you are looking for is not a federal correctional institution, you should switch from BOP to other inmate locators. There are many such search engines, but you need to use reliable sources.
Most of these inmate locators offer various filters to help you find an inmate easier. You can enter the prisoner's name, race, or date of birth and speed up your search. If the female convict you are looking for is located in a state prison or a county jail, your best option is to try to find them through search engines of the state or country they are held in.
These are some of the examples that should help you:
A downside of this research is that you usually need to know all the details about an inmate, such as their ID number, and that info is not always available.
How To Find Female Prisoners and Become Pen Pals
If you want to make a new friend or have romantic correspondence with a female inmate, that can be arranged. Numerous dating apps and websites can connect you with female prisoners. These are some of the most popular ones:
Prisoner dating apps offer information about incarcerated women. You can browse through their profiles and reach out to the ones you find interesting. Only their basic personal information is available, so you can see their name and age. Some services include photos.
These websites provide all the information you need to write or visit female inmates.
If the correspondence goes well, and your love letters contribute to developing a deeper connection with the female inmate, you can end up researching prison marriage rules and ideas.
How To Find Female Inmates With DoNotPay

If you don't know the female prisoner's exact location, DoNotPay can help you find her in no time. We will determine the correctional facility in just a few steps:
Access DoNotPay in a

Find the

Connect With an Inmate

category

Choose the

Locate Someone

feature

Enter the name of the inmate and the state she is located in
This information is sufficient for the world's first robot lawyer to precisely locate a female prisoner in any facility. DoNotPay shows results for all correctional facility types.
How To Send Letters to Female Prisoners With DoNotPay
Writing to inmates is the easiest way to keep in touch, and most correctional facilities allow written correspondence. DoNotPay streamlines the complicated procedure of properly addressing and sending letters to female inmates. These are the steps to follow:
Open DoNotPay in a

Search for the

Connect With an Inmate

section

Select the

Send a Personalized Letter

option

Enter the prisoner's name and their ID number

Compose the letter
If you wish, you can attach pictures and choose customized letter templates to make your letter more interesting. DoNotPay will deal with printing and sending the letter to the inmate as soon as possible.
Use DoNotPay's Virtual Mailbox To Receive Replies From Female Inmates

To actually have a pen pal, you need to find a way to establish two-way communication. If you are not satisfied with sending messages and never hearing back from the imprisoned lady, you can use our Virtual Mailbox feature.
Creating it is simple—select the Create My Mailbox option once you choose the Connect With an Inmate category.
Your Virtual Mailbox is the place where you can check for responses from inmates. The entire process is completely stress-free:
The inmate writes the letter

They send it to our address

We make a digital copy and send it to you
Other Tricks Up DoNotPay's Sleeve

DoNotPay can help you with other inmate-related issues you might have. If the love of your life happens to be incarcerated, we can tell you how to marry an inmate in county jail. In case you want to surprise the prisoner with a gift and learn all about sending packages to inmates, turn to us for assistance.
It doesn't matter which state the inmate is located in. We know the rules and regulations for any part of the country, including New York, Ohio, or Florida.
Open DonotPay in a if you want to see the vast array of other administrative tasks we can help you complete successfully. Pick any of the following categories: