How To Write a Female Prisoner and Find an Inmate Pen Pal
Prison can get lonely, especially if inmates are rejected by their friends and family. If you'd like to make a new friend, romantic partner, or help prisoners feel a bit better, consider finding a prison pen pal.
There are over 200,000 incarcerated women in the U.S., and many of them will gladly respond to letters even if they don't know the sender. Who knows, maybe you can even arrange a visit to your inmate friend once you know her better.
How To Write to Women in Prison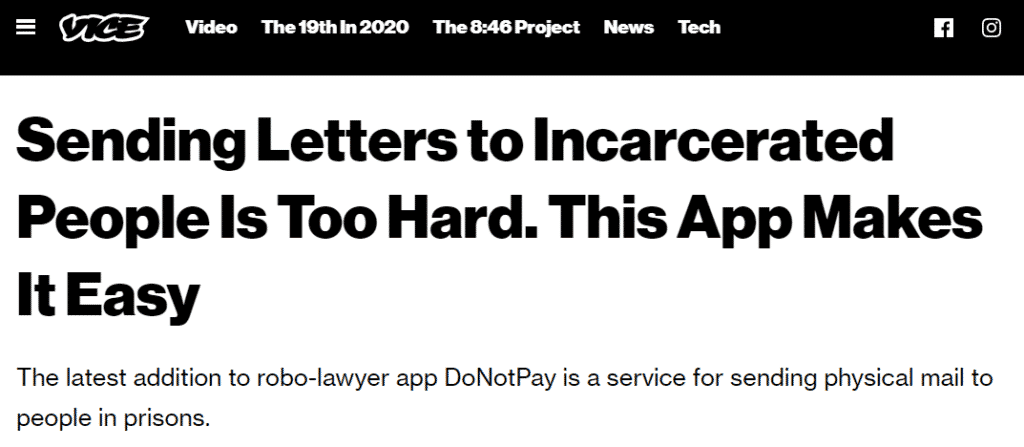 Before you compose a letter for your new female pen pal, you should know who's available for letter exchange.
Many websites allow you to see photos of the offenders as well as the address of the prison they're held in. Most of the websites are free, but some of them require a small fee for each address.
Not many prisons have internet access, so it's usually friends or family members of the prisoners who make these accounts on their behalf and with their permission.
These are the most popular websites for finding female prisoner pen pals:
Website
How To Get in Touch With a Female Inmate

Visit the website

Choose the age of ladies you'd be interested in by clicking on the dropdown menu of the

Featured Ladies

tab

Click on the picture of the prisoner you like

Scroll down to see the address of the facility

Visit the website

Create an account

Click on

Gallery of Ladies

Choose the inmate you like

Click on

Get Info Now

—the address will be added to your shopping cart

Complete your checkout

Locate the address in the

Downloads

section of your account
Write Women in Prison Hassle-Free With DoNotPay

If you dislike going to the post office, DoNotPay is here to send the letters to inmates for you.
Whether you want to write to women you saw on one of the previously mentioned websites or to a person you already know, our convenient tool called Connect With an Inmate will simplify the entire process. Here's what you need to do:
Sign in to your account from a

Click on

Connect With an Inmate

Choose the

Send a Personalized Letter

option

Type in the inmate's full name, ID, and the name of the facility

Compose your letter

Attach a few photos if you want

Choose one of the templates
Once you complete the process, we will print the letter and mail it to the facility your pen pal is held in.
You can also receive letters from female prisoners through our app. You should set up your online mailbox by clicking on the Virtual Mailbox option of our tool.
When an inmate wants to send you a letter, she should write down the address provided by DoNotPay, where we can scan the letter and send it to your virtual mailbox.
What You Need To Know Before Writing to Women in Prison

While receiving letters can make a prisoner's day and help them feel less isolated, there are some things you should be aware of before writing letters to inmates.
If you use apps similar to Prison Pen Pals or Write a Prisoner to meet inmates all across the U.S., you shouldn't share too many personal details with the offender right away. Convicted criminals are potentially dangerous, so be wise about the info you write in your letters.
Prison staff inspects everything inmates receive, which means that they will also read your letter. There are some rules you have to take into account if you want to ensure your letter won't be rejected:
The envelope needs to be plain, without any stickers, and it should include only:

The address of the facility

The return address

You shouldn't put any fragrance on the envelope

You can't include more than five pictures inside the envelope

You can send only five hand drawings and only two magazine or newspaper clippings
It's super important to know how to address a letter to an inmate because the inmate's name, ID, and prison address need to be 100% correct for a letter to be accepted. If you make even the smallest error, your letter will be returned.
Write the following info in the center of the envelope:
First line: inmate's name, surname, and ID or booking number

Second line: prison address or their P.O. box

Third line: city, state, and ZIP code
Write your address in the upper right corner of the envelope like this:
First line: your first and last name

Second line: your address

Third line: city, state, and ZIP code
Who Can Write Female Inmates?
Anyone can send letters to prison, which is why this type of communication with inmates is the most popular one.
As long as the address you have is correct, and you follow all the rules, your letter will be delivered. You can also send a care package to an inmate, but you should follow the facility's rules about what's allowed to be sent and how to pack it.
Can I Call Female Prisoners?
Calling inmates is not allowed in most prisons. Only offenders can make calls to the previously approved numbers.
In some states, such as Texas, friends and family members of the inmates should register their phone numbers online to be able to receive calls.
If you're comfortable with talking with your female prisoner pen pal over the phone, write your phone number in a letter, register it online if necessary, and wait for them to call you.
Most facilities allow their prisoners to make phone calls almost every day, usually from 7 a.m. to 10 p.m. You should know that there's a time limit of 20 minutes per phone call, so think about what you want to talk about in advance.
Your Female Pen Pal Got Transferred? DoNotPay Can Help You Locate Her!
If you lost track of your incarcerated pen pal, our tool offers another awesome feature. You can quickly find out the newest location of an inmate thanks to DoNotPay.
The only info we will need is the offender's full name and the state they're in. Once we locate the inmate in question, we will send you the latest address so that you can continue sending letters.
Writing Women in Prison Isn't the Only Thing DoNotPay Can Assist You With

Maintaining written correspondence with female prisoners can be a fun experience. It will be even more enjoyable when you rely on DoNotPay because you won't have to worry about choosing the wrong envelope or making a mistake while addressing the letter.
DoNotPay's surprises don't end there—we can help you deal with many other issues. Once you log in to your account from a , you'll be able to count on our assistance with:
Disputing traffic tickets

Fighting speeding tickets