Get Vision Direct Free Trial Without Giving Your Credit Card Info

is one of the hottest online contact lens retailers that offer a free trial package for exclusive lens kits, notably the Everclear brand. However, signing up for free trial periods with online retailers is often a risky scenario where there is plenty of fine print, hassles with cancelling the service promptly, and being billed seemingly endlessly for a programme that is no longer wanted. DoNotPay is here to ensure that getting a doesn't involve giving away one's credit card information.
Besides Vision Direct free trials, there are plenty of other sought-after free enrollment deals with corporations like BT Sport, Disney+, NOW TV, SHEIN UK, Beer 52, Sky Cinema, Slimming World Online, and even ways to get PowerPoint for school or work without being charged. The way to enrol in these programmes without extra fees is to utilise virtual credit cards which allows patrons the option to opt out of deliberately complex and complicated billing schemes to avoid unwanted and unwarranted charges.
Does Vision Direct Offer a Free Trial?
The is around a particular brand and lens manufacturer called Everclear. Here's what the free trial entails:
Vision Direct's free trial is for Everclear dailies.
This means the lenses are meant to be worn for a day, and then disposed of after 12 hours.
Vision Direct offers a complimentary free trial with two free packs.
The two packs contain Everclear ELITE lenses.
Each pack features 10 lenses.
Each pack typically costs £12.89, but these two packs are free except for the £3.98 delivery fee.
The free trial is activated by typing in "TRYELITE" at the checkout.
The offer is good for Everclear ELITE as sold online and the two packs only.
How Can I Get a Vision Direct Free Trial?
This is an online offer and must be redeemed on the website. Here's how to participate in this opportunity:
Go to Vision Direct's website.
The Vision Direct free trial is for the Everclear lenses and the offer is on that part of the website.
The free trial window can be found here.
Enter your prescription information at the checkout.
When selecting the product, choose Everclear lenses instead of your typical brand.
Enter the code "TRYELITE" when checking out.
Wait for the UK Standard post to deliver them the next day for UK customers.
Does the Vision Direct Free Trial Automatically Renew Into a Paid Subscription?
The Vision Direct free trial will not automatically renew, but it will still save your card details. If the website changes the Terms and Conditions of their website to set up automatic billing with your card, then this may pose a problem. If this website has stored your card details and you wish to delete them, here's how to contact the Vision Direct team:
Phone
020 7768 5000
Hours
Weekdays - 8:00 to 21:00

Weekends - 9:00 to 17:30

Email
help@visiondirect.co.uk
Online Support
Live chat
It's also possible to sign in to your account and delete the card.
Under your account, the card would be found under a tab called "Saved Cards."
Either delete the card on file or add in DoNotPay's Virtual Card.
If their website ever changes its policies and you are billed, the refund section is here.
How Much Does Vision Free Trial Cost Upon Expiration?
The Everclear ELITE free trial does expire after the two boxes have arrived and the real costs begin. However, it is at a lower price point than other comparable brands, which may be of interest to those looking for disposable contact lenses. For example, an annual supply of Everclear ELITE is over £200.000 less than a yearly supply of Dailies Total 1.
Here is the cost of the lenses after the trial:
| | |
| --- | --- |
| Lens Package | Cost |
| Individual Pack | £12.89 |
| Monthly Supply | £25.78 |
| Annual Supply | £309.36 |
How to Use the DoNotPay Virtual Credit Card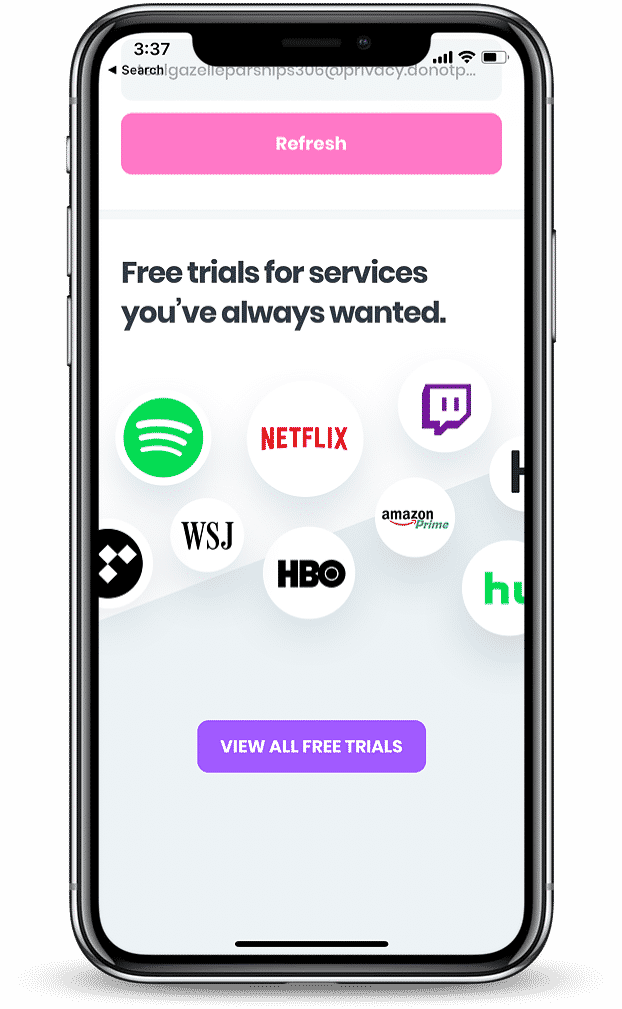 While Vision Direct is only storing cards on file, for now, websites can change their policies. Unfortunately, many people forget their cards are registered on these websites and end up being automatically charged when trial periods end. DoNotPay has a Virtual Credit Card to avoid this problem and here's how it works:
Navigate over to the Virtual Credit Card informational portal.
The Virtual Credit Card automatically generates a false credit card number.
The number is associated with US cards, which countless online retailers accept.
Switch your real card with the Virtual Credit Card.
When the website attempts to generate an automatic payment, then it will fail.
The Virtual Credit Card will not be linked to a real account.
You will be able to avoid fees once the trial period has ended.
When it comes to the Vision Direct free trial and other similar offers, it's always wise to switch out the card on file with a Virtual Credit Card. When free trial periods end, the real cost of the product can be too costly. Additionally, it's a smart financial practice to avoid saving your cards on file with websites in case they start automatically or erroneously billing people and overdraft one's accounts. Be sure to check out DoNotPay's Virtual Credit Cards as expediently as possible to avoid needless charges.