Dodge VA State Police Sexual Offenders With DoNotPay's Rapid Alerts
With almost 19,000 registered sex offenders, Virginia is one of the top 15 states with the highest number of sex offenders in the U.S. The residents of many Virginia neighborhoods often stress over living too close to known sex offenders, but the state's laws offer no remedy to their worries.
The VA State Police monitor sexual offenders, but it's hard for cops to keep tabs on them all the time. If you're anxious about chance encounters with vicious sex offenders, DoNotPay can step in to help!
Our Sex Offender Search tool gives you a relevant list of all predators living or lurking in your neighborhood in under a minute. for our seamless safety alerts!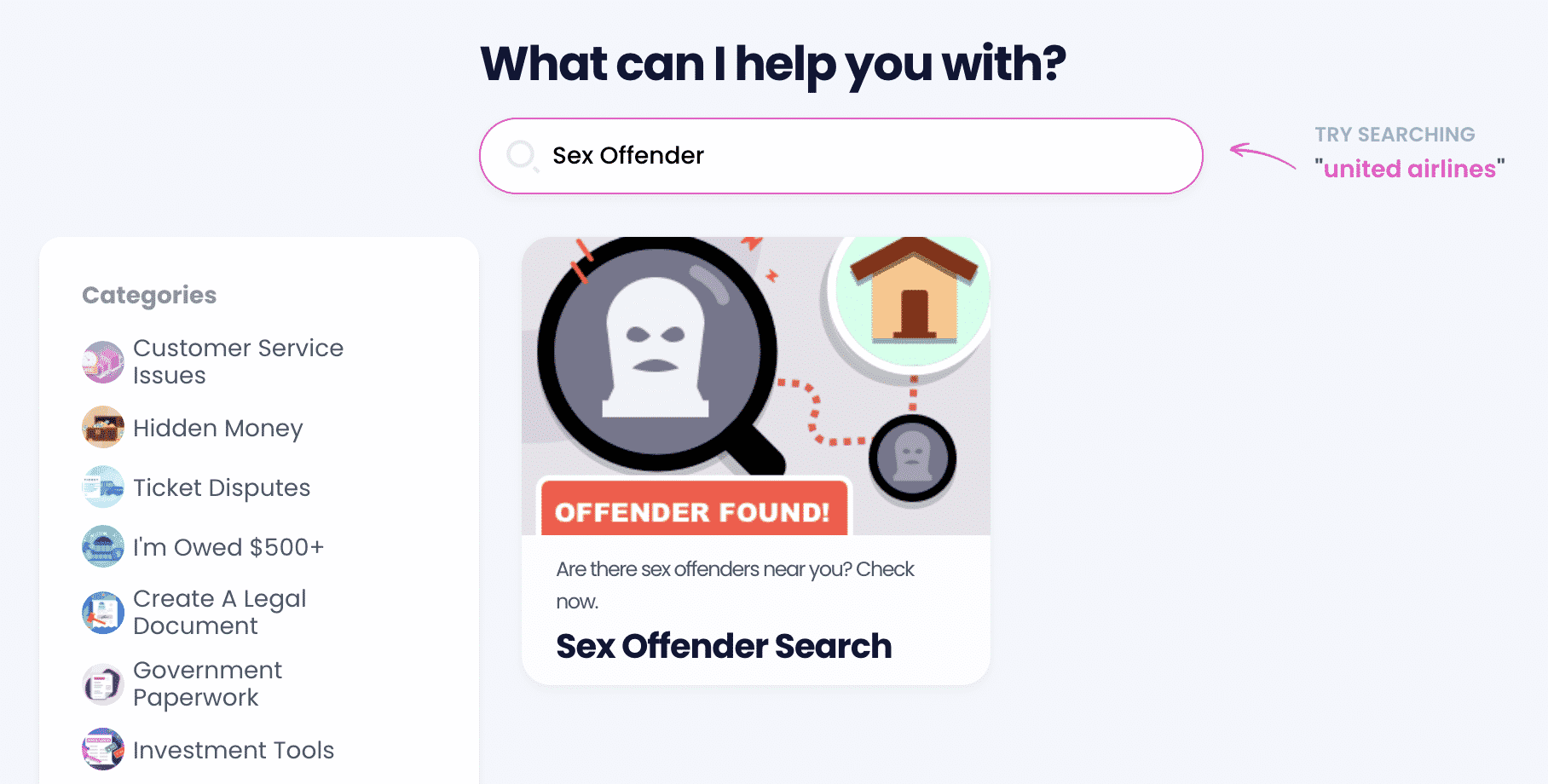 Who Are the Virginia State Police Sexual Offenders?
The Virginia State Police maintains the Virginia Sex Offender Registry that includes the records of all offenders who are guilty of committing sexually violent crimes like:
Rape or attempted rape
Aggravated sexual battery
Taking indecent liberties with a minor
Facilitation of child pornography
Sodomy
Sex trafficking or abduction of a child
Promoting prostitution
Incest
An offender must register within three days of release from prison or the commencement of parole or probation. Virginia State Police will collect the following details from an offender at the time of registration:
Latest mugshot
Fingerprints
DNA samples
Permanent or temporary residential address
Employment details
Vehicle information
Email addresses and online identifiers
An offender must notify law enforcement of any change in their personal details within three days—but modifications in online identifiers like chatroom or social media names must be emailed to the concerned authority within 30 minutes.
Virginia State Police Sex Offenders—Applicable Registry Laws
If you want to be vigilant about non-compliant or unregistered sex offenders, you must be aware of the various registration laws that govern them.
This table will give you a concise idea of Virginia's current registry guidelines:
Issue
Registration Rule
What is the registration duration?
15 years subject to in-personal verifications as per an offender's risk classification:

Tier I and II—annual verifications
Tier III—verifications every 90 days

Photographs should be updated every two years

Do convicted juveniles need to register?
If the case was tried in an adult court, yes. Juvenile courts can also impose registration in certain cases
Will a sex offender visiting from another state need to register?
If their underlying offense matches with a crime under Virginia statute, yes
What are the consequences of non-compliance?
Depending on the nature of the original conviction, non-compliance could be treated as:

Felony
Misdemeanor offense

The penalty or sentence will vary accordingly
A VA State Police Sex Offender Has To Live With Restrictions
Different types of sex offenders in Virginia have to follow certain restrictions while they remain on the Registry. Here's a summary of the major prohibitions:
Restriction Type
Details
Residential restrictions

Certain offenders cannot live within 500 feet of a school, daycare center, public park, or another such place where minors gather
High-risk offenders may also be banned from loitering within 100 feet of the above places

Employment restrictions

Offenders of minors are restricted from working near places where children gather
Offenders cannot operate or enter a school bus
These offenders are also banned from working for a Transportation Network Company

Travel restrictions
VSP Sex Offender Search—Drawbacks of the Public Registry
While Megan's Law orchestrated the opening of sex offender registries to the public, most states have failed to establish convenient modes to browse their database.
The Virginia State Police makes a strict disclaimer that the Registry is solely intended to inform the public and not to indicate the risk of an offender recommitting another sex crime.
Virginia's public Registry lets you access its database via six parameters, but the search results can be unsatisfactory because of multiple reasons. You may feel frustrated because of:
The search result being clogged with thousands of unnecessary records
Mistaken identities caused by the incoherent lists generated for a particular search parameter
Frequent errors and data lapses caused by update lags
The time-consuming process to scan through lists to fish out relevant data
The website being under maintenance from time to time
Virginia State Police Sex Offender Menace—DoNotPay Can Watch Over You
With more and more sex offenders being released into the community, it becomes crucial to revisit the status of your family's security.
DoNotPay's Sex Offender Search serves as a simpler alternative to the burdensome public registry scans. Our AI assistant will not ask you for elaborate inputs or bombard you with irrelevant reports but give you a to-the-point fact sheet on the data you need.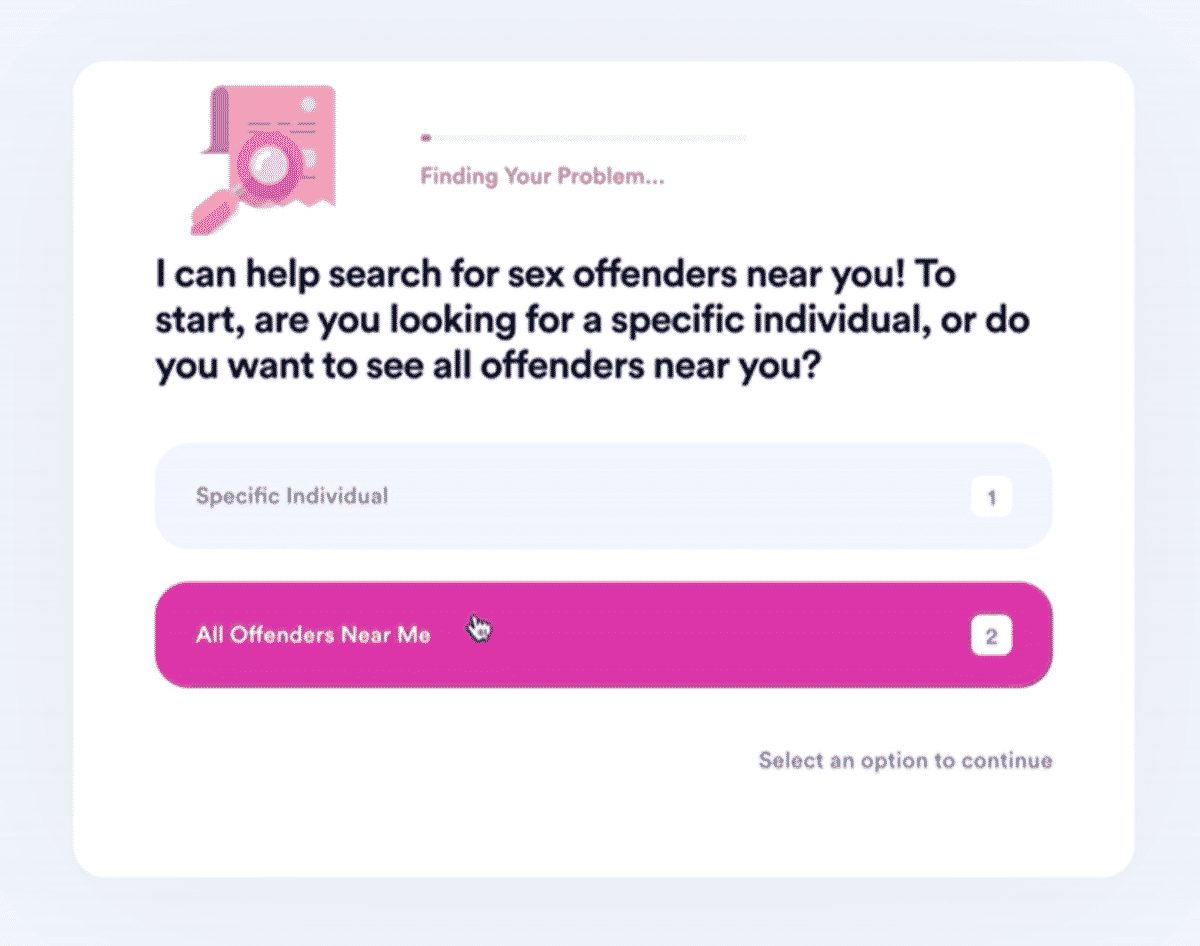 Follow these four steps to get a customized report:
and click on Sex Offender Search
Specify your intent—whether you want a report on a specific individual or a comprehensive list of registered offenders near you
Select a search radius of one, two, or three miles from your address
Tell us if you want to use our weekly scan feature before viewing the final report
Your report will include the offenders' latest pictures and details available on the Registry. Since the source database is ever-changing, getting periodical alerts is the best way to stay ahead of old and new predators around you.
The app's weekly search option is designed to automate the scan for your address every week. With our timely vigilance reports, you won't miss a thing!
Use DoNotPay To Resolve Administrative Tasks in Minutes!
Tired of brainstorming the easiest way to deal with administrative issues? We know how you feel, and we're here to take the burden off your back!
Once you subscribe to our app, you'll be able to resolve an abundance of bureaucratic issues with ease.
Taking a valid passport photo, reporting workplace discrimination, reducing property taxes, preparing for a government test, applying for a college fee waiver, and appealing a parking ticket are some of the many tasks we assist you with.
In case you need a quick way to draft a legal document, such as a power of attorney, divorce settlement agreement, or a child travel consent form, DoNotPay will do it for you!
Learn How To File Claims the Easy Way
Are you dissatisfied with a certain company and/or its products? You don't have to stay quiet! Use DoNotPay to file your insurance, warranty, or missing/late parcel claim effortlessly! We'll also show you how to request an item return in a few steps.
If you want to cancel a subscription or request a refund or chargeback, you can do it with our assistance without breaking a sweat. Use one app to deal with countless issues!