Start Your Sky McAfee Free Trial With a Virtual Credit Card

In this day and age, it is almost impossible to go an entire day without having to use the internet for some reason. And unfortunately, every time you go on the internet, you are at risk of having hackers or a spam website get your personal information.
Before you log on to your Sky internet browser, you need to make sure that you are properly protected by getting an internet security program. One of the most popular online security suites on the market today is McAfee software. If you want to try Sky McAfee free trial download without worrying about getting charged, DoNotPay has the perfect solution for you.
What Are the Benefits of Downloading McAfee Security Solutions?
It is best to get a free trial before you purchase a software subscription so you can test the product first. McAfee Security has several features that help to offer total protection whenever you are online. Some of the features that come with the Total Protection product include:
Antivirus Protection
Smart and secure VPN that turns on automatically when you are visiting an unsecured website
File Shredder
Easy-to-setup Parental Control
Complementary Firewall
Access to some of the most experienced online security experts
Password Management System
All products that McAfee offers give you an exceptional amount of protection when you are online. In addition to offering several levels of protection, the McAfee protection software is also offered in different packages, which allows you even more benefits, such as being able to use it on multiple devices.
How Much Does it Cost to Download McAfee Security?
McAfee Security software is offered in different packages that are usually less expensive at the time of purchase. However, the price increases when it is time to renew your subscription. Here is a look at the various packages that McAfee offers:
Package
Price
Benefit
Antivirus Plus
£24.99 for the first year

£49.99 a year after the first year

Provides basic security, Can be used on up to 10 devices
Basic
£29.99 for the first year

£64.99 a year after the first year

Identity Monitoring, 1 VPN Licence, Protection Score, covers 1 Device
Plus
£39.99 for the first year

£84.99 a year after the first year

Identity Monitoring, 5 VPN Licences, Protection Score, Covers 5 Devices
Premium
£49.99 for the first year

£99.99 a year after the first year

Parental Controls, Protection Score, 5 VPN Licences, Identity Monitoring, Covers up to 10 Devices
What Are Some Products That Are Similar to McAfee?
There are many other online security protections 000that are currently available. If you are not satisfied with your McAfee program, you should try these other security programs:
Avast - Best for casual internet users
Kaspersky - Best for people who are looking for great malware protection
Bitdefender - Provides great overall protection
F-Secure - Best for users who are looking for an easy-to-use program
Norton 360 - Offers the best value for premium security
Trend Micro - Ideal for people who are looking for great ransomware protection
VIPRE Advanced Security - Best for users who have a limited amount of memory on their computers
Does McAfee Offer a Free Trial?
Yes, you can try McAfee Total Protection for free for 30 days. To get started, follow these steps:
Go to the McAfee website
Scroll to the bottom of the home page
Click the "Download Free Trial" tab
The free trial will start to download
After the download is complete, open the "Free Trial" file
The program will then give you step-by-step instructions to follow to finish the installation
After your free trial is set up, you can connect your account to up to 10 other devices. After the 30 days is up, you will be asked to pick a yearly subscription plan. If you choose not to pick a plan, the free trial will be terminated and you will no longer be able to use McAfee's features.
How DoNotPay Can Ensure That You Are Not Charged for Your Free Trial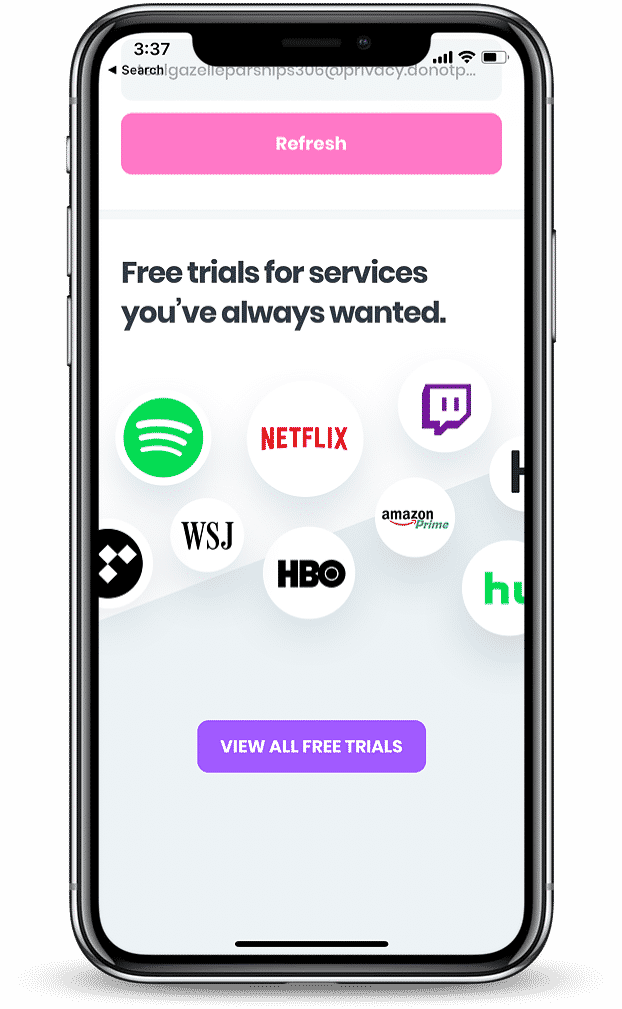 McAfee does not require you to enter your credit card information in order to download the free trial. However, some of its competitors may require that you enter in your payment information before they will give you the free trial. The reason why many companies ask for this information is so that they can automatically charge you when your free trial is over.
If you want to make sure that you are not charged after your free trial has ended, DoNotPay has the perfect solution. Our virtual credit card allows you to enter all of the required information without having any of your personal accounts charged. A virtual credit card comes with a card number, an expiration date, and a CVV. Once your free trial is over, the company will automatically try to charge the virtual credit card, but because it is essentially a "fake" credit card, you will not be charged any money.
Where Can You Use DoNotPay Virtual Credit Cards?

Our virtual credit card works with a wide range of other companies. Some of the additional ways that the virtual credit card can help include the following:
This is not the only product that we have to offer. To see the many other ways that we can make your life easier, feel free to check out our full list of services and products.