How to Get Simply TV Free Trial Securely With a Virtual Credit Card

With global demand for television media that is relevant to people all over the world, many are using IP TV services to stream their favorite shows to their own device, and leave their cable provider behind. With the IPTV service Simply TV, "free trial" is a bit of a misnomer.
We'll walk you through their actual offerings and show you the most risk-free way to sign up for a  without getting unexpected charges on your credit card.
Does Simply TV IPTV Offer a Free Trial?
No, there is no straightforward . Though the search engine index link reads exactly "Simply TV IPTV - Live TV Channels & VOD - Free 24h Trial," there is not actually a free trial.
On closer investigation, you might notice that the single long web page of the Simply TV IPTV site has one sentence which mentions the purported 24-hour trial. It is listed as pertaining to an outside site, though, and not for Simply TV IPTV. Even though the phrase "free trial" was used, there is nowhere on the homepage directing you to a free trial.
How Can I Get Free Simply TV IPTV Service?
When you click through to the subscription page, you'll see a link for an "IPTV Free Trial" tucked in the middle of dozens of other links. However, there's nothing on the page. Perhaps they intend to update this page at a future date, but currently, there is simply no free trial.
Once you click onto Simply TV IPTV's Ordering Page, you'll see that they offer a free month of service. The catch is that you have to buy a 3-month (or more) subscription – with a credit card or PayPal – to get it. Since we think a "free trial" (especially if referred to right away) should be a truly free trial, we've got a trick up our sleeves that may help. It will depend on their present billing practices, as the site and service seem to be in flux, however well the service works once it's operating.
Either way, read on to see how DoNotPay can help you find cheap or free IPTV service, whether with Simply TV or elsewhere.
How Does the Simply TV IPTV Free Paid Subscription Work?
To be precise, Simply TV IPTV does not operate with a typical subscription model. Under the "choose a plan" field of the Ordering Page, it states: "one time payment, not a subscription." In any case, you will be asked to buy three, six, or twelve months at a time. Most accurately, you should consider it to be a bulk payment.
We recommend getting in touch with them beforehand to discover for yourself if they have the response time and level of customer service you might expect before deciding to entrust them with a bulk pre-payment at any given moment, given how unpolished and inconsistent their website is.
What Is Simply TV's Refund Policy?
As for the Simply TV IPTV refund policy, they almost, but not quite, negate the possibility completely. They state:
"We do not offer refunds once your account has been setup. [...] Once your account is setup payment has gone through to the main provider of the IPTV service and refunds are not available."
The one time they do offer a refund is as follows:
"We cannot provide refunds due to technical issues unless you allow us to adequately try and assist you. If we are unable to resolve the issue for you, we will provide a refund."
This has a tight window of time, though, and users must ensure that they put in for a refund request within 7 days of the purchase date. Of course, fairness would dictate that they gave prompt tech support within those 7 days as well, or else that's exactly the kind of thing the world's first robot lawyer would use as leverage in the event that an exception to the rule needed to be negotiated.
Avoid Unauthorized Payments and Renewals With a DoNotPay Virtual Credit Card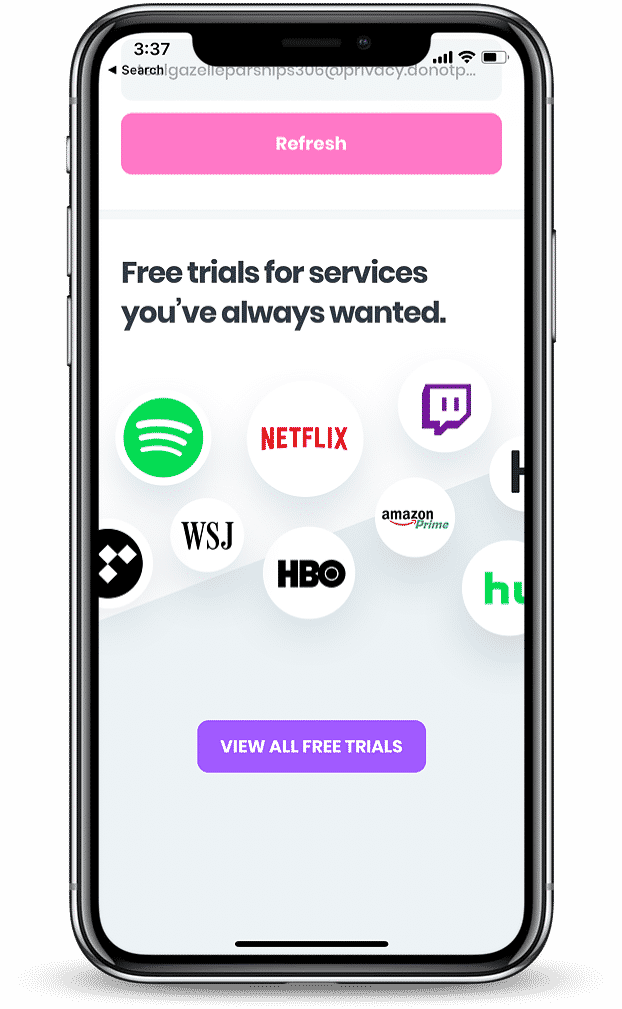 To help users get the best experience with this or any subscription service and protect their billing info, DoNotPay has the Virtual Credit Card. Using it, users can:
Submit randomized billing info to companies such as Simply TV.
Get the free month before charges accrue.
Enjoy free trials without worrying about getting charged later.
This won't work in case they require a purchase upfront, but our Virtual Credit Card works its magic on any and all free trial sites.
People forget to cancel their trial subscriptions all the time, and people even find themselves charged after they do put in their cancel request—but certain companies seem to have given themselves big incentives to "forget" to honor those requests, and charge people all the same.
In this case, people may believe that they are signing up simply for a free month of service due to inconsistent and confusing uses of the term "free trial" and be sadly mistaken when they see their credit card statement (and maybe not for several months, at that).
Any time a company makes unsubstantiated claims about free services, a Virtual Credit Card will show you the exact line between actually free trials and paid subscriptions. Here's how it works:
Simply fill in the random, auto-generated credit card info of DoNotPay's Virtual Credit Card into any billing or order form you aren't sure about.
The site will accept it as valid if they aren't yet determined to charge you until some later point.
At the moment they do decide to charge you, the company's automated system realizes that there are no funds attached to it, and they simply cancel your service – all as you'd have preferred from the beginning.
The DoNotPay Virtual Credit Card ensures that claims of "free" are held to the strictest definition—no more fine print surprises.
How Much Does a Paid Simply TV IPTV Service Cost?
The Simply TV IPTV pricing is as follows:
| | |
| --- | --- |
|                                 Plan |                                 Cost |
|                              1 Month |                                  $15 |
|                              3 Months |                                  $40 |
|                              6 Months |                                  $70 |
|                             12 Months |                                  $120 |
According to the "sign up here" graphic, which you'll see as a pop-up ad on almost every page on Simply TV IPTV's site, the 3- and 6-month plans include a free month. The 12-month plan isn't included on that same graphic, and nothing about a free month is mentioned in the Ordering Page, so ensure that you will get a free month with the 12-month purchase.
It's unclear if the lower monthly average costs for 3, 6, and 12 months are what's meant by the "free month" claim, or if it could be read as 4, 7, and 13-month packages for the stated price. It would be best to get a written email of the exact terms of the deal, considering the difficult and inconsistent language and terms throughout their website.
Generally speaking, year-long packages are not usually a good idea since many IPTV services suddenly go offline, with little-to-no refund recourse. Although, you might consider a DoNotPay refunds and chargebacks service in such an event.
What Are the Most Popular Alternatives to Simply TV IPTV?
As big cable providers increasingly mimic Blockbuster video's dying gasps (too-little, too-late), attacks by big tech are on the rise against IP TV services. Nevertheless, the IPTV market was valued at $72.24 billion in 2020 and is expected to grow to almost $200 billion by 2026.
We've compiled a list of some of the current IP TV services that could be easier to deal with and follow through on their free trial claims than Simply TV IPTV:
              Service
            Cost / mo.
               Notes
           Falcon TV
            $6-20
Popular USA and UK shows on (Android)
           IPTV Gear
            $7-15
Movies and shows (Smart devices)
          TV Subscription
            $14
All channels and VODs (all devices)
          Typhoon Labs TV
            $20 (+ discounts)
USA, Can, Latino (Amazon, Google, & Shield TV)
          Worthystream
            $8-20
Live TV, sports, news, & more (Computer & Android)
         IPTV Trends
 

$19

Live TV, local & internat., PPV (Windows, Amazon, Android, & more)
         IPTVtune
            $5-15
HD & SD quality on mult. Devices (Almost every device)
         Xtreme HD IPTV
 

$15

Live TV, movies & shows, multiscreen (IPTV players, Amazon, Android)
Many IPTV providers come and go, but these seem to have been sticking it out longer than most. Check them out, and be sure to use your DoNotPay Virtual Credit Card on any free trial offers.
What Else Can DoNotPay Do to Fix Problems for You?

If you're looking to get the best TV deals and free offers or reduce your TV bills, DoNotPay's got you covered. See:
We got our start reducing and waiving frivolous parking tickets and have grown to reducing all manner of obnoxious 2D "whirled" chores. DoNotPay can help you with almost anything.
DoNotPay is here to help you every step of the way.