Get Warnings About Local Sex Offenders—San Diego Sex Offender News Travel Fast With DoNotPay
Rapes take up 1.7% of all California crimes, so the urgency to protect yourself or your family instantly rises when a registered sex offender moves next door.
Megan's Law allows you to get information from the government sources about all sex offenders—San Diego locals included. The local sex offender registry is an excellent starting point.
Browsing through the data can turn out to be demanding and tiresome, while the state's website alerts may fail to reach you for numerous reasons.
DoNotPay offers you a more efficient, automated search method with reliable, timely updates. Sign up for our service and stay safe with our Sex Offender Search feature.
Searching the San Diego Sex Offender Registry
In compliance with sex offender registration laws, the state of California offers a thorough sex offender registry. Some states compile county-level lists, but California puts all convicted predators together.
To look up San Diego sex offenders, go straight to California's registry and pick your county from the County dropdown menu.
Other options include search by:
Offender's first and last name
Address (with the first two and the last two fields marked as required)

Street number
Street name
Apt/Suite number
City
ZIP Code

City
ZIP Code
Near Me (accessing your location to show you the offenders in the vicinity)
For each search, you'll be offered the offender map and list view. Although this search method does well as a one-time approach, it is not convenient for sourcing the info regularly. Besides the fact that the system needs some time to come up with your search results, continual browsing can become a burden to your daily schedule.
San Diego Sex Offender Laws
San Diego sex offender rules and regulations correspond to the state's registration laws. All convicted sex offenders must register, including transients and juvenile offenders sentenced to imprisonment in California Youth Authority or another youth prison.
If offenders disregard this obligation and remain unregistered, they risk imprisonment of up to three years.
Keep in mind that the public sex offender registry won't show around 25% of the offenders registered with the authorities. Registrants classified as Tier 1 and convicted for the least severe crimes are unavailable to the general public.
San Diego Sex Offenders Classification and Required Registration Time
Sand Diego sex offenders are classified into three tiers depending on the recidivism rate. Each tier has a different minimum registration period.
Note that the offenders aren't automatically removed from the registry. They will remain registered for life unless they file a plea for removal following the passing of their minimum required registration period.
Here are all tiers and mandatory registration periods, including the info on the juvenile offenders obliged to register:
| Tier | Description | Required Registration Time |
| --- | --- | --- |
| Juveniles | Minors who were sentenced to youth prison punishment | Five to ten years |
| Tier 1 | Adults who are not likely to commit another crime | Minimum of ten years |
| TIer 2 | Adults with medium re-offense potential | Minimum of 20 years |
| Tier 3 | Adults whose re-offense potential is high | For life |
San Diego Sex Offender Limitations and Reporting Obligations
Sex offenders registered in San Diego must follow specific rules and reporting requirements, such as:
Residential restrictions apply to particular sex offenders forbidding them to live within 2,000 feet of a school
Restricted contact with children, especially if the victim was younger than 16. The offender cannot work with or accompany children
Working restrictions that prohibit the offenders from having a medical, dentistry, or legal career
Reporting requirements include the obligation to notify the authorities of any personal data change. Relocation also needs to be reported and involves:
Moving house
Relocating to another state or country
Traveling to or from other states for an extended visit
Set Up DoNotPay Alerts for All San Diego Sex Offenders Moving Thorugh Your Neighborhood
The City of San Diego has around 1,222 registered sex offenders, while the rest of the county has 2,200.
The child-friendly communities aren't off-limits to released offenders who passed their probation. It's up to you as an individual and parent to stay informed and educate your child.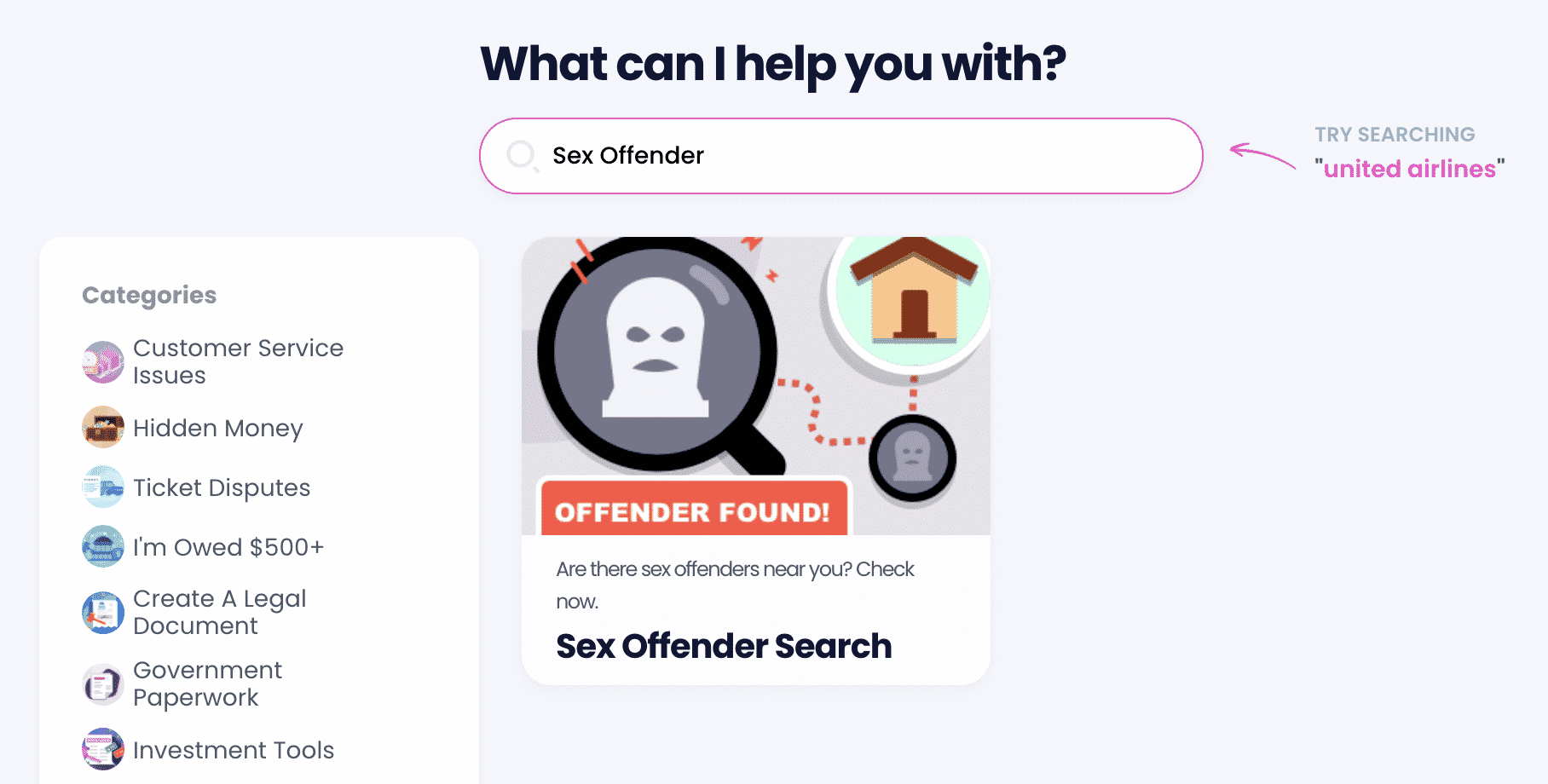 DoNotPay has created a tool to help you locate potential threats in your neighborhood. You can stop the endless browsing through the state's registry. Rely on our Sex Offender Search instead, and take advantage of its numerous benefits, including:
Speed and ease of use
Different search methods
Adjustable search perimeter
Personalized alerts for new offenders near your home—you need to set search parameters once, and we'll keep sending you weekly reports so that you can stay safe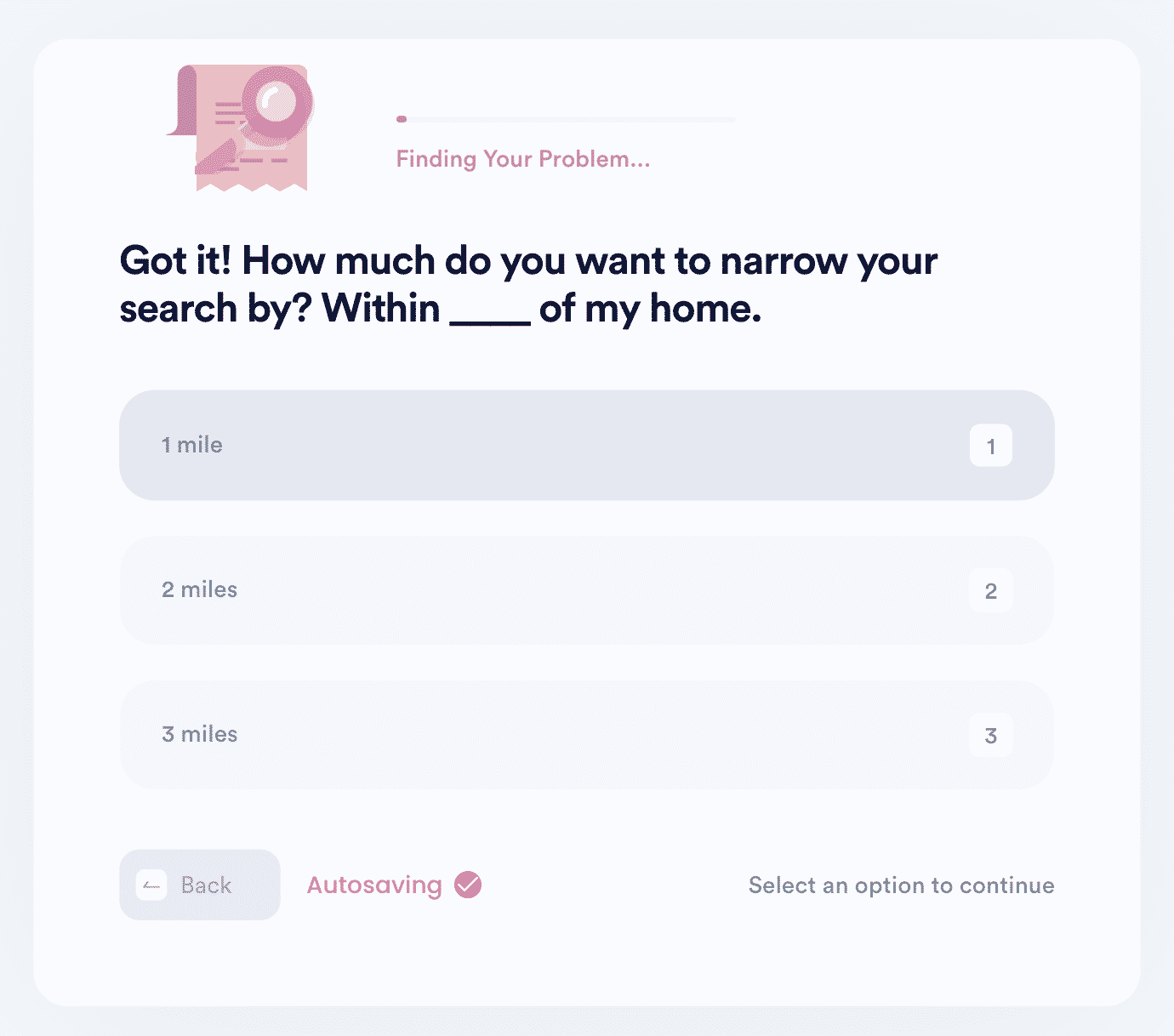 Using our new feature is simple:
Open your DoNotPay account and opt for Sex Offender Search
Choose whether you want to search by name or address
Select the search radius—one, two, or three miles
Sign up for regular updates
Our app scans the data and delivers the latest area reports to your device.
Why Waste Money on Lawyers When You Have DoNotPay?
Although certain tasks require you to get a lawyer's assistance, you don't have to spend hundreds of dollars for their service. With DoNotPay, you can avoid figuring out the legal jargon and have peace of mind dealing with bureaucratic tasks the easy way.
Need help preparing for a small claims court appearance or composing a neighbor's complaint letter? Looking for an easy but efficient way to draft a power of attorney or divorce settlement agreement? Use DoNotPay's features to draft legal documents, sue companies, request refunds, claim warranties, and file insurance claims while still saving a pretty penny!
Communication Is the Key
The best way to resolve issues is through clear communication, but companies don't always make it easy to do so. That's why DoNotPay came up with various features that help make communicating and solving problems a piece of cake. Sign up for our app and forget about waiting in lines for hours to speak to a customer service rep!
Here's what you can do with our app: