Get the Freshest Info on Sex Offenders in Fresno, CA and Their Movements Around the Area
There are 937 registered sex offenders in Fresno, CA. This means there is one offender for every 369 citizens that live in the city.
When it comes to the surrounding county, the ratio is one offender for every 525 people.
This is an unsettling statistic. If you fear for your family's safety, you could study up on the regulating laws and conduct regular sex offender registry searches.
Are these manual searches viable in the long run? No, you will probably find it to be a time-devouring method.
DoNotPay has a more effective solution. and let the Sex Offender Search tool do the area scans for you. It's an automatic and quick process—you'll only import the data our system needs and wait for your weekly report.
Sex Offenders in Fresno, CA—The Authorities in Charge
Fresno Police Department and Fresno County Sheriff's Office have units that deal with sex offenders. They are the ones who:
Serve arrest warrants
Compile the data for the states' sex offender registry and sex offenders map
Monitor the existing registrants and their compliance
Inform the communities when a dangerous registrant is about to move in
Closely supervise sexually violent predators who need mental healthcare. The Police and Sheriff do this in cooperation with the Department of State Hospitals and Liberty Healthcare. The supervision includes GPS tracking.
Work with several other authorized government bodies to carry out Compliance Sweeps—non-compliant offenders arrests
Fresno Sex Offender Registry Laws and Regulations
Since Megan's Law was introduced, all states are under obligation to compile and make public the local sex offender registries. These sex offender registration laws were introduced as a safety measure after the rape and murder of Megan Kanka.
Fresno residents can now look up any suspicious person in the California Sex Offender Registry to make sure they are not dealing with a violent sex offender. Beware that not all offenders are listed on the public registry and that the restrictions the registrants face may not be enough for you to feel safe.
Who Must Register as a Sex Offender in Fresno?
Sex offenders in Fresno need to follow the state registration requirements. This means that regardless of the offender level they were assigned, they must register with the authorities.
The offenders belonging to Level 2 and Level 3 need to be listed on the public website. The offenders who fall under Level 1 often won't be added to the public list. Juvenile offenders' details are also not public.
The rules related to Level 1 are worrying. For example, a one-time offender who molests an underage family member and completes probation can easily be omitted from the public registry. This is just one of the reasons to always be on the lookout.
Fresno Sex Offender Monitoring
Although the personal data of some of the offenders aren't available to the public, the police keep tabs on all of them for life. The only way to get off the list is to petition the court. Depending on the tier, offenders can file a removal plea after a certain registration period.
Tier
The minimum registration duration

(the offender can file a plea after this time has passed)

Tier 1
Ten years
Tier 2
20 years
Tier 3
For life (no chance of removal)
During their registration period, all offenders are required to keep personal data within the registry correct. They also need to report once a year or every 90 days for regular data verification.
In case offenders don't get registered or fail to follow through with the compliance requirements, there are penalties that await them:
If the initial crime was a misdemeanor and there was only one failure to comply, the offenders can get up to one-year imprisonment
If the original crime was a felony or there were repeated failures to comply, the felons are looking at 16–36 months imprisonment
The Restrictions That the Sex Offenders in Fresno are Facing
There aren't many things that sex offenders in Fresno aren't allowed to do. The existing restrictions include:
Residential limitations—offenders on probation or parole cannot live within 2,000 feet of school grounds
Career restrictions—registrants cannot pursue a career in medicine, dentistry, or law
Traveling obligations—offenders must inform the authorities if they plan on leaving the state or arriving from other states
Contact with minors—no offender can enter school grounds unless on lawful business approved by the school. The students mustn't be left under the exclusive supervision of the offender in this case
DoNotPay Keeps You in the Loop With the Latest Fresno Sex Offender Developments
With sex offenders being able to live anywhere they want, you can never be too cautious. Learn how to recognize pedophiles and keep up with the changes in your neighborhood.
Being efficient in your safety precautions still doesn't mean sitting at your computer and browsing the Fresno sex offender registry every morning.
DoNotPay has developed a Sex Offender Search tool that can shorten the time you spend on your checks.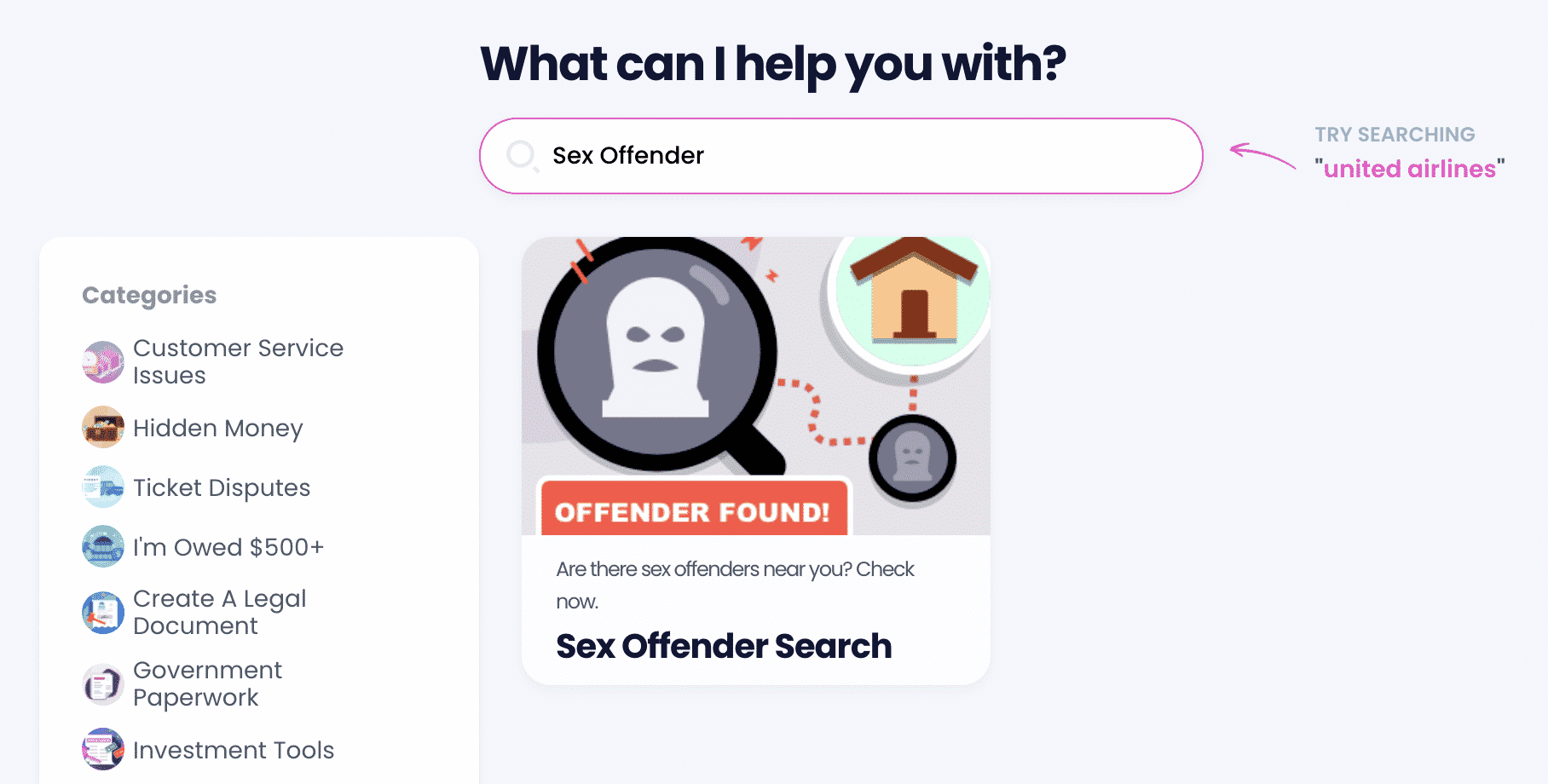 Here's where DoNotPay's tool has the upper hand over the manual registry search:
Convenience
Speed
Search by name
Search by area (within the radius of one, two, or three miles)
Personalized and automatic weekly reports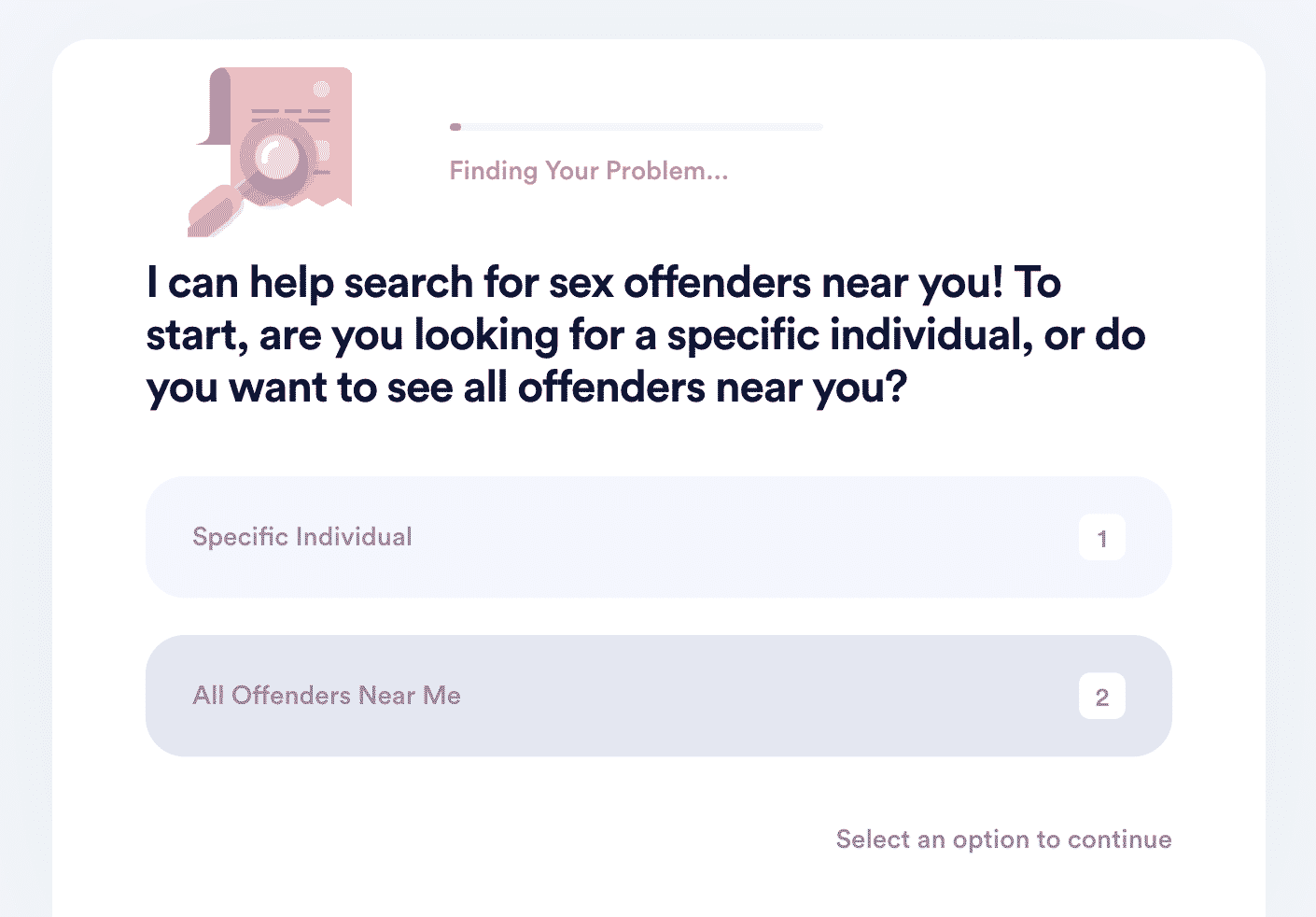 To start using our tool, you only need to:
and go to the Sex Offender Search section
Pick between search methods
Choose the vicinity you want to sweep
Sign up for weekly customized reports
Our app will automatically browse the California sex offender registry and send you a full report on the areas important to you.
Why Waste Money on Lawyers When You Have DoNotPay?
Although certain tasks require you to get a lawyer's assistance, you don't have to spend hundreds of dollars for their service. With DoNotPay, you can avoid figuring out the legal jargon and have peace of mind dealing with bureaucratic tasks the easy way.
Need help preparing for a small claims court appearance or composing a neighbor's complaint letter? Looking for an easy but efficient way to draft a power of attorney or divorce settlement agreement? Use DoNotPay's features to draft legal documents, sue companies, request refunds, claim warranties, and file insurance claims while still saving a pretty penny!
Communication Is the Key
The best way to resolve issues is through clear communication, but companies don't always make it easy to do so. That's why DoNotPay came up with various features that help make communicating and solving problems a piece of cake. Sign up for our app and forget about waiting in lines for hours to speak to a customer service rep!
Here's what you can do with our app: