How to Get Proof of a Bank Account Closure
Are you trying to figure out how to close a bank account? If so, you should also make sure that you get to protect you from possible overdraft fees once the account has been emptied. It is challenging, slow, and often very annoying.
This is often because banks do not want to make it simple. Banks do not want to lose an account. Therefore, it is important to know the proper steps you should take to close out your bank account, whether closing a PNC bank or some other.
With DoNotPay, we will do our part to simplify the process so that it is easy for you to understand. We break it down so that it is much more doable for everyone. We will even do our part to ensure you have the proof that you need showing that the process has been started.
Why You May Need Proof That You Closed a Bank Account?
Deciding to close a bank account is a huge step for most people. These banks become a part of our lives. They are our partners and a place that we can trust with our money. However, there are several reasons you may want to close a bank account.
The most common reasons for deciding to close an active bank account are:
Moving. If you are moving or relocating your business to a place where your current bank is unavailable, it may make banking inconvenient.
Joint Owner Passed Away. If you share a bank account with someone who passed away, you may need to close out the account and start a new one to get their name off it.
Divorce. If you divorce someone, sharing a bank is inconvenient. The easiest way to separate the bank account will be to close the account and split the finances as your lawyer deems necessary.
Choosing a Different Bank. Sometimes a bank may no longer meet your needs. You may find a lower interest option or decide to use a bank that is easier to access online. In other situations, you may have issues with customer support and choose to move on.
Opening a Joint Account. If you and your partner have recently got married or decided to consolidate your finances, opening a joint account will require the closure of one.
Consolidation. Having two accounts in two areas may have been a good option when you were younger but may not be what you need right now. If you are consolidating your finances, you will want to close out the account that is no longer needed.
Switching from Child to Adult Accounts. Many banks offer starter bank accounts for kids. When you grow up, you can access more features by closing the child account and opening a new one.
Every situation is different. Your reasons for wanting to change banks are something only you know. The main thing that most people want is a simpler process.
How to Close Your Own Bank Account?
Now that you have your "reason" for closing a bank account, you need to know the right steps for completing the process and getting your proof of closure. However, the steps that you will need to take are going to depend on the type of account you have and the situation you are in. It may also vary based on your current bank since a Chase Bank may require something different from a US Bank.
Before you close your account, there are a few things you should keep in mind. For instance:
Do you have a new bank?
Are direct deposits switched?
Have you transferred automatic withdrawals?
Have All outstanding transactions cleared?
From there, you will need to tackle actually closing out the bank account. This can be done by:
Close Your Bank Account In-Person
Visiting your bank to close your account is often the best way to do it, but it isn't always practical. If you are already living in another state, it can be very complicated. When choosing this way to close your account, you will need to show up with your ID or other proof of identity.
If there is another person on the account, you will need to have them show up as well or provide proof that you are authorized to close the account on their behalf. What this means is that you will have to provide a marriage certificate, divorce certificate, or death certificate that ties you to the other person.
Close Your Bank Account by Phone
Some banks allow you to close an account online, but it often requires a phone call to customer support. For small banks, it may not be a huge deal, but for larger TD Banks, it can require hours of waiting for a representative. Most of us do not have time for the wait.
Close Your Bank Account by Mail
Closing an account by mail is convenient for most people. However, it does require you to learn how to create a formal letter to close your account. You will also have to deal with it being a slower process, paying postage, and making a trip to your post office.
How to Create a Formal Letter Requesting Closure and Proof of Closed Bank Account?
When writing a formal letter to your bank to request that they close your account, you will have to prove that you are who you claim to be. This means not only should your letter be polite, but you should also include your full name, or the name on the account, your account number, and photocopies showing you can make changes to the account.
If there is money left in the account, you should tell them where to send a check for the remaining balance after other items have cleared. Be prepared because it may take a while for them to fully close the account and mail the check to you.
The good news is a formal demand letter is often an effective way of getting your bank to act toward closing your account. This can prevent you from having to deal with credit issues because you have late or overdraft fees from the bank continuing to pull fees from an account you feel is closed.
If you are unsure how to create a letter to close your bank account, DoNotPay can help you tackle it.
DoNotPay Can Help You Close Your Bank Account and Get Proof of Closure Quickly
Although it may take weeks or even a couple of months for you to close your account without help, DoNotPay can make it instantaneous. This will allow you to have . We can draft and send your formal letter and give you an instant confirmation when the bank closes your account.
With our help, you can also feel confident that the bank will not try to do anything that may hinder your account closure.
If you want to Quickly/Easily Close an Account but don't know where to start, DoNotPay has you covered. Create your own cancellation letter in 6 easy steps:
1. Go to the Close Bank Accounts product on DoNotPay.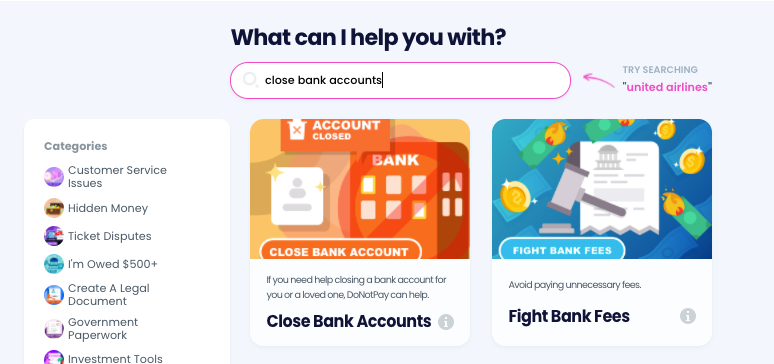 2. Select which bank the account was opened under, and enter the account type, account number, and your local branch location.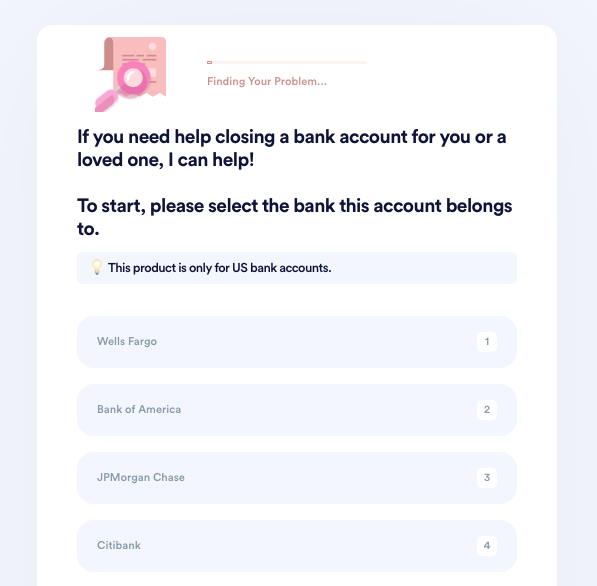 3. Indicate who this account belongs to. If the owner or co-owner has passed away, upload a death certificate or other formal evidence. If you are not the original account owner, upload evidence of your legal relationship to the owner.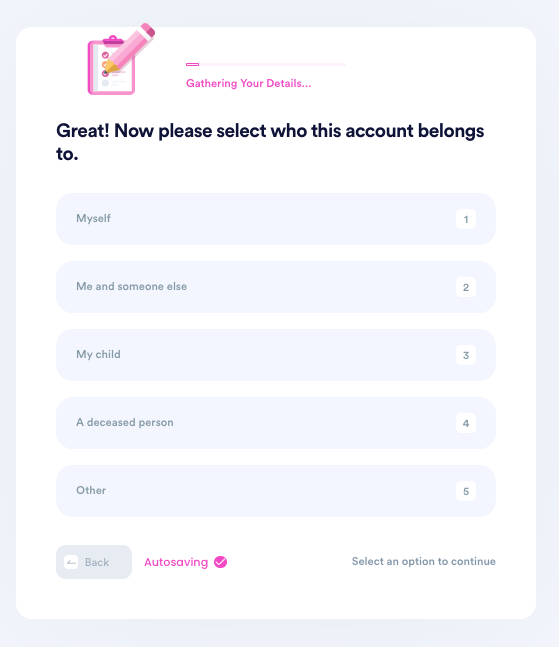 4. Tell us why you need to close this account.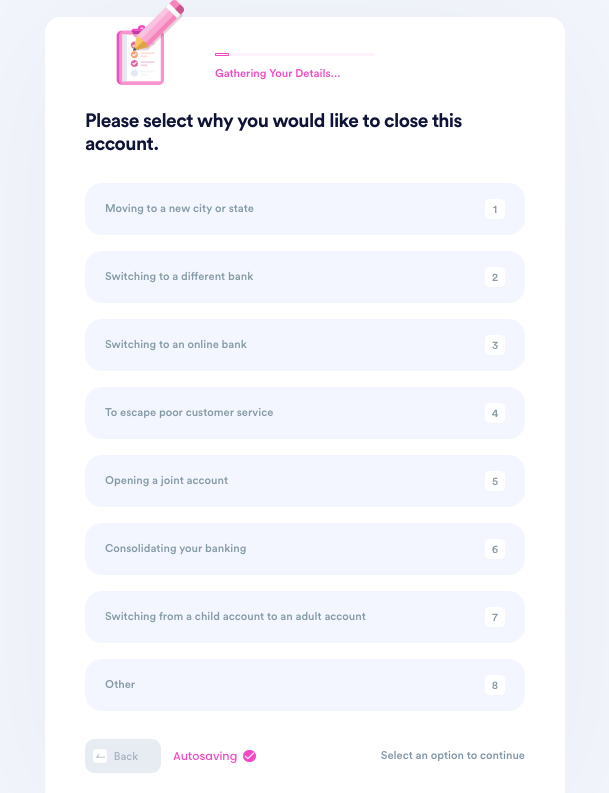 5. Enter your contact information, including email, phone number, and the address you want any remaining funds to be sent to.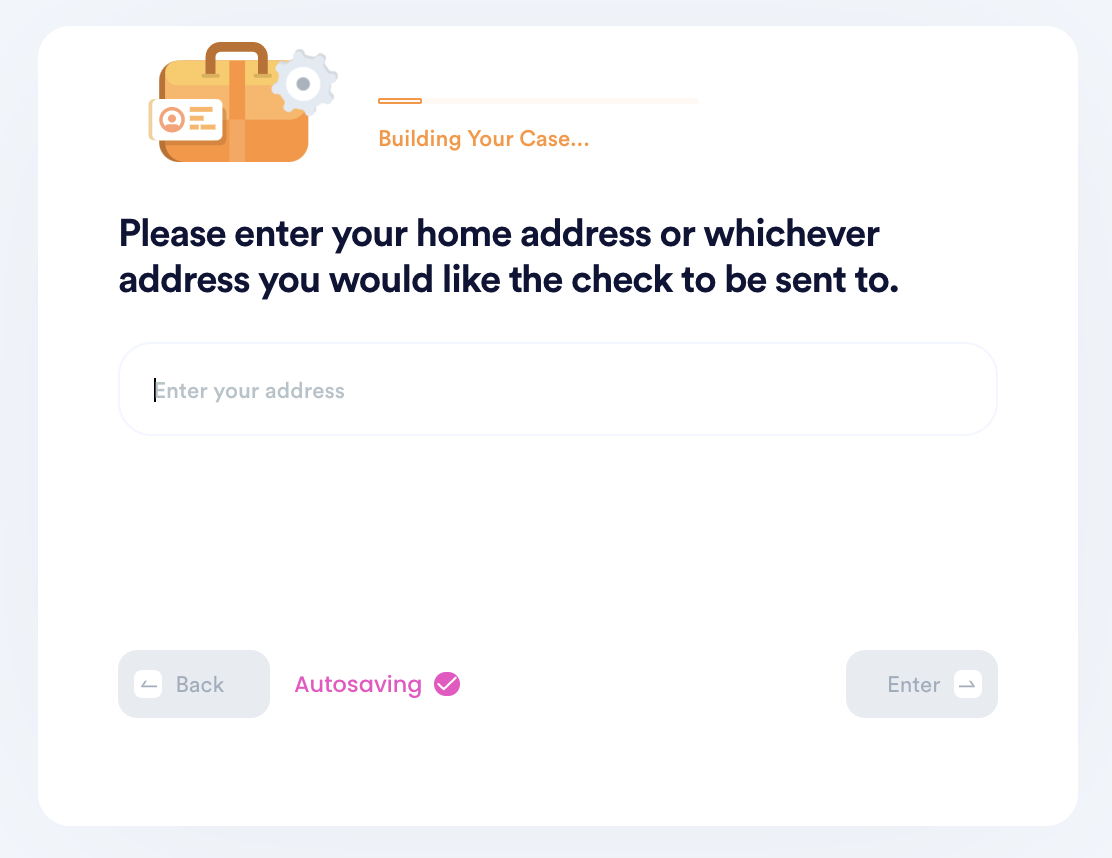 6. Submit your task! DoNotPay will mail the request letter on your behalf. You should hear back from the bank with confirmation or a request for more information within a few weeks.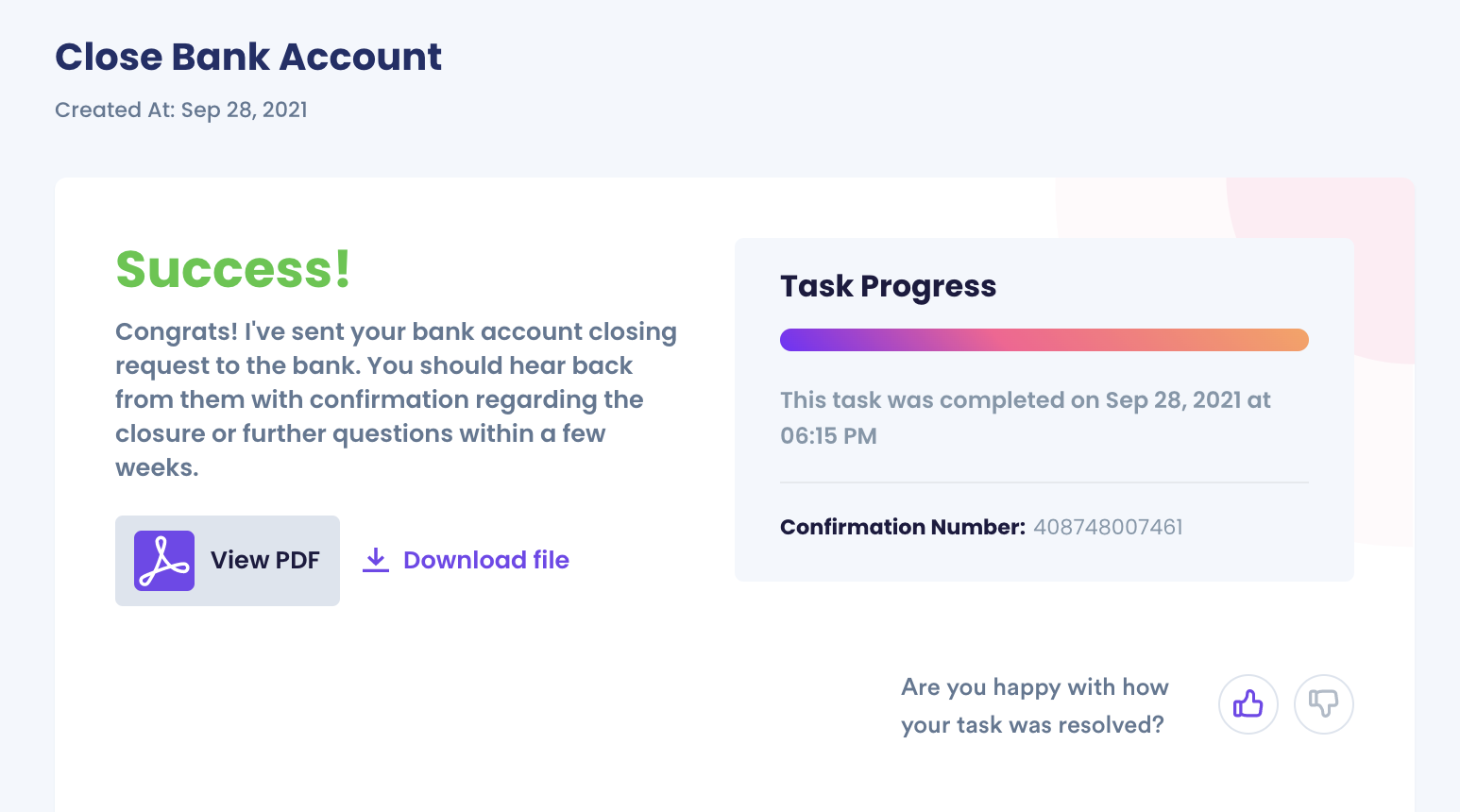 Why Put Your Trust in DoNotPay When Closing Your Bank Account?
With DoNotPay, you can enjoy peace of mind when closing your bank account. We work across all entities and banking groups to ensure that you get the service and respect you deserve from even the largest banks.
When trying to get an account closure confirmation letter from bank branches, you do not want to go it alone, especially if you need it done quickly. Having a bank account closed evidence immediately will sometimes be required if you are tied up in another legal proceeding.
With our service as the world's first robotic lawyer, you can expect to have your account closed and proof of it:
| | |
| --- | --- |
| Quickly | No more waiting for a banking group to finalize their end of the process, so you can discover how to get a letter of disposition on a closed bank account faster than ever. |
| Securely | Any information that you provide to us will be confidential. No one will have access to it but you, your bank, and us. |
| Resolved | No matter what you need to close your bank account for, we will not stop until a resolution has been reached that meets your expectations in every way |
Other Services Provided by DoNotPay
If you are still unsure but need to know more about, "How to get proof that I closed a bank account?", know that DoNotPay handles a variety of other similar types of services. Some examples of what can do for you include:
When you are ready to simplify bank account closures, contact DoNotPay to see how easy it can be for you.