If Your Bank Account Gets Closed, Can You Reopen It?
Having a bank close your account can be incredibly stressful, especially when you rely on that account for everyday financial transactions. Having your account closed is more than just an inconvenience, and can cause significant costs in returned charges and missed deposits if it happens unexpectedly. The first question many people will ask in this situation is whether you can .
Below, we'll dive into exactly what options may be open to you if your account has been closed, and also explain how DoNotPay could be a valuable resource in managing your financial accounts. With DoNotPay's help, you can easily close unnecessary accounts to prevent them from being unexpectedly closed in the future.
Why Your Account May Be Closed
There are several reasons why a bank may decide that they need to close your account. The reason that the bank has closed your account will often determine whether you can or whether you need to start a new one.
Here are the two most common reasons a bank may close your account:
Inactivity
Depending on bank policy and state regulations, a bank account is often viewed as inactive after three to five years. For cases where a bank account has been closed for inactivity, there are often options available to reinstate the account. If an account has been abandoned significantly longer, it's possible any funds in the account were sent to the state's unclaimed property division and you'll need to seek your money from the government. This is why it's essential to close accounts that you'll no longer need before relocating.
Liability
A bank may also close your account because they believe that the liability of dealing with you is unacceptable. The catalyst for this decision can vary, with reasons such as:

You have investments that exceed the institution's risk tolerance according to their internal policy.
Your account is showing suspicious activity that could be related to fraud.
Your finances have been linked to suspected criminal activity.

Often, accounts that are closed in this matter are in fact simply locked. If a misunderstanding or simple security precaution leads to the account being closed, speaking to the bank can usually open your account back up.
Is It Possible To Reopen a Closed Bank Account?
In some cases, it may be possible to if the account is simply dormant or locked. If the account is actually closed, however, you'll likely need to open a new account. If you were in good standing with the bank when your account was closed, you should be able to open one at the same institution.
How to Transfer Funds Out of a Bank Account While Closing It on Your Own
If you have unnecessary accounts, closing them on your own terms before the bank does can save you a lot of hassle down the road. Though banks' policies will differ slightly, typically you can close an account and ensure your funds are safe by following these steps:
Select another account to transfer your funds to and redirect any deposits into for the immediate future.
Notify all subscriptions, recurring payments, and direct deposits of the account change.
Write a formal letter to your bank notifying them you want to close your account, providing the new account information for transfer.
Follow up on all transfers, debits, and deposits to ensure everything went smoothly.
Though it may seem like a lot of work, taking the initiative with your accounts helps make sure that you're never locked away from your money. Fortunately, using DoNotPay you can accomplish all of that with just a few clicks.
How You Can Close Your Bank Accounts and Ensure All Funds Are Transferred With DoNotPay
DoNotPay is the perfect tool for convoluted administrative tasks that can be easy to mess up but are very important to get right. As the world's first robotic lawyer, complex paperwork is literally what DoNotPay was born for.
How to Easily Close a Bank Account and Transfer Funds With DoNotPay:
If you want to easily close a bank account but don't know where to start, DoNotPay has you covered. Create your own cancellation letter in 6 easy steps:
1. Go to the Close Bank Accounts product on DoNotPay.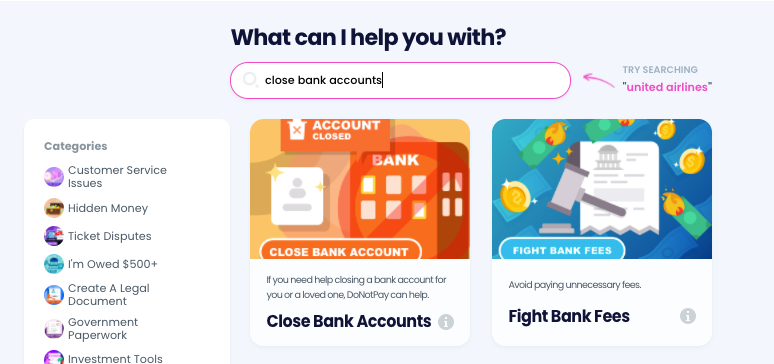 2. Select which bank the account was opened under, and enter the account type, account number, and your local branch location.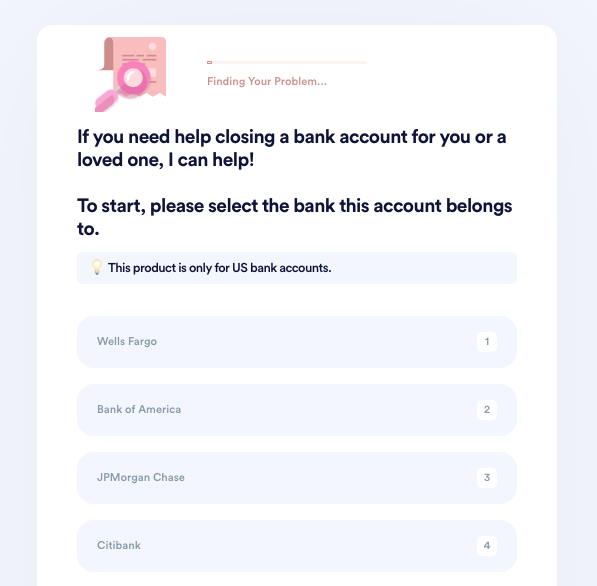 3. Indicate who this account belongs to. If the owner or co-owner has passed away, upload a death certificate or other formal evidence. If you are not the original account owner, upload evidence of your legal relationship to the owner.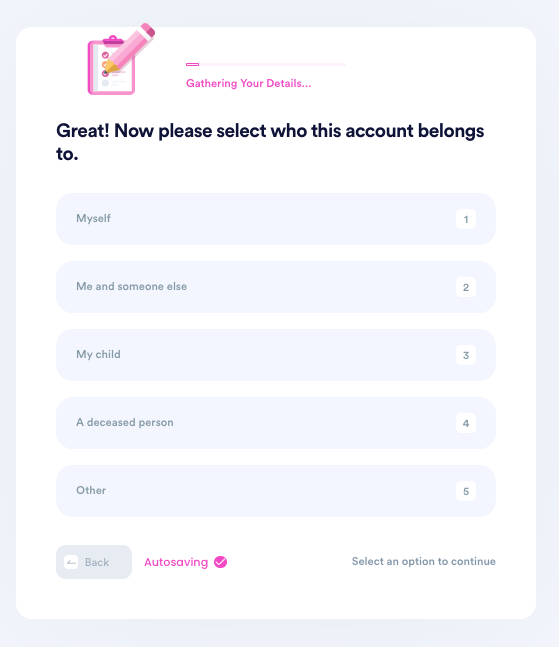 4. Tell us why you need to close this account.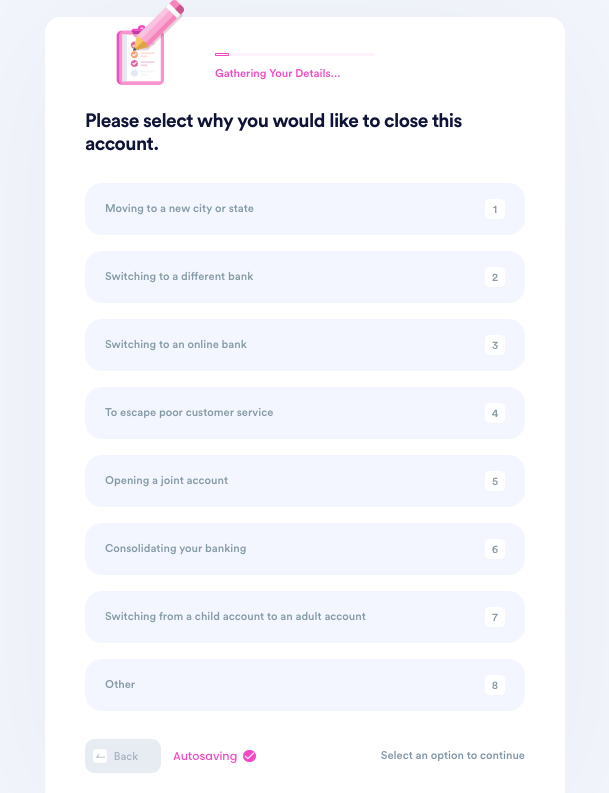 5. Enter your contact information, including email, phone number, and the address you want any remaining funds to be sent to.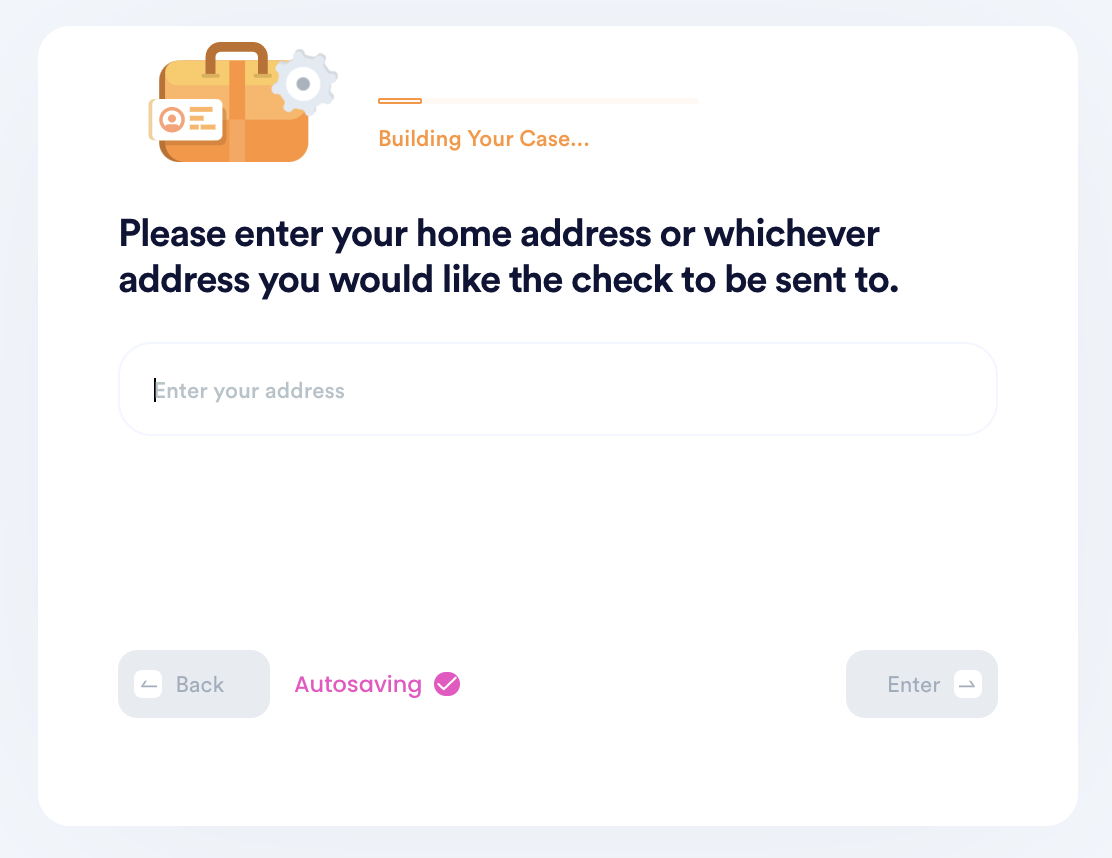 6. Submit your task! DoNotPay will mail the request letter on your behalf. You should hear back from the bank with confirmation or a request for more information within a few weeks.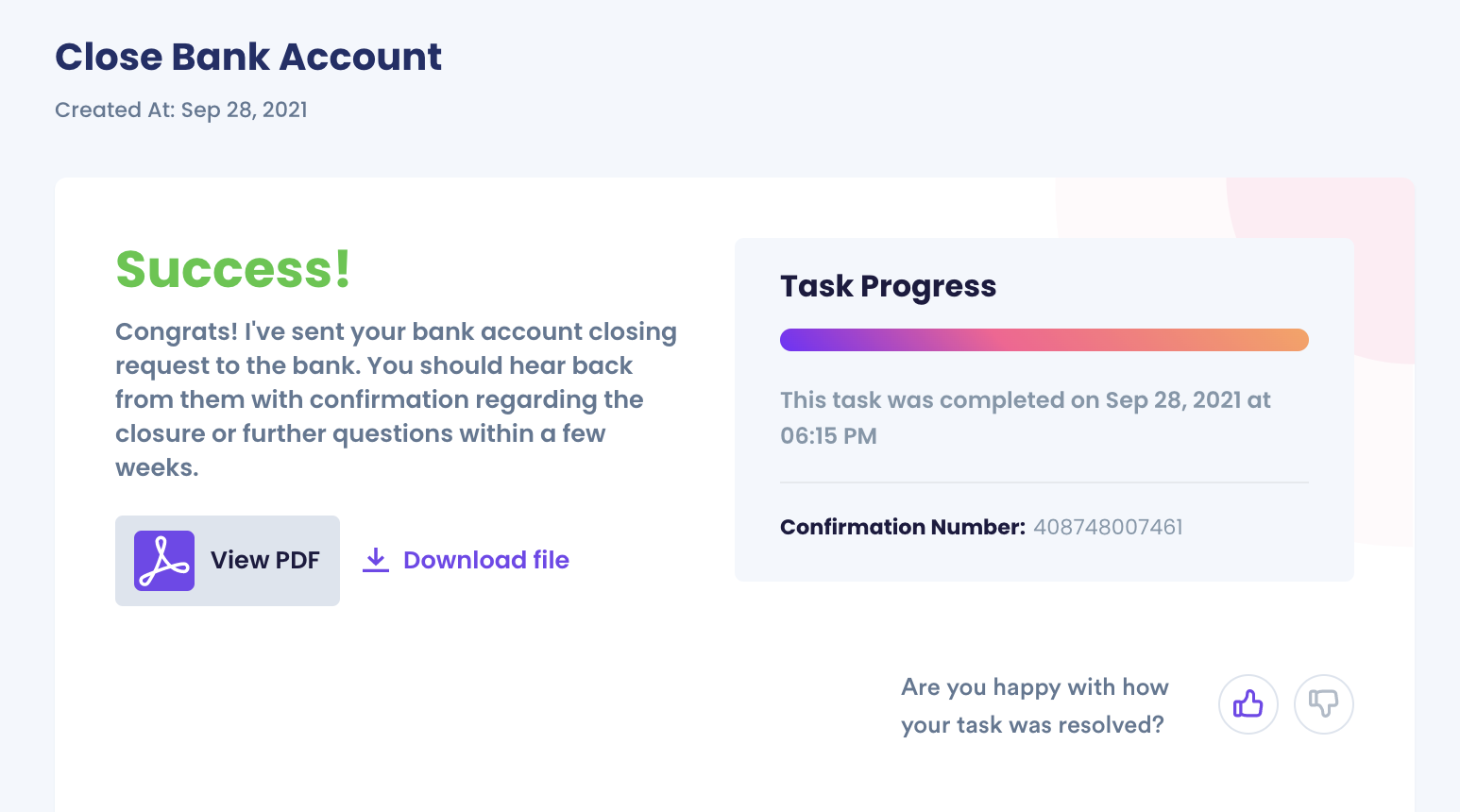 Why You Should Use DoNotPay When You Need to Close Accounts
Wrapping your head around the complex paperwork that banks require just to interact with your own money is frustrating sometimes. If you've ever felt like you need an in-house lawyer or accountant just to get routine tasks done with banks, DoNotPay is the answer.
DoNotPay can help you close you bank account at these institutions:
What Else Can DoNotPay Do?
DoNotPay isn't just a tool to close accounts. It can help with any complex, tedious, and convoluted process, such as:
DoNotPay can make the most complex and daunting tasks as easy as the click of a button. Visit today and see what else DoNotPay can help you accomplish.