If My Bank Account Is Closed, What Happens to My Direct Deposit?
Sometimes the right financial decision is to close a bank account. But automatic payments and can complicate making that happen smoothly. Getting recurring payments switched over to a new account should be fairly easy to accomplish, but what happens if you close your bank account before your direct deposit hits?
Having to wait for the money you've already earned because it was deposited into the wrong account can be frustrating and take some time to fix. With the help of DoNotPay, you can be sure your bank accounts are closed correctly on your terms, so you're never wondering what happens to your direct deposit when your bank account is closed.
Reasons That Your Bank Account May Close
There are many good reasons why you may have a bank account closed, either by you or the bank. Though there are some unavoidable circumstances under which a bank may need to close your account, it's always a better idea to close an account on your terms before the bank does. That way, you have full control over your funds and afterward.
There are two main ways your bank account may close:
The Bank Closing Your Account
A bank will only close your account when it's no longer worth it for them to do business with you. This happens in situations like:

Your account has been delinquent for an extended period of time.
Your account has been inactive, typically for a period of three to five years, depending on the state and bank policy.
Your account is suspected to be involved in fraud or other criminal activities.
The bank has decided that you are a financial risk to provide service for.

Closing Your Own Account
Closing your own account can be complicated but makes it much easier to manage direct deposits and recurring payments from your account. You may close an account for reasons such as:

Moving to an area where your current bank doesn't provide service.
Switching to an account with more perks and benefits.
Simplifying your financial infrastructure.
Or even handling a deceased family member's account
What Happens to Your Direct Deposit When the Account It's Sent To Is Closed?
Typically, when a , the funds will have nowhere to go and be returned. In the case of a paycheck that was coming into your account, this means that the money will end up back with your employer. Not only will it be a hassle to process a new payment through your accounting department, but the funds may be delayed as many as 4-7 business days.
How to Close Your Bank Account Without Missing a Direct Deposit
When you close an account yourself, most banks will allow you to leave a forwarding account where any payments that mistakenly arrive in your old account will be redirected. You'll need to inquire with your specific bank as to their policy, but with most institutions, you can send a formal letter to close your bank account that contains all transferring and forwarding information for funds in it and those that may be arriving afterward.
How to Close Your Bank Account Simply With the Help of DoNotPay
If the convoluted process of getting your bank account closed without missing a paycheck seems a bit daunting, DoNotPay can help get your accounts closed the right way, so that you never miss out on a late direct deposit. If you want to quickly and easily close a bank account without missing out on a direct deposit but don't know where to start, DoNotPay has you covered. Create your own cancellation letter in 6 easy steps:
1. Go to the Close Bank Accounts product on DoNotPay.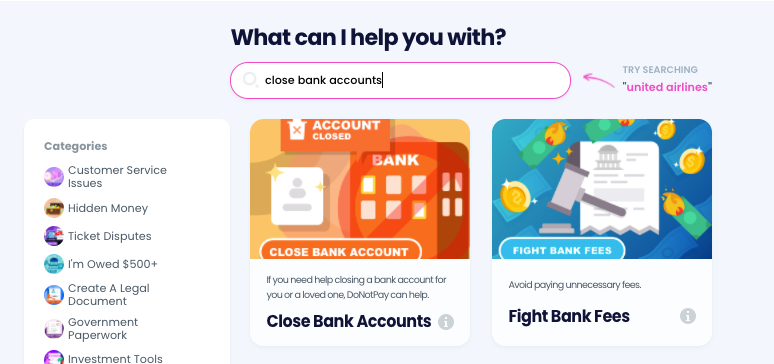 2. Select which bank the account was opened under, and enter the account type, account number, and your local branch location.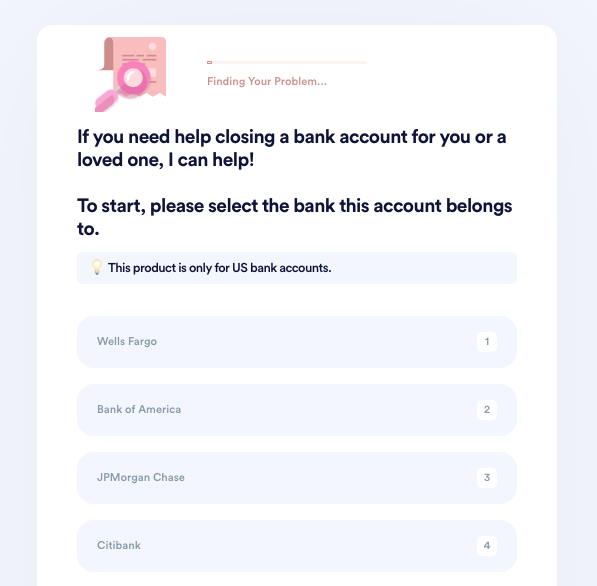 3. Indicate who this account belongs to. If the owner or co-owner has passed away, upload a death certificate or other formal evidence. If you are not the original account owner, upload evidence of your legal relationship to the owner.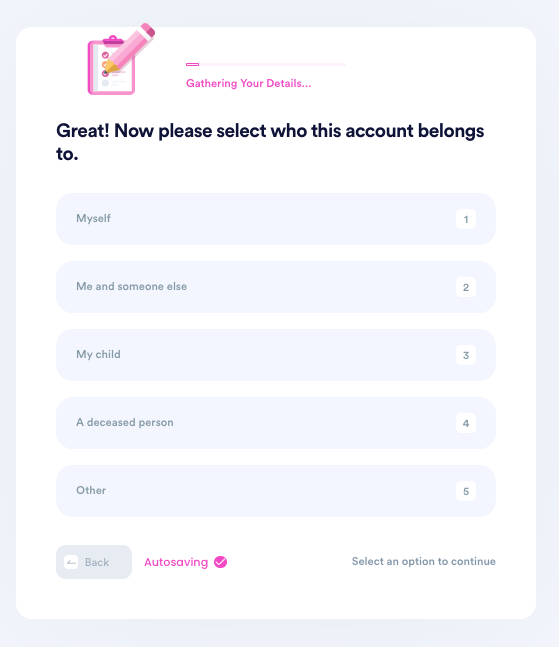 4. Tell us why you need to close this account.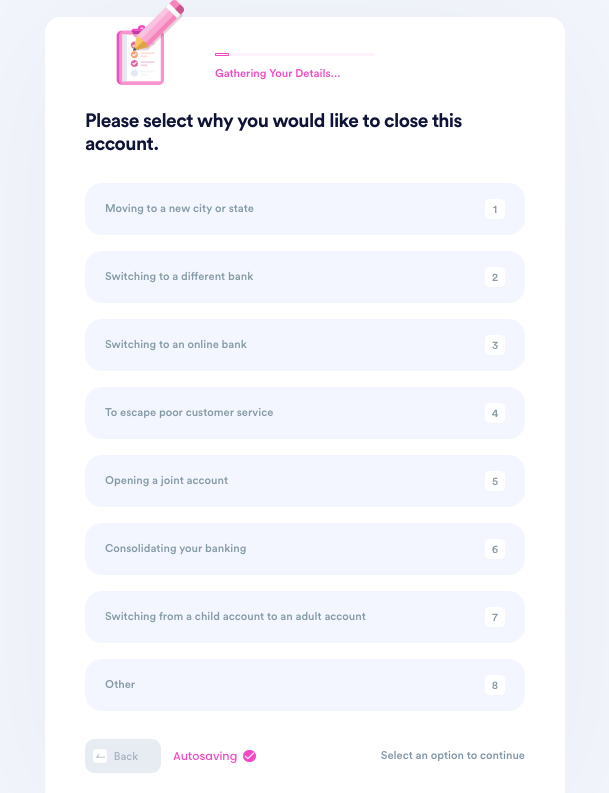 5. Enter your contact information, including email, phone number, and the address you want any remaining funds to be sent to.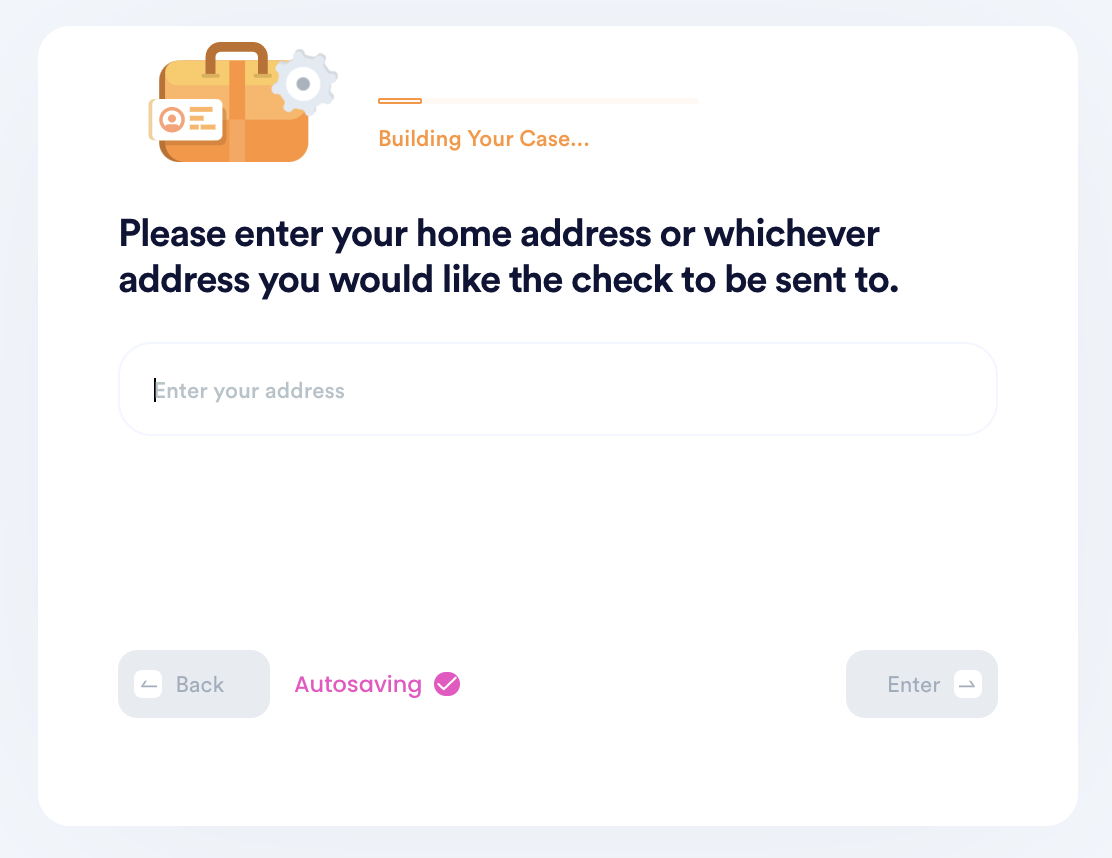 6. Submit your task! DoNotPay will mail the request letter on your behalf. You should hear back from the bank with confirmation or a request for more information within a few weeks.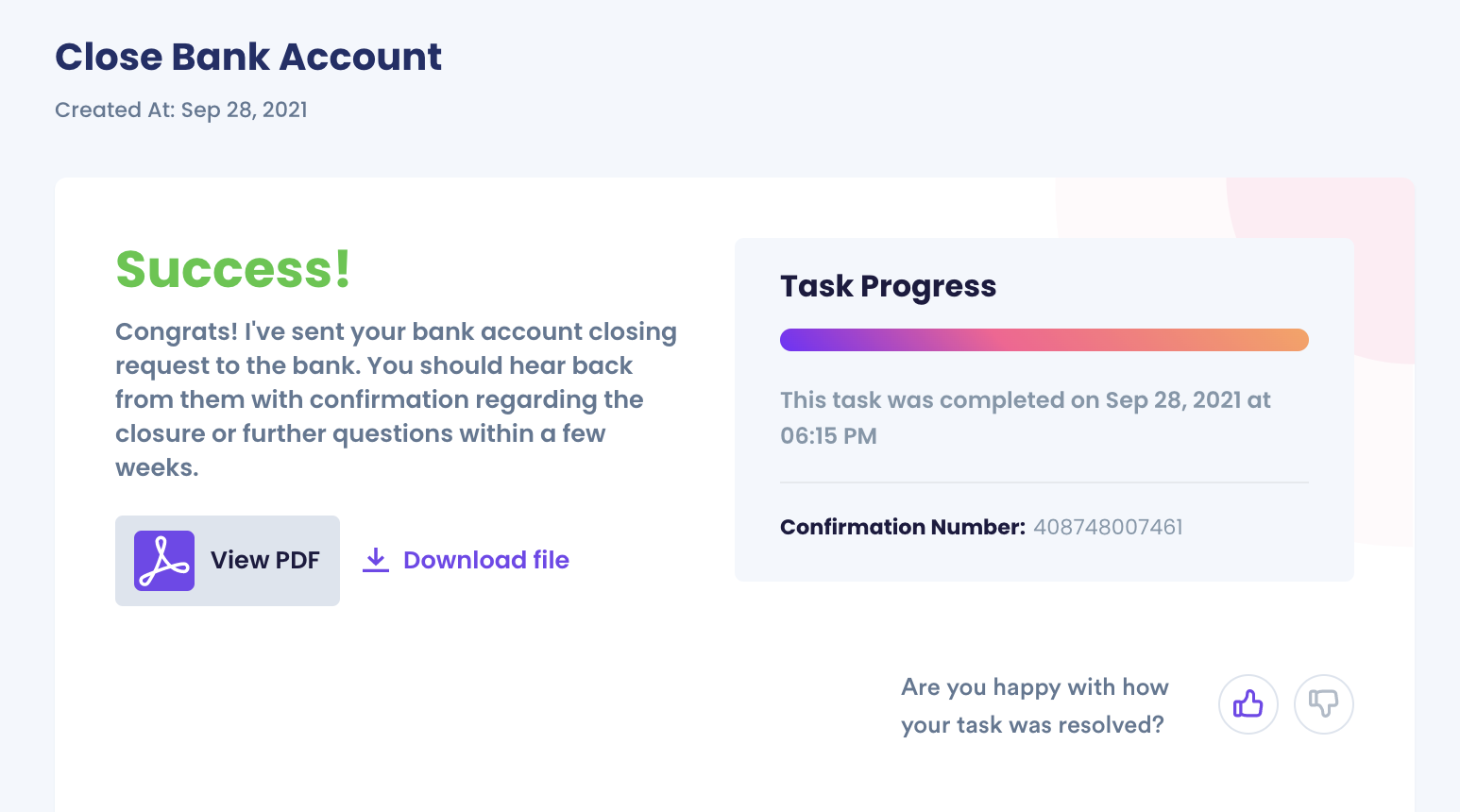 Why You Should Use DoNotPay to Close Your Bank Accounts
Using DoNotPay to close your bank accounts ensures not only that you can close your account easily, but also that you never end up chasing down your own money due to one simple mistake. As the world's first robotic lawyer, DoNotPay is perfectly suited to filling out paperwork quickly and accurately, without involving an accountant or expensive human lawyer.
If you have a bank account with these banks, DoNotPay can help you close it:
What Else Can DoNotPay Do For You?
DoNotPay is great for closing bank accounts, but it does much more. Today's world is full of tasks that no one should waste their time on, but definitely still need to be done. DoNotPay can offer automated solutions to all sorts of problems, such as:
DoNotPay is the perfect solution for all those tedious tasks that you've always wished you had a dedicated lawyer to help with. Join us today and find out how DoNotPay can help solve all kinds of problems for you.