Start Your Opodo Prime Free Trial With a Virtual Credit Card

Free trials are great. Like the ice cream sample of the virtual world, a free trial allows consumers to try out a variety of services before making a commitment. But of course, there's a catch: free trials often morph into subscriptions if they're not cancelled in time, meaning customers get charged for a service they may or may not use. The fear of that charge may keep some people from signing up for free trials at all.
DoNotPay has a better way. DoNotPay can help customers sign up for free trials at places like . Free trials that go through DoNotPay can cancel automatically, so you won't get charged if you forget to cancel the service.
What Is Opodo Prime?
Opodo Prime is a subscription website that offers reduced hotel and airfares for their subscribers. Opodo Prime can get you a discount on:
Hotels
Flights
Rental cars
Flight and hotel packages
Virtual tours
Travel activities and travel-related services
The discounts on Opodo Prime are significant. Flights can be reduced by as much as £65 per ticket.
Opodo Prime offers a of their services. That means customers who are planning a trip can sign up, get the discounted rates, and then cancel their subscription. It's a great way to get a free discount. However, it only works if you remember to cancel at the end of the 30 day period.
Getting a Free Trial From Opodo Prime
To start your free trial of Opodo prime, follow these steps:
Go to Opodo Prime's website.
Find the flight you want with their search tool. You don't need to sign in or sign up to search.
Once you've picked your flight, proceed to pay for it as you would on any other travel site.
You'll be signed up for Opodo Prime after you've bought your flight, and your 30 day trial will begin.
Opodo Prime isn't just for flights. After you pick your airline tickets, you'll have the opportunity to pick a hotel with an Opodo Prime discount of up to 50% off on accommodation and save up to £40 on car hire. You also get a free exclusive customer service hotline 24/7.
To learn more, you may connect with Opodo via:
| | |
| --- | --- |
| Website | https://www.opodo.co.uk |
| Live Chat | Help Centre |
| Email | customerservice-en@contact.opodo.com |
| Phone Number | 011 44 20 7660 8892 |
What Happens if You Forget to Cancel an Opodo Prime Free Trial?
If you forget to cancel your Opodo Prime free trial at the end of the 30-day period, you'll be charged €54.99 for a year of service. That might not be a bad thing.
An Opodo Prime subscription may be worth it for:
People who travel multiple times a year.
People who travel long distances more than once a year. The higher the fare, the higher the Opodo Prime discount. For people who travel long distances, the discount on two trips a year may add up to more than €54.99.
Customers who book more than one service at once more than once a year. The discounts provided on flights, hotels, and car rentals together may add up to more than €54.99 even for those who only take two trips a year.
However, for most people an Opodo Prime subscription may not make sense. That means cancelling the free trial is essential. The best way to make sure that happens is with a virtual credit card.
What Is a Virtual Credit Card?

A virtual credit card is exactly what it sounds like. It is a credit card number generated by DoNotPay that can be cancelled on the date that you choose, without affecting your credit.
The virtual card is tied to your actual card, meaning you don't apply for a new line of credit.
With free trials, just sign up through DoNotPay, and the virtual card will disappear at the end of the trial period. Try the following:
Getting an Opodo Prime Free Trial With DoNotPay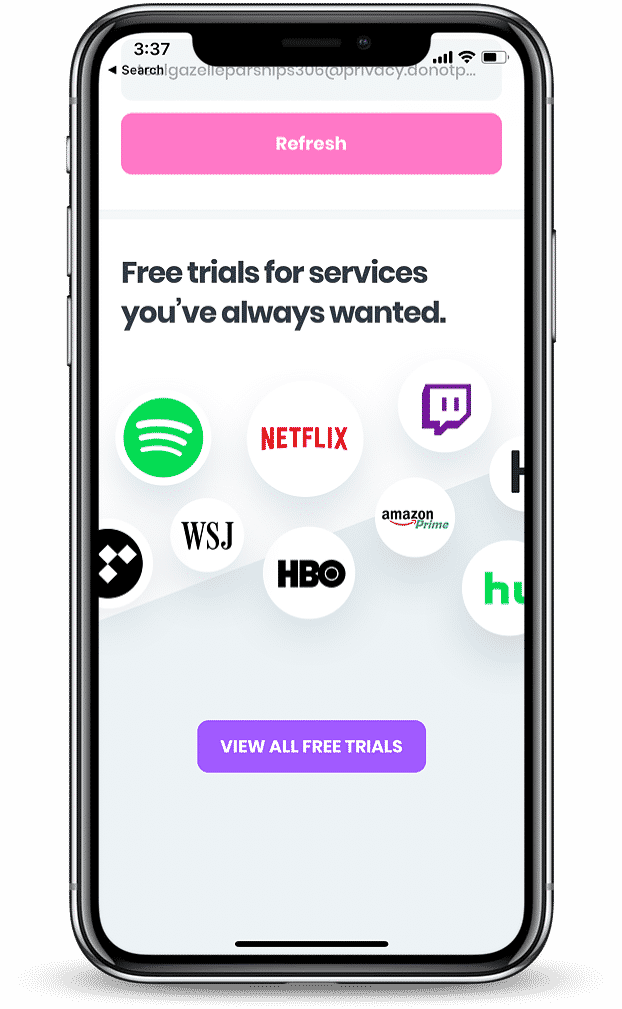 Signing up for a free trial with DoNotPay is fast and easy. Here's how:
Search for the Free Trial product on DoNotPay's homepage. Alternatively, you can go straight to the Virtual Credit Card page.
Sign up for a virtual credit card to use at the company of your choice.
Your virtual credit card info will come up on screen. Copy it.
Use the new virtual card at the company you specified for your free trial.
The card will deactivate after one use, and the company will be unable to charge it after the trial period.
Getting a free trial with a virtual credit card has never been easier, thanks to DoNotPay. Don't think twice about signing up for . There's no risk with DoNotPay.