Finding a Notary in Studio City Couldn't Be Easier!
Although it might sound intimidating, document notarization doesn't have to be a demanding endeavor. Do you need to schedule an appointment with a notary in Studio City, LA? Look no further! We will walk you through all the options and explain how to get your documents notarized conveniently.
What Are the Duties of a Notary in California?
A notary public is an impartial, third-party officer who acts as a witness when the concerned parties are signing a document. It is the notary's responsibility to make sure all signers have a valid ID and are signing the document of their own free will. After confirmation, the notary will sign the document and add a notary seal, completing the notarization process.
How Much Does a Notary Charge in Studio City?
Notaries charge the following fees for specific notary services in California:
| | |
| --- | --- |
| Notary Service | Fee |
| Acknowledgments | $15 for every signature |
| Jurat | $15 for every signature |
| Deposition | $30 for each deposition |
| Administering an oath | $7 for each oath |
| Certification of power of attorney | $15 per certification |
How To Search for a Notary in Studio City?
The most convenient way to find a notary in Studio City is to search online. Some helpful websites are:
If you are unable to find a notary online, here are some places in Studio City you can contact to book an appointment:
| | | |
| --- | --- | --- |
| Notary | Address | Phone Number |
| Studio City Mailboxes & More | 3940 Laurel Canyon Blvd, Studio City, CA 91604 | 1-818-760-6500 |
| Traveling Notary | 2602, 12055 Ventura Pl #104, Studio City, CA 91604 | 1-818-439-6198 |
| The UPS Store | 11271 Ventura Blvd, Studio City, CA 91604 | 1-818-509-2988 |
| Notary 90210 | 11509 Duque Dr, Studio City, CA 91604 | 1-323-207-8522 |
| Lord Notary Mobile | 4041 Radford Ave, Studio City, CA 91604 | 1-818-601-9251 |
You can notarize your documents the traditional way by following these steps:
Search for a notary near you

Contact the office to book an appointment

Gather all the documents you need

Show up in person with proof of identity
Most people prefer to use the conventional notarization method, but there are many problems associated with it. It can be challenging because you have to follow the notary's business hours. If there are any irregularities with your documents, the notary will refuse to sign your document. You will have to reschedule your meeting for a later date.
Are There Any Other Options To Get Your Documents Notarized in Studio City?
If the traditional notarization method is not your cup of tea, you have two other options:
Mobile notary

—A notary will visit the location of your choice. This could be your home, office, or any other venue

Online notary

—You can get your documents notarized online via a video call
Due to the COVID-19 pandemic, an emergency law was passed in California to allow mobile notaries to operate. Even if California law bans them once the pandemic is over, the federal law allows out-of-state notarization, so you can always get your document notarized online by an official from another state.
DoNotPay Can Book an Appointment With a Notary in Minutes
Are you reluctant to book an appointment with a traditional notary because of the current pandemic? Don't risk it! DoNotPay can set up a meeting with an online notary from the comfort of your home! Follow these quick instructions to schedule a meeting:
Select the

Notarize Any Document

feature

Upload the document you want to get notarized

Enter your email address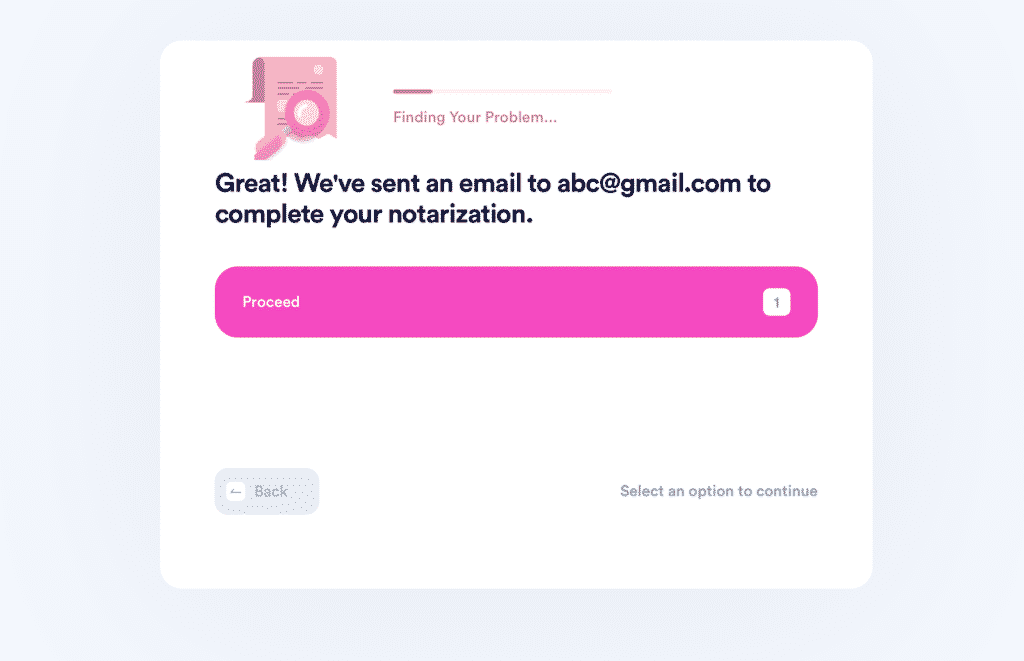 You will receive an email from us with a link in it. Click on the link to open the timetable with many available slots. The notary will be available at the selected time to notarize your document online.
Why Do You Need To Get Your Documents Notarized?
Notarization is important because it authenticates the signatures on the document, thus preventing forgery and fraud.
Every year, over 1 billion documents are notarized in the United States. Here are a few common documents that require notarization:
Power of attorney forms

Real estate deeds

General business contracts

Employment contracts

Quitclaim deeds

Trusts

Child custody forms
Draft Legal Documents With DoNotPay
Do you need help creating legal documents? DoNotPay has got you covered! Our Standardized Legal Document tool is integrated with the Notarize Any Document option, so you can do both in the same app! To create a legal document, follow these steps:
Select the document you want to create

Answer any questions our chatbot might have
We can help you create various contracts and agreements, including:
Non-Compete Agreement

Bill of Sale

Non-Disclosure Agreement

LLC Operating Agreement

Independent Contractor Agreement

Residential Lease Agreement

Child Custody Agreement

Prenuptial Agreement
When You're In Over Your Head, DoNotPay Swoops In
With your virtual assistant extraordinaire, many tasks will be a breeze to deal with.
No fax machine? No problem! Use DoNotPay to send faxes online. If you don't want to waste time waiting in lines or on the phone, we come to the rescue with many of our products that will help you:
What Else Does DoNotPay Have in Store for You?
You can count on our assistance when you want to get rid of:
Our app has even more to offer—try out our hacks that will save you money and do the heavy lifting in numerous tasks: