How To Find a Notary in Roseville, CA, Easily
Are you on the lookout for notary services in Roseville, CA, to authenticate your legal documents? Do you want to learn the process of notarizing a document in California? We present the ultimate guide to help you schedule an appointment with a notary in record time!
The Importance of Notarized Documents
Although approximately a billion documents get notarized yearly in the United States, few people understand why notarization is important to the legal system. Notarized documents confirm that all parties signed the agreement of their own free will and were not coerced in any way. It also serves the following purposes:
Makes the involved parties' signature authentic and credible with the notary's signature and official stamp

Ensures mutual legal responsibility and protection of all parties

Protects from fraud and forgery

Enforces certain documents in court
What Does a Notary Public in Roseville, CA, Do?
A notary public is an impartial, independent public officer assigned by the state government to act as a witness during the signing of documents. These documents can include:
Non-disclosure agreements

Prenuptial agreements

Child custody forms

Residential lease agreements

Bill of sale documents
A Roseville notary will charge up to $15 for acknowledgments, oaths, and jurats. The fee may vary depending on the type of document requiring notarization.
Are You Looking for a Notary in Roseville, CA?
If you're searching for a notary in Roseville, CA, here are ten options. Check out the list for the one closest to you:
Notary
Address
Phone Number

Metro Notary Agent

7549 Greenhaven Dr, Sacramento, CA 95831

1-916-742-9558

AIM Mail Center

3511 Del Paso Rd #160, Sacramento, CA 95835

1-916-419-1323

The UPS Store

1420 E Roseville Pkwy Ste 140, Roseville, CA 95661

1-916-772-6245

A & A Notary Services

521 B St, Roseville, CA 95678,

1-916-786-2797

Folsom Notary Public

233 Needle Ct, Roseville, CA 95678

1-916-960-8086

At Your Door Notary Service

Serving Placer County, Roseville, CA 95678

1-858-356-7240

Northstar Notary

402 Maverick Ct, Roseville, CA 95661

1-916-784-7106

Mobile Notary Public

283 Sharp Cir #2

Roseville, CA 95678

1-916-300-2091

Postal Annex

4010 Foothills Blvd

Roseville, CA 95747

1-916-787-6245

Abigail Bunch

130 Fig Street D

Roseville, CA 95678

1-530-718-6040
Although traditional notaries might seem like the most obvious option, visiting their offices can be complicated and time-consuming. Notaries have standard business hours, and most people struggle to make appointments due to various parties' busy schedules.
How To Get Your Documents Notarized in Roseville, CA
Once you've decided on a specific notary, you will have to:
Call the office to schedule an appointment

Collect all necessary documents that you need to take with you

Show up to the appointment in person
Traditional notarization seems like a straightforward process, but many things can go wrong. If you make even the smallest of mistakes, you will have to reschedule the appointment and repeat the process all over again.
Get Your Documents Notarized Online
Let go of the traditional method of notarization and get your documents notarized online! States including Alaska, Ohio, Utah, Vermont, and Montana have already permanently authorized online notarization. Although the law in California does not give the same authority to the California notaries, it has temporarily allowed online and mobile notary services during the COVID-19 pandemic.
Even if California law bans online notaries once the health crisis is over, federal legislation allows out-of-state notarization, so you can use the service of a notary from another state.
Online notary options also come with various pros and cons. While the idea of getting documents notarized without dressing up and having to go out might seem appealing, most notary websites can be hard to navigate. How can you get your documents notarized without wanting to bang your head against the wall? DoNotPay has the answer!
DoNotPay Can Schedule a Meeting With a Notary Within Minutes
Getting an online appointment with a notary has never been easier! DoNotPay can set up a meeting with your notary in a few clicks, saving you from queues and endless scheduling! The best part is that DoNotPay is available 24/7, so you don't have to worry about business hours. All you have to do is follow these quick steps:
Select the

Notarize Any Document

feature

Choose and upload the document you want to get notarized

Add your email address
DoNotPay will send you an email with a link to a timetable with many available slots. During the appointment, the notary will review your document, verify your identity, and sign it digitally!
Create Documents With the Help of DoNotPay
Are you about to hire an expensive lawyer to draft a legal document for you? Stop right there because you can create legal documents and get them notarized effortlessly with DoNotPay!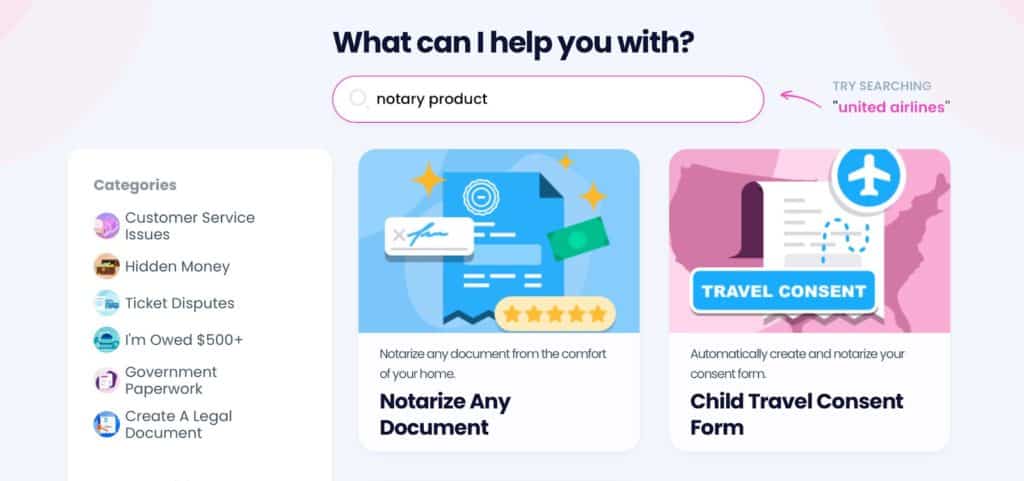 All you have to do is follow these instructions:
Find the

Standardized Legal Documents

option

Type the name of the document you want to create

Answer our questions to help us generate an appropriate contract
Enjoy Services Worry-Free With DoNotPay
Do you want to try out a new service but are worried about being charged if you forget to cancel it before it ends?
With DoNotPay, you can sign up for free trials without worrying about auto-charges. Our virtual credit card makes sure you enjoy your trial run of the service and prevents any company from taking money out of your real account.
This free-trial card also protects you from email spam because it generates an alternate email address for the free trial sign-up.
If you want to keep your phone number private and deter robocallers and text spammers, use DoNotPay's Burner Phone feature when subscribing to services.
In case the company does charge you, initiate a chargeback on your credit card transactions quickly with our app.
Discover DoNotPay's Amazing Features
DoNotPay is a virtual lawyer app that can take over annoying bureaucratic tasks from you.
We can cover anything you may need help with—dealing with customer service reps, booking appointments with the DMV, securing refunds and compensation from airlines, disputing your parking tickets, or getting you an extension on bill payments.
Our app can help you draft any legal document in minutes or access public records from state and federal databases.