Get Documents Notarized Without Visiting a Notary in Houma, LA
Getting documents notarized without stress and complications is possible. DoNotPay can tell you how to sail through the notarization process without visiting a notary in Houma, LA. You won't even have to leave your house!
What Can a Notary in Houma, LA, Do?
Notaries in Houma have various duties that ensure the notarization process goes well. These include:
Administering oaths, jurats, and

acknowledgments

Verifying the identity of the signing parties

Writing notarial certificates

Witnessing the signing of the contracts

Notarizing

wills

,

affidavits

, and other legal documents
Notaries also need to make sure that the signers are signing the documents willingly and while of sound mind. Once they are certain everything is done according to the Louisiana law, the notary can add their stamp and signature to the legal document.
What Documents Should You Get Notarized in Louisiana?
Some agreements and contracts only require the signatures of the parties participating in the deal, but some need to be taken to a notary. Notarization adds legal weight to documents, and here are the ones that you should consider getting notarized:
Trusts

Real estate deeds

Loan documents

Business contracts

Employment contracts

Consent forms

Wills

Affidavits
How Much Does a Houma Notary Charge for the Service?
The fees that notaries charge vary from state to state. In Louisiana, there is no set notary service fee. This means that a notary in Houma or any other city in LA can charge different amounts for notary services. You should expect to pay up to $20 for a notarial act.
Why Is In-Person Notarization Not a Good Idea?
The problem with in-person notarization is that it is no longer as convenient as other available options. If you want to get a document notarized the traditional way, you will need to spend much more of your precious time. This includes getting stuck in traffic jams and traveling potentially long distances to the notary's office.
You might also have to leave your work early or even take a day off! That is not even the worst side of traditional notarization. With the current COVID-19 global pandemic, you are risking your health to get a signature from a notary.
Steps for In-Person Notarization in Houma, LA
To get a document notarized the traditional way, you will need to:
Locate a notary office

Schedule an appointment

Gather the required documents

Show up to the appointment

Show proof of identity

Pay the notary's fee

Sign the document
There is a more practical way of getting documents notarized in Louisiana—online notarization.
How Does Online Notarization Work in Louisiana?
Online notarization is not allowed in every state, but Louisiana lets notaries perform notarial acts this way. Getting documents notarized online became available in 2020 when the COVID-19 pandemic started.
The meetings with the notary are performed virtually via audio-visual technology allowed in Louisiana. Notaries need to keep the audio and visual recording as a notarial record for at least ten years from the date it was created.
To get your document notarized remotely, you will have to follow these steps:
Pick an online notary service

Create an account

Upload your document

Sign a document during a virtual meeting with the notary

Wait for the notary to send a signed and sealed document to you
If you want to find an online notary without fuss, you should turn to DoNotPay for help!
Get Documents Notarized in the Blink of an Eye With DoNotPay
DoNotPay is at your service when you need to get a document notarized the fastest way. We work with notaries who are available any time of the day during the entire year. Our app allows you to pick any time slot that fits your busy schedule!
To get to use this neat feature, you only need to heed these instructions:
in any web browser

Choose the

Notarize Any Document

product

Attach the document you wish to get notarized

Write your email address in the provided field
You only need to confirm the meeting via the link in the email DoNotPay sends you.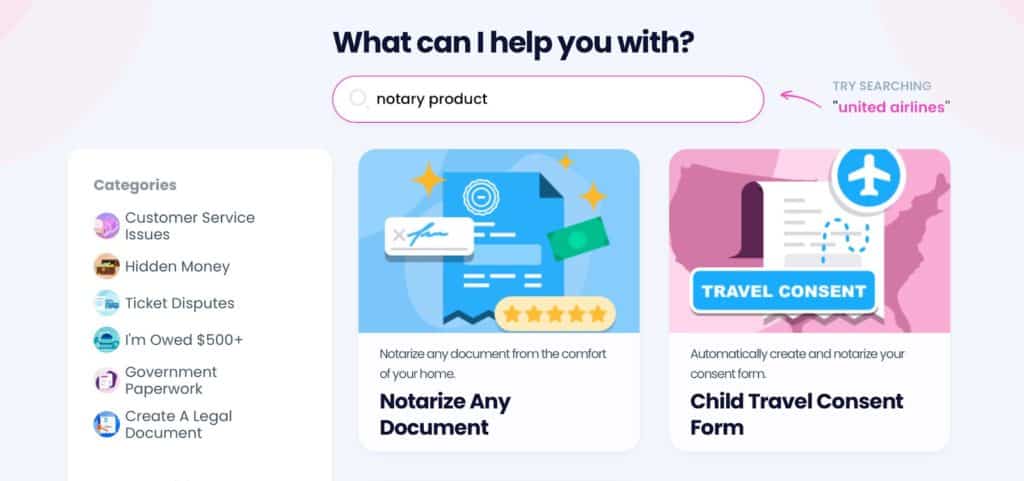 Finding an online notary is not the only useful service DoNotPay offers. We can also help you create a legal document before you decide to get it notarized!
Make a Legal Document in a Flash Using DoNotPay
If you want to draw up a legal document without any hassle and exorbitant lawyer fees, you should . The table below shows legal documents you can create with our help:
Business Agreements

General Business Contract

Independent Contractor Agreement

Non-Disclosure Agreement

Bill of Sale

Non-Compete Agreement

LLC Operating Agreement

Real Estate

Quitclaim Deed

Residential Lease Agreement

Intent To Purchase Real Estate

Estoppel Certificate

Other

General Affidavit

Parenting Plan (Child Custody Agreement)

Promissory Note

Prenuptial Agreement
You can also learn everything about distribution agreements, lease extension agreements, property settlement agreements, and numerous others.
Explore DoNotPay's Products and Save Both Time and Money
Are you sick and tired of spending ages on the phone with customer support trying to get more info about how to return a faulty product and get a refund? Maybe you'd like to cancel memberships you don't use but can't find that unsubscribe button anywhere? DoNotPay can help you sort out all of these issues in a jiffy!
Contest parking tickets, claim your car warranty and insurance, schedule a meeting with the DMV, and handle your other problems through the same app on your tablet or smartphone.
Getting access to public records or drawing up various legal documents with DoNotPay is child's play.
That's Not All!
The first thing you'll notice when you open DoNotPay is that you can use our app for almost anything.
Do you wish to enter raffles or sweepstakes? Are you interested in applying for paid clinical trials and earning some cash? Would you like to send mail without going to the post office? You're in the right place!
We will help you feel safe while browsing the Internet by assisting you in blocking and reporting spam emails, suspicious text messages, and pesky robocalls.