How To Find Illinois CDL Permit Test Locations
If you want to become a heavy-vehicle driver in Illinois, you will have to take the CDL test. We can tell you where you can take the test and how to best prepare for it.
It doesn't matter what part of the Prairie State you live in—you will undoubtedly be able to find a commercial driver's license test location in your vicinity. We can help you with that process and tell you how to get ready for the test!
What Is the
Illinois CDL Driving Test
?
Illinois CDL driving test is a mandatory step in acquiring a commercial driver's license in this state. It is similar to any other test you need to take to be able to drive heavy vehicles such as:
Road trains

Semi-trailers

Vehicle carriers

Agricultural vehicles

Passenger buses

B-double freight trucks

Some special purpose vehicles
As with most CDL knowledge tests, the one in Illinois includes 50 questions, and you need to know the correct answer to 40 of them. The questions are multiple-choice, which is good but shouldn't be taken lightly. A significant percentage of people (60%) fail when they sit for the test the first time.
If you fail the test in Illinois, you will have to wait a while to retake it. You will also need to pay the fee each time, and no one wants to waste money.
What Are the
Illinois CDL Test Locations
?
You will be able to find CDL facility locations in Illinois without trouble. Here's a table that shows what options are available:
Type of Facility Service
Illinois Area

CDL Services Only

Elk Grove Village (closed at the moment)

South Holland (closed at the moment)

West Chicago (

1280 Powis Rd., West Chicago, IL 60185

)

CDL and First-Time Driver Services

Bradley (

1111 Blatt, Bradley, IL 60915

)

Charleston (1

010 'E' St., Charleston, IL 61920

)

Dekalb (

1360 Oakwood St., Dekalb, IL 60115

)

Marion (

1905 Rendleman St., Marion, IL 62959

)

Quincy (

2512 Locust St., Quincy, IL 62301)
Rantoul (421 S. Murray Rd., Rantoul, IL 61866

)

Rockford CDL (

4734 Baxter Rd., Rockford, IL 61109

)

Salem (

1375 W. Whittaker, Salem, IL 62881

)

Mascoutah (

9221 Beller Dr., Mascoutah, IL 62959

)

Moline/Silvis (

Twin Oaks Shopping Centre, 2001 Fifth St., Ste. 10, Silvis, IL 61282

)

Olney (

1302 S. West St., R.R.1, Olney, IL 6

)

Peoria (

Sterling Bazaar Shopping Plaza, 3311 N. Sterling Ave. #12

)

Princeton (

225 Backbone Rd. East, Princeton, IL 61356

)

CDL, First-Time Driver Services and Drive-Through Vehicle Sticker Sales

Tilton (

5 Southgate Dr., Tilton, IL 61833

)

First-Time Driver Services and Drive-Through Vehicle Sticker Sales ONLY

Chicago South (

9901 S. Dr. Martin Luther King Jr. Dr., Chicago, IL 60628

)

Chicago North (

5401 N. Elston Ave., Chicago, IL 60630

)

Drive-Through Vehicle Sticker Sales ONLY

Rockford Central (

3720 E. State St., Rockford, IL 61108

)

Macomb (

466 Deer Rd., Macomb, IL 61455

)
How Can You Prepare for the Illinois CDL Driving Test?
Finding a test location won't be of much use if you show up to the test unprepared. There are a couple of ways to ensure you get the results you want, but all of them require you to study.
The first item you'll need is the Illinois CDL study guide. You should read it as many times as possible and see what CDL is all about. Nobody expects you to remember everything you find in this book, and you shouldn't worry.
Other techniques will come in handy. Practice tests are the study technique that will help you lock in the knowledge and experience what the real test will be like. Be wary of free tests available online—they might not be updated regularly and have only a certain amount of questions available.
If you don't want to risk not getting the best results, use DoNotPay's practice tests, and have peace of mind when you get to the CDL test location.
Use DoNotPay To Ace the Illinois CDL Driving Test
DoNotPay's comprehensive database consists of numerous question combinations you can get on your Illinois CDL knowledge test. If you wish to get prepared for the real deal with our app, you only need to perform these simple steps:
Open DoNotPay in a

Enter the keywords of the test's name

Pick the test you want to get ready for

Tell us whether you wish to check your knowledge on 10, 20, or 30 question tests

Begin completing the test
You may retry incorrect questions right away or see the results and then retake the entire test.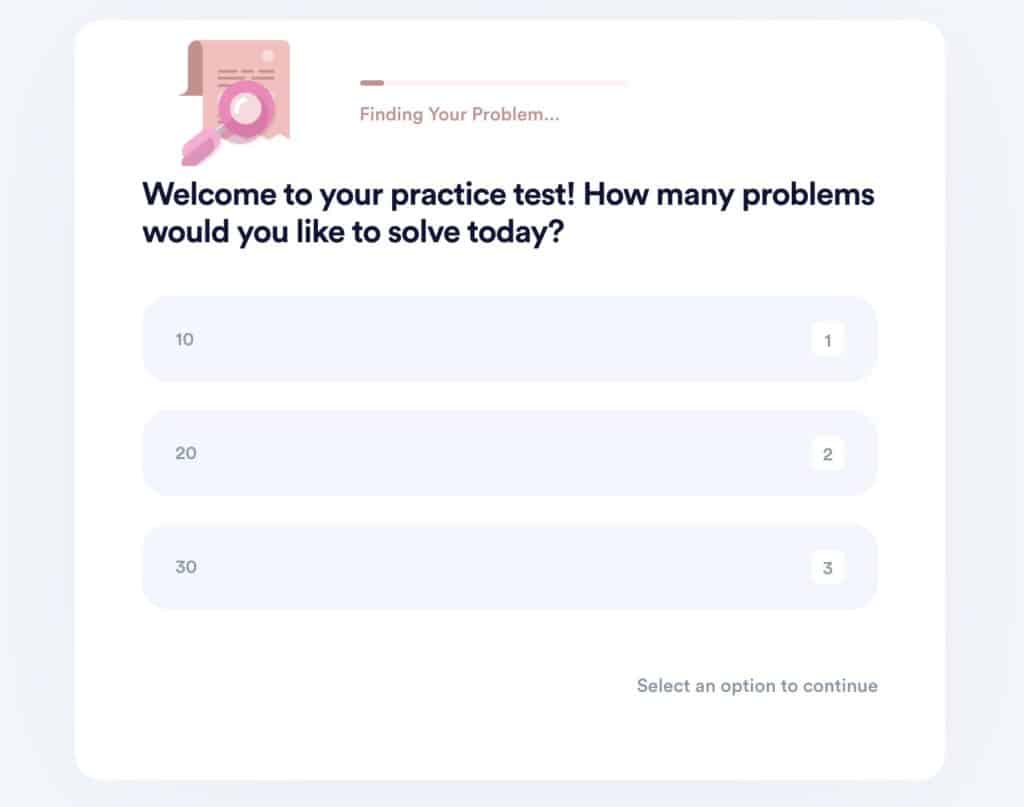 Get Other Licenses With DoNotPay's Practice Tests
Drivers and the ones looking to get behind the wheel for the first time can find all the practice tests if they open our app in a . No need to look for tests in specific states—we have it all in one place:
If you want to know the secret on how to pass the written driving test or schedule an appointment for your test, you can turn to DoNotPay for help.
In addition to these helpful driving features, DoNotPay thought of other government-issued licenses and the tests you need to take to obtain them. Practice for the following tests on our app end ensure the passing grade: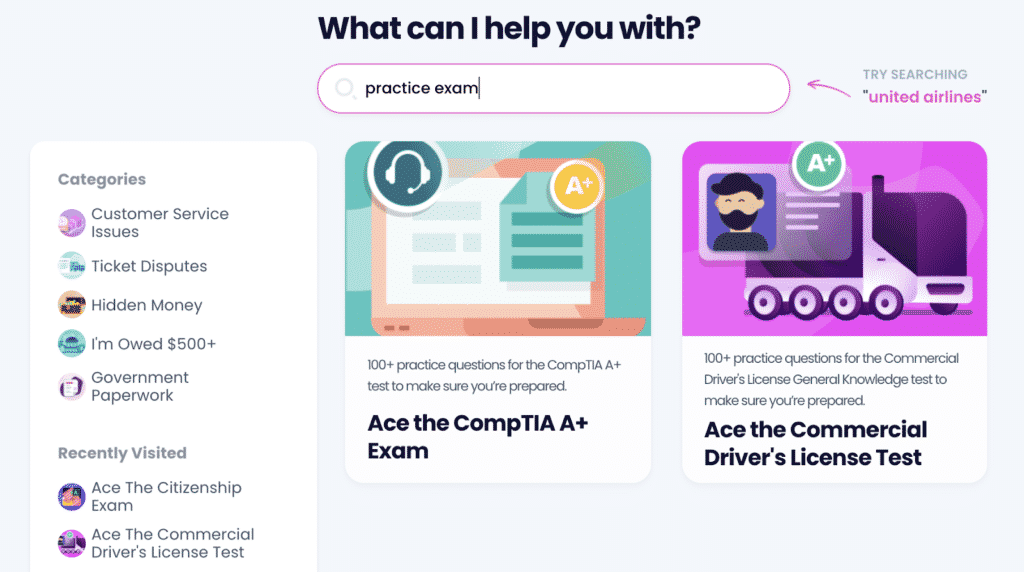 Fend Off Scammers With DoNotPay's Help
Are you sick of having a cluttered inbox or getting robocalls? So are the majority of Americans. If you want to get rid of email spam, text message spam, or annoying robocalls, DoNotPay can help you put a stop to them once and for all.
Do you feel like serving justice to companies that wronged you or stalkers and harassers that won't give you a break? Use our AI-driven app to fight for your right!
Keep Your Money in Your Pocket and Save Time
With our assistance, you can also appeal parking tickets in any city, get help with bills, make an appointment with the DMV, protect your copyright, and avoid phone number verification!
If you feel like you were wronged either by a faulty product or a delayed or canceled flight, DoNotPay will also help you request a refund from any company or airline hassle-free.
Being on a tight budget isn't easy—knowing that, we've developed features that will get you free trials, unclaimed money, extended warranties, college application fee waivers, and so much more!