Find Out More About Sending Pictures to Inmates
If your loved one is incarcerated, you should know that keeping in touch can help them go through the sentence more easily. Getting a letter from you and photos of their loved ones makes a huge difference in their dull and harsh surroundings.
Rules for Sending Pictures to Inmates

If you want your loved one to receive and keep the photos you send them, make sure you follow the rules. You should know that the jail staff opens and checks mail before giving it to prisoners, mostly because of safety concerns. Don't include anything inappropriate or incriminating because an extra pair of eyes will always be watching.
There are differences between the rules for sending pics to federal and state facilities, so take a look at the table below to check the specific regulation:
Federal Inmates Pic Sending Rules
State Inmates Pic Sending Rules

Pictures are allowed

Nudity or any other sexual content is not permitted

Appropriate photos of friends and family are encouraged

No polaroids allowed

You can send pictures

Offenders can keep up to 50 photos

Pics shouldn't be bigger than 8x10 or 5x7 inches

No polaroids allowed
Sending Drawings and Paintings to Inmates
You can send handmade drawings or paintings done in:
Ink

Crayon

Watercolor

Charcoal
These drawings shouldn't be larger than 9x12 inches. You should also be careful what you draw since any explicit content—even drawn—is strictly forbidden. Jail staff is aware of all the possible ways to insert contraband, so keep that in mind.
Sending Photos to Inmates
In most prisons, you can send up to five photos with a letter, but they must be the right size. You cannot send polaroids to inmates whatever facility they are in.
Another important rule is that prisoners may not be sent photos of themselves, even as a part of a family picture. This is forbidden because another inmate might acquire that photo and use it for illegal purposes.
Who Can Send Photos to Inmates?
Any person who can send mail to inmates can send them photos as well. People sending pictures to prisoners are family members or friends because their photos can make incarcerated people feel better and help them cope with their situation.
Offenders in remotely-monitored home detention cannot send pictures to incarcerated persons. Witnesses or victims of a crime that the prisoner committed also can't maintain communication with the inmate in custody.
How To Send Pictures to Inmates?
Since pictures delivered to inmates have to be a certain size, the easiest way to send them is by mail. There is usually a limit on how many photos you can send at once, and you should check that with the facility beforehand.
When you write your letter to the inmate, put the appropriate photos inside the envelope, and mail it to the prison.
It would be good to write the inmate's name and ID number on the back of the photo to ensure it doesn't get lost or go to the wrong offender.
Address the envelope properly and make sure to always state:
The inmate's full name

The prisoner's ID number

The unit

The address of the correctional facility
You should also include your full name and return address because the letter gets discarded if the sender's details are not available.
DoNotPay's Connect With an Inmate Feature

DoNotPay can help you keep in touch with a person you care about regardless of the correctional facility they are in. We have different features that enable you to update your loved one on what's going on in the outside world and receive some words of comfort.
Open DoNotPay in your and find our Connect With an Inmate category to use the following options:
Locate an inmate
Send a personalized letter to an inmate
Virtual mailbox
Locate an Inmate With DoNotPay's Help
If you are not certain where exactly your incarcerated pen pal is located, DoNotPay can help you find them. The entire process is fast and simple:
Open DoNotPay and find the

Locate Someone

category

Write the full name of the inmate you are looking for

Enter the name of the state they are located in

Select

Proceed
Don't stress if you don't know the inmate's ID or unit number—we can help you find their exact location even without this info. Once you know where they are being held, you can send them mail and visit the inmate in prison.
Send a Personalized Letter to an Inmate With DoNotPay's Help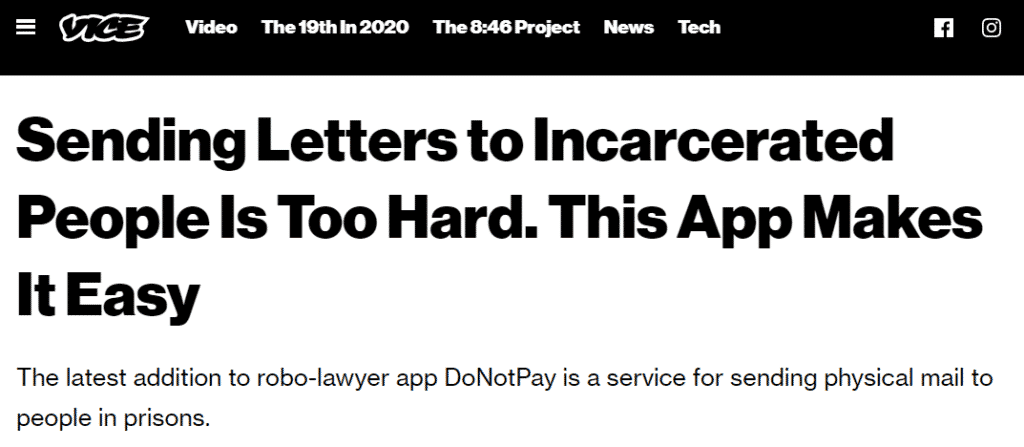 If you know all the relevant info about the prisoner, such as their full name, ID number, and exact location, you can send them some comforting words in a letter. Our app has the simplest and most effective way of sending letters to inmates. You only need to:
Find and select the

Send a Personalized Letter

option

Enter the relevant information about the prisoner like their full name or ID number

Attach photos
You have an option to pick a customized letter template. DoNotPay will send the letter to your incarcerated loved one immediately.
Get Letters From Inmates With DoNotPay
Reading carefully selected words from their loved ones brings comfort to prisoners, but so does writing about their experiences and feelings. DoNotPay has made sure the communication with inmates is a two-way street:
The inmate writes and sends a letter to our address

When we receive it, we digitize it

We send the digitized version to you
You can find the letter from your loved one in your Virtual Mailbox.
Say Goodbye to Administrative Issues With DoNotPay

If you would like to know more about inmate calling, we can help you out. In case you are interested in how phone calls with inmates work in different states, such as Texas or Arizona, we have the answers. Federal inmate phone calls have rules of their own, but DoNotPay knows exactly how to contact inmates in such facilities.
Perhaps you'd like to know if there is such a thing as a free local number for inmates? We can tell you more about that topic.
In case you want to send gifts to prisoners, DoNotPay can help you select the right ones.
Apart from being a useful tool in connecting with incarcerated people, DoNotPay has a way of dealing with other administrative issues.
Open DoNotPay in any to find out more about how we can make your life easier. The world's first robot lawyer can assist you with :
Fighting speeding tickets

Disputing traffic tickets