Use a Paperless Fax Solution To Send Documents Easily
Do you need to send your documents to a business partner, lawyer, doctor, or family member securely? If you need to protect the information you are sending, you will opt for regular mail or fax.
Another option is to use a paperless fax app. It is a safe, quick, and convenient solution.
DoNotPay will show you how to fax from your phone and provide information on different fax apps and services.
Regular Mail, a Fax Machine, or Paperless Faxes?
Faxing is an integral part of any serious business as important paperwork needs to be delivered to the other party in the safest way possible.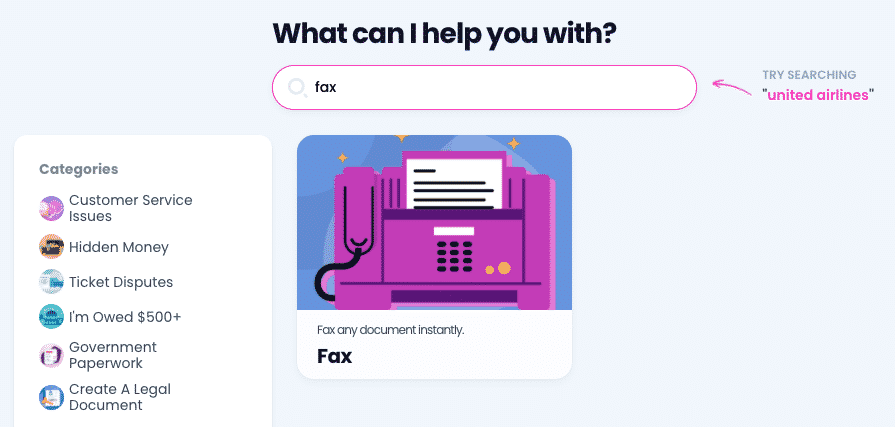 Should You Use Regular Mail?
You can always choose to send your documentation by regular mail, but this can be costly if you are sending it to foreign countries. Apart from the cost, it takes lots of time that you sometimes do not have.
Imagine sending contracts to a business partner who needs to wait for them for several days, sometimes even weeks, only to sign and return them to you. In this case, you are the one who will wait for the return of signed agreements for the same amount of time.
How About a Fax Machine?
Besides regular mail, you can try the good old fax machine. It reduces expenses and time compared to regular postal services. At the same time, fax machines maintain the safety of correspondence, but they are not without problems.
If you are starting a new business, do you need to invest in a fax machine and a printer right away? No, you can use paperless fax options to substitute for these two pieces of equipment.
If you do not own or rent a fax machine and a printer but would like to use a safer method of communication than an email, you can send your files using solution.
Send Faxes With DoNotPay Securely and Easily
DoNotPay provides a paperless faxing solution you can use to send any documents, regardless of whether they contain confidential data or not. Our app is a convenient option for your business and personal needs.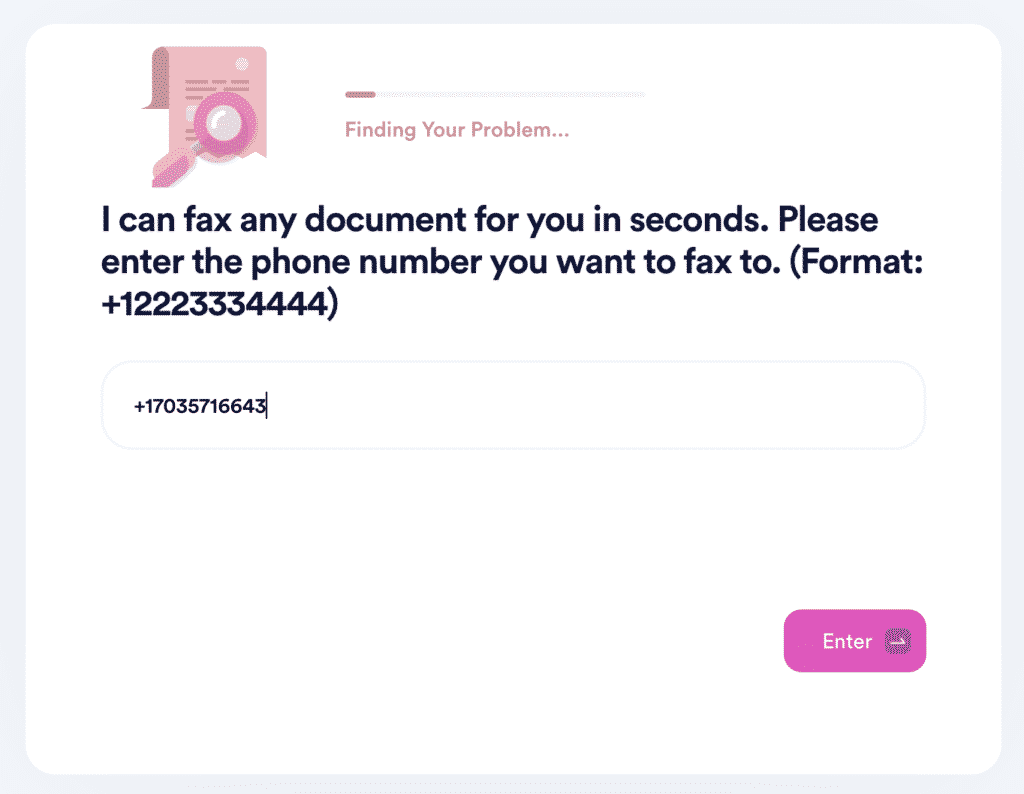 Agree on contract terms and conditions with your business partners, send your doctor your diagnosis, supply sensitive information to your attorney. You can do this without any problem with DoNotPay's Fax feature.
Here is how:
Access DoNotPay from a

Upload your document or snap a photo of it

Enter the fax number you want to send the file to
DoNotPay will automatically fax the document on your behalf and notify you with a confirmation. You can use our Fax product on your:
Phone

Laptop

Desktop computer
Is Paperless Fax the Right Solution for Your Needs?
DoNotPay offers you a paperless fax solution that has turned out to be popular and useful for lots of individuals and legal entities globally. Here are some advantages of paperless faxing:
Advantage
Why?

Cost-saving

You do not need to spend money on:

Printers

Fax machines

Ink

Lots of paper

Time-saving

There is no need to wait for a file to be:

Printed out

Uploaded into a fax machine

Sent page by page manually

Headache-free

You will no longer experience annoying paper jams, pulling, pushing, and tearing a sheet of paper when trying to unjam the machine and restart the faxing process
What Is Wrong With a Fax Machine?
There is nothing wrong with using a fax machine if you have a reliable one, but it comes with some regular expenses you need to take into consideration.
If it malfunctions a lot or runs out of ink, you will have to count on significant expenses for the maintenance and repairs.
The costs associated with fax machines usually include:
Ink cartridges

—You need to replace these when they run out of ink

Paper

—Do not forget to purchase enough paper and keep it in the office or at home if you need to fax your documents

Maintenance and repairs

—Fast and reliable repair service will cost you. If you do not want to agree to regular maintenance and repairs, you will need to wait for a couple of days for your machine to get fixed

Rental fee

—Should you opt for renting a fax machine instead of buying one, there is a monthly or quarterly fee you need to settle

A landline fax line

—To have a fax machine, you need to get and pay for a fax number. Dialing and faxing documents abroad can lead to a substantial amount on your phone bill at the end of each month. DoNotPay can present ways to

get a fax number

hassle-free
When you choose to lease a fax machine, you will need to enter into an equipment rental agreement. Not only does it introduce the above-mentioned extra costs but also additional paperwork and records you need to keep.
By opting for DoNotPay's paperless fax solution, you will save money, time, and space in your office or home. Limiting waste and protecting the environment are additional benefits of our method.
Keep the Communication Lines Clear With DoNotPay
Do you know how powerful DoNotPay's virtual credit card is?
This super-smart feature can not only sign you up for no-risk free trials but can provide you with an alternative email address. You can test any service without giving out your real email, which will keep your inbox clean from spam!
If you have family or friends within the U.S. prison system, our app helps you get in touch with them quickly.
We can also make sure you don't become a target of text and robocall scammers! Keep your phone number private and avoid this type of harassment by using our Burner Phone feature!
In case you need to fax a document, there is no need to search for the instruction manual on how to operate a fax machine. DoNotPay makes it simple to send online faxes anywhere!
DoNotPay Is Your Shortcut Through Bureaucracy
With our app, you don't have to spend hours figuring out how to request a refund, cancel a service, or book a DMV appointment.
We take over all the hard work! Forget about waiting in a phone queue for hours in hopes of reaching a customer service rep. Our AI-powered app will call any company for you and ping you when a human appears on the other end of the line.
DoNotPay also speeds up the process of filing insurance claims, claiming warranties, reducing property tax, and drafting various legal docs.