How to Register for a Risk-Free Gourmet Society Free Trial

Gourmet Society is an organisation that offers the opportunities to save money on dining out and entertainment. With that being said, your savings may come at a price. The company offers a free trial, but after that, you will have to pay. Luckily, it is possible to sign up for a risk-free with the help of DoNotPay.
Today, we're taking a closer look at this company's free trial, including how to sign up. Then, we'll advise you on how to ensure the free trials you sign up for are risk-free every time.
Can I Sign Up for a Free Trial With Gourmet Society?
Yes, it is possible to sign up for a . Specifically, you will need to take the following steps:
Scroll all the way down the home page until you see the "Try Gourmet Society today." section
Click on "Try for Free"
Enter the best email address to reach you at (this will be the one associated with the account)
Enter your legal first name
Enter your legal last name
Enter the best telephone number to be reached at
Enter your billing postcode (the Find Address feature is not intuitive)
Enter membership information
Enter your payment details, including credit card number and billing address
Does the Gourmet Society Free Trial Automatically Convert Into a Paid Subscription?
Yes, you will automatically be charged for a Gourmet Society paid subscription if you do not cancel your membership during your . Should you fail to cancel your membership by emailing the customer support team at help@gourmetsociety.co.uk, you will be billed £5.99 for another month of membership 90 days after you started your free trial.
Below is a convenient table featuring your billing options:
Frequency
Billing Cost
Annual
£39.99

£3.33 (if billed monthly)

Monthly
£5.99
As you can see, if you think Gourmet Society will be a good value for you, it is in your best interest to advise the company during your free trial. Every month you pay £5.99, you are costing yourself £2.66. You can't buy much for that anymore, but even small unnecessary expenses add up over enough time to something truly significant.
Is Gourmet Society Worth It?
Only you can determine whether a Gourmet Society subscription is worth it to you. With that being said, here is a convenient list of some of the benefits you get out of your membership:
25% off food and drinks
50% off the delivery of pizza
Up to half off outings
Up to 30% off cinema tickets
Up to one-third off movie rentals
10% off delivery and collection
Keep in mind, these are just some of the benefits you can enjoy with membership. If you go with the monthly billing (the most expensive price per month) and spend £23.96 in a month on food and drinks at your favourite restaurant, you will break even. If you spend more than that, the membership will pay for itself in your savings. If you also spend a lot of money on entertainment and delivery each month, you will certainly save lots of money with a Gourmet Society membership.
What Are Some Popular Alternatives?
Popular alternatives to Gourmet Society include, but are not limited to, the following:
Tastecard
Meerkat Meals
Hi-Life Diners Club
Use DoNotPay's Virtual Credit Card to Eliminate the Risk of Automatic Renewal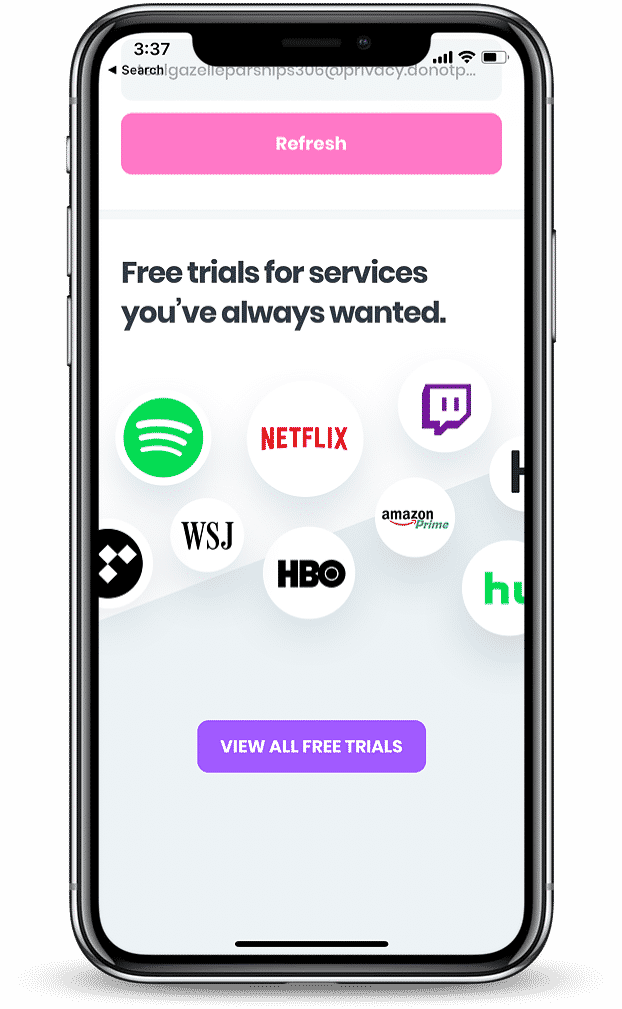 If you don't want to be billed almost six pounds automatically after your 90-day free trial of Gourmet Society, DoNotPay can help. All you have to do is use our virtual credit card when you sign up.
How Else Can DoNotPay Help Me?

For a comprehensive list of ways that DoNotPay can improve your life, simply visit us online using your favourite web browser. Here is a brief sample of things you can use DoNotPay for to make your life easier:
What Other Free Trials Can DoNotPay Help Me Register for?

DoNotPay can help you sign up for a number of free trials thanks to our free virtual credit card in addition to a Gourmet Society free trial. For instance, you can quickly, easily, and successfully use DoNotPay to sign up for a free trial for the following: