Start UK Subscription Box Free Trials With a Virtual Credit Card

Who doesn't love receiving a post, especially when it's a box filled with wonderful surprises? In recent years, there's been a rise in subscription boxes, and you can sign up for a subscription box filled with dog treats or makeup. It seems like each month there are new subscription boxes filled with wonders starting up. You know that you want to sign up for a subscription box but it's so hard to decide among all the glorious options available in the UK.
When you're ready to sign up for a , you don't need the hassle of worrying about future charges. You want to get your free trial box, sample the items, and make a decision. However, many of these boxes will automatically renew into a paid, full-price subscription if you forget to cancel, and you don't want that to happen. You make an event on your mobile to cancel, but worry it isn't enough. This makes you hesitate to sign up for a free trial. Fortunately, DoNotPay has the answer for you.
Are There Subscription Boxes in the UK With a Free Trial?
While there aren't many , many of these subscription services offer a hefty discount on your first box, making it easier to try out the boxes. The discount on these subscription boxes is usually enough to tempt people into trying out the service. Some of these subscription boxes even let you choose one or two items that go into the box.
Here's the information you'll need to provide when you sign up:
Your name
Your address
Your mobile number
Your email
Some boxes might ask about your preferences
Your bank card details
Do Free Trial Subscription Boxes in the UK Automatically Renew Into a Paid Subscription?
Almost all of the subscription boxes available in the UK will automatically renew into a paid subscription if they offer a free or discounted trial. If asked, they would tell you that they do this because they know that you're going to love your box and don't want you to miss one.
This can be a real convenience to someone who wants additional boxes. However, you aren't ready to commit to future boxes, especially when you're first trying it out. You must take steps to protect your bank card details.
Avoid Automatic Renewal With DoNotPay Virtual Credit Card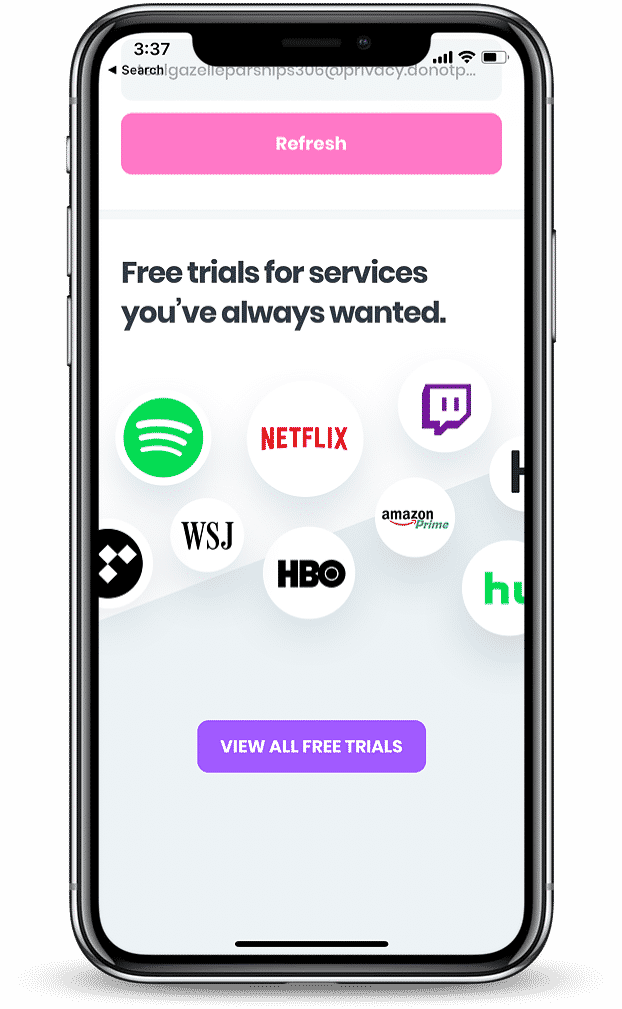 The best way to avoid future charges when you sign up for a subscription box in the UK is to use a virtual credit card. You might have heard the term before but you aren't sure of exactly what a virtual credit card is. It's a card that's randomly generated to represent the information on your bank card without sharing that information.
There are three main benefits of opting to use a virtual credit card when signing up for a subscription box trial.
The subscription service never sees or has access to your actual bank card details.
You can assign a virtual card number to a particular merchant and no others can use it.
You can determine the amount of money that the assigned vendor can charge to the virtual credit card to avoid hidden fees.
What Are the Most Popular Subscription Boxes in the UK?
There are many popular subscription boxes available in the UK for you to try. Some of the most popular include:
GeekGear
The Pip Box
The Classic Vintage Teatime Box
Lengbox
Mud & Bloom Box
DoNotPay Works Across All Companies, Entities, and Groups With the Click of a Button
After choosing a few of your favorite free trial subscription boxes in the UK, and seeing how easy it is to generate a virtual credit card with DoNotPay, you'll begin to wonder if you can use one for other free trials. The exciting news is that you can use the DoNotPay app to create a virtual bank card at any time and to use with any free trial that you're interested in.
Check a few of these out:
What Else Can DoNotPay Do?

Open DoNotPay in your web browser to see a ton of great features to help you with, including:
Choose your subscription box in the UK and start your free trial today with DoNotPay!