All You Need To Know About Florida State University Scholarships
Despite being one of the more affordable schools in the United States of America, Florida State University can be quite expensive. Undergraduate fees can go up to $23,486 for in-state students and $37,732 for non-Florida residents, while fees for international students are even higher. Fees for graduate programs vary depending on the type of degree and duration but are also not easy on the pockets.
This comprehensive guide will give you a rundown of the Florida State University scholarships that are out there to help you find one that fits your needs!
If you are having trouble finding scholarships or are confused about how to apply for scholarships, you can always to simplify the search process for you.
The Basics of Florida State University's Financial Aid Programs
Whether you are looking for merit scholarships, out-of-state scholarships, or any other type of academic scholarship, FSU has a wide selection of options for you to explore.
All first-year students are automatically considered for FSU scholarships at the time of acceptance. Each student is only eligible for one merit scholarship from the Office of Admissions and must complete the Free Application for Student Aid (FAFSA)in orderto obtain additional financial aid.
There is a whole range of scholarships you can apply for as an undergraduate, while graduate students have the option to apply for waivers, grants, assistantships, and fellowships.
Here are some of the options available to aspiring FSU students:
First-year scholarships
Graduate grants and fellowships
Additional scholarships
FSU Freshman Scholarships
Florida State University offers admission scholarship opportunities to all freshmen. Sifting through multiple pages of college scholarships can be a daunting task. If you are a high school student or a first-year student, these are the scholarships that may interest you:
National Merit Finalist/Benacquisto Scholarship
Presidential Scholars Program
University Freshman Scholarship
Partner Promise Scholarship
Out-of-State Tuition Waiver Scholarship
Graduate Grants and Fellowships at FSU
If you are a prospective graduate student looking for a scholarship at FSU, you may be eligible for one of the following fellowships, grants, or scholarships:
FAMU Feeder Fellowship
Henderson Family Fellowship
Legacy Fellowship
Leslie N. Wilson—Delores Auzenne Assistantship for Minorities
McKnight Doctoral Fellowship
McNair Scholars Fellowship
Current FSU graduate students can obtain one of the following fellowships:
The Julia Pelot Colket Graduate Student Child Care Assistance Scholarship
Fellows Society Dissertation Fellowship
Henderson Family Fellowship
Leslie N. Wilson—Delores Auzenne Assistantship for Minorities
Gubernatorial Fellows
Dissertation Research Grant
External Funding Opportunities for Graduate Students Attending FSU
External funding is an option graduate students may also want to explore. These are some of the opportunities available to FSU graduate students:
Masters Degree
Travel
Pre-Dissertation
Dissertation

GEM Fellowships
Paul & Daisy Soros Fellowships for New Americans
JCCs of North America Graduate Scholarship Programs
Byron Hanke Fellowship

Fulbright U.S. Student Program
DAAD Scholarships and Grants
International Dissertation Research Fellowship (IDRF)
Chateaubriand Fellowship Program
Henry Luce Foundation Dissertation Fellowships in American Art

NSF Graduate Research Fellowships
Ford Foundation Fellowships
GEM Fellowships

P.E.O. Scholar Awards
Mellon/ACLS Dissertation Completion Fellowships
Ford Foundation Fellowships
Fulbright-Hays Doctoral Dissertation Research Abroad
Additional Scholarship Opportunities at Florida State University
FSU offers a plethora of scholarships each academic year in collaboration with Florida State University Foundation and private donors. Details of the type of aid, eligibility criteria, and deadlines can be found on the FS4U page.
How To Apply for a Florida State University Scholarship
Application steps and forms vary depending on the scholarship or grant you are applying for. You must visit the individual pages dedicated to the scholarships you are interested in and follow the steps provided there.
To apply for FSU Scholarships, you have to:
Apply to an academic program
Fill out and submit your FAFSA application—depending on the requirement of the scholarship of your choice
Figure out the net cost of attendance and get familiar with the scholarship terms and conditions
Submit your application
Most of these opportunities require scholarship essays and letters of recommendation, which can take several days to put together, along with other requirements that take up a lot of time.
If you have any queries or require assistance, you can call FSU at 850-644-0539. The email address for financial aid assistance is financialaid@fsu.edu.
Feeling Lost and Overwhelmed? Let DoNotPay Help!
Looking for scholarships can be tough since the information is spread all over the place! You might miss out on scholarship opportunities because you are only looking at specific schools and not taking a general approach that could include special scholarships such as those for women or veterans.
DoNotPay can help you search and apply for scholarships that fit your needs in a few simple steps! Here's all you have to do:
and look for the Apply for Scholarships product
Choose the level of study you are currently pursuing
Select the type of program you wish to pursue and the name of the school you're aiming for
Answer a few specific questions about the scholarships you would like to see and input a few details about yourself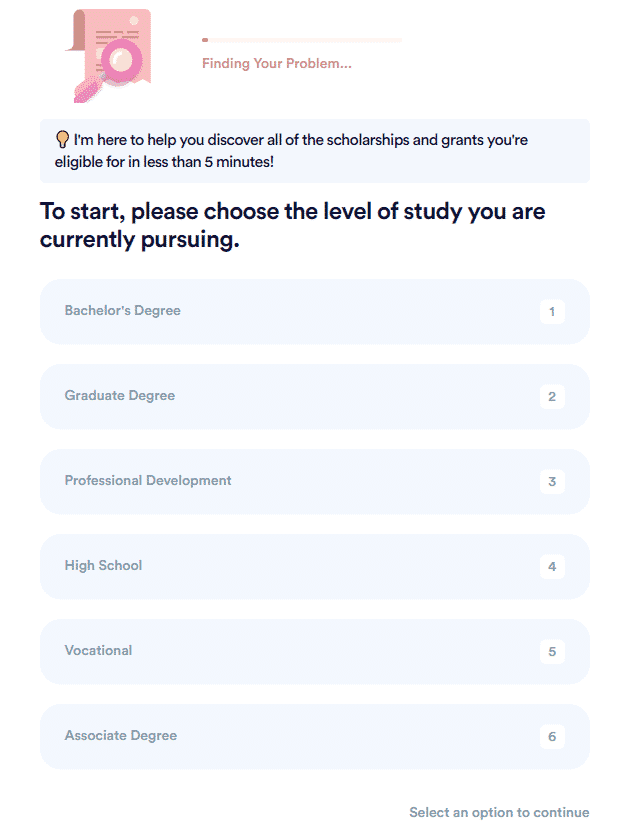 You can choose to have DoNotPay automatically apply for your chosen scholarship—as long as it's a no-essay scholarship—on your behalf. If you would like to apply yourself, DoNotPay will show you a list of all scholarships that you are eligible for based on the information you provide!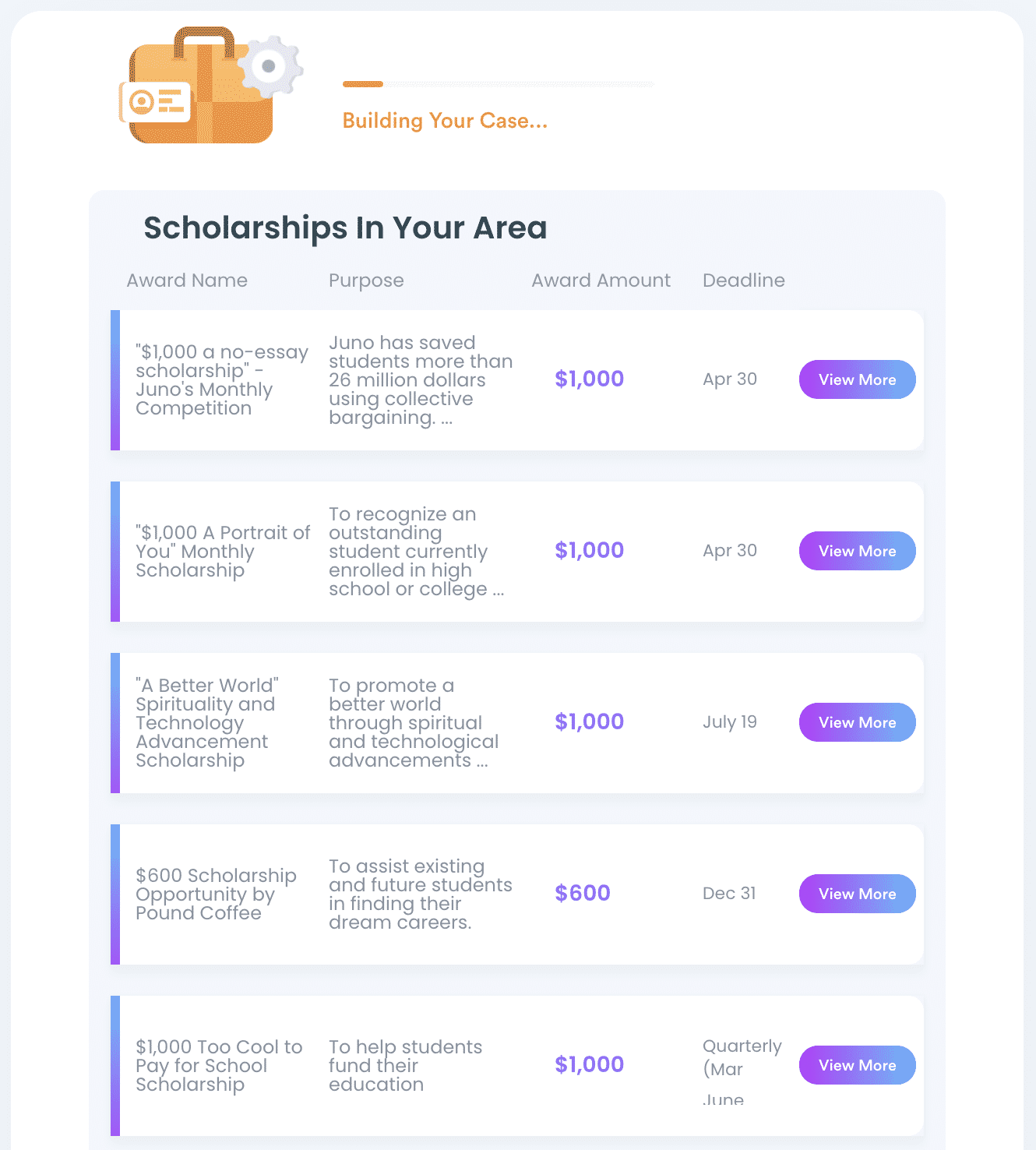 Explore DoNotPay's Product Range
Are you looking for additional assistance from our app? We're happy to inform you that DoNotPay provides you with a number of useful tools that you can use to complete mundane tasks in the blink of an eye! Sign up for our app and let us help you get:
DoNotPay Resolves Your Financial Issues in a Few Taps
You don't have to struggle to figure out how to resolve financial problems yourself when you have our app at your disposal. In only a few clicks, you'll be able to discover any unclaimed money under your name, submit insurance and warranty claims, or request compensation for delayed flights.
But that is not all! Lowering your utility bills, appealing parking tickets, or canceling memberships and subscriptions is also something you can do in no time and with minimum effort if you use DoNotPay! Work smarter, not harder!