How to Get a Eurotunnel Refund in Minutes

Eurotunnel has many different tiers of tickets and services which all have different terms related to refundability. If you are trying to get a Eurotunnel refund because they made an error, the ticket info was not correct, your card was stolen or other issues, it may prove confusing to sort out which tickets can be refunded and when. Even if Eurotunnel refuses to issue a refund, it's possible to initiate a chargeback through the bank if your ticket was purchased online or with a credit or debit card.
DoNotPay has compiled this guide to help you get a refund from Eurotunnel or, if you have to, force the issue by taking it up with your bank. We also have guides for Trainline refunds and handling Trainline delays, as well as plane ticket refunds, easyJet refunds, and many more. You can follow these steps yourself or make refunds of any kind easier using DoNotPay's automated and effective chargeback initiation service. Read on to the end to learn about more great services our members receive, and make countless bureaucratic hassles a thing of the past!
Eurotunnel's Refund Policy and Procedure
Eurotunnel will voluntarily issue refunds on their Standard Refundable, Frequent Traveller and Flexi Plus tickets.
To obtain a refund from Eurotunnel, you need to fill out their booking cancellation form.
For tickets purchased with Tesco or other vouchers, they ask you to contact Eurotunnel by phone. Flexiplus customers should call the dedicated Flexiplus phone line.
Note that most tickets can be amended, which can be accomplished most easily and without service fees through your My Eurotunnel account login.
Alternatively, you can contact Eurotunnel's customer service and ask them to do it for you, but they charge a fee if this can be done through their website. Frequent Traveller Day Trip Tickets are only amended by calling their customer service agents. If this is your case, though, be sure to ask them to clarify that you will not be charged the customer service fee.
Here's a quick look at your refund options:
| | |
| --- | --- |
| Can You Request a Refund Via | Yes/No |
| DoNotPay | Yes |
| Website | Yes |
| Letter | No |
| Phone | Yes |
| Email | No |
| In-Person (Ticket Station) | Maybe* |
*It depends on whether or not the ticket was purchased at the station – you'll need a receipt from that location if so, and we recommend asking if they will charge you a fee beforehand.
If you need to swap your starting point and destination, Eurotunnel will only refund the original booking after you make a new booking and give them both reference numbers. Another exception is with Day/Overnight tickets, where refunds are given only after the trip is completed.
Ask Eurotunnel service agents about your unique circumstance to be sure, and it's best to have it in writing (we recommend saving a screenshot of any chat windows confirming you are eligible for a refund upon completion of some task).
Eurotunnel states that Frequent Traveller refunds will be credited to your Frequent Traveller Wallet if the booking is cancelled within 12 months. Supplements (other services), if applicable, will also be refunded – but only if made before check-in. Le Shuttle tickets are not refundable, but they are valid for a year from the booking date.
For more information, You can refer back to Eurotunnel's ticket refund request page. If they won't refund you, read on to discover how DoNotPay can help you force the issue with a chargeback through your bank.
Refund Policy Details
There are many details to keep track of in Eurotunnel's refund policies. DoNotPay has scoured their general terms of service and compiled the portions related to refunds:
For trips longer than five days, a 'service administration fee' of 10 pounds (or 12 euros) is added for changes made by Eurotunnel customer service if that change could have been made online by the customer
Standard Refundable and Flexi Plus tickets are only refundable up to one year from the purchase date
'Non-refundable' tickets (e.g., Standard and Short Stay Saver tickets) that are upgraded to refundable tickets are only refunded for the amount of the upgrade
Flexi Plus tickets should be automatically refunded when cancelled
Flexi Plus tickets are automatically refunded for Peak Day Charges if travelling on a non-peak day
Tesco Vouchers are not refundable
Refundable tickets purchased with Eurotunnel Credit Vouchers are refunded with Eurotunnel Credit Vouchers if cancelled
The terms for Eurotunnel's Le Concierge Services state that the 10 pounds (or 10 euros) fee is non-refundable
Refunds on fees for 'pet supplements' are easier to obtain from Eurotunnel, due to continually changing standards for travelling with pets
For any refund that Eurotunnel claims will be automatically given, we recommend making sure of it.
Frequent Traveller Refunds
There are also a couple of mentions about refunds in the Frequent Traveller terms of service:
Wallet credits expire after 12 months, and Eurotunnel will not refund them
Eurotunnel states that it will refuse to open Frequent Traveller Wallets and may cancel them at their 'sole discretion' if there is 'evidence of abuse'; though what constitutes 'abuse' is not stated, and any unused funds or credits on the Wallet will also only be made at their 'sole discretion'.
What if I Missed My Departure?
Eurotunnel's Ticket Terms state under a variety of circumstances that exchanges are allowed if made within 24 hours of the missed departure. In general, it's easier to get an exchange or even Eurotunnel Credit Vouchers if you don't think you can convince them to give you a refund.
How About 'Non-Refundable' Eurotunnel Tickets?
For Standard, Short Stay Saver, or Day Trip/Overnight tickets, you'll need to obtain a chargeback from your bank because Eurotunnel charges more for refundable tickets. DoNotPay doesn't think that refunds for Eurotunnel errors or clerical mistakes should be a chargeable service – and according to Section 75 of the Consumer Credit Act, it isn't.
Read further to discover how to reverse Eurotunnel charges with or without their cooperation – or sign up for DoNotPay to automate the process and increase the odds of success.
It would also be a good idea to cancel your Eurotunnel account with them if they show signs of mismanagement. If Eurotunnel is unresponsive to requests to end your account with them,
DoNotPay also provides our members with subscription management services so that you can be certain that they do not have the ability to charge you for future services.
How Long Will It Take to Receive a Eurotunnel Refund?
Here are the timeframes for receiving refunds:
For 'refundable' tickets–namely, the Standard Refundable, Flexiplus (including Short Stay Flexiplus) and Frequent Traveller (excluding Day Trips) varieties–expect a refund in 1–3 days or even sooner.
For 'Non-refundable' tickets (or tickets made with vouchers), Eurotunnel states on their 'ticket refund request' page (linked above) that you must wait up to 14 working days for a response – but don't expect a favourable one.
Potential Problems When Cancelling Eurotunnel Purchases
If you need a refund for any of Eurotunnel's Standard, Short Day Saver or Day Trip/Overnight tickets, it may be necessary to initiate a chargeback. A chargeback is a way of reversing a payment directly through the bank instead of relying on the merchant's good graces. It may compel Eurotunnel to initiate a refund themselves if you learn about this process and tactfully tell them that you know how to obtain chargebacks through your bank; this will likely be more costly to them than simply refunding you.
On the other hand, if they've given you trouble this far, let DoNotPay handle the chargeback process on your behalf, and be on your way to new journeys!
How to Get a Eurotunnel Refund With DoNotPay
DoNotPay has the leverage and experience to make short work of refunds and chargebacks. Our goal is to not only teach as many people as possible how to do this themselves but to streamline the process for an extremely affordable rate. It's our way of putting our robot foot down on financial abuse en masse – one chargeback at a time!
To get a Eurotunnel refund even when they push back, you can either learn how your own bank handles chargeback requests, research the relevant credit card or ACH codes for your situation, and commit to a potentially lengthy back-and-forth... or you can get the same result in a few short presses of a button.
Here's how it works:
Find DoNotPay's Chargeback Instantly product.

 
Tell us which credit card (or ACH transfer) the payment was on, then enter the names of your bank and the merchant.

 
Select the reason for your chargeback, and provide relevant details, including the charge amount, the charge date, a description of the payment and relevant files you can upload as evidence.

 
Just like that, we'll send the chargeback request! Here's what happens next: Your bank receives a fax of the chargeback request with the right 'chargeback reason code' that will compel the card issuer to side with us, not the merchant. That's why we ask you to upload any evidence you might have supporting your claim.
At this point, they will likely contact the merchant, who is most often less willing than you to provide much in their defence. It's just not profitable for them to fight each and every instance of chargeback requests, so the odds are in your favour.
DoNotPay Can Help You Get a Refund/Chargeback for Any Company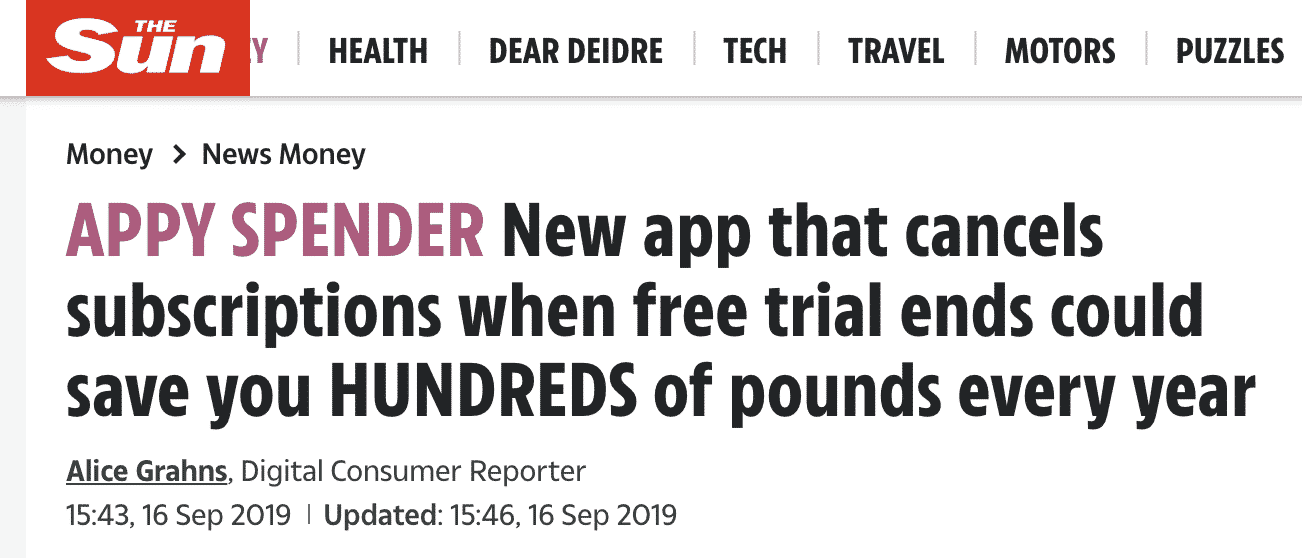 DoNotPay works its administrative magic across a multitude of companies and industries. For the same ultra-low monthly rate, we can help you get refunds and chargebacks for almost any company. See our other great refund guides to learn more:
What Else Can DoNotPay Do?
We go beyond refunds as a lean, mean, bureaucracy-busting machine! Our subscribers also have access to these other great services that make life a little less 2-dimensional:
In just a few clicks of a button, you can have all this and more at your disposal with the world's first robot lawyer!