Get Emma Mattress Free Trial Without Giving Your Banking Info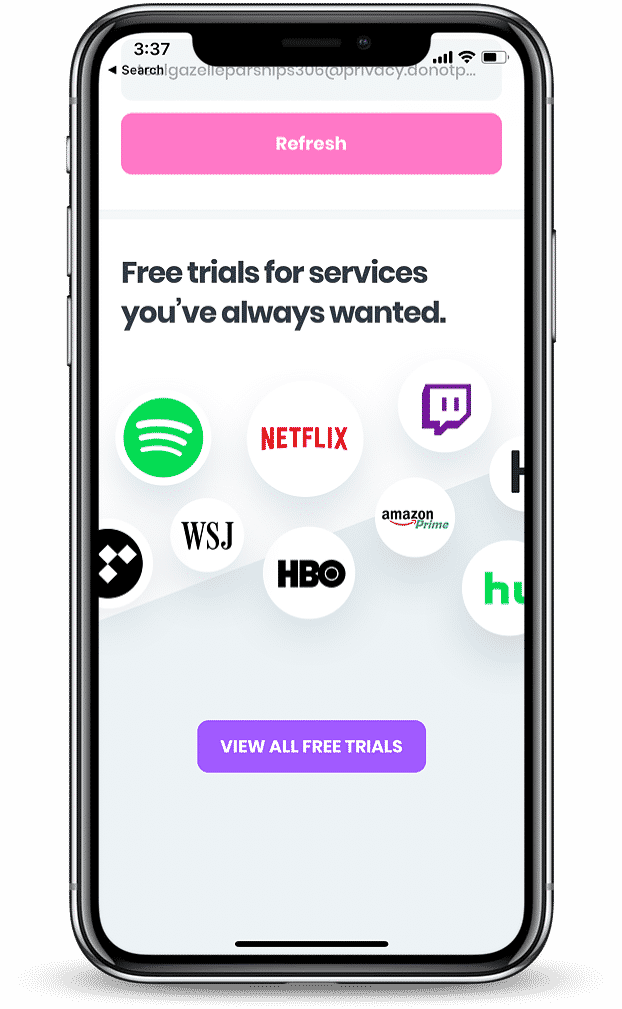 Would you like to know how to start an Emma Mattress free trial in a risk-free way? The Emma Mattress is one of the newer types of mattresses that use the latest mattress technology to incorporate several layers of memory foam for a cooler, more comfortable night's sleep.
In this post, we will show you how to sign-up for an Emma Mattress Free Trial without giving any credit card info when you use Virtual Credit Cards from DoNotPay.
Does Emma Mattress Offer a Free Trial in The UK?
Emma Mattress has increased the amount of time for their free trial of mattresses from 100 to 200 nights. According to their website, this 200-night free trial has been implemented to give you ample time to see if this bedding product is right for you and your sleep habits.
They also recommend that you allow your Emma Mattress to properly air out when you receive it to rid the mattress of any unusual odours that some customers have complained about in the past.
Emma also offers other bedroom products on their website with associated free trials. Take a look at the following items in addition to the Emma Mattress promotions:
30-Night Pillow Trial
30-Night Trial for Emma Hug Weighted Blankets
14-Night Return Window for Bedding (Mattress Protectors, Duvets, Bed Linens. See terms and conditions for further information)
How to Get Your Emma Mattress 200-Night Trial
When you decide to try an Emma Mattress for yourself go to their website and look at the available sizes of mattresses they have in stock ready to be delivered. If you prefer to shop in a traditional type retail establishment, the Emma Mattress Store Locator can help.
Ways to Contact Emma UK
Website
https://www.emma-sleep.co.uk/
Email
support@emma-mattress.co.uk
Online Support
Live Chat
After giving Emma Mattress your personal banking information, you agree to have your card billed after the 200-night trial offer.
How Much Does an Emma Mattress Cost?
The cost of your Emma Mattress depends on the size of mattress you want.
| | | |
| --- | --- | --- |
| Size | Dimension | Price* |
| Single | 90x190x25 cm | £299 |
| Double | 120x190x25 cm | £449 |
| Small Double | 135x190x25 cm | £499 |
| King Size | 150x200x25 cm | £579 |
| Super King Size | 180x200x25 cm | £649 |
*The prices are exclusive of discounts. Check the website for promotions.
How Can I Get an Emma Mattress Free Trial Without Leaving Credit Card Information?

Having to divulge your credit card information to Emma Mattress is made so simple when you use Virtual Credit Cards (VCC) from DoNotPay. The VCC product from DoNotPay allows you to:
Sign up for trials that would otherwise need your banking information.
Use the DoNotPay randomly generated credit card numbers just like the real thing.
Automatically have your Emma Mattress picked up when the VCC is billed for your mattress.
You never run the risk of having your bank card charged at the end of a free trial when you use the Virtual Credit Card from DoNotPay. Try it with the following:
Why You Should Use Virtual Credit Cards From DoNotPay

DoNotPay is the fastest, easiest, safest, and most successful way to get a free trial and avoid unnecessary charges. Never worry about being charged again for something you don't need or want! Here's how DoNotPay virtual credit cards can help you:
Virtual credit cards are designed to bypass the verification process so you can get the free trials you want.
Virtual credit cards have their own 16-digit number and CVV. You don't have to share your personal credit card details.
Virtual credit cards are not linked to your personal account so no payments will be processed and you won't get charged any fees after the trial period ends.
What Else Can DoNotPay Do?

DoNotPay was designed to make life easy for you. When you have problems, chances are quite high that DoNotPay has an efficient solution that works on your behalf.
Let DoNotPay help you today!