Easily Get Disney Plus Free Trial Without Giving Your Banking Info

Disney Plus is one of the top-rated streaming services in the industry. If you need good television, from hard-hitting dramas to deep nostalgia classics, look no further than the archive of the Mouse. Disney Plus has been thriving in the streaming era and opened its virtual doors to UK viewers back in 2020.
You may remember those 2020 and other platforms. However, that time has passed. If you are looking for Disney Plus free trials in the UK, you won't find them on Sky or anywhere else.
With a virtual credit card, DoNotPay can help you manage free trials without paying for a subscription. If there's another streaming service you want to try out, there's a good chance we can help you snag the free trial for free, without a required follow-up subscription.
Does Disney Plus Offer a Free Trial on Sky?
No, . As a UK broadcaster, this includes Sky TV. There are no current free trials available on Disney Plus for UK subscribers, independent of which platform you sign up on. Disney Plus is included in some bundle packages, but these may offer a slight discount rather than a free trial.
How to Access Disney Plus on UK Sky
Here's how you can get Disney Plus on Sky:
Log in to Sky TV.
Navigate to the Disney Plus Internal PP.
If you are already subscribed to Disney Plus, connect your Disney Plus account to Sky TV.
If you do not have a Disney Plus subscription, sign up for Disney Plus at the regular price through Sky TV.
If you already have Sky TV, you can sign up for Disney Plus at the normal price through Sky TV, which will bill together. Or you can sign up for Disney Plus at the full price separately and pair your Disney Plus account to your Sky TV account manually.
Wait, Wasn't There a Disney Plus Free Trial in the UK?
Yes, there was a free trial for Disney Plus available in the UK. It was available for exactly one month, the month of March in 2020, to celebrate the timely launch of Disney Plus for UK viewers. Since the end of that March two years ago, Disney Plus has not offered the UK free trial.
Here are the current Disney Plus offers:
2022 Disney+ Offers
Offers
Cost
Other Information
Monthly
£7.99
If you're paying for monthly subscriptions, then the full price is £7.99 a month; though there are occasional offers.
Annual Pass: Two Months Free
£79.90
You pay £79.90 rather than £95.88 (Savings of £15.98) for a 12-month subscription.
Annual Plans With Cashback
£59.99
Users of Quidco and TopCashback can get £10 back. You'll still pay the full £59.99 but you'll get £10 paid back to your account.

Even better, if you're new to either cashback site, you can also get a £17 or £10 new member bonus too.
Avoid Paying After Free Trials With DoNotPay Virtual Credit Card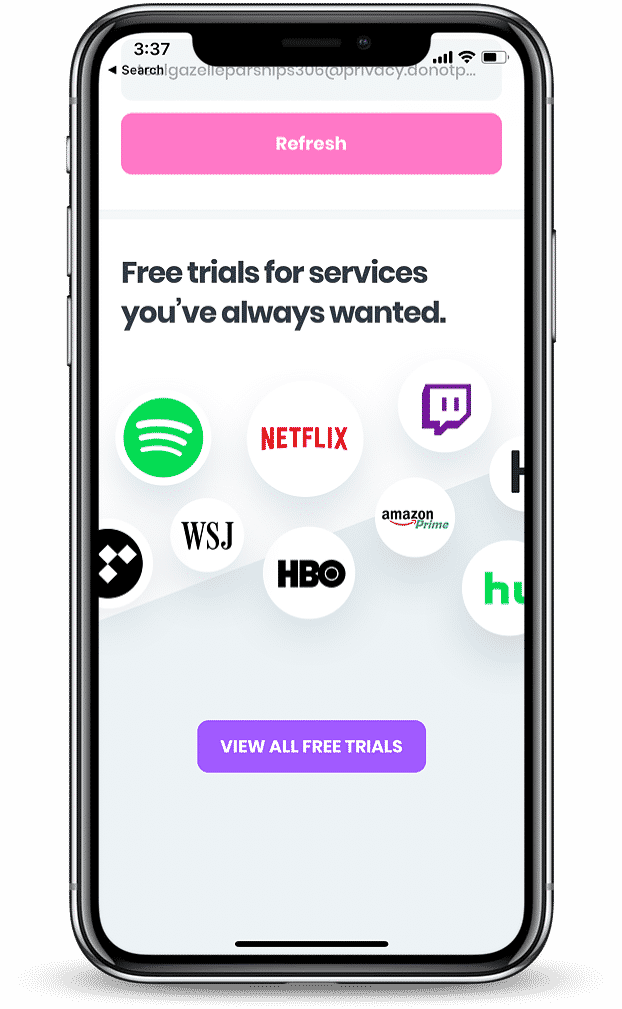 The may not be available, but you can get other free trials for free with the help of DoNotPay. Don't you hate it when a free trial asks for your credit card "just in case" you want to be charged for the full subscription? So do we. DoNotPay believes that free trials should be free with the option to buy a subscription, not a requirement. We believe that free trials are really a try-out, and not just a free week or two at the beginning of your subscription.
That is why we make it easy to get a virtual credit card for UK free trials. A virtual credit card is a randomly generated series of numbers you can use instead of your real payment card numbers. It will go through the system as valid, but cannot authorize a payment with no real connected account. This protects you from all-too-eager subscription fees at the end of your free trial, without the effort and opportunity to cancel on time.
The process is simple. All you have to do is:
Go to DoNotPay to generate a new virtual card number.
Use the card number when signing up for a free trial.
When the trial is done, the card will refuse the subscription.
No subscription, no obligation, 100% free.
It's as easy as that. Even without a free trial of Disney Plus to test it on, you can now explore the UK free trials for any streaming service in the business.
DoNotPay Can Help With Free Trials Across the Web

DoNotPay can also help you in getting free trial with other services such as:
What Else Can DoNotPay Do?

DoNotPay can do more than just make free trials free across the board. We've built a vast array of handy tools and online services that make it easy to save money and time in dozens of different ways. Here are just a few more of our services you just might find helpful while surfing for free trials to try.